More flexible visa policies needed to boost Vietnam's tourism

Experts have suggested expanding the visa exemption policy to more countries to attract visitors to Vietnam.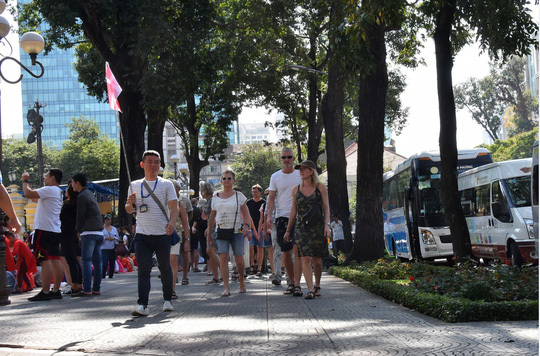 Tourists in HCM City
In the first half of 2019, Vietnam received over one million international visitors. However, the numbers are declining and 2019 may have the lowest growth rate in international visitors in many years.
Vice-Chairman of the Vietnam Tourism Advisory Board Kenneth Atkinson said a European family would choose Thailand over Vietnam because of visa exemption policies.
The openness of Vietnam to the world is considered very low compared to the neighbouring countries. Vietnam would be less attractive to high-spending tourists who want to stay longer to fully experience Vietnam.
Tu Quy Thanh, director of Lien Bang Travel Link, agreed that the 15-day visa exemption is not good enough. Many tourists from Northern and Western Europe often travel through multiple countries at the same time. For example, they can go on the Vietnam-Laos-Cambodia route or Vietnam-Thailand-Singapore. The trip can last from three to four weeks.
The need to expand visa exemption is even more urgent when tourism is considered a key industry. In order to be able to compete with other countries and maintain a high growth rate, investment into tourism services and support policies are needed.
"The first question our customers often ask is about the visa. So a more open policy means a more competitive edge," said Pham Ha, founder of Luxury Travel.
According to the World Tourism and Travel Council, a more open visa policy could see international tourist numbers increase by 10%. As of now, Vietnam offers a visa exemption to visitors from 24 countries and has deployed an e-visa programme. Many experts have urged Vietnam to expand the list of countries eligible for visa exemptions.
Potential markets are Australia, New Zealand, Switzerland, India and several European countries. Countries that are also a member of the Comprehensive and Progressive Agreement for Trans-Pacific Partnership and the European Union - Vietnam Free Trade Agreement could be considered.
Nguoi Lao Dong/Dtinews