Khanh Hoa and Binh Thuan warn over low-cost water tours

Authorities in Khanh Hoa and Binh Thuan provinces are warning visitors of low-cost tours which are not safe.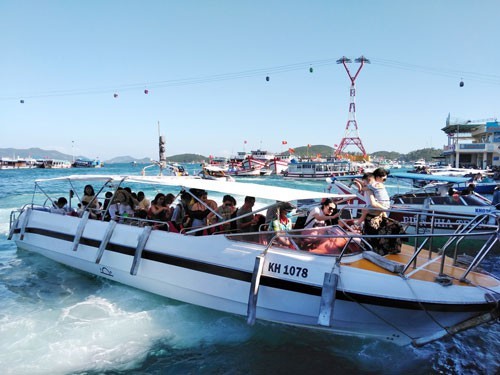 Khanh Hoa and Binh Thuan warn over low-cost water tours
Le Kim Nhut, director of Nha Trang Tourism Company, said on June 6 that due to lack of entertainment services, tourism companies had opened many new tours to attract tourists to Khanh Hoa Province.
Some of which are photography tour that lets tourists go to destinations with beautiful landscapes to take photos, mountaineering tour on Co Tien and San mountains, or discovery tours to Ninh Van Commune, Ninh Hoa Town.
However, such tours have led to unwanted accidents. In late 2018, two tourists died when a canoe sunk and many people drowned while swimming.
Nguyen Thi Le Thanh, deputy head of Khanh Hoa Department of Tourism said new tours were encouraged but firms must put tourist safety above all.
"Firms must submit the tour plans to us for approval. Authorities will inspect and deal with low-quality tours accordingly. Tourists can also report violations via hotlines 0258 3528000 and 0947 528 000," she said.
Phu Quy Island in Binh Thuan Province is a famous destination in summer. It is estimated that about 15,000 tourists will go to the island during the summer holiday. Therefore, a lack of vehicles to drop off and pick up tourists from the mainland to the island has already been predicted.
Employees at homestay services often act as a tour guide and helmsmen even though they do not have licenses to drive the boats. The boats also haven't been registered.
Ngo Tan Luc, vice chairman of Phu Quy District, admitted that most service providers were amateur. "We have plans to open training courses to provide licenses to the helmsmen," he said.
Hon Cau Island is another well-known destination. But in order to go to Hon Cau, tourists have to hire fishermen to take them to the island on fishing boats. The local authorities said they couldn't manage the number of tourists and the similar situation had been spotted on the route to other islands such as Ke Ga or Hon Ba.
Nguyen Van Lan, a restaurant owner said they simply bought a boat after noticing that there were many people want to go to Ke Ga Island. Each trip consists of 10 to 12 people and each person is charged VND50,000.
Even though Binh Thuan Province authorities have issued many documents and asked related agencies to tighten management over waterway travel to avoid spontaneous services and low-quality boats, such a situation hasn't been curbed.
Nguoi Lao Dong/Dtinews