Hue moves to become food capital of Vietnam
The imperial capital of Hue boasts exceptional culinary arts, which is one of the most competitive advantages in tourism development.
 Over the past few years, the city's authorities have displayed determination and exerted efforts towards the preservation, building and promotion of its quintessential culinary culture, targeting to develop the city into the 'food capital" of Vietnam.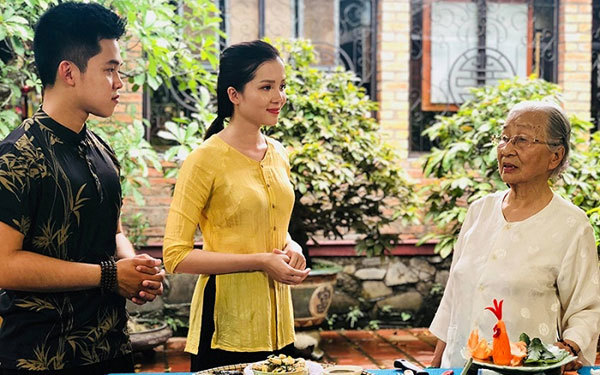 Hue-based culinary artist Mai Thi Tra (first from right) introduces signature dishes of Hue cuisine. 

Among the 3,000 or so dishes found in Vietnam, more than 1,700 are cooked in the Hue cooking style. Hue culinary can be divided in three types: royal cuisine, folk cuisine, and vegetarian cuisine, with each of them offering fabulous food and drink, which are served to diners as works of art.
Hue cuisine is characterised by the meticulousness in ingredient selection, sophistication and elegance in cooking style, and diversity of eating utensils.
According to Hue-based chef Phan Ton Tinh Hai, head of the Mint Culinary School, Hue cuisine reflects the city's culture, history, customs, and arts. Hue dishes are distinguished from those in other regions, making them more special in Vietnamese culinary culture.
Meanwhile, culinary expert Ho Dac Thieu Anh said that from imperial to folk and vegetarian cuisines, all Hue dishes convey the hearts and love of the cooks, and each of them is elevated into a work of art.
Many Hue specialties have gained much favour and interest from both domestic and international diners, with the most popular among them being 'bun bo Hue' (Hue beef noodle) and 'che' (Hue-style sweet soup). In 2016, 'bun bo Hue' was listed among Asia's top 100 dishes by the Asian Record Organisation.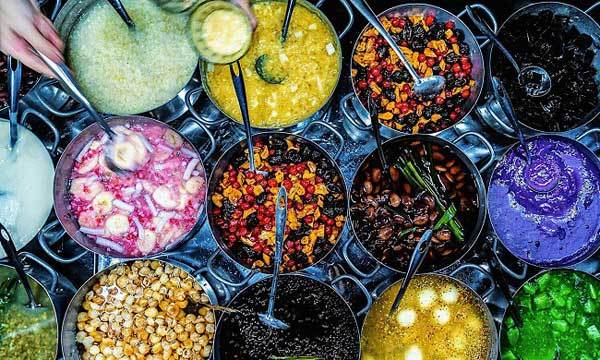 Hue-style sweet soup is one of the most well-known dishes in Hue City. (Photo: VnExpress)
The superb culinary art brings about huge advantages for Hue City's tourism development. In order to fully make use of the advantage, Thua Thien Hue provincial authorities have designed a long-term plan to preserve, build and promote the value of Hue's culinary quintessence, and turn it into an attractive brand for tourists to the locality.
At the end of 2018, the Provincial People's Committee approved the outline of a project aiming to safeguard and uphold the quintessence of Hue cuisine and raise the city's culinary art in the region and the world while aiming to develop the brand 'Hue - food capital' by 2025. The provincial authorities have also been active in mobilising the public and business community's participation in utilising the food culture of Hue to develop tourism.
In 2019, the provincial Department of Tourism signed a cooperation agreement with Dai Nam - Thai Y Vien Joint Stock Company, a local company focusing on food and tourism, to digitise and register trademarks for the city's specialty dishes and provide training for local chefs.
Most recently, the provincial Tourism Department launched a logo design contest in late July 2021 themed 'Food Capital of Hue' in order to introduce and promote the quintessence of Hue's culinary culture to domestic and foreign tourists in a professional, impressive and attractive manner.
Entries are requested to fully feature the signature characteristics of the imperial city as well as its unique heritage, people, and particularly traditional culinary culture. The contest's winners are scheduled to be announced in December 2021.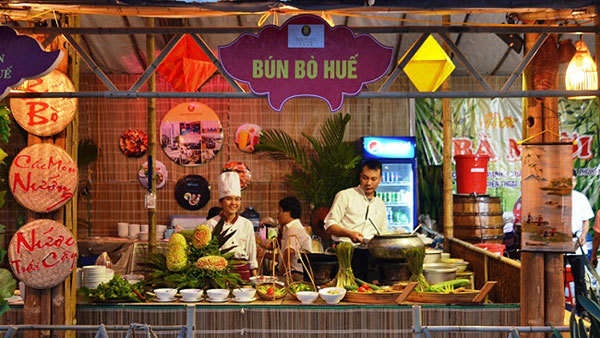 Chefs introduce the cooking of 'bun bo Hue'. (Photo: NDO/Cong Hau)
In addition to build and develop the brand for Hue as the food capital of Vietnam, the provincial authorities have also worked on a dossier to recognise Hue culinary arts as a heritage.
Since 2020, the Hue Monuments Conservation Centre has compiled a book entitled 'Thuc Pho Bach Thien', which groups 100 poems providing cooking recipes for 100 Hue dishes. The centre has also plan to recreate the cooking of the 100 dishes described in the book at festivals and on special occasions.
Over the past two decades, cuisine has been elevated to a special type of tourism, culinary tourism, which has been successfully developed in many destinations around the world. It is now considered a vital component of the tourism experience and one of the most attractive tourism trends.
In its strategy to preserve and develop Hue culinary heritage, Thua Thien Hue Province not only aims to turn Hue into a food capital of Vietnam but also a UNESCO creative city of gastronomy. The titles will contribute to consolidating Hue's position as a major and unique cultural centre of Vietnam while elevating city's excellent culinary art on the map of the world's cuisine.
Source: Nhan Dan

It is often said that Hue is very quiet and sad in winter, especially when rain pours from day to day. However, the announcement of "Let's eat Nam Pho 'banh canh' (thick noodle soup)" may dispel the sullen feeling and the cold.

Researchers and chefs in the central province of Thua Thien-Hue believe vegan cuisine could help local authorities boost tourism.