Hoa Binh hosts culture and tourism week

A series of cultural and tourism activities will be held at Hoa Binh Culture and Tourism Week 2019 from December 6 to 12.
Hoa Binh's unique culture and destinations
Xen Muong festival highlights Thai customs in Hoa Binh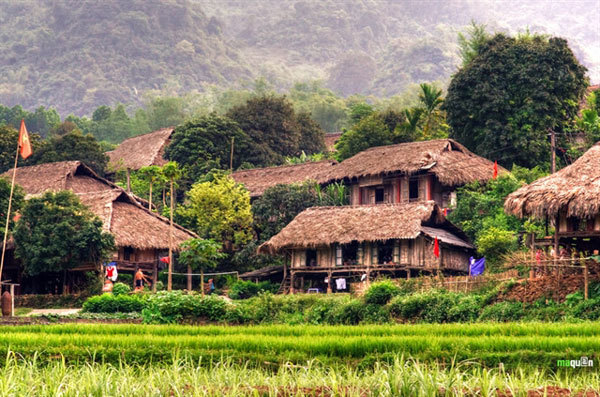 Lac Village is one of the most appealing tourist spots in Mai Chau, Hoa Binh Province. Photo maichaubanlac.com

The week aims to honour the cultural values in the northern province of Hoa Binh and strengthen tourism and cultural development, according to the organisation board at the press conference held in Hanoi this week.
"Hoa Binh has abundant natural resources and is the cradle of traditional culture," said Nguyen Van Chuong, deputy chairman of the provincial People's Committee at the conference.
"With many unique cultural heritages which will boost tourism development, such as eco-tourism and heritage tourism, we hope the week will create opportunities and motivations for tourism businesses to introduce new products, promote tourism investment and expand local product consumption markets."
As an ancient land, the residents in the province consist mainly of the Muong ethnic minority and various other ethnic groups, such as the Thai and Tay.
This contributes a lot to the cultural diversity of this mountainous province as well as the development of its tourism industry.
The week will open with a concert at Hoa Binh Square at 7pm featuring performances by pop singers and traditional artists of the province.
Many activities will take place such as a street parade; performances; beauty contest, photo exhibition and food.
The beauty contest will be a highlight of the week.
Twenty-five contestants will present traditional costumes and evening gowns during the final night on December 9. The top five will take part in a question and answer session to crown Miss Muong.
Along with that, a number of tourism programmes will also be held to promote exchange between tourism companies.
The province has received 2.5 million visitors since the beginning this year, reaching 83 per cent of the annual plan. Of which, international visitors reached 290,000.
The total revenue from tourists is estimated at VND1.650 trillion (US$71 million) reaching 82.5% of the annual plan. VNS

Going up the mountain to kayak in the heart of the largest and most beautiful lake in the North can become a reality when a tour connecting the beautiful small villages along the Da River's Lake is being formed.

With love for teaching and a desire to help others, Ha Thi Hang has helped all ethnic students of a school in the northern mountain province of Hoa Binh's Mai Chau District escape illiteracy.