HCMC seeks to better preserve historical relics

Ho Chi Minh City has an incredibly diverse urban cultural heritage, accumulated over more than 300 years of development.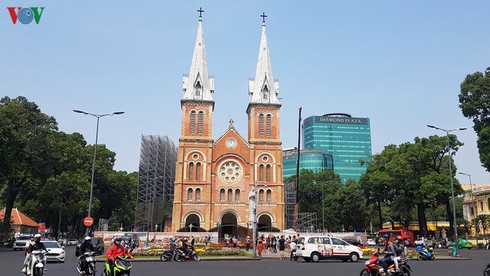 Notre Dame Cathedral in HCM City
These heritages have the potential to become  main tourism products, playing an important role in the preservation and development of the city's unique values and culture.
There are more than 170 historical sites listed in Ho Chi Minh city, showing the early beginnings and development of Vietnam's largest economic hub and the experience of generations of local residents.
The city's most prominent historical sites include the Reunification Palace, the Cu Chi Tunnels, and the Dragon Wharf. There are nearly 1,000 temples and pagodas in HCM city, many of which have existed for over 100 years like Linh Son pagoda and Sac Tu Truong Tho pagoda.
According to the municipal department of tourism, the city welcomed more than 8.6 million foreign visitors and more than 32 million domestic visitors last year. Most tourists prefer famous landmarks like the Notre-Dame Cathedral Basilica, the Municipal Theatre, the Reunification Palace, Ben Thanh Market, and Nguyen Hue walking street to historical sites.
Nguyen Thi Hong Phuong, a tourist from Ha Long, said she wanted to visit these historical sites but little information about them is available. 
"Before visiting Ho Chi Minh city, I researched online information but couldn't find much about its historical sites. This information should be put online or be made available some other way to reach interested tourists," said Phuong.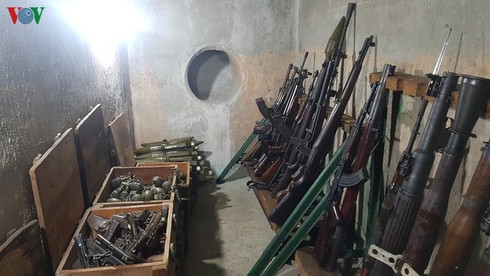 The Secret Weapons Cellar in Ho Chi Minh City's District 3
Doctor Nguyen Duc Hiep is a member of the Office of Environment and Heritage in New South Wales, Australia, and author of a series about old HCM City, formerly known as Sai Gon. The book series includes "Sai Gon – Cho Lon, History as Described from Documents Before 1945" and "Sai Gon – Cho Lon, Memories of A City and Its People".
Hiep said the best way to promote Ho Chi Minh city's historical sites is through stories, which give visitors the feelings of being part of the community. It's also necessary to have billboards or signposts marking the historical sites, providing basic information that visitors can understand, added Hiep.
"We can mark certain landmarks visited by famous people. This is a very popular way to promote tourism in many other culturally rich cities. For example, certain landmarks in France have signs that say 'Ho Chi Minh lived here'. A  city should appreciate not only its local inhabitants, but also every outstanding person that spent time there," said Hiep.
Heritage is an important non-renewable resource, accumulating cultural and political value as time passes. This can be turned into long term economic value for the whole community, not for a single person or group. VOV
The Southern Institute of Social Sciences' Centre for Archeological Studies has recently discovered vestiges of an ancient temple architecture dating back to over 1,000 years ago in Tay Ninh Province.

Authorities in the central province are continuing with a plan to renovate 16 historic relic sites at a total cost of VND100 billion (US$4.3 million) this year.