HCM City plans to welcome international visitors later this year
Ho Chi Minh City is anticipated to welcome the return of foreign visitors with vaccine passports this December instead of 2022 as planned, according to local authorities.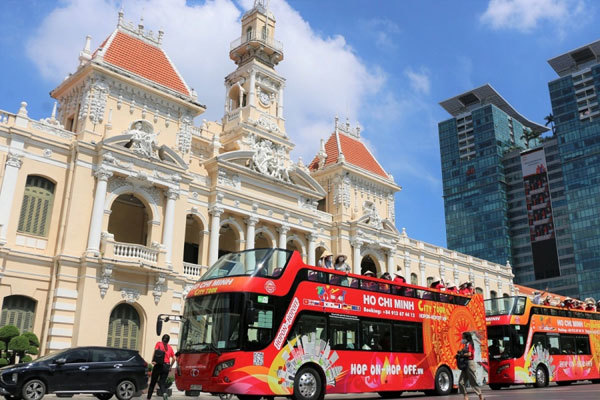 Ho Chi Minh City is expected to receive foreign arrivals with vaccine passports this December. (Photo: plo.vn)
The scheme will be implemented across three phases, and foreign tourists with vaccine passports do not need quarantine upon their arrival.  
During the initial phase from December, the southern metropolis plans to pilot welcoming tourists under closed package tours through various charter and commercial flights, or alternatively via marine routes in selected service facilities.
In the second phase from January 2022, the city will allow all qualified foreign travel firms to welcome tourists back to Ho Chi Minh City through numerous charter and commercial flights or via marine routes.
During this phase, tourists will be allowed to travel to various destinations in other localities after completing a seven-day tour in Ho Chi Minh City.
For the time being, destinations in Kien Giang, Nha Trang, Da Nang, Quang Nam, and Quang Ninh will be introduced. Other destinations will be added to the programme pending the results of COVID-19 prevention and control in their localities.
Moving into the third phase, the city's tourism market will fully reopen to international tourists, with the starting time of this phase based on the actual pandemic situation and the outcomes of the two previous phases.
The scheme is expected to gradually contribute to the recovery of the international tourism market in Ho Chi Minh City in particular and the country as a whole, as well as restoring tourism and related economic and service industries.
Last year saw the number of foreign arrivals to Ho Chi Minh City drop by 84.87% to 1.3 million from the previous year. From 2020 to September this year, a total of 171 international travel firms have withdrawn their operating licenses due to the impact of the COVID-19 pandemic.
Source: VOV

Ho Chi Minh City has officially reopened to welcome back tourists, with the local market set to play a key role in connecting localities whilst developing inter-regional routes and safe destinations under its tourism recovery roadmap.

From November 1, HCM City will allow residents to travel to other cities and provinces before it completely resumes tourism activities in 2022.