HCM City creates more inner-city tourism activities
A number of routes with tourism destinations within HCM City have been created to encourage inner-city travel.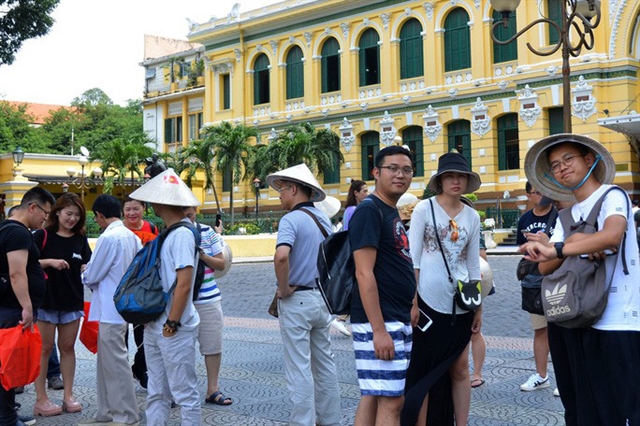 HCM City plans to create more inner-city toursand activities. — Photonld.com.vn
The HCM City Department of Tourism on November 19 and TST Tourist Company conducted a survey of several tourism destinations and routes in an effort to improve the quality of tours and activities.
One of the first routes surveyed by the department was "Green City by the Sài Gòn River", starting from Bạch Đằng Wharf and passing by Thủ Thiêm Bridge and Landmark 81.
When tourists arrive at Long Thuận junction, they head to Áo Dài Museum in Thủ Đức City via bicycle, where they can experience making pancakes and get to know more about the Vietnamese Áo Dài.
Another attractive destination is the Hùng Kings Memorial Temple, which belongs to the National Park of Ethnic History and Culture. Representatives of travel companies said this destination has the potential to become popular if it is listed as a tourism destination in the series.
According to director of the HCM City Department of Tourism and leader of the survey project, Nguyễn Thị Ánh Hoa, HCM City will include seven tourism destinations and routes, upgrade existing products, and exploit the potential strength of each place.
HCM City's plan to work with local travel agencies will help highlight the beauty of the city and provide locals with the opportunity to experience inner-city tourism activities during the upcoming holidays.
New products 
After the lockdown, HCM City immediately started to revive the tourism industry and seek cooperation with neighbouring localities for tourism activities. However, leaders of local agencies found it difficult to create connecting tours between HCM City and other provinces.
It is safer to promote tourism in HCM City, they said.
Nguyễn Minh Mẫn, Communication Director of TST Tourist Company, said the company has organised a number of inner-city tours associated with attractions such as Áo Dài Museum and river buses.
The new survey was done to help perfect the existing tours, he added.
Lê Tấn An, deputy head of the Management Board of the National Park of Ethnic Culture and History, said that research on overnight camping and bamboo forest tours has been carried out to offer the best experiences for visitors in the future.
"This is an opportunity for businesses to refine their tourism products, encouraging HCM City locals to travel in the area. The Hùng Kings Memorial Temple is a great tourism place, if prepared well. The HCM City Department of Tourism will work closely with travel agencies and experts to create new products with unique features," Hoa said.
Source: VNS