FVH excursion to historical suburban Ha Mo Village
The Friends of Vietnam Heritage will hold an excursion to Ha Mo Village in Hanoi's suburban district of Dan Phuong on January 23.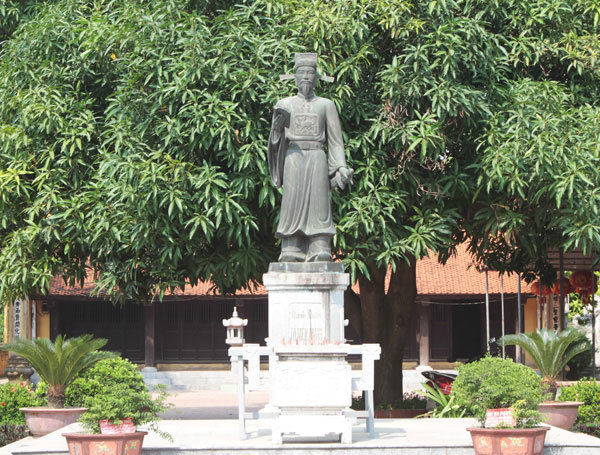 The statue of General To Hien Thanh in the Van Hien Temple in Ha Mo Village. Photo hanoi.gov.vn
Located about 22km from the city centre, Ha Mo was the land of O Dien Citadel in the past.
O Dien Citadel dates back to the 6th century AD and is smaller and less famous than the old capitals of Thang Long and Hue, but equally important.
Fifteen centuries have passed and the vestiges of the citadel such as architecture, structure, and materials are difficult to identify. The traces of its history, however, are visible and can be understood through some relics including Van Xuan Communal house, Ham Rong Temple, Chinh Khi Temple and Van Hien Temple.
Alongside visiting some relics, during this trip, the tour group will meet Nguyen Toa, a Ha Mo villager, former Vice President of the Hanoi Folk Arts Association, who is devoted to, the research and collection of Ha Mo's historical documents to pass on to the next generations of the village.
The tour will also include a cooking class conducted by two villagers who will guide tour members to cool two local dishes – cháo se (porridge) and bánh đúc (rice steamed cake).
The tour, which is in Vietnamese with English translation, will run from 8am until 5pm. Cost: VND380,000/person.
Registration via this link before January 20: forms.gle/aEYGAF3c5LmZ3yxW9. VNS

As New Year 2021 approaches, people can take time to relax and travel around the city during the three-day vacation between January 1-3.

The Friends of Vietnam Heritage (FVH) will organise the '36 Streets Treasure Hunt' – a 'new and upgraded version' of other previous walking tours and explorations of Hanoi's Old Quarter, on November 30.