Fishing village turns 'green' to boost tourism
Tan Thanh fishing village, on An Bang beach, 5km from Hoi An, has been building 'green' beach tourism by boosting plastic-free and zero-waste recycling among the community and tourists.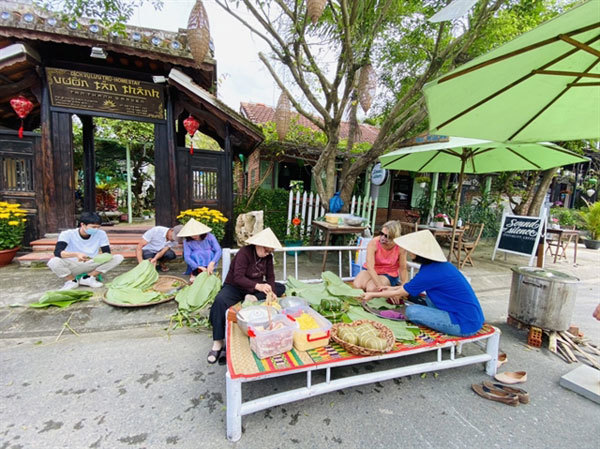 Local fishermen in Tan Thanh community prepare for a weekend flea market. The community has been turning into a 'green' tourism site by promoting waste recycling and plastic free in Hoi An. Photo courtesy of Jenny Pham 
A group of 13 travel businesses and local fishermen decorated a 300m section of coastal Nguyen Phan Vinh Street, creating a vibrant art space and entertainment area.
The community set up the Tan Thanh weekend flea market as an artisanal and organic production rendezvous for all local and expat vendors, helping create day and night beach activities.
The beach-front market was flooded with handicrafts, food & beverage, organic farm produce, costumes and folk dance performance from morning till late evening.
Streets are turned into stages for bands, dancers and mini-fashion shows for local and expats, while various products from organic cuisine, recycled items, old furniture and second-hand belongings are displayed on stalls.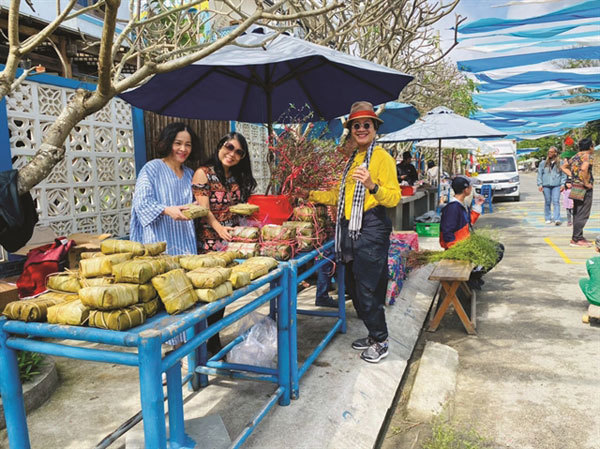 Visitors are shopping at Tan Thanh weekend market. It's the first community tourism site that was built by businesses and local residents. Photo courtesy of Nguyen Pham 
Each household in the street hosts unique experiences for free among visitors.
"There are 15 galleries and outdoor showrooms depicting fishing culture, gardens, meditation, libraries, yoga and offering night stays. The flea market is a key focus for tourists sharing the 100-year lifestyle of the fishing village," said head of the business group, Le Quoc Viet.
"Fishermen revive the lifestyle by doing night fishing, folk performances, camp fires and fresh seafood. The community also offers 200 rooms for week-long events," he said.
Viet said the first waste recycling site – the Material Recovery Facility – was built to collect waste for recycling rather than dumping it.
Restaurant and coffee shop owners were trained in garden waste recycling and processing waste into compost and detergent, he added.
Pham Thi Hai Nguyen, a resort manager at Tan Thanh Village, said the weekend market was born in response to overcrowding in the Old Quarter of Hoi An and promoting 'Zero plastic waste tourism'.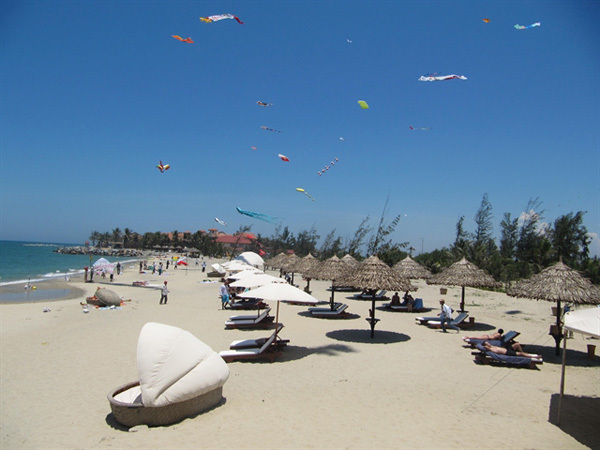 Beach activities create exciting holidays for tourists visiting An Bang beach. Hoi An has been attracting tourists with its unique lifestyle and culture. VNS Photo Hoang Vy
Nguyen said the market promoted artisanal and organic products to enhance the unique brand among dozens of destinations and fairs in Hoi An.
At least 80 vendors flocked to the market to sell farm produce, healthy foods and drinks, paintings, old furniture and antiquities, she said.
Luong Thuy Ha, a member of the market managing board, said the market had lured not only tourists, but also local vendors and farmers from suburban areas of Hoi An.
"The market helped local residents expand linkages with other farms and craftsmen from Da Nang, Hue and Quang Nam," Ha explained.
The Chairman of Quang Nam tourism association, Phan Xuân Thanh, suggested the community should develop it as the One-Commune, One Product (OCOP) – an eco-tour brand – that could help promote sustainable and ancient culture preservation.
"Tan Thanh community should be the first 'green' tourism brand and 'circular economy' sample of sustainable tourism strategy of Quang Nam's tourism industry," Thanh said.
"Local residents began recycling waste into valuable and profitable products. Waste classification at source and recycling will be a basis for the 'green' and non-plastic tourism brand of Hoi An," he said.
Thanh added the community could promote it as an environmental-friendly destination – where tourists earn experience in waste recycling or exchanging recyclable waste for goods.
The community encourages people from other areas of Hoi An to bring recyclable and reusable waste to the Material Recovery Facility for better treatment rather than dumping it at overloaded landfills. 
Fishing experience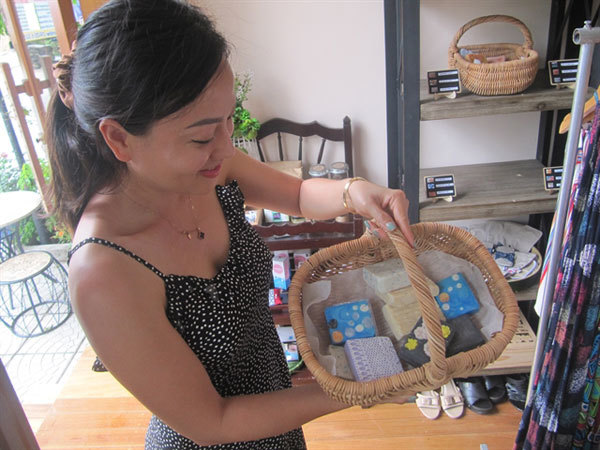 A shop owner introduces organic and recycled products on Nguyen Phan Vinh Street in Tan Thanh village of Hoi An. The community began promoting waste recycling as a sustainable tourism attraction. Photo courtesy of Thuy Ha 
Since the weekend market was opened, fisherman Le Van Hung, 52, began hosting night fishing on bamboo coracles for tourists after working at a restaurant in Tan Thanh.
"I have retired from month-long sea trips due to my age, but still retained my fishing skills by hosting night fishing and fishing experiences. Inshore fishing trips on small bamboo boats and fish net weaving will be interesting for tourists," Hung said.
"My father, 87, an old fisherman, also takes part in folk performances at the weekend market, while my daughter opened a cafe and shop at home," he said.
Le Thi Hong Van, 23, said the weekend market had become a popular rendezvous for not only fishing culture, but also waste recycling and non-plastic use among the community and vendors from other localities.
She said tourism in Hoi An – a UNESCO world heritage site – was noted as a well-known spot for international and domestic travellers, but coastal and rural communities surrounding Hoi An had been turning to 'green' tourism.
Nguyen Thi Nhi Ha, who owns a farm and homestay, said organic farm produce from gardens in the community were used for daily meals and sale at the outdoor market.
Local residents in Tan Thanh Village begin waste classification at source by introducing the first Material Recovery Facility in the community. VNS Photo Hoang Vy
She said the community featured a showcase of organic agriculture and healthy living by offering free entrance for all to 'green' gardens at many homestays and hotels.
Hoi An opened a battery-powered car route to help visitors travelling from the Old Quarter to Tan Thanh – the last stop of the farming zone experience in Tra Que and Cam Chau villages – to combine rural and beach tour programmes in Hoi An.
Tan Thanh is linked to An Bang beach – the most popular site among foreigners. It is emerging as a new fun zone for day and night entertainment near Hoi An's Old Quarter.
Nguyen, who is the founder of the weekend market, said the Tan Thanh community had made a name for itself on the tour map of Hoi An, so zero waste-recycling and non-plastic would be a key trend of the eco-tour and 'green' tourism brand in Hoi An.
VNS

Having benefited from heritage-based tourism over the past two decades, the ancient town of Hoi An – a UNESCO-recognised world heritage site – should dramatically make its tourism products more 'green' and sustainable

Tan Thanh Flea Market is gradually becoming an interesting attractive meeting place in Hoi An, allowing visitors to not only trade unique products but also experience the local culture in a close and friendly community.