Phu Yen festival promotes Cham people's culture

As many as 2,000 performers and artists nationwide will gather at the Cultural and Tourism Festival of the Cham People which will be organised in the southern province of Phu Yen on August 13-16.
Poets keep Cham culture alive
Contemporary choreography featuring Cham ethnic culture debuts
Passionate about Cham culture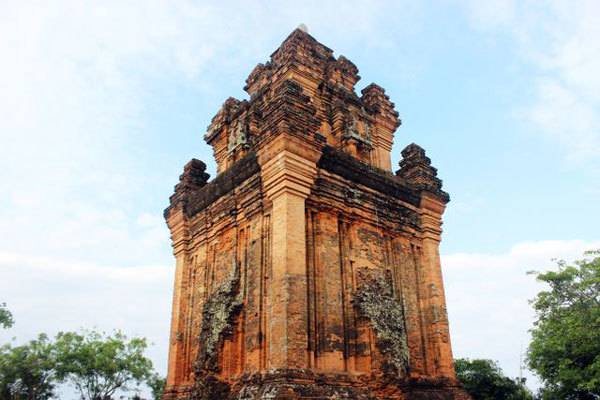 Nhan Tower in Phu Yen Province which bears significant architecture of the Cham, is recognised as a national special relic site. — VNS Photo Trung Thi
With the theme of 'Preserving Culture of the Chăm' in accordance with developing tourism, the festival will also draw the participation of Cham people from central and southern provinces such as Quang Nam, HCM City, Ninh Thuan, Binh Dinh, Khanh Hoa and Phu Yen.
Speaker of the Ministry of Culture, Sports and Tourism Nguyen Thai Binh revealed on August 1 that this is the fifth edition of the festival. It will focus on introducing the culture of the Cham people in accordance with promoting tourism.
"The festival will help improve tourism growth in the southern and central region as well as upgrading the spiritual and material life of the Cham people by developing tourism as a key economy," said Binh.
Fascinating activities at the festival include art performances, a fashion show of the Cham's traditional costumes, an exhibition on socio-economic development of the Cham ethnic group, the introduction of traditional crafts and cuisine, as well as folk games.
Each participating location will showcase an exhibition introducing its own traditional handicrafts, cuisine, tourism potential and excerpts of Cham festivals.
In the sports area, various games will be held such as wrestling, tug-of-war, volleyball and football.
The highlight will be a ceremony to officially receive the certificate recognising Nhan Tower as a national special relic site at April 1 Square, Tuy Hoa City, on August 14. This ceremony also kicks off the festival. It will be broadcast live on Viet Nam Television and Radio Voice of Viet Nam.
Nhan Tower is a part of Cham culture in Phu Yen Province, the only of its kind still intact in the province. It was built by the Cham from the 10th to 13th century on Nhan. It is a quadrangle with four 23.5m-high sides. An altar inside the tower is a unique architectural Cham feature.
Media and travel companies will attend trips surveying tourist destinations in Phu Yen Province, and a conference to connect local tourism and other south central localities. The Viet Nam Administration of Tourism (VNAT) and tourism departments at the participating provinces will host this conference.
VNS