Famous sites in Dong Thap province

Dong Thap province is in Vietnam's southern Mekong Delta region. Its many natural scenic spots and historical and cultural sites make Dong Thap province an attractive tourist destination.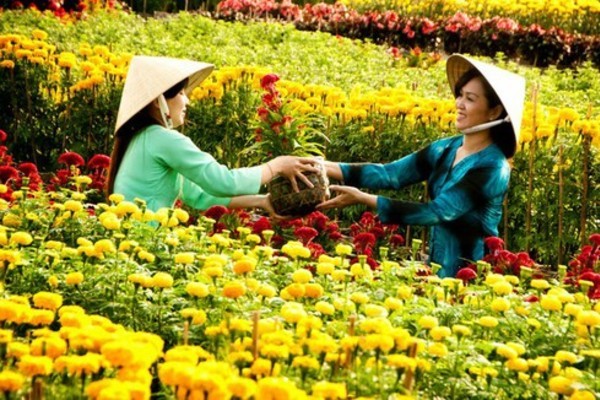 Sa Dec flower village
Dong Thap province has two large towns – Cao Lanh and Sa Dec. The Tien and  Hau river and connecting canals enable river transport from Dong Thap to Ho Chi Minh City, adjacent provinces, and Cambodia.
Dong Thap has been called the "land of pink lotus". There are vast lotus ponds in My Hoa commune, about 40 km from Cao Lanh, where visitors can enjoy the cool atmosphere of the lotus ponds while tasting special dishes made from lotus flowers and seeds, such as lotus sweet soup, lotus steamed sticky rice, and grilled fish wrapped in lotus leaves.
A complex in Dong Thap honoring Nguyen Sinh Sac – the father of President Ho Chi Minh – was recognized as a national relic site.
Nguyen Sinh Sac relic site
Tour guide Huynh Nhu said, "When the complex was inaugurated in 1977, it consisted of a tomb and an octagonal exhibition house. A stilt house dedicated to President Ho Chi Minh was built in 1990. The complex was expanded to 9 ha in 2010 and the exhibition house was refurbished. Hoa An village, where Nguyen Sinh Sac lived, has been rebuilt. The complex welcomes many tourists on national holidays."
The Go Thap site is connected to the Oc Eo culture of the Phu Nam kingdom dating back 1,500 years. Relics at the site include a ten-storey tower, Ba Chua Xu temple, and the tombs of national heroes and temples dedicated to them.
The Dong Thap Museum displays about 30,000 artifacts, including artifacts of the Oc Eo culture from the 1st to the 6th century. The Museum also preserves three national treasures – 2 statues of the God Vishnu and a statue of the Goddess Lakshmi.
Dong Thap was endowed by nature with what is now Tram Chim national park, the Gao Giong eco-tourism site, and the Xeo Quyt ecological site, which was a revolutionary base.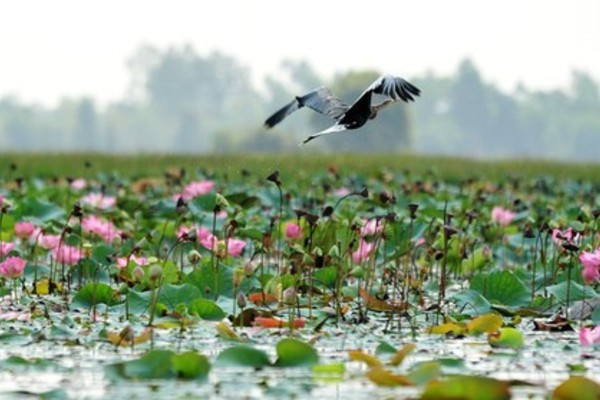 Tram Chim national park
Le Nhat Lien, a curator at the Dong Thap Museum, said, "Dong Thap province has two traditional craft villages which have been recognized as intangible cultural heritage sites. Dinh An mat weaving village is famous for its night market, which is open from midnight to 4 am. Gach Ba Dai junk-building village produces junks and other boats for the greater Mekong Delta region."
Sa Dec flower village and Huynh Thuy Le ancient house are two famous tourist sites. Sa Dec flower village is the biggest flower hub in the southern region, supplying flowers and bonsai trees to many other provinces and cities.
Huynh Thuy Le ancient house was recognized as a national relic site in 2009. The house on the riverfront was once the residence of Huynh Thuy Le, the son of a rich Chinese-Vietnamese family who had an affair with Marguerite Duras in 1929. She immortalised the romance in "The Lover", eventually made into a film.
Gretel Cocom, a Spanish tourist, said, "I love the combination of Western and Vietnamese architecture and design on the doors and tiles, and the images of flowers and plants on the pillars and altars."
Last year Dong Thap received 3.6 million tourists, including 90,000 foreigners. The province hopes to welcome 3.9 million tourists this year, earning 43 million USD. The Culture and Tourism Day held in July attracted 660,000 visitors. VOV

The Mekong Delta province of Dong Thap is emerging as an agrotourism destination with its increasing adoption of advanced farming models to breed fish and grow rice, tropical fruits, vegetables and flowers.

Adventurous eaters should wait no more and make a beeline for Dong Thap Province, the perfect place to sample exotic dishes that will surely amass a bevy of "likes" on your Instagram account.

The Dong Thap Museum in Cao Lanh city is one of the best attractions in the Mekong Delta.