Danang-style rice vermicelli with grilled pork
This dish seems to be like its counterpart in Hanoi. Taste it and you'll tell the difference between them.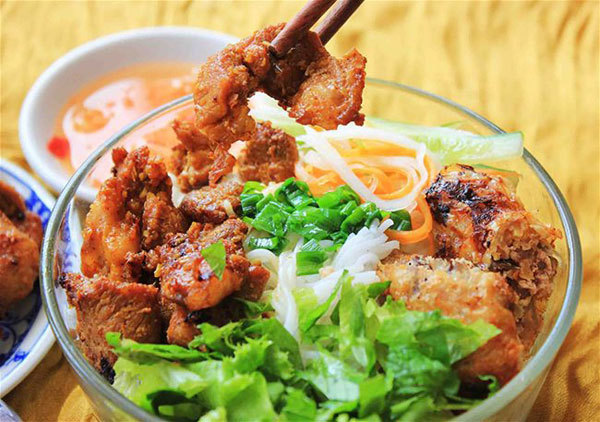 A bowl of Danang-style vermicelli with grilled pork. – Photo: HoiAnDaNang
Rice vermicelli with grilled pork is a popular dish across Vietnam. Like other versions of the dish, the one in Danang has similar ingredients, fresh rice vermicelli, grilled pork, herbs and a special sauce.
The dish is served with a special sauce. The sauce is also prepared with a little fish sauce. But minced pig liver is added to it to reach a suitable thickness. The minced pig liver is first stir-fried after being soaked in fresh milk, salty water or vinegar to remove unpleasant smell, if any. To achieve the ideal tastiness, fresh pig livers should have a dark red or purple color. Fermented soybean is necessary, too, as it creates a fatty taste and unique smell for the thick sauce.
Grilled pork is the most important ingredient of the dish. Bacon or flesh from pig's shoulder is perfect to be used. The pork slices are marinated before being grilled on charcoal that is much better than those grilled in an electric oven.
Juicy grilled pork slices, herbs and pickled papaya are the toppings of a bowl of fresh vermicelli. Then, the sauce is added. Finally, add some minced chilies and roasted peanuts and you'll be ready.
SGT 
Rice paper rolls with pork, or banh trang cuon thit heo in Vietnamese, is a tasty dish popular throughout Vietnam. This "version" in Danang seems to be a good choice for diners who want to have something new in their daily meal.

Con Market is well-known in Danang for its numerous food offerings which have attracted many visitors.