Chinese tourist arrivals soar

After several months in decline, tourist numbers from China, Vietnam's largest source market, have soared this month by a whopping 48.6% year-on-year to 604,900, according to the General Statistics Office.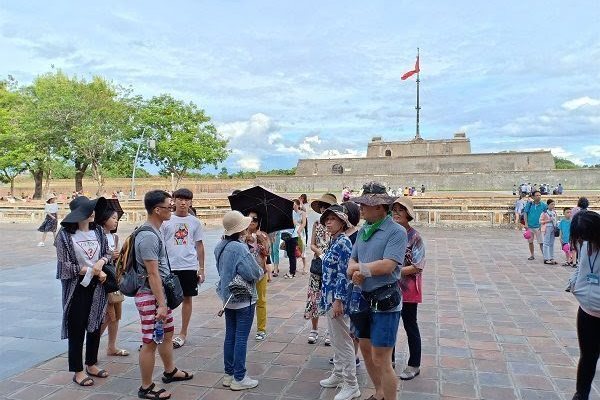 A group of Asian tourists visit the central city of Hue. Tourist numbers from China have soared this month by a whopping 48.6% year-on-year
The country saw the number of Chinese visitors dip over the past few months, especially in June when Chinese tourist arrivals dropped by 16.3% year-on-year.
This month's upsurge has positively affected the country's international tourism segment as the Chinese account for 30% of Vietnam's total international tourist arrivals.
Statistics from the General Statistics Office indicate that last month, international tourist arrivals in Vietnam rose by 14.3% against the year-ago period, but in September, the rise was recorded at 28.8% with an estimated 1.56 million international travelers to Vietnam.
Some travel firms expect Vietnam to enjoy an upward trend in the number of visitors from the Chinese source market next month, especially during China's National Day Golden Week in early October.
Tu Quy Thanh, director of Lien Bang Travelink, said that the number of Chinese visitors has slumped in recent months, but the bookings over the upcoming Golden Week have improved by 20% year-on-year.
"Chinese residents tend to go on tour on National Day. This year, the number of Chinese visitors is expected to pick up due to the major holiday. China will celebrate the 70th anniversary of the People's Republic of China," he said.
Also, statistics show that between January and September, Vietnam welcomed 12.8 million international tourists, up 10.8% year-on-year. Some 78.9% of the total came from the Asian source market, up 12.5% versus the year-ago period.
Some 1.6 million European travelers have travelled to Vietnam over the past nine months, up a mere 5.3% year-on-year.
For the first nine months of the year, the number of holidaymakers from South Korea, Thailand and Taiwan, some of Vietnam's largest source markets, grew strongly by 22.5%, 46% and 27.8% year-on-year, respectively.
Over the same period, Vietnam saw tourist arrivals from China, Russia, the United States and Japan edge up 4.4%, 5.1%, 7.7% and 14.2%, respectively.
This year, the country is expected to welcome 17.5-18 million international tourists, which means that in the last three months of 2019, an additional 4.6-5.1 million international visitors will travel to Vietnam.
Dao Loan