Cha Ca – A Dish Carrying the Culinary Essence of Hanoi
Cha Ca has a dear place in the Hanoian's heart not only because of its phenomenal taste, but also because it represents the historic past of Vietnam.
In Hanoi, there's a street dedicated entirely to Cha Ca – crispy turmeric-marinated grilled fish. Just from that information alone, you probably know how special this dish is, right?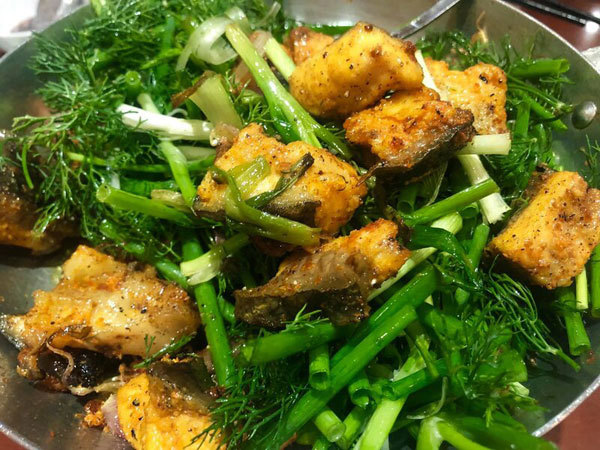 The fish is well-marinated in a mixture of spices including turmeric. Photo: Thuy An
Hanoi is famous all around the world as the destination for exquisite delicacies. And one of the cuisines that represents the culinary essence of Hanoi is Cha Ca (grilled fish). You might think that there's nothing special about grilled fish, but Cha Ca is actually a sophisticated dish that is tough to prepare.
Cha Ca has a dear place in the Hanoian's heart not only because of its phenomenal taste, but also because it represents the historic past of Vietnam. During the French colonial era, in 1871, the Doan Family invented Cha Ca and served the revolutionaries with the dish. It was so scrumptious that many people encouraged the Doan Family to open a restaurant. And they actually did open one in 14 Hang Son Street. Following the restaurant's successes, various Cha Ca eateries were opened right in the same street. In the end, Hang Son Street was renamed to Cha Ca Street to venerate this dish.
The fish species used in this dish is catfish, a freshwater fish native to Vietnam and has a firm texture with a mild, sweet taste. The marinade is very important for this dish, and usually integrates a mixture of garlic, shallots, turmeric, ginger root, sugar, salt, and fish sauce. Usually, the fish is marinated for a few hours and then grilled over charcoal.
However, that's not everything. The final cooking part will actually happen on your table. A portable gas burner and a small searing hot pan full of turmeric-spiced fish, dill, and spring onions will be brought to your table, along with various accoutrements such as roasted peanuts, rice noodles, chili, and fresh herbs such as basil and dill. The dipping sauce for this dish is mam tom (fermented shrimp paste) which might smell a bit musky and potent at first, but is full of umami and tastes very delicious when combined with all the ingredients.
Once the Cha Ca is sizzling, it's ready to be served. Make sure you eat it along with some crushed peanut, rice noodles, and also the fresh herbs that come with it. Pour on top a bit of shrimp paste, some pieces of chilies, a few sprinkles of black pepper, and enjoy! The golden color, soft crust, and mouth-watering fragrance will wake up all of your senses. And all the combined components create a profoundly appetizing taste that will make you crave for more.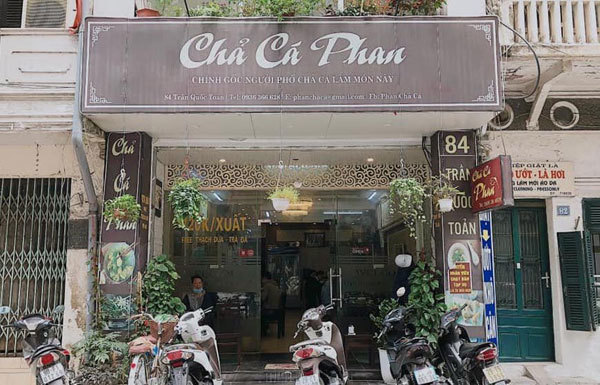 The store is located in 84 Tran Quoc Toan. Photo: Thuy An
One of the best Cha Ca eateries in my opinion is Cha Ca Phan, located in 84 Tran Quoc Toan Street. The restaurant is quite spacious and has a lot of seating, so it would be great for a big gathering. It's very clean and the foods are exceptional! The fish fillets are quite large, have a firm texture, and taste fresh and sweet. They have a gorgeous golden color and taste very well-seasoned. They're also crispy on the outside, but soft and moist on the inside. The fermented shrimp paste here is excellent as well. It's not too salty or has a strong, off-putting smell.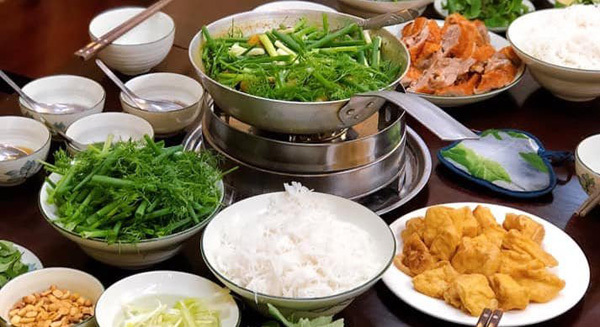 Cha Ca is served with herbs, crushed peanuts, and rice noodles. Photo: Thuy An
Besides grilled fish, the eatery also sells fish's stomach that is marinated and cooked exactly in the same way. Another plus point about this store is definitely the service. The owner and employees are very friendly. Each time I eat here, I always receive free food. Sometimes it's fish porridge, sometimes it's sour fish soup. Each portion costs VND120,000 (about US$5.2), but you'll get a free fill of rice noodles and herbs. Iced tea and coconut pudding are completely free.
Hanoitimes

Might not be the oldest dish of Hanoi as it has only been around for over a hundred years, but "Chả Cá Lã Vọng" or "Chả Cá Hà Nội" is definitely the unique among the best known dishes of the capital city.
Hanoi's cuisine is known for its delicacy and elegance from the simplest dish. Cha ca (grilled fish), a simple but truly tasty dish, characterizes the essence of the capital city's gastronomy.