Islands temporarily suspend arrival of passengers for Covid-19 fear

Cat Ba Island in the northern city of Haiphong has temporarily suspended the welcome of tourists from today, March 10, in the context of Covid-19 spread.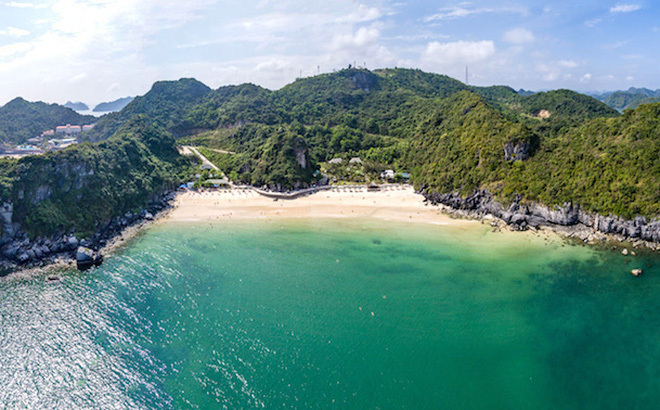 Cat Ba Island
Haiphong held an urgent meeting on Monday to seek ways to prevent Covid-19 on Cat Ba after a British female visitor who had tested positive for Covid-19 had visited the locality on March 7. 
Under the instruction of chairman of municipal people's committee Nguyen Van Tung, the two communes on Cat Ba, Viet Hai and Gia Luan where the British tourist visited were isolated. He also requested to halt the welcome of travellers to the island. 
At the meeting, Pham Thu Xanh, director of Haiphong Department of Health, said that 24 people on Cat Ba Island who took the same flight as Hanoi's first Covid-19 patient Nguyen Hong Nhung were tested negative for the virus. 
Sixteen people on a tourism cruise which the British woman stayed overnight were also tested and found to be negative. 
Cat Hai District has set up Covid-19 patrol stations at wharves and main roads. Local residents have been urged to minimise gatherings. 
The locality has continued seeking people who have been in contact with 24 people on the flight VN0054 for quarantine. 
Those who face high risk will be sent to Viet Tiep Hospital.
Tourist sites in Con Dao island temporarily close amid COVID-19 fears
Con Dao district in the southern province of Ba Ria Vung Tau will temporarily close its tourist attractions and relic sites in an attempt to prevent the potential spread of the novel coronavirus (COVID-19) epidemic, according to the district People's Committee.
The move comes amid increasingly complicated developments relating to the COVID-19 epidemic, with Con Dao island representing something of a tourist hotspot, typically welcoming an average of 3,000 domestic and foreign tourists each day.
Quang Ngai temporarily suspends arrival of passengers on Ly Son island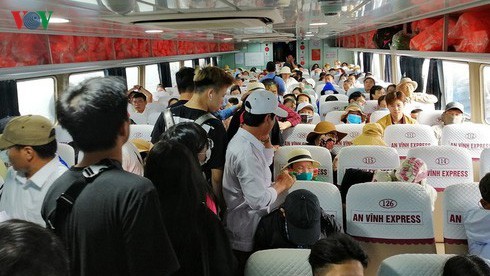 Passengers on the high-speed boat to Ly Son island
The central province of Quang Ngai has moved to temporarily suspend the arrival of passengers on Ly Son island as of 7am on March 9.
The announcement was made by the Quang Ngai provincial People's Committee on March 8 in order to strengthen measures being put in place to combat the potential spread of the novel coronavirus (COVID-19).
Local authorities have also encouraged foreigners currently staying on Ly Son island to return to the mainland early.
Moreover, residents should not sail to Ly Son island unless it involves an urgent matter.
This suspension will remain in place until further notice.
Quang Ngai province has yet to record any confirmed cases of the COVID-19, although 411 patients are currently in isolation at home, with a total of 378 being in isolation for over 14 days.
Cultural activities postponed in Hoi An due to COVID-19 fears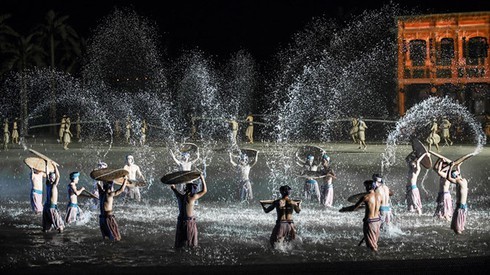 An art performance at the Hoi An Impression Theme Park
The authorities of Hoi An ancient town in the central province of Quang Nam have decided to temporarily delay any upcoming cultural activities involving gathering crowds as of March 10 to prevent the swift spread of the novel coronavirus (COVID-19).
Among the events suspended are art performances which were set to take place at the Hoi An Impression Theme Park and the Hoi An Lune Centre.
Water puppet shows, art performances in local theatres, and sports tournaments hosted by the city have also been pushed back due to the complicated nature of developments surrounding the COVID-19.
Any proposed art performances in Hoi An will be subject to future announcements.
Tourism industry to consider huge tax cuts for travel companies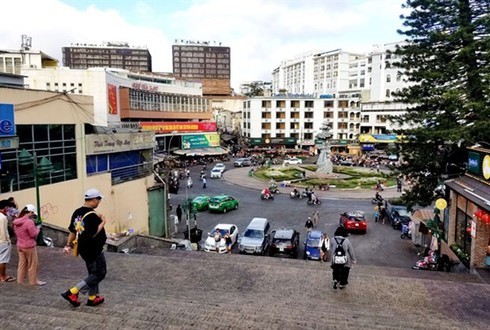 Stairs of Da Lat Market - a popular destination for visitors has been deserted recently. Vietnam's tourism sector has faced difficulties due to the COVID-19 epidemic. (Photo nld.com.vn)
Vietnam's Tourism Advisory Board (TAB) has proposed to halve value added tax (VAT) for the tourism sector from 10% to 5% to help businesses deal with the acute respiratory disease caused by the novel coronavirus SARS-CoV-2 (COVID-19) outbreak.
The board has also requested the Government to extend tax payment deadline for the businesses to ease their pressure.
For this year, the Government should consider exempting their social insurance and health insurance contributions and delaying the collection of personal income tax and corporate income tax until the outbreak ends.
It also suggested a 50% reduction of use fees for hotels, resorts and entertainment parks for the 2020-2021 fiscal year.
Authorities also need to reduce unnecessary inspections for tourism enterprises that often take time and money.
The TAB has asked the Government to disburse the Tourism Development Assistance Fund which aims to implement marketing plans and promotion programmes to help the sector.
According to TAB, the Government should accelerate the public investment projects to develop infrastructure for the future tourism growth.
Meanwhile, the Government needs to boost construction of Long Thanh airport, upgrading of Tan Son Nhat, Phu Bai and Dong Hoi airports, and building the new Chu Lai Airport. It should promote the expansion of Noi Bai Airport and complete the HCM City-Can Tho expressway and parts of the North-South Expressway.
Another solution proposed by TAB is to simplify procedures and shorten licensing time for businesses that have important roles such as aviation.
Now, the tourism industry has contributed 9.2% to Vietnam's gross domestic product (GDP).
According to TAB, hotel occupancy rate has fallen by between 20% and 50% compared to the same period last year, depending on the location.
Vietnam's airlines have suffered huge losses because almost all flights to mainland China, Hong Kong and Taiwan have been cancelled. That has seen a reduction of about 50% for the regional international and 40% for domestic flight bookings.
Phapluat/Dtinews/VNA/VOV/VNN

Historical and cultural relic sites as wells as tourist destinations in Hanoi are temporarily closed for disinfection in an attempt to prevent further spread of COVID-19.

Vietnam Airlines has moved to thoroughly disinfect all aircraft that operate on international routes to prevent the spread of the novel coronavirus and ensure the safety of passengers, flight crews, and the wider community.