Building travelers' trust
It seems Vietnam is nearing her H-hour set for welcoming back international travelers. The tourism authorities and businesses in the field have readied themselves for a launch as soon as it is given the green light.
 One of the topmost priorities, they argue, is building customer trust.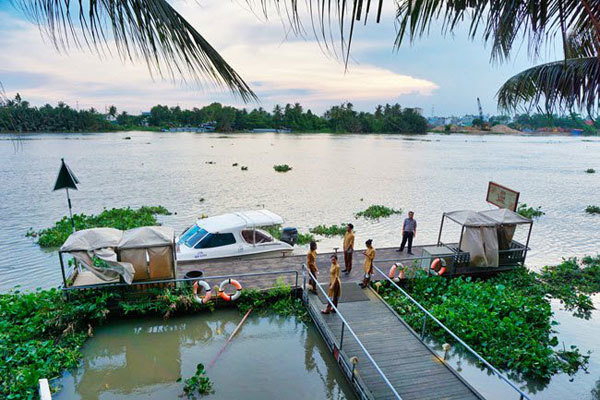 Preparations for a boat tour on the Saigon River running through HCM City. 
The tourism authorities have come up with a plan to welcome international guests to Vietnam, said an official with the Vietnam National Administration of Tourism (VNAT). This plan will be carried out step-by-step in three phases, said the official. The first will be the pilot phase, and limited numbers of guests will be received in the second phase and normalcy restored in the third.
The pilot reception of international travelers has to ensure a safety corridor for local communities by minimizing contacts between guests and the local populaces to diminish risks of infections and fears among citizens. That means short excursions may not be popular in this phase while preferred ones include long-stay trips, packaged resort tours and guests on board chartered planes. In the next phase, travelers on normal regular commercial flights will be welcomed.
The VNAT will first select locations and standardize entry procedures so that tour operators can comply with them. Other related authorities, such as the Ministry of Health, the Ministry of Foreign Affairs and the Ministry of Transport, will have to take part in the task so that the local hospitality industry can be gradually reopened to the fullest. Of this, the part to be done by the Ministry of Health is crucial because it has to negotiate with countries so that the two sides or multiple sides accept their respective Covid-19 vaccines to pave the way for a "vaccine passport" which grant entry to a traveler with two shots.
Some tour operators have hoped for an opening in July to catch up with the neighboring Thailand. However, said the VNAT official, although the authorities are eager for an early resumption of international aviation traffic, the opening date may not be sooner than after summer so that tourist companies in the field finish their most hectic business time of the year on the domestic market.
"We plan to welcome [international] guests on a pilot basis in the third quarter of this year," said the official. It may take the tourism authorities and relevant agencies about three months to complete plans and other preparatory tasks.
Earlier last week, Thailand has announced she would open the door gradually and pick the famous tourist island of Phuket to implement it on a pilot basis. As of the first of April, foreign tourists with complete Covid-19 vaccination to Phuket will have to spend a seven-day isolation at a hotel before being allowed to engage in tourists' activities at designated areas (called the 0+7 model). Since July 1, all tourists with complete Covid-19 inoculation will not have to be isolated any more.
In the above two phases, tourists have to produce a proof of their two shots which are endorsed by the World Health Organization (WHO) and some other papers, such as a negative test result of the coronavirus and health insurance. The isolation will be totally lifted as of the beginning of Q4 of this year. 
Trust building
Some business people in the tourism industry maintained that the recognition of WHO-endorsed Covid-19 vaccines the way Thailand does should be emulated by Vietnam when the latter implements her plans to resume the international tourism market. Furthermore, another crucial task is to build trust of tourists so that they can feel assured when tourism is back to normal.
Observation of customer moods and the affected tourism market shows that even domestic travelers responded extremely negatively should one or two cases of infection occur even when the pandemic is well controlled by the authorities.
A case in point relates to the two infected cases from abroad that entered Vietnam and visited Phu Quoc Island recently. Immediately after the news spread, a massive wave of cancellation of booked hotel rooms on Phu Quoc happened although this island was being a hotspot for domestic tourists.
Many tour operators are still moaning the hardest time last March when they had to transfer their customers from one place to another as tourist sites were closed due to infections. Some companies had to arrange flights from Hanoi to HCMC so that their customers could return home following orders to close international commercial flights in Hanoi.
All these above points indicate that actions must be taken to assure travelers they can go on tours without fears that they will be subject to infections or should they be under an emergency situation, they would be taken home immediately while their related interest is still ensured.
Some suggested measures are: destinations must have common standards for guest reception and operation of safe tourism in the backdrop of the lingering pandemic and others which support travelers in emergency.
"If each locality has its own rules without a common set of standards, it will be difficult to operate smoothly when international travelers are admitted while Covid-19 is still going on," said Dang Manh Phuoc, director of Outbox Consulting.
Some others emphasized on the need to make the set of standards keep pace with changes in responses to the pandemic of the Government. For instance, the initial concept of disease prevention was sparing no efforts. However, it has now changed to fighting the pandemic while spurring the economy. Or a detection of infections does not necessarily lead to widespread lockdowns but small-scale lockdowns. More experience which has been gained by the health authorities have enabled them to make decisions that have less effect on other services or industries. The new situation requires the sets of standards to be more detailed, flexible and suitable, too.
Support for travelers in case of emergency is also important to restore confidence of international travelers after events caused by the pandemic. The World Tourism Organization (UNWTO) and some other international organizations and influential tourism groups have recently started discussing a set of guidelines for nations around the world on support for travelers affected by emergency situations.
According to a press release of the UNWTO, its secretary general Zurab Pololikashvili said the world will only be able to start international tourism again if it can restore trust in the tourism sector. Anybody wants to be safe and taken care of on their trips, he added.
SGT

The Vietnam National Administration of Tourism (VNAT) is working with some relevant agencies to discuss a plan to welcome international tourists from some countries back to Vietnam in the third quarter of the year after the peak summer travel season.

In Vietnam, domestic flights have been resumed and the Prime Minister has asked relevant agencies to study the use of "vaccine passports" and gradually reopen international flights.