Banh Cuon: A delicacy with a rich history
Making banh cuon (steamed rice crepe) requires skills and meticulousness.
When westerners think of what to eat in the morning, the images of sweet pastries, cereal, orange juice are most likely to pop up. In Vietnam, however, there's a completely different expectation when it comes to breakfast. It has to be something savory and filling to give people enough energy for the day to come.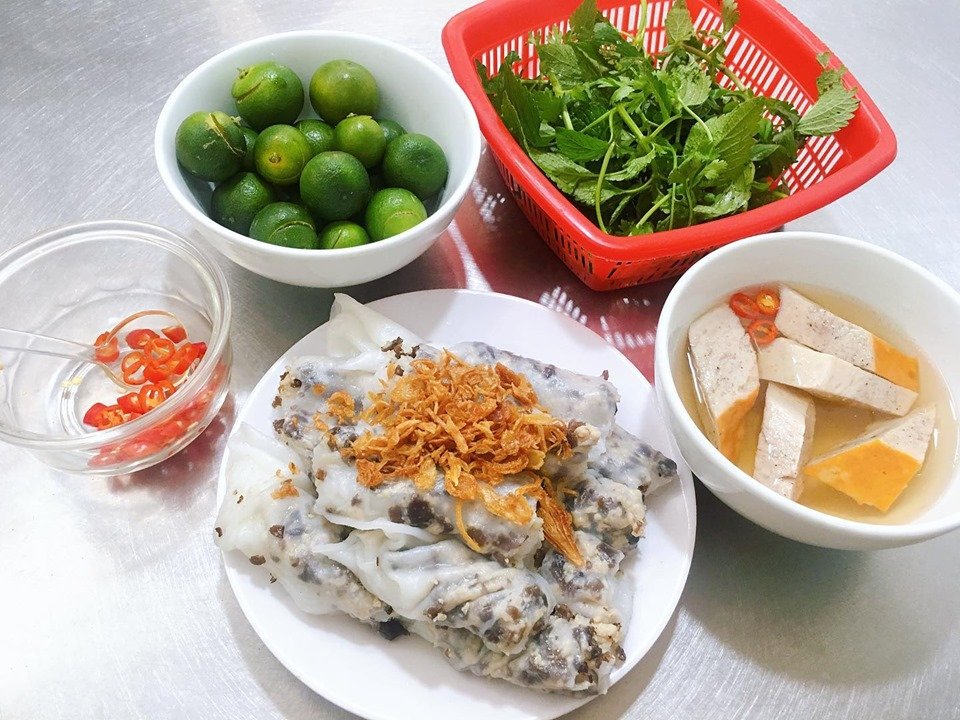 An order of banh cuon with roasted cinnamn pork sausages. Photo: Thuy An
Many Vietnamese choose to begin their day with a plate of banh cuon (steamed rice crepe). It's technically wide, paper-thin sheets of steamed rice batter with a filling of minced wood ear mushrooms, shallots, and well-seasoned ground pork. It's usually topped with a few sprinkles of crispy fried shallots for an extra crunch and a to-die-for fragrance. Just like other dishes in Vietnam, banh cuon is served with fresh herbs such as mint and coriander, and you'll also get a specially-made fish dipping sauce which is slightly sweet and slightly salty.
Compared to other heavy Vietnamese dishes like pho or bun rieu, banh cuon is lighter and will leave you feeling satisfied, not stuff. But if you want an even more fulfilling meal, you can for sure order extra slices of Vietnamese roasted cinnamon pork sausages to go with it, which a lot of Vietnamese do.
Banh cuon might sound like a simple dish to you, but making it requires skills and meticulousness. First, the owner has to pour the rice batter into a large metal sheet, and spread it out thinly using a big ladle. To me, making banh cuon is kind of similar to making crepe, but a tad harder since you're working with a large cooking surface and have to be very quick so as the batter doesn't get too thick at one point.
Then, you cover the cooking surface with a domed lid and steam it for roughly one minute. Once it's cooked, you have to painstakingly lift the thin, delicate sheet off the cooking surface with a long, wooden stick. If you move too hard, the sheet might break apart.
Also, this seemingly simple dish packs in a surprising amount of history. Let's travel back in time to the era of the eighteenth Hung King in 300 BC. At that time, the Vietnamese ancestors migrated to a region currently known as Thanh Tri Ward, Hanoi and started to cultivate rice there. Prince An Quoc, the son of the Hung King, learned the art of making steam rice crepe and taught others how to make this wonderful dish. So, in short, this dish was born 2316 years ago!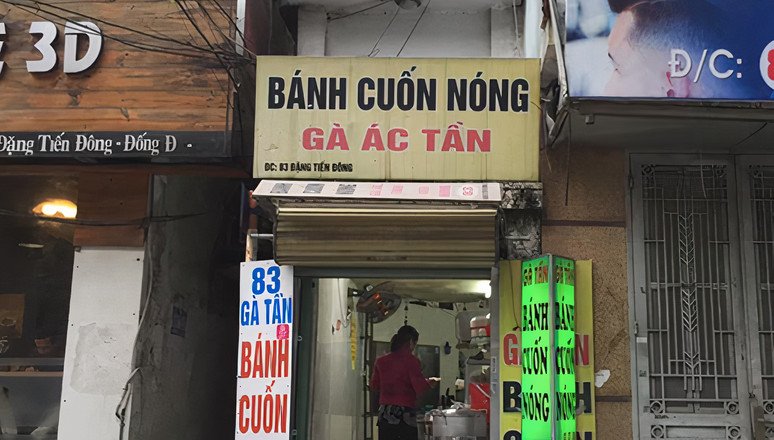 The store looks quite small at the front, but actually is spacious inside. Photo: Thuy An
Now, let's discover one of the best shops that sell this dish. Situated in 83 Dang Tien Dong, Banh Cuon Nong has earned quite a name for itself. The owners are a couple and always greet customers with a warm, affable smile. They're pleasantly easy to talk to, and the dishes here are very affordable and might actually be even cheaper than the one sold by street vendors.
Specifically, a plate with roasted cinnamon pork sausages is only VND25,000 (US$1.08). The shop also sells banh cuon with grilled meat at VND35,000 (US$1.51), and banh cuon with eggs at VND15,000 (US$0.65).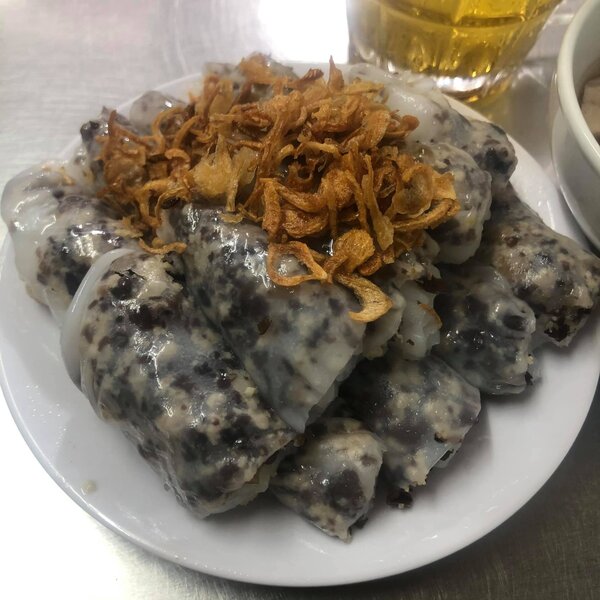 Banh cuon here is packed with fillings. Photo: Thuy An
If you're coming with a kid, I would suggest trying the banh cuon with eggs. After churning out the batter on the cooking surface, the owner quickly beats an egg into the batter so it turns into an appetizing yellow color. This dish tastes a bit richer than the original version, and is always a go-to for Vietnamese kids whenever they go to eat banh cuon with their parents.
During my first time eating there, I could tell that the banh cuon here was going to be phenomenal. It's very satisfying to see how the owner churned out the batter faster than I could even blink, and stuffed in a lot of fillings that smelled scrumptious even from afar.
Overall, banh cuon here is substantial and packed with fillings so you won't ever leave feeling hungry. The dipping sauce is balanced between sweet and salty tastes, but I recommend giving it a touch of pepper and some slices of chili to spice things up a little. Despite being only the side dish, the roasted cinnamon pork sausages taste scrumptious as well, encompassing a mesmerizing aroma of cinnamon. They also go very well with the mild dipping sauce.
The front of the shop is quite small and narrow, so there's not a lot of space for parking. But inside, it's actually spacious with a lot of tables. The shop is also very clean. From the floors to tables and seats, everything looks like they are cleaned thoroughly every day. 
Considering the price, the quality, and the cleanliness, this shop is definitely top-notch. So do give it a go whenever you're craving a light meal, a quick snack, or a fulfilling breakfast.
Hanoitimes

Although the ingredients to make this addicting dish sound fairly simple: ripe bananas, sugar, flour, turmeric powder, making banh chuoi requires the exceptional skills of a master artisan.