Attractive destinations in Rach Gia City
Rach Gia City, a political, economic and cultural centre of the Mekong River Delta Province of Kien Giang, possess many cultural and historical relic sites and attractive destinations that are imbued with the cultural identities of the locality.
Cong Tam Quan (Three-entrance gate) is a symbol of Rach Gia City. (Photo via camauphuquoc.vn)
Located on Nguyen Trung Truc Street in Vinh Lac Ward, Cong Tam Quan (Three-Entrance Gate) is an ancient architectural work and a symbol of Rach Gia City.
Built in 1959, the gate consists of three doors and three roofs which were decorated with many folk cultural symbols such as tiger-faced designs and dragon fish.
Visitors to the Kien Giang Provincial Museum. (Photo via the museum's fanpage)
Kien Giang Provincial Museum, which was constructed in 1911 on an area of 2,000 square metres at 27 Nguyen Van Troi Street, Vinh Thanh Van Ward, features ancient and modern architecture.
From the outside the museum looks like a French villa, while the inside bears traditional architectural features of Vietnam. The museum was recognised as a national art architectural relic site in 1990.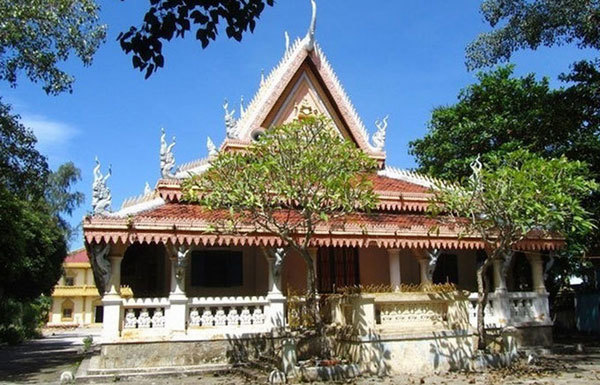 Lang Cat Pagoda. (Photo via hanoimoi.com.vn)
Lang Cat Pagoda (also known as Ratanaransi Pagoda) is located at 325 Ngo Quyen Street in Vinh Lac Ward. Constructed in 1455, the pagoda is a spiritual destination for Khmer Buddhists in the locality.
The pagoda was once a revolutionary base during the two resistance wars against France and the US. In 1994, it was recognised as a national cultural and historical relic site.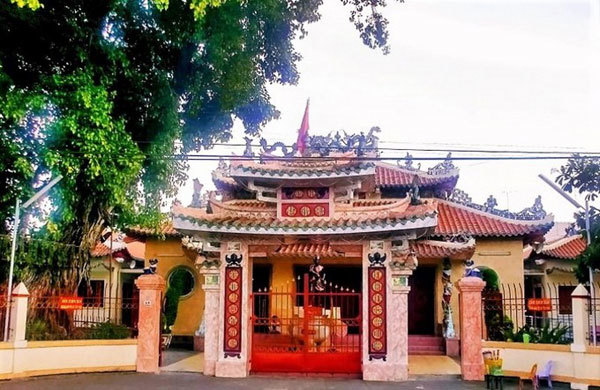 The communal house dedicated to national hero Nguyen Trung Truc. (Photo: NDO)
A communal house worshipping national hero Nguyen Trung Truc, who sacrificed his life during the resistance war in 1868, is also a destination that attracts large numbers of visitors to Rach Gia City.
Located in Vinh Thanh Ward, the communal house was initially built by fishermen to worship the Nam Hai (Whale Saint) according to folk beliefs. After that, the locals repaired and expanded its scale to worship Nguyen Trung Truc and several generals.
The communal house was recognised as a national historical and cultural relic site in 1988.
Rach Gia Cathedral. (Photo via thamhiemmekong.com)
Visitors to Rach Gia City should not miss the cathedral on Nguyen Truong To Street, Vinh Thanh Ward, which is a special architectural work.
Built in 1918 and reconstructed in 1972, Rach Gia Cathedral was designed with delicate white border patterns winding on the dome.
Source: Nhan Dan

Located in Kien Hai district, Kien Giang province, Nam Du archipelago has emerged as an increasingly popular attraction among visitors due to the area's tranquil and peaceful scenery, in addition to its array of local fresh seafood.

Occupying a prime feng shui spot with a sublime combination of land, water, and wind in southwestern Vietnam, Ha Tien City is one of the most attractive places in the Mekong Delta region.