Angkor Air launches Phnom Penh-Danang flight service

Cambodian national carrier Angkor Air launched the first flight on its new air route linking Cambodia's capital city of Phnom Penh with Danang City on October 27.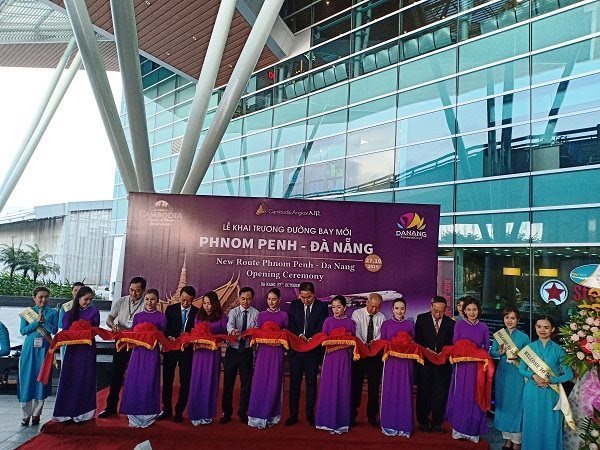 Tourism industry officials of Cambodia and Danang and representatives of Cambodia Angkor Air cut the ribbon to launch the Phnom Penh-Danang air route at Danang International Airport on October 27

Among the 120 passengers on the maiden flight is a delegation of travel firm representatives and Cambodian tourism officials, who have joined survey trips to popular destinations in Danang from October 27 to 31.
The rising travel demand, coupled with the goal of attracting more visitors to the two cities, encouraged the carrier to launch this air route, said an Angkor Air representative.
It will operate five weekly flights on the new route during the first few months, and the flight frequency will be increased early next year based on the market demand, according to the representative.
Angkor Air is also offering a special deal for flights on the route, with tickets being priced at US$50 each from now until the end of the year.
The airline is reportedly set to launch further air routes to Vietnamese destinations such as Dalat, Hanoi and Halong Bay in the coming months.
Aside from air travel, the Cambodian Travel Association is promoting caravan tours to Danang. Travelers will make their way to the city through localities in the Central and Central Highlands regions, covering a distance of 400 kilometers.
Angkor Air currently operates daily flight services on the Siem Riep-Danang route.
With the launch of the new route, there are 19 international direct routes linked to Danang to date. SGT
Nhan Tam