Ancient-style noodles not over the culinary hill yet

So you've lived in Hanoi and you believe the long list of connoisseurs and food critics has attracted all of the country's regional delicacies to the capital city for you to try.
Hung Yen rice cakes enchant with rural flavour
Hung Yen, an attractive destination
Rural flavours of Hung Yen rice cakes enchant
The best bites of bun in the Old Quarter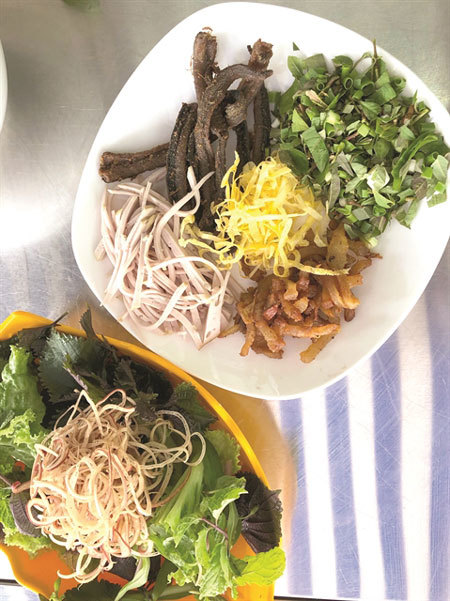 EEL-Y GOOD: Headlined by the eels, bun thang Pho Hien can be eaten with fresh herbs and sliced banana flower. — VNS Photos My Ha
You may be right most of the time, but from time to time if you keep your eyes peeled you will bump into a new regional dish you've never had the pleasure of tasting. I knew this was the case when I passed a sign reading Bún thang Phố Hiến xưa.
If you grew up on these noodles in Hung Yen, you probably think this place serves the ultimate, original bún thang.
But I'm used to Hanoi style bun thang, so I was excited to try the original and find the roots of this ancient delicacy.
Bun thang means vermicelli noodles with assorted toppings. Of the three sizes of fresh rice vermicelli this dish uses the smallest one, roughly the size of angel hair spaghetti.
Just as a doctor of traditional medicine picks the right herbs and roots to cure a disease, bun thang includes many different toppings to form the perfect flavour.
I was a little sceptical when I saw the toppings at bun thang Pho Hien xua: dried crispy rice paddy eels – the characteristic source of protein in this dish – pork paste and julienned sauteed pork belly.
FINAL TOUCH: Julienned eggs are added to the top of the already full bowl.
Hanoians know eels must always be served with miến (chrystal noodles) made from arrowroot! This is a code that is not to be broken. But what I was seeing with my own eyes were eels on top of a bowl of soup with vermicelli noodles. I believe this would be new for many other Hanoians.
Where does this unique combination come from? Pho Hien was the old name for today's Hung Yen Province. According to the official "Imperial Annotated History of the Viet" written under Nguyen Kings in the 19th century, the name was first mentioned in the 15th century, but became more popular during the height of the city's economic and cultural influence during the 17th century.
Located on the left bank of the Red River, Pho Hien was home to a bustling port. At this time a saying emerged showing the area was second only to the royal citadel of Thang Long: "The Citadel comes first, next comes Pho Hien".
In the 17th century, Pho Hien was an important stop for international trading vessels. After travelling over the sea, they would stop at the port and apply for permission to continue on to the citadel. It was also a trading hub and a centre for the Chinese, Japanese, Dutch, British and French communities.
During this time, two western trading points were set up in Pho Hien: a Dutch centre (1637-1700) and British centre (1672-1683). These representative offices and warehouses of the Dutch and British East India Companies were destroyed during the 18th century.
The busy, rich trading port of Pho Hien was the pride of people in Hung Yen Province. But over time, the path of the river gradually changed, leaving the site of the 17th century port now two kilometres from the mouth of the Red River. As the river shifted, trade slowed in the port and it lost its significance.
But for people living in Hung Yen Province today, Pho Hien is a name associated with a glorious past they do not want to fade. This is where the province's bun thang gets its name.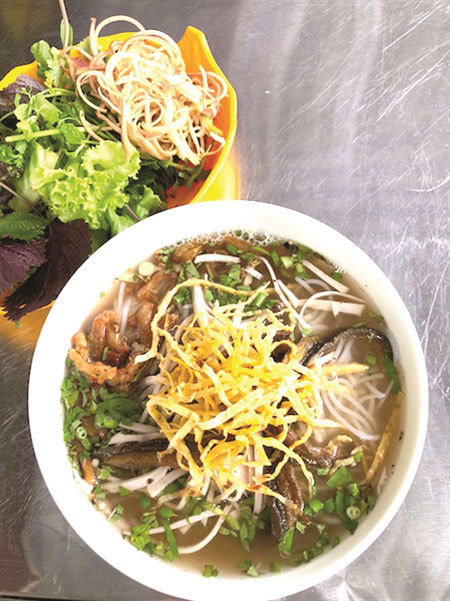 SIZE MATTERS: A bowl of bun thang Pho Hien is usually bigger than its Hanoi variant.
The dish takes a lot of time to make. The broth is slowly cooked from eel bones, dried shrimp or squid, dried peanut worms, grilled paddy crabs and pig bones.
There are five common toppings: pork paste, paper-thin sliced fried eggs, sauteed eels, chopped green onions and knotweed leaves, which are key to enhancing the flavour of the eels.
In Hanoi we add shredded boiled chicken, salted duck eggs and dried fragrant mushrooms, and eat picked white radish on the side.
If you are used to the Hanoi version of the dish, you may find this variant a bit too simple and not filling enough. Both styles benefit from a few drops of mắm tôm (shrimp paste) to bring the flavour to the next level.
This dish is well known in Hung Yen and people love it there, but I doubt it will catch on in Hanoi, especially because it has to compete with its more flavourful cousin. Some Hanoians I spoke to about the soup raised their brows and said they were not interested.
But what they may not realise is that this dish exists for the subtle flavours, not to fill you up. For connoisseurs, sometimes less is more. Maybe one day Hanoians will embrace the dish, but until then bún thang Phố Hiến remains a reminder of the proud history of Hung Yen for those who are willing to try it.
by Nguyen My Ha
VNS