Airlines in Vietnam to increase flights from April 16

Domestic airlines on April 15 evening announced they are increasing flight frequency between Hanoi and Ho Chi Minh City as from April 16, but the time difference between two consecutive landings in HCM City should be at last 90 minutes.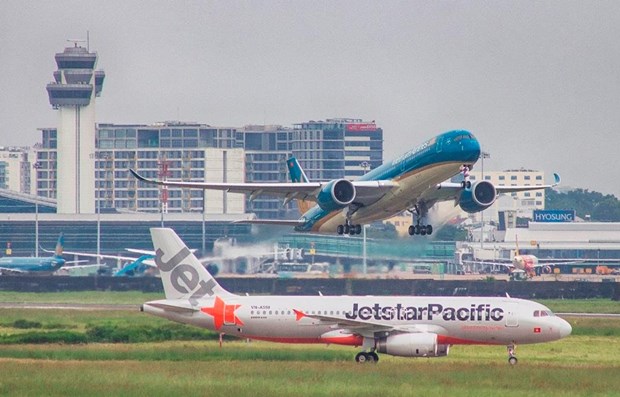 Illustrative image (Photo: VNA)
Vietnam Airlines will operate two flights a day on the route, while maintaining one flight daily on the routes between Da Nang and Hanoi/HCM City.
Jetstar Pacific will also increase the frequency of its flights between the two biggest cities to one daily instead of four a week. The flights will be conducted in the form of code sharing with Vietnam Airlines.
Meanwhile, Vietjet Air plans to operate two daily flights between Hanoi and HCM City, one flight daily between Hanoi/HCM City and Da Nang.
The airlines pledge to strictly adhere to hygienic and disinfection regulations for the flights, including health checks and health declaration of passengers, leaving space between seats according to requirements, and spraying disinfectants after each flight and at the end of the day.
Passengers will also be required to wear face masks throughout the duration of the flight.
For more information on flight schedules, passengers are advised to access the official websites or Facebook sites of airlines, or ticket agents.
Vietjet Air operates 10 cargo flights per day

A representative from low-cost carrier Vietjet Air announced on April 14 that the airline is carrying out roughly 10 cargo flights each day, with each flight carrying essential goods for citizens whilst transporting medical supplies free of charge as a contribution to the fight against the novel coronavirus.
Vietjet Air has also pledged to sponsor the transportation of health workers on its flights throughout the social distancing period. 
The airline has operated daily domestic flights during the social distancing period, with round-trip flights connecting Hanoi with Ho Chi Minh City operating on April 13, April 14, and April 15.
It added three more flights between the two major cities on April 11, April 12, and April 14 to transport passengers following the completion of their mandatory quarantine period.
As of April 16, customers will be able to check official sources to receive the flight schedule, such as the website www.vietjetair.com, the hotline 19001886,  the official Facebook page at https: // www. .facebook.com/vietjetvietnam /, or the airline's ticket offices and official agents.
The morning of April 14 saw the Civial Aviation Authority of Vietnam (CAAV) send an urgent dispatch to airlines including Vietnam Airlines, Vietjet Air, Jetstar Pacific Airlines, and Bamboo Airways outlining plans to operate domestic routes between April 16 and April 24.
Accordingly, the CAAV has requested that airlines be permitted to sell air tickets for flights starting from April 16 after obtaining permission from the CAAV. VOV/VNA/VNN

About 100 British nationals have flown home from Vietnam and Cambodia on a Vietnam Airlines flight specially arranged by the British Embassy in Vietnam and Vietnamese authorities.
Deputy Prime Minister Trinh Dinh Dung recently signed Decision No. 457/QD-TTg approving the Vietravel Airlines project of Vietravel - one of the country's largest tour operators.