A dessert for all occasions

No matter how much you eat, no matter how full you feel, there's no better sight to see after dinner than the dessert menu.
The best sweet soup stores in Hanoi
Cool down amid the summer's heat with che
Learning how to make sweet soup of black sesame seeds in Hoi An
Lotus Seed Sweet soup – the Essence of Hanoi Cuisine
Hanoi's sweet soups in Autumn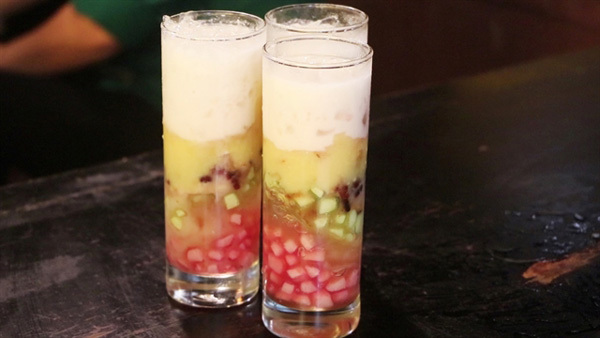 COOL COLOURS: Chè sương sa hạt lựu, or rainbow dessert, comes in a kaleidoscope of colours and is often served in a tall glass. VNS Photos Hoang Ho
And of course, as this is Vietnam, it's highly unlikely you will find anything simple to choose from as you would in other countries.
Cheesecakes? Don't think so. Vanilla ice cream? Probably not. And despite the obviously French influence this country has, it's unlikely you'll discover many profiteroles.
Instead you are more likely to see chè, or sweet soup as it translates.
Although it certainly falls into the dessert food group, chè can be enjoyed at any time of day, with or without a meal.
In fact what chè, and the various varieties it comes in actually, is far more than just a simple 'afters'.
Chè is something much more social. It is a dessert to be enjoyed with friends, family and work colleagues anytime of the day.
One popular choice when choosing which particular sweet soup you want is chè sương sa hạt lựu or rainbow dessert.
It comes in a kaleidoscope of colours, hence its name, and is often served in a tall glass giving off a rainbow like appearance.
SUPER SPOON: A customer enjoys chè sương sa hạt lựu at Quan An Ngon in Hanoi.

Dang Thi Thanh Huyen has been serving rainbow dessert and many others from her café on Thien Quang Street for 30 years.
She uses the same recipe her grandmother taught her, and believes that if she can make it just the same, everyone will enjoy the dish.
"I have been selling since April 1989. I love making desserts," Huyen said.
"When at home, it is normal to have dessert after finishing main courses. From my old days, it was always like that.
"My grandmother used to make sweet soup, and I was always tried to learn making it from my grandmother, then I participated. From that day on, I thought that if I could make it the same as her, I would make such delicious desserts."
And judging by the regular customers who keep coming back for more, she seems to have gotten the recipe spot on.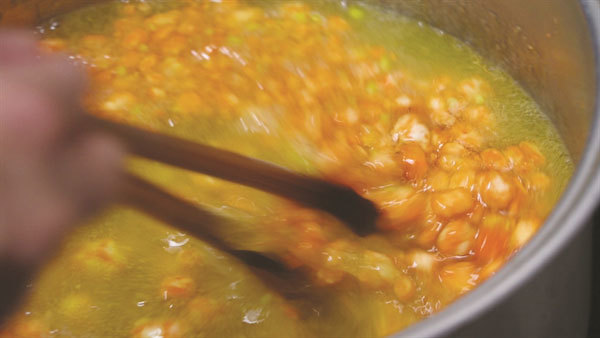 KEY PART: Chopped water chestnut is covered in tapioca starch and cooked at high temperatures, making up the main ingredient of the dessert.
"There are several generations of people who came to eat here, because I have been selling sweet soup for 30 years," Huyen said:
"There are people who used to eat sweet soup at my shop since they were in kindergarten, now they've grown up, got married and have children, and still come here to eat.
"I have been here for three generations. There are people who went study abroad for a long time and still visit my sweet soup shop when returning to Vietnam."
On a typical day at Quan An Ngon, chef Do Thi Huyen makes around 1,000 servings of rainbow dessert.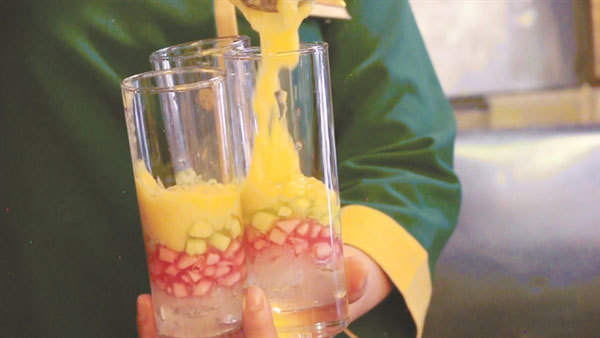 FINAL TOUCH: Smashed sweetened green beans are added as part of the dessert.
"The rainbow dessert here is my own recipe. It is inspired by the uniqueness of coconut milk, which makes it different from the rainbow dessert in other shops," Huyen said:
"The coconut milk here is delicious, creamy and very fragrant.
"My rainbow dessert consists of coconut milk, green beans, sugar syrup made from pandan leaf, water chestnut covered in tapioca starch, and last but not least, jelly.
"The taste is both gentle and cool thanks to the green beans. The chestnut is also very refreshing, helping to cool down the body.
"In the preparation, I have to measure and weigh the ingredients, so that the proportion is balanced perfectly in one cup of rainbow dessert.
"I really love my sweet soup, when customers eat it and they compliment that my dessert is so good, I love that feeling!
"When working in the kitchen, I am very excited to have a passion for making desserts and serving it to my customers, making them feel full and fall in love with this restaurant."
So whatever the weather, whatever the occasion, and whatever the company, chè is the perfect end to a meal. A feel good food that is guaranteed to bring a smile to the faces of everyone who tries it. VNS
Bao Hoa and Hoang Ho