140 year-old pagoda in An Giang is a must-see

A 140 year-old colourful pagoda is one of the must-visit places in the Mekong Delta province of An Giang.
A visit to An Giang
A city on the move
VN Khmers preserve 2,000 years of culture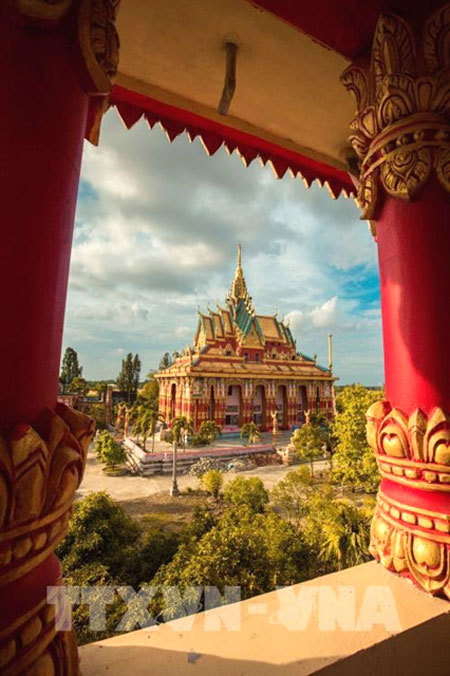 A 140 year-old pagoda is a must-see place in the Mekong Delta province of An Giang.— VNA/VNS Photo
The Mới Pagoda, built by the Khmer, is located on Road 91, 2km from the Tinh Bien International Border Market. Home to Theravada monks, it is a place of worship for the Khmer in the Xuan Hoa residential cluster.
Its architecture is a combination of the Khmer's decorative art and the colourful designs of the Angkor culture. From its gates and roofs to interiors, there are numerous figures of birds, nymphs and Naga, the god of snakes.
The main hall has a high ceiling. An idol of the Buddha seated on a lotus is in the middle of the hall. The year of construction, which is recorded on a wall, was 2421 in the Buddhist calendar. We are now in 2563 in the Buddhist calendar.
Outside the main hall, under a canopy of palm trees is a long line of towers built by Buddhist followers. The towers have many different sizes depending on the donations made by each family.
In Khmer tradition, local people and Buddhists visit the pagoda to help prepare for festivals and other special celebrations. The photo shows the making of flowers for decorations during the inauguration of the pagoda's new hall.
VNS