Workers' incomes reduce remarkably due to COVID-19 pandemic in Q3
The average monthly income of workers in most economic sectors in the third quarter declined compared to the previous quarter and the same period last year, according to the General Statistics Office (GSO).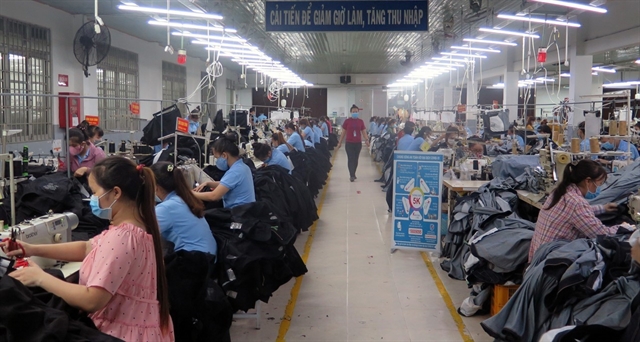 Workers at a textile company in the south-central province of Phu Yen. 
Average monthly salaries in the third quarter was VNĐ5.2 million (US$229 USD), down VNĐ847,000 compared to the previous quarter and VNĐ573,000 over the previous year.
Employees working in the service sector were most affected in terms of income with an average income of VNĐ6.2 million per month, down 13.5 per cent compared to the previous quarter.
During Q3, the Vietnamese labour market was seriously affected by the complicated development of the fourth wave of COVID-19 pandemic and prolonged social distancing. The number of employed people decreased substantially while the unemployment rate rose to a record level since the start of the pandemic.
Nguyen Thi Huong, Director General of GSO, said attracting workers back to the labour market in the current context is quite a challenge for businesses and the Government.
It would be difficult for workers to go back to work as well as for businesses to recruit workers if the pandemic situation remains complicated in these localities, she said.
Facing this situation, the GSO proposed Government take quick measures such as continuing the vaccination drive for dynamic labour markets that attract a large number of workers.
Localities should provide timely support to those affected by the COVID-19 pandemic including people who had their work suspended or had their labour contracts terminated, she said.
It is necessary to care for people's health and living conditions, ensuring social security and welfare, especially access to food, essential services, and health care services for local residents, Huong said.
Source: VNS