With schools, creches closed, people unable to return to work
Nguyen Thi Thu Cha, a worker at Nidec Vietnam Co. at the Sai Gon Hi-Tech Park in HCM City, had a decision to make: stay at home to take care of her children or return to work? But it was a no-brainer.
Though her family has been struggling to pay rent and buy food and other necessities ever since she and her husband were furloughed three months ago due to the COVID-19 pandemic, for the mother of two children, one in first grade and one in fourth, returning to work on October 1 when her company reopened was not possible.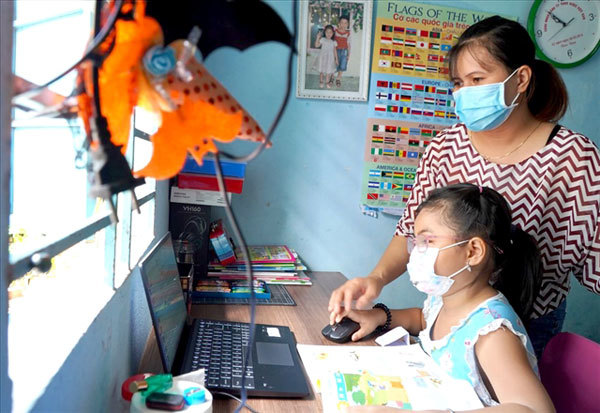 A parent stays at home rather than go to work to look after her children and help them study online. Photo laodong.vn
She had no choice but to stay at home to look after them and help them study online while her husband became the sole breadwinner.
She and her husband had been steadily earning more than VND20 million (US$889) a month, enough to live comfortably before the pandemic resurged in late April.
She is now on unpaid leave and her husband has just recovered from COVID.
She said: "How can I return to work if there is no one to look after the kids? I just hope that schools reopen so that I can send them to school and go back to work."
With children not going to school, many working parents have delayed their return to the workplace despite the financial struggle for several months.
Nguyen Thi Nhung, a worker at Nissei Electric Vietnam Co. at Linh Trung 1 Export Processing Zone in HCM City, returned to work last month, leaving her three kids at home with her husband, an electrician, who has delayed his return to work.
The family now survives on her monthly salary of around VND8 million ($356).
Tran Thi Hong Van, chairwoman of Nissei's trade union, said school closures had dissuaded people from returning to work, worsening the labour shortage caused by the exodus of migrant workers from HCM City to their hometown.
She said local authorities should reopen schools to enable working parents to return to work.
Cu Phat Nghiep, chairman of the PouYuen Vietnam's trade union, said the child care facility run by the company used to take care of more than 700 children under six, but had yet to reopen.
Many workers were forced to stay at home to take care of their young children, he said.
When the lockdown was lifted and the economy reopened, workers struggled to figure out how to juggle their children's remote learning and their own full-time jobs, a survey done by the Institute of Workers and Trade found.
Many opted to quit their jobs temporarily to look after their children and help them study.
Le Thi Huyen Trang of the institute told Lao Động (Labour) newspaper that parents were forced to choose between taking care of their kids and going to work.
She too called on administrations to make plans for reopening schools since the prolonged online learning could cause many workers to lose jobs.
Children spending a lot of time alone at home missed the social interaction and the other learning they get in school, she pointed out.
But vaccination of adults and children aged 12-17 needs to be speeded up to preclude severe COVID-19 infection and death.
Minister of Health Nguyen Thanh Long told the National Assembly last week that localities should not be too cautious about waiting for immunisation to reopen schools since children over 12 are eligible to be vaccinated and "the risk faced by children aged six to 11 is not high."
He called for reopening schools especially in places at levels 1 and 2 in the four levels of pandemic risk.
Under the Government's Resolution 128/NQ-CP, cities and provinces at level 1 (low risk) could allow students to return to school and those at level 3 (high risk) could combine online and in-person learning, he said.
But they would need to comply with pandemic safety measures when they reopen schools, he said.
Nguyen Van Hieu, director of the city Department of Education and Training, said as the economy reopened, reopening schools was an urgent requirement to release working parents from home duties with their children and supervising online learning.
The department planned to reopen schools next month, he added.
Source: Vietnam News

Many families are struggling to look after their children after schools closed to prevent the spread of the Coronavirus.

The fact that children waste their time in front of mobile devices is causing a stressful situation in many families.