Will extreme natural disasters occur again this year?
Rainfall in October, November and the first half of December in Vietnam's central region is forecasted to be 30-50% higher than the average of previous years, but it will not be as intense as it was in 2020.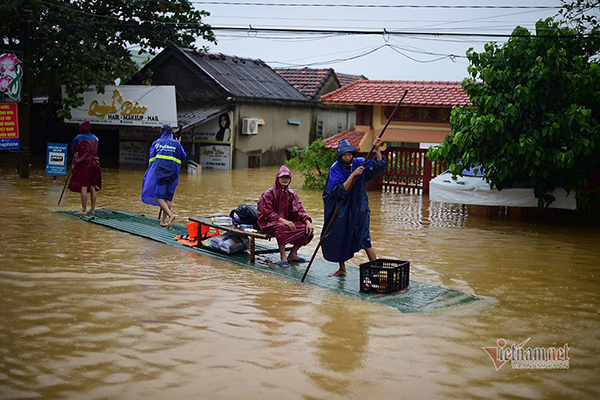 Floods occurred in the central province of Quang Binh in October 2020. Photo: Thanh Tung
In 2020, Vietnam reported a record number of 5 storms/tropical depressions within one month.
This year, in the first half of October, Vietnam witnessed consecutive storms/tropical depressions – the 7th storm and the upcoming 8th storm. The question is whether extreme natural disasters will repeat like last year?
Nguyen Van Huong, Head of the Climate Forecasting Department of the National Center for Hydro-meteorological Forecasting, said that according to the center's forecast made in mid-2021, From October to early December, consecutive storms/low pressures will affect Vietnam.
According to annual statistics, October is also the month with the highest frequency of storms and tropical depressions in the year. Therefore, it is normal that many storms/tropical depressions appear in the first half of October. Huong added that the storm No. 8 is forecasted to be a strong one, which is stronger than the storm No. 7.
Due to the impact of storms and tropical depressions, there will be continuous heavy rain in the central provinces in October, November and the first two weeks of December.
"It is forecast that rainfall in these months in the central region will be 30-50% higher than the average of many previous years, but the intensity will not be as fierce as in 2020," Huong said.
Huong noted that typhoon Kompasu, which moved into the East Sea on October 12 tonight, would cause bad weather in the seas, so fishermen should not go out to sea at this time and should move immediately out of dangerous areas.
On the mainland, from October 13-15, heavy rain will continue in the South of the Northern Delta and the central provinces. Therefore, from Thanh Hoa to Thua Thien - Hue, there is a possibility of floods, and landslides in the mountainous areas. Urban areas like Hanoi can be flooded.
Central localities asked to brace for Storm Kompasu
Deputy Prime Minister Le Van Thanh on October 12 chaired an online meeting of the National Steering Committee on Natural Disaster Prevention and Control with six central localities on measures to respond to Storm Kompasu, the eighth entering the East Sea so far this year.
Representatives of localities that are forecast to be hit by the storm - Thanh Hoa, Ha Tinh, Nghe An, Quang Binh, Quang Tri, and Thua Thien-Hue – said that they had made prompt preparations to brace for the storm, including alerting fishing vessels at sea and designing plans to respond to heavy rains and flooding in different scenarios.
Concluding the event, Deputy PM Thanh required localities to focus on giving drastic directions to minimise the storm's impacts, thus preventing the double effects from COVID-19 and natural disasters.
Stressing the need for plans to evacuate locals in high risk areas to safer places while still ensuring pandemic prevention, he asked the localities to pay special attention to giving safe shelters and support to migrant workers on the way to their hometowns from southern localities.
Alongside, it is necessary to ensure safety of dams, dykes and reservoirs, while preparing forces and vehicles for rescuing activities.
The Deputy PM asked the National Steering Committee on Natural Disaster Prevention and Control to form working groups to inspect and direct activities to respond to the storm.
According to the National Centre for Hydro-meteorological Forecasting, on October 12 morning, Storm Kompasu entered the East Sea. At 4pm the same day, it was about 530km east-northeast of the Hoang Sa (Paracel) islands, packing winds of 90-120km per hour.
In the next 24 hours, the storm is forecast to move westwards with speed of 20-25km per hour. It will enter the southern part of the Tonkin Gulf and land in the area from Thanh Hoa to Quang Binh before weakening to a tropical depression./. VNA
Huong Quynh

Another tropical typhoon with international name Kompasu is moving closer to the East Sea on the morning of October 11, bringing heavy rains to many areas of North East Sea.