War veteran pays for new bridges

Veteran Do Quang San has spent his own money to upgrade and build seven bridges to help people in his home province Ninh Binh travel more conveniently and safely.
Students help build bridges to a better life
Retired engineer helps build community bridges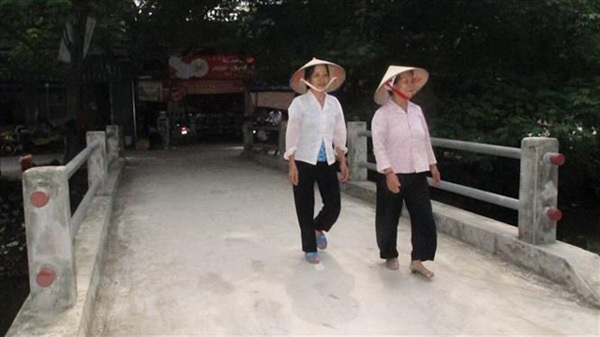 Local residents walk on the bridge, which is built by Do Quang San. — VNA/VNS Photo
Since 2015, he has spent more than VND300 million (US$12,900) on building concrete bridges to replace bamboo-made temporary ones.
San, who lives in Yen Khanh District's Khanh Trung Commune, said he has witnessed local people, especially children, being forced to travel on dangerous and inconvenient temporary bridges daily.
Most of the bridges, which were narrow and made of sticks of bamboo, were built a long time ago.
Sản decided to fork out for new concrete bridges, but it wasn't an easy task.
Back in 1984, San returned home after years in the army protecting the southwestern border of the country. He was assigned the position of deputy chief police of Khánh Trung Commune.
San said he saw the danger villagers faced crossing the old temporary bridges and decided to do something to change the situation.
However, he was hamstrung by a lack of money and the little he earned from working in the rice fields and from the communal people's committee had to go towards his family.
San realised he needed a stable income before he could help other people, so in 1986 he quit his job to start a construction materials business.
By 2008, San had become the owner of a construction material workshop that created jobs for five labourers with a monthly income of between VND5-7 million ($215-301) per person.
In 2015, San raised the idea of building a bridge to connect the two communes of Khanh Trung and Khanh Mau.
The old bridge, at about 50 centimetres wide, only had room for pedestrians and was seriously downgraded, which had hurt the economic development of the two communes.
Local authorities of Khanh Trung Commune and residents had asked for financial support from the State, but had not received it due to limited funds.
San said his idea was welcomed. After a short time, a new 3.5 metre wide and 13 metre long bridge was built.
The bridge cost about VND150 million ($6,450).
Do Thi Dung, resident in Khanh Trung Commune, said motorists used to go another long way as the old bridge was too small and weak for them to use.
Now they could travel more easily thanks to San.
In the following years, San built and upgraded more six temporary bridges in the commune.
San has been honoured by the provincial authority for his good deeds.
The generous veteran said he hoped he could have more support, both financially and spiritually, from local people to upgrade more downgraded bridges, as a small deed can make big changes.
VNS