Vocational schools struggle with admissions
Vocational colleges are struggling to meet admission quotas at a time of the year when students will have already started school.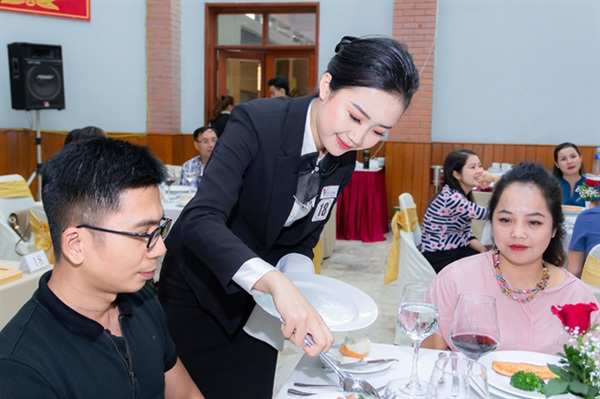 A student from Hanoi Tourism College at the national skills contest in 2020. — Photo qdnd.vn
Up until August 15, vocational institutions have just 75,000 students enrolled, approximately 13 per cent of the 2021 plan, according to the Ministry of Labour, Invalids and Social Affairs' General Department of Vocational Education.
"Right now, we have only accepted a little over 1,000 students enrolled to the school as the 'first choice', out of a 2,200-slot admission quota," Trinh Cao Khai, Dean of Hanoi Tourism College told Quân đội Nhân dân (People's Army) newspaper.
"In the previous years, it only took one admission cycle to receive the sufficient number of applications."
Hanoi Tourism College was an "in-demand" choice for students before COVID-19, but this year has seen just a fraction of applicants. Facing the same situation, Hanoi Vocational School of Cookery-Tourism and Fashion has only had 170 students enrolled out of a 700-slot admission quota.
Most schools found themselves in similar circumstances, waiting for students to apply. The limited number of applications is a result of a long, complicated pandemic, which has also increased the financial burden on many households. In the past, if they could not afford tuition fees, some families would consider taking out loans then let their children work and pay back the debt later. With the current situation however, they are pressured to look at other, more short-term options. 
Dr. Truong Anh Dung, Director General of the General Department of Vocational Education, said: "The challenges for vocational school admissions are partly due to the increasing scale of university admission. The diverse, easy enrolment methods to universities have allowed them to attract approximately 50 per cent of high school graduates every year."
Complicated developments of the pandemic also pose substantial difficulties for practical training, which has been the strong point of vocational schools. Normally, in addition to theory lessons, they would spend 50 to 70 per cent academic time in an hands-on environment. With long periods of social distancing, schools can now only record and send out instructional videos to their students. This is only a temporary solution, this practical experience for pupils to master their profession. 
In addition to these challenges, the lack of infrastructure is also part of the issue, said Nguyen Xuan Hung, Dean of Hanoi Vocational School of Cookery-Tourism and Fashion. The school's Son Tay campus finished their admission work, yet fail to proceed as their construction and renovation projects were halted.
Meanwhile, two years into the pandemic, numerous non-public vocational schools find themselves exhausted with depleted funding, which is essential to maintaining management and infrastructure. Teachers quit their jobs, while many schools are not able to return to their rented facilities as their students remain enrolled.  
Overcoming challenges
Although encountering such difficulties, most vocational schools and colleges consider this the common situation, not knowing when the pandemic will cease. In order to persevere, they are must quickly adapt and transform, especially with the increasing autonomy mechanism.
The ideal solution at the moment is to organise for teachers and students to stay at school for on-site training and practical work. However, this model is only suitable for schools which have dormitories, and can allow for easy production input and output. A bigger issue is not every family can afford the cost of living and studying on campus. 
In this challenging context, Hanoi Vocational School of Cookery-Tourism and Fashion are changing their way of thinking and working in the school, involving managers as well as teachers and staff, according to its dean, Nguyen Xuan Hung. The most important task at the moment is to improve training quality, and adjust curriculum needs to adapt to the current situation, while still ensuring two-thirds of academic time is spent on practice. 
The school is also working on a database for lectures and online test questions; integrating online and on-site measures to actively convey knowledge and skills to their students in any given situation, Hung said.
Sharing the same opinions, Trinh Cao Khai from Hanoi Tourism College said that investment to education needs to be long-term and add value to society. Therefore in the current complicated situation of the COVID-19 pandemic, his school demonstrate responsibility by reducing its tuition fees by 30 per cent. 
"However, this is only a temporary solution," Khai said. "To assist students, the Government needs to introduce a favourable loan mechanism and minimise redundant procedures. The whole system needs to weather this storm." 
Source: Vietnam News

As proved in the harsh Covid-19 pandemic time, digital transformation does help all fields of life, and education is not an exception.