Vinh Phuc to revoke illegal land of Buddhist monk

The authorities of Tam Dao District, Vinh Phuc Province has decided to revoke the land which has been used illegally by Thich Thanh Toan, a Buddhist monk who reportedly requested sexual favours from a female journalist.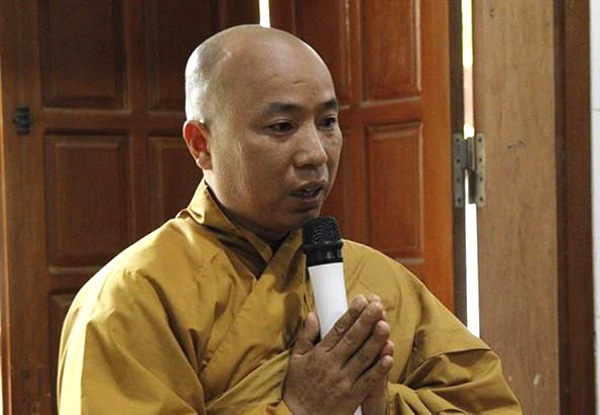 Thich Thanh Toan, who was the abbot of Nga Hoang Temple in Vinh Phuc Province's Tam Dao District, asked to be defrocked after a sex scandal. — Photo phatgiao.org.vn
The request was made after the committee completed a report on Toan's violations on illegal trading and use of land at Nga Hoang Temple, where he has been the abbot since 2008.
Nga Hoang Temple, located in Hop Chau Commune, covers an area of more than 20,900 square metres. Since 2008, Toan has purchased more than 5,790 square metres of farmland around the temple and transferred the use of land without informing local authorities as regulated.
Some worshipping sites have been built on parts of the land.
At a meeting with the Viet Nam Buddhist Sangha on October 5, Toan asked the Buddhist authority to allow him to be defrocked and claim the land as his own property.
Toan said he borrowed money to repair and build worshipping areas in the temple when he was the abbot. He wanted to keep the land to be able to pay those debts.
The Tam Dao District People's Committee said the land should be handled and managed by a local authority.
On October 3, Nguyen Thanh Quang, deputy director of the provincial Department of Home Affairs and head of the provincial Religious Affairs Department said the local authority warned Toan about the illegal use of farm land but was ignored.
Toan, the abbot of Nga Hoang Temple in Tam Dao District, was accused of sexual harassment and requesting sexual favours from a female journalist when she was covering a local real estate company.
Toan admitted his wrongdoings to Buddhist authorities on September 28. He has been suspended from his position.
The provincial Vietnam Buddhist Sangha approved his proposal to quit.

The abbot from a Buddhist monastery in the northern province of Vinh Phuc has been suspended from his position for behaving inappropriately.
VNS