Village earns billions of VND a year from flower cultivated for over a century
Farmers in Nghia Trai hamlet in Tan Quang commune in Hung Yen province have been growing cuc chi (Chrysanthemum indicum), used for herbal medicine and tea, for hundreds of years.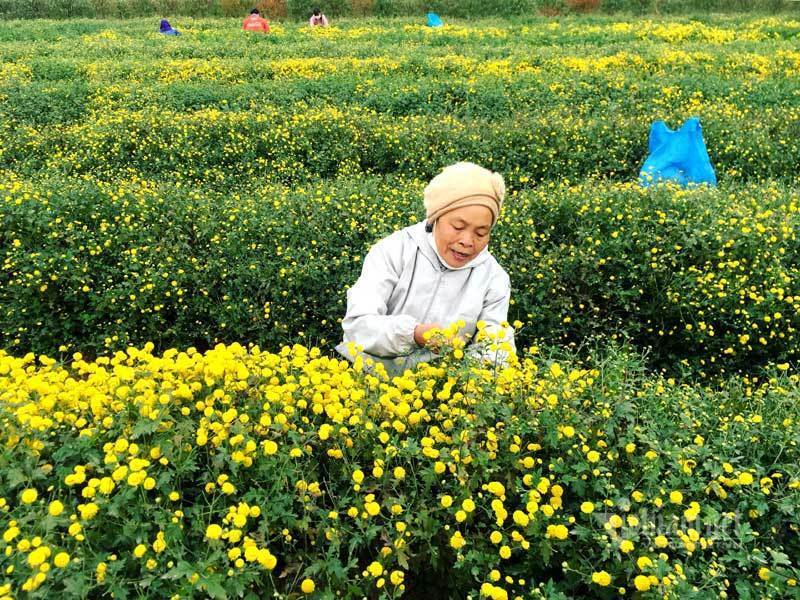 The fields in Nghia Trai hamlet have turned yellow these days. The color is from the cuc chi flowers, which local farmers are ready to harvest. The tiny beautiful flowers give a gentle and pleasant scent.
Young and old people work in the fields all day, busy picking flowers. Meanwhile, the flower drying ovens work at full capacity.
Nguyen Thu Thuy is believed to be the biggest cuc chi grower there with 3,600 square meters of growing area. This is the major source of income for her family.
Thuy said growing cuc chi for herbal medicine is a longstanding profession of locals, transmitted from generation to generation.
Thuy married a man in Nghia Trai, and has undertaken the traditional career of her husband's family for 20 years.
Cu chi flowers grown in the village are bright yellow, round, with beautiful blooms and pleasant scents, which are different from flowers grown elsewhere.
Farmers there begin growing daisies in July and harvest five months later. The harvest lasts 1-1.5 months.
Anh, Thuy's husband, said cuc chi has become more expensive in recent years. In 1991, he sold it at just over VND10,000 per kilogram. The price later rose to VND100,000-200,000. In the last 3-4 years, the prices at times have reached VND400,000-500,000.
But as they have a poor crop this year and flowers are not as beautiful as previous years, they have sold flowers for VND300,000.
In general, 6-7 kilograms of fresh flowers are needed to make one kilogram of dry flowers. It is estimated that the dry flower output is 50 kilograms per 360 square meters. With the current price, flower cultivation can bring revenue of VND15 million per 360 square meters.
The demand for cuc chi flowers has been increasing. They are transported to the south to be made into herbal medicine.
Thuy and her family have been living well from the traditional profession. Despite the poor crop, they still can earn VND150 million a year from the flowers.
Tran Thi Duong, whose flower field is near Thuy's, said that she has had a poor crop this year because of little rain. She anticipated slow sales this year because of Covid-19. Do Thi Le, head of Nghia Trai hamlet, estimates that local farmers can earn VND7-8 billion from the crop. 
Nhat Thanh

Van Thanh, the largest flower village of Da Lat, is quiet these days, with no flower collectors, though Tet will start in one month.

As the capital's largest flower growing area, Tay Tuu Village has hurriedly begun efforts to care for and collect flowers in order to supply local markets ahead of the Lunar New Year (Tet), marking the start of the largest harvest season of the year.