Vietnamese spend hundreds of millions of dong to return to homeland
While aircraft are lying idle, Vietnamese in many countries have had to spend huge amounts of money to return to Vietnam.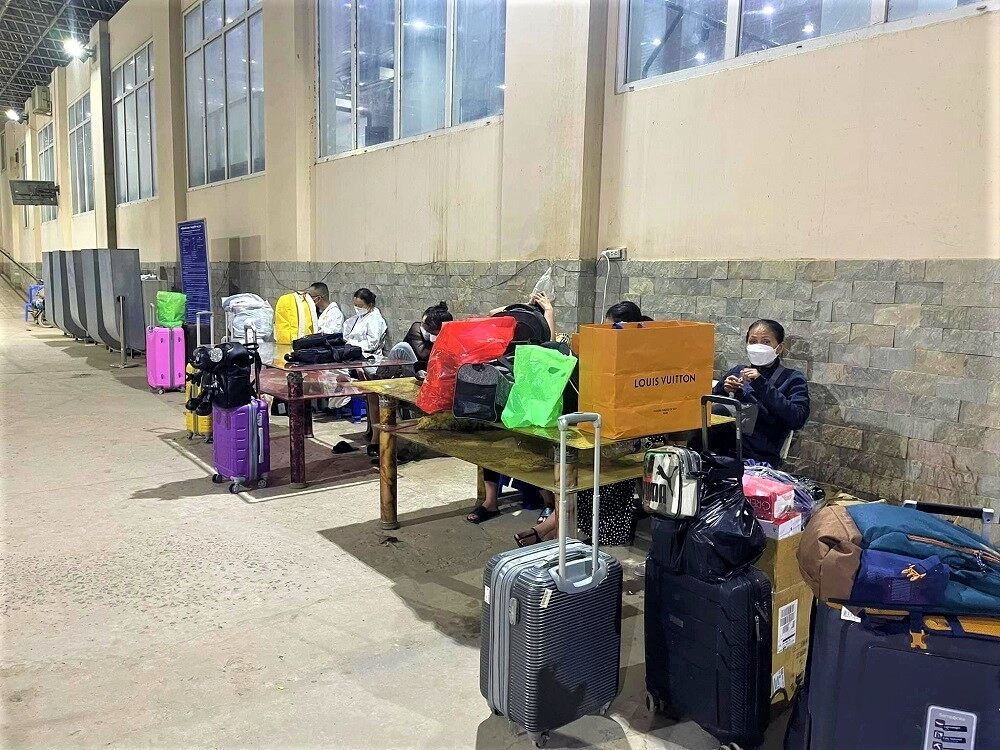 Vietnamese people at Moc Bai Border Gate in Tay Ninh
Luong Hoai Nam, an aviation and tourism expert, said at a seminar on reopening tourism on December 7, that one of his friends had to spend VND150 million to return from the US to Vietnam. Meanwhile, another friend of his had to spend VND240 million.
In March-April 2020, Vietnam Airlines provided 'rescue flights' to Vietnam. People had to pay $1,000 to fly from the US and $1,600 to fly from Canada. After arriving in Vietnam, people had to quarantine at military bases.
This means that people had to pay less than VND40 million earlier this year to return to Vietnam. Meanwhile, the current costs are VND80-240 million. These amounts were paid to agents for 'service combos'.
"How much do agents pay airlines and how much hotels? Where has the money gone?" Nam said, adding that the big difference between the costs of 'rescue flights' in March-April and the current costs is questionable.
"This is wreaking havoc on the aviation industry and tourism and blocking opportunities for reopening. We must act for the benefits of the aviation and tourism sectors, and the economy, not the benefits of the subjects overcharging people," Nam said.
Meanwhile, on some forums, Viet Kieu (overseas Vietnamese) are sharing experiences of flying to Vietnam via Cambodia. One can fly from Europe to Phnom Penh, Cambodia, which costs 630 Euros, and then take a bus from Phnom Penh to Moc Bai Border Gate in Tay Ninh. At the border gate, travelers shows their Vietnamese passport to enter Vietnam.
CAAV (Civil Aviation Authority of Vietnam) Deputy Head Vo Huy Cuong admitted that only when the barriers are removed will the routine international flights be feasible.
Cuong confirmed that many Vietnamese people who went abroad to study, work, have healthcare or travel still cannot return to the country.
Overseas Vietnamese should be helped to return to Vietnam rather than be required to acquire many approvals. Creating favorable conditions for Viet Kieu to return means creating favorable conditions for other foreign travelers.
Nam has proposed that management agencies create favorable conditions for all Vietnamese citizens to return from overseas without any required approval.
At this time, when there are still no routine flights, citizens should be allowed to return on flights of foreign airlines. They should show a Covid green card and test negative at the airport. 
Tran Chung

The Civil Aviation Authority of Vietnam (CAAV) has proposed the suspension of flights, including repatriation flights, from 10 African countries to prevent the Omicron variant of SARS-CoV-2 from entering Vietnam.

The HCM City Department of Health has sought permission from the Ministry of Health for a seven-day quarantine period for fully vaccinated and asymptomatic cases with negative COVID-19 test results.