Vietnamese French citizen's long standing battle for justice carries on
Former war correspondent Tran To Nga will continue her prolonged fight for justice for herself and other Agent Orange victims despite a court in France dismissing her lawsuit earlier this month.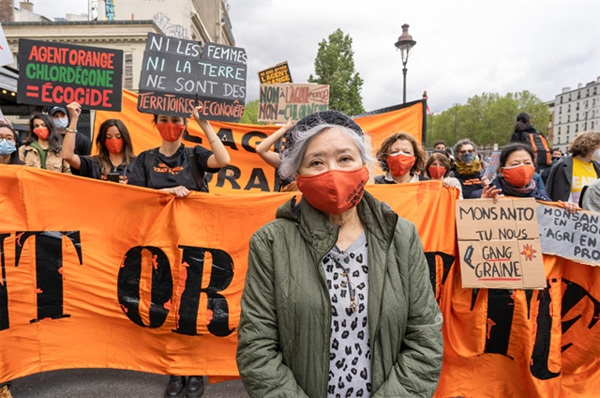 Tran To Nga, 79, is a former war correspondent who was contaminated with Agent Orange during the time she was living and working in Vietnam. — VNS Photos Duc Truong 
In 2014, Vietnamese-French citizen Nga, 79, filed a claim against the multinational corporations that manufactured and sold toxin Agent Orange, which was used by American troops during the war in Vietnam. It took more than six years for Evry Court to finally rule on May 10th that it refused Nga's requests. 
"The judgment is predictable but I couldn't help feeling shocked. This fight will be long," Nga, 79, told Việt Nam News via an online interview.
"My time may be limited but for the younger generation, a whole country and the entire world, it is not. Meanwhile the crimes of these chemical companies are still there, they are still creating tragedies for humans. So I think people won't stop this fight," she said.
Her lawyers are preparing an appeal against the decision.
A press release issued shortly after the court's ruling on May 10th by Nga's lawyers pointed out that the court applied an obsolete definition of the immunity of jurisdiction principle that contradicted modern principles of international and national law.
The refusal of the Evry Court to Nga's requests means that this court has denied the right of French citizens who suffered damage from foreign legal entities to be recognised by the French law, read the press release.
Nga worked as a war correspondent of the Liberation News Agency (the predecessor of the current Vietnam News Agency) in some of the most heavily AO/dioxin affected areas in southern Vietnam, such as Cu Chi, Ben Cat, and along the Ho Chi Minh Trail, ultimately experiencing contamination herself.
She has been suffering from a number of acute diseases and conditions that are acknowledged by the US government to be linked with AO.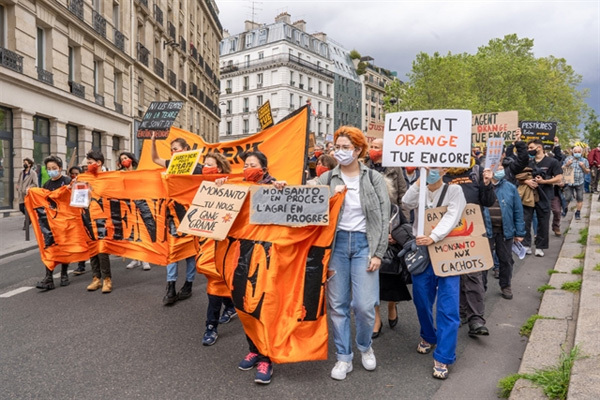 People in France march to voice their support for Nga's lawsuit. 
Of her three children, the first died of heart defects and the second suffers from a blood disease. 
For Nga, this long battle is not only for herself, but for millions of AO victims in Vietnam, including her friends and comrades who died during the war, many still in their 20s, said Nga.
If she wins this appeal, it will be a legal precedent for other Agent Orange victims. 
Though the court dismissed the lawsuit, Nga has been successful in bringing once again the AO issue to international public debate.
Agent Orange has earned global attention because of this lawsuit and young people across France have voiced their support for Nga.
A group of French organisations including Collectif Vietnam-Dioxin has organised gatherings and marches in support of Nga and against Monsanto with hundreds of thousands of participants in 17 cities across France.
About three million Vietnamese people are victims of Agent Orange, a toxic chemical sprayed by the US troops during the war. — Photo vava.org.vn
Hopes and justice for AO victims 
Among 4.8 million people who were exposed to Agent Orange in Vietnam, hundreds of thousands have already died and millions of others are now suffering serious illnesses, deformities and disabilities, according to the Vietnam Association for Victims of Agent Orange (VAVA).
Only one picogram of dioxin can cause cancers, accidents in childbirth to the exposed person or pass genetic illnesses to future generations of the exposed person, said the association.
In 2004, the association, together with some Agent Orange victims, filed a lawsuit against 37 US companies producing toxic chemicals in the Brooklyn District Court, however, this was dismissed five years later. 
In 2019, the Evry court suggested to Nga that a settlement between the two parties could be arranged. If an agreement is reached, this lawsuit will end and it will not be made public, Nga said.
"If I had been too tired and just wanted compensation, I would have accepted the settlement but what kept me forward was the eyes of the Agent Orange victims with all their hopes. Accepting settlement means giving up," she said.
"No matter what the politics may be like, justice will prevail. It's just a matter of time," the 79-year-old said.   

Operation Ranch Hand
Who: The US troops
When: 1961-1971
What: Flying defoliation missions
How: Spray herbicides from aircraft, spray trucks and sprayers, mostly C-123 Providers
Where: 3.6 million acres in Southern Vietnam with the most heavily sprayed areas including Ho Chi Minh City, Tay Ninh, Binh Duong, Binh Phuoc, Dong Nai, Thua Thien-Hue and Quang Tri
Amount: More than 80 million litres of herbicides, nearly 50 million litres of which were AO, containing roughly 370kg of dioxin
Purpose: Clear forestlands to strip the North Vietnamese forces of protective coverage and crops
Number of victims: 3 million in Vietnam
Impacts: Illnesses, deformities and disabilities

Pham Truong, Head of the External Affairs of the Vietnam Association for Victims of Agent Orange (VAVA).
The court could have done much more to exert its right and responsibility to have a reasonable judgment. The court did not examine carefully relevant factors such as these US companies not being forced to participate in tenders to produce toxic chemicals for profit. It also did not consider the fact that the chemical companies intentionally changed the technical process to shorten the production time of AO, reducing costs and increasing profits. Through the lawsuit, many people start to learn about Agent Orange and they understand more about the consequences of the war in Vietnam.
Tom Nico, Vietnamese French environmental engineer. 
In France, the younger generation does not necessarily know much about Agent Orange as it is not very well taught in schools. However, there are hundreds of thousands of people that are part of the Vietnamese diaspora in France. Young people here generally are very sensitive to environmental and social issues. With the popularisation of the concept of ecocide as a crime, the lawsuit has often been mentioned recently as a reference. A lot of young people are inspired by Nga's fight because it is a fight for environmental and international justice. We expect the court of appeal to be favorable to Nga. We are confident that the French justice will make a fair decision.
Pich Sin, Cambodian French student
Laws and justice were always evolving with social struggles so as long as people like Nga will fight, there will always be hope. It is great to see that the local and international media talk about this lawsuit. When I see dozens of French media, from Brut videos to press interviews on our national TV channel like M6 or France 3, spreading the information at each step of our fight, I become more optimistic. Even on Instagram or Twitter I see the French youth denouncing the impact of AO. We need to see these companies taking their responsibilities. If the appeal works, it will pave the way for everyone else in this situation. 
VNS

The Swiss Party of Labour has expressed its solidarity with Vietnamese-French woman Tran To Nga and all Agent Orange (AO)/dioxin victims of Vietnam after a French court rejected Nga's lawsuit seeking justice for the victims.

Vietnam regrets the French court's decision to reject the lawsuit of Tran To Nga to hold to account several multinational companies that produced and traded the toxic herbicide Agent Orange during the American war in Vietnam.