Vietnamese AO lawsuit makes French headlines
French newspapers have been reporting on a lawsuit filed by Vietnamese-French national Tran Thi To Nga against 14 multinational companies for their role in producing and selling chemical toxins that were sprayed by the US army during the Vietnam War.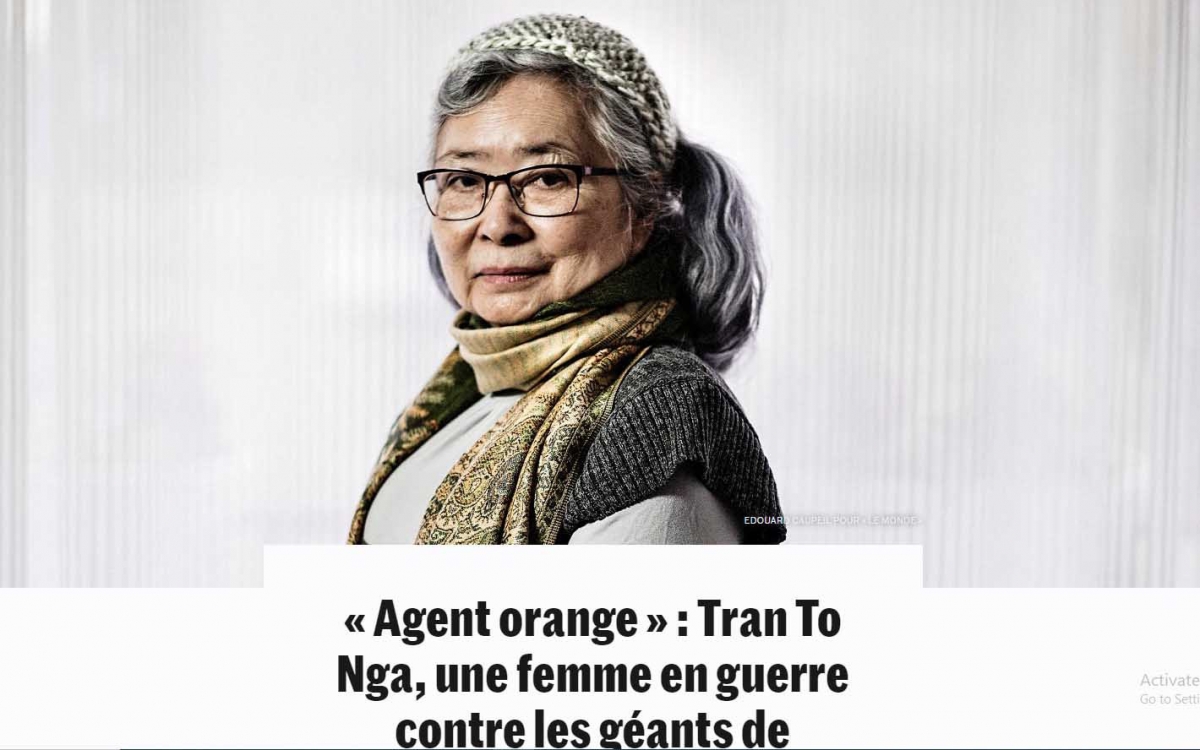 Most notably, these crimes caused serious damage for the local communities impacted, including Nga and her children.
The court was held on January 25 in Evry, a town located approximately 27 km southeast of Paris.
French newspaper L'Humanité published an article which reflects on Nga's life among millions of Vietnamese lives impacted by AO/Dioxin, as well as the historical trial against the multinational companies of the US, including Dow Chemical and Bayer-Monsanto, the two firms that Nga has been pursuing for the past six years.
A long article posted by Le Monde states that Nga is aware she will face a long lawsuit followed by an appeals court. It also notes that an assessment will be launched in an effort to determine whether or not there is a link between her health condition and the spraying of chemical agents on her homeland.
According to Nouvel Observateur, Nga is hopeful that the trial will serve to promote international recognition on crimes involving the destruction of the environment. The paper also stressed that if Nga were to win her case, the legal system will be truly acknowledging the responsibility of multinational chemical companies for their role in causing lasting harm to the lives of Vietnamese people and the environment.
Furthermore, Liberation newspaper cited that both powerful and "particularly toxic" defoliants, as recognised by the Dow Chemical Company, were crucial in the most significant acts of chemical warfare of the 20th century. Following these actions conducted by US forces in Vietnam, along with neighbouring countries such as Laos and Cambodia, the long-term effects of the chemicals can still be felt to this day.
Politis newspaper emphasised that among the defoliants that are capable of destroying plants, Agent Orange can be considered the most toxic chemical as it contains dioxin. The article therefore highlights Nga's resilience, patience, and tenderness, noting that she has become a formidable weapon against American chemical companies that believe they are untouchable and immune to their responsibilities.
Franceinfo assesses that behind Nga's fragile appearance, the 80-year-old who has been living in France since 1992, carries the soul of a soldier within her.
Meanwhile, Reporterre newspaper notes that at least 100,000 Vietnamese children are currently suffering from serious birth defects caused by the spraying of AO/dioxin. It concludes by stating that the court may bring fairness to all victims, including Nga. VOV

A French court will open a hearing on a lawsuit filed by Vietnamese-French Tran Thi To Nga against 14 multinational companies for producing and selling chemical toxins that was sprayed by the US army in the war in Vietnam,