Vietnam starts giving booster COVID-19 vaccine shots in December
The Vietnamese health ministry has urged localities to prepare to administer COVID-19 booster vaccine shots, which could start within December, with priority on over 50s and frontline workers.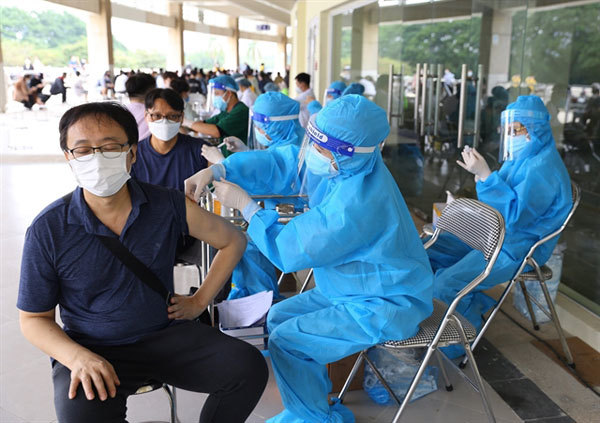 Foreigners in Hanoi received the second dose of COVID-19 vaccine in early November.
Localities are urged to complete the vaccine drive for the population, then begin booster shots, usually given typically six months after the last dose. Mixing and matching vaccines is allowed, according to health ministry.
The additional COVID-19 shots will first go to the adults (from 18 years old), especially people above 50 years who have been fully inoculated (one dose, two doses, or three doses depending on the vaccine types) and are moderately or severely immunocompromised (for example, people who just underwent organ transplant operation, people with cancer or HIV, or taking immune checkpoint inhibitors, etc.). The additional shots will either be the same type of vaccines they have previously received or mRNA vaccines (such as Pfizer and Moderna).
For booster shots, the priority will be on people aged 18 years old and above (especially 50 years and older) who have received the standard number of doses, are suffering from underlying health issues, people who require long-term care at health facilities, and medical workers, especially those directly involved in collecting samples for COVID-19 testing and treating COVID-19 patients.
If one originally received Sinopharm Vero Cell vaccines for the standard two shots and addition shot, then the booster shots could still be Sinopharm or mRNA vaccines or vector virus vaccine (AstraZeneca) six months after the last shot.
The vaccine used for additional and repeat injections is the vaccine approved by the Ministry of Health. The list so far has nine types of vaccines – AstraZeneca, Sinopharm Vero Cell, Pfizer, Moderna, Sputnik V, Janssen, Covaxin, Hayat Vax, and Abdala.
The dosage for administration of additional and booster shots is according to the manufacturer's instructions.
Localities are told to prepare the necessary conditions, especially the list of eligible people, to deploy additional and booster injections from December, based on the vaccine supply.
A vaccination site has been set up at an indoor stadium in Da Nang. — VNA/VNS Photo Van Dung
The Ministry of Health requested the National Institute of Hygiene and Epidemiology and the Pasteur Institute to provide guidance and technical support to localities in organising and deploying vaccination.
Vietnam to date has administered more than 123 million shots of vaccines, with 94 per cent of the adult population receiving at least one dose of vaccine and over 51.7 million people – or half of the country's population of roughly 100 million – receiving two doses.
Source: Vietnam News
It's necessary to think about who should get a booster shot first.

The Ministry of Health has just issued a document asking municipal and provincial authorities to review their needs for COVID-19 vaccines, including plan for third and fourth booster shots in 2022.