Vietnam sets out roadmap to make hospitals smart

The Ministry of Health has unveiled a roadmap for digitising patients' records at hospitals and setting up smart hospitals, a conference heard in HCM City on Wednesday.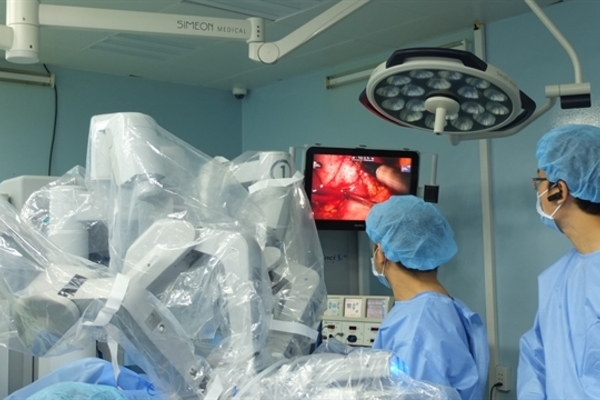 Bình Dân Hospital doctors use a robot to assist a surgery. Photo courtesy of the hospital
Assoc Prof Dr Phạm Lê Tuấn, a former Deputy Minister of Health, said: "The smart hospital approach is an inevitable choice in Việt Nam to improve the quality of healthcare to achieve customer satisfaction and ensure security, safety and efficiency in hospital management."
The fourth industrial revolution has been changing the face of the world and the lives of people in all fields in positive and promising ways, he said.
"Healthcare is therefore also greatly affected by the application of new techniques and technologies such as AI, expert systems, the internet of things, and big data to create information management systems and powerful applications that effectively support the management in medical as well as professional work".
Many hospitals in the country have adopted health information technology systems such as electronic medical records, eHealth and telemedicine, he said.
A system to share data on treatment covered by health insurance between health facilities around the country has been set up, he said.
Health data is a valuable asset, especially for medical science, with its complex characteristics and increasing volumes, and so there is need for a plan and strategy to manage and exploit it, he added.
Nguyễn Thế Dũng, vice chairman of the Việt Nam Health Economics Association (VHEA), said globally digitisation has created great transformation in the healthcare industry, improving its quality and efficiency.
"AI, internet of things, big data, blockchain, cloud computing, and other digital technologies make hospitals smarter and smarter."
According to professor Võ Văn Tới, head of the School of Biomedical Engineering at the International University under the Việt Nam National University HCM City, telemedicine is an appropriate way to develop smart healthcare, especially for low- and middle-income countries.
His school has developed the internet of things for healthcare including point-of-care devices that patients can use at home or anywhere else to measure their vital signs, websites and apps to record and notify family members and physicians to assist the latter in monitoring and immediately taking care of the patient if necessary, servers to stores data, and software for connecting the above devices and persons and analysing data, he said.
A clinical trial of the system was funded by the Bình Dương Province Department of Health and a medical centre for public servants in the province.   
The 1st International Health Informatics Conference Towards Smart Hospital was held by VHEA and the School of Industrial Management affiliated to the University of Technology, and provided an opportunity for hospital managers to discuss how to make their hospitals smarter. VNS

The National Assembly's Committee for Social Affairs continued its meeting on Thursday on the implementation of autonomy at public hospitals.

Hospital infections were becoming a common problem that required more focus from the healthcare sector, Minister of Health Nguyen Thi Kim Tien said.