Vietnam's farming land faces challenges
President of Vietnam Soil Science Association Vu Nang Dung spoke about an alarming situation facing farming land in Vietnam.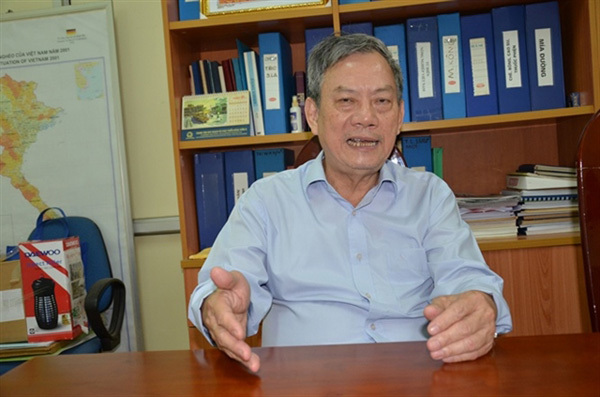 President of Vietnam Soil Science Association Vu Nang Dung. Photo nongnghiep.vn
Why do you say that Vietnam's farming land is facing an alarming situation?
The total area of land for agricultural production in Vietnam has doubled since 1980. Now the country has about 11.6 million hectares of farming land but when it comes to investment and application of sciences and technologies, the farming land area in the next few years will not increase, even in areas like the Mekong Delta region or Central Highlands. Moreover, farming land could be narrowed due to industrial production or urban development.
I'd like to emphasise that Vietnam's farming land is facing an alarming situation for a number of reasons. First, the country's current land management is still based on administrative tools which fail to ensure farming land to be used and conserved properly.
For example, under the Land Law, agriculture production land is classified into farming land and forestry land, while the two kinds require different investment and have different roles. Ministries of agriculture and environment are Government bodies responsible for land management, but for decades, neither has studied the connection between soil and crops.
Secondly, a majority of agriculture production land in Vietnam is degrading in different ways, such as erosion, infertility or reduction/losses of microorganisms in soil. Overuse of machines and chemical fertilisers makes soil unable to keep/drain water and plants do not get water from the soil. As a result, many fruit trees could not survive and are vulnerable to diseases.
As organic matter in soil reduces, the productivity of the soil reduces too. The soil degradation is seen clearly in northern mountainous midlands region, Central Highlands region and Mekong Delta. 
What are the main causes of soil degradation?
Among factors that cause soil degradation is the overuse of chemical fertilisers and plant protection products. The overuse harms soil and water resources. In areas in the Central Highland region, the overuse of chemical fertilisers even resulted in pollution of surface water.
I think that improper management over the use of input agriculture materials left negative impacts on soil rather than climate change. 
Climate change could heavily affect a particular area but the overuse of chemical fertilisers and plant protection products could ruin farming soil en mass. Climate change's impacts like drought or saltwater intrusion happened in particular seasons or years, but the overuse of chemical fertilisers happens day by day continuously. 
What would happen if the quality of soil continues to decline?
This is a serious issue as unhealthy soil leads to unhealthy crops and then unhealthy people. Due to degraded soil, many diseases relating to plants' roots develop strongly.
In healthy soil, good and bad microorganisms like bacteria and fungi live together in balance. When the soil is degraded, good microorganisms are fewer and trees are more vulnerable to diseases caused by bad microorganisms.
The diseases are developed under ground, which poses difficulties for us to detect and solve. 
Without proper care to farming land, the soil quality and the diseases will worsen and require more resources to tackle the issue. Moreover, farming products will be also affected with the reduced quality of soil and become possibly unsafe for people to use. 
How can we address the current soil problems?
 First of all, it is necessary to develop a land database for better management.
Secondly, a strategy to add organic matter to the soil is needed to improve the quality of the soil.
Thirdly, authorities should conduct basic studies on fertilisers and then recommend farmers use particular fertilisers on particular kinds of soil, for particular crops.
It is a fact that about 11- 11.5 million tonnes of fertilisers are used in Vietnam yearly but about 10-20 per cent of the fertilisers are not necessary.
With scientific studies, we can save fertiliser and improve the quality of soil and farming products as well.
At the same time, we need planning with specific directions on which crops would be grown in which areas and how much land would be used for a specific crop. 
What do you think about the opinion that to apply organic farming, the soil needs time to rest?
It's reasonable to adopt organic farming and it should be taken in two steps. First, it is necessary to identify areas for organic farming. The soil in such areas will be improved and controlled for a few years. After that, we will apply criteria of organic production and the area would be regularly expanded. Restoring the health for farming soil takes time and can not be done overnight. VNS

Demand for organic products has been rising sharply globally including in Vietnam, and this is good news for businesses investing in them, according to the Ministry of Agriculture and Rural Development.

Agricultural land accumulation for large-scale production has been facing many obstacles, although the Government has pushed up the process by implementing several policies.