VIETNAM NEWS JANUARY 22
Airlines adjust flights due to bad weather in Hanoi
National flag carrier Vietnam Airlines and Pacific Airlines, two carriers under the Vietnam Airlines Group, have announced adjustments to flights to and from Hanoi's Noi Bai International Airport on January 21 due to unfavourable weather conditions.
Two flights from Ho Chi Minh City, VN248 and VN7246, will land at Cat Bi Airport in the northern port city of Hai Phong.
Two others from HCM City, VN7206 and VN320, are to be diverted to the central city of Da Nang, while another from Buon Ma Thuot is to land at Tho Xuan Airport in central Thanh Hoa province.
Vietnam Airlines' flights VN1612 and VN8714 from Pleiku and Vinh city will be diverted to Da Nang and Cat Bi airports, respectively.
Many domestic flights to and from Hanoi were delayed because of the bad weather./.
Young musicians to perform at L'Espace
The mixed-media concert Mắt Hải Đăng (Eye Sea Light) will feature new compositions by young musicians at the French Cultural Centre (L'Espace). 
The one-night concert will be held tomorrow as a part of a project funded by the British Council's FAMLAB Fund aiming to encourage young musicians to write new compositions. 
Musicians Trần Hoài Anh and Nguyễn Quốc Hoàng Anh, Tuấn Hà group and Trang Tùng group will perform their music and unveil their music installations at the concert. 
At the concert, Hoài Anh will perform a piece entitled Tưởng (Thought) with the đàn tranh (16 chord-zither) in combination with a video. 
Tưởng has many distinct meanings such as reminiscence, contemplation, dreaming, delusions, illusions, and even fantasies. 
The concert-goers are invited to listen, observe and feel their way through Tưởng. 
A mixed-media music performance entitled Một Ấm Áp Khác (Another Warmth) will be played by Nguyễn Anh Tuấn from Tuấn Hà group. 
Hoàng Anh will show his conceptual music entitled Thôi, Bỏ Đi Bạn Ơi (Get off It, My Friend). 
"I am living in a chaotic world, I move around, there are quite a lot of things in life that I care about and I choose to express them in writing, photography, music and documentary film," said Hoàng Anh.
Trang Tùng group will display objects and arrange sounds which were carefully arranged and selected. 
When getting to know the music of chầu văn (spiritual singing) and hầu dồng (trance rituals), Trang and Tùng found in those who practise this religion an unshakable belief.
They hope the audience could also experience a journey to find their own beliefs.
The objects and music extracts they chose are familiar enough so the audience can feel related to the work.
"After spending an amount of time of experiencing hầu dồng rituals and chầu văn melodies, I started asking myself if spiritual belief truly enriches an individual's materialistic values," said Tùng.
Their music installation will be on show at L'Espace until January 28.  
After the concert, an artist talk will be held at Erato School of Music & Performing Art, 30 Đoàn Thị Điểm Street on Saturday.
Two new imported COVID-19 cases bring total to 1,546
Two new imported cases of COVD-19 were reported in the past 24 hours to 6pm on January 21, bringing the country's total count to 1,546, according to the National Steering Committee for COVID-19 Prevention and Control.
Both the two new patients are Vietnamese citizens returning from the US transiting the Republic of Korea. They have been hospitalized at the Phu Yen general hospital. 
Also on January 21, five COVID-19 patients were given the all-clear, raising the total number of recoveries to 1,411. Fatalities remain at 35.
Among patients still under treatment, nine have tested negative for SARS-CoV-2, the virus causing COVID-19, once, 15 twice and seven thrice. 
A total 18,603 people who had close contact with COVID-19 patients or arrived from pandemic-affected areas are being quarantined nationwide. 
As the risk of the pandemic entering the country from outside remains very high, the steering committee urged the entire country to continue strictly maintaining preventive measures, including tightening control people's movement across the border./.
Clinical trial research programme launched for second local COVID-19 vaccine
A launching ceremony to mark the start of the clinical trial research scheme for the locally-produced novel coronavirus (COVID-19) vaccine, named COVIVAC, took place on January 21 at the Hanoi Medical University.
The event is designed to introduc the research and development process, along with the start of clinical trials for the COVIVAC vaccine, which has been studied by the Institute of Vaccines and Medical Biology (IVAC) since May, 2020.
IVAC has carried out a number of preclinical studies for the vaccine in India, the United States, and Vietnam, with the results of experiments proving that the injection is both safe and meets the relevant criteria in order to progress to human trials.
Prof. Dr. Dang Duc Anh, director of the National Institute of Hygiene and Epidemiology, said the first phase involves plans to recruit 120 healthy volunteers that are to be divided into five separate groups.
The vaccination will consist of two injections which will be administered 28 days apart, with the first volunteer set to be vaccinated in February.
After compiling research results from the initial phase, providing that the vaccine meets safety standards and shows signs of given subjects strong immunity, the second phase will be conducted with larger sample sizes.
With preclinical results meeting safety standards and the current use of advanced technology, Anh expressed hope that plenty of vaccine doses will be produced in the future.
Prof. Dr. Ta Thanh Van, rector of Hanoi Medical University, said the university has prepared its facilities in an effort to speed up legal procedures in order to allow for the implementation of the vaccine trial research as soon as possible.
Cold weather raises the risks of stroke, say doctors
The cold weather which has hit the northern region with temperatures of 8 to 10 Celsius degree has reportedly been accompanied by a surge in the number of people suffering from strokes.
Dao Viet Phuong, from Bach Mai Hospital's Stroke Centre, said the centre has received 2,000 stroke patients since it was established in November.
More people have recently also been taken to the National Geriatric Hospital (NGH) and the 108 Military Hospital.
Nguyen Danh Cuong, deputy head of the Emergency and Stroke Department of the NGH, said the cold snap was the reason for an escalation in the number of senior citizens hospitalised for emergency treatment.
The hospital admitted 50-60 patients a day compared to 30-40 on normal days. Most of them are serious cases with blood pressure problems, heart diseases and strokes; some even need a ventilator, he said.
"As the organs of the elderly are ageing, they are more susceptible to respiratory diseases such as sore throats or bronchitis than young people. A sudden change in temperatures can lead to a higher risk of a stroke," he told Suc khoe va doi song (Health and Life) newspaper.
Hospital admission rates for strokes have also reportedly increased in medical centres in northern provinces like Hoa Binh, Quang Ninh and Lao Cai.
Ta Huy Kien from Hoa Binh General Hospital said each day the hospital received 7-8 stroke patients during cold snaps.
The number of patients seeking treatment for the disease hit nearly 240 from December 1 last year to January 10, he said, adding that strokes often occurred in people aged from 50 years old with underlying health conditions including diabetes and high blood pressure.
According to Phuong, the cold weather is a factor that heightens the risk of strokes.
When temperatures go down blood vessels in the skin constrict so the body doesn't waste a lot of heat, which can raise blood pressure. Many patients are hospitalised with a paroxysmal 130/80 mm Hg blood pressure.
High blood pressure is the cause of 80 percent of strokes in Vietnam.
Scientists have discovered a reduction of every two mmHg in blood pressure results in a 10 percent reduction in deaths from stroke.
If the blood pressure is maintained at the optimal level of 120/80 mmHg, it will prevent stroke complications in most cases.
Long-term hypertension will increase atherosclerosis and formation of blood clots which easily causing cerebral infarction. In addition, high blood pressure also increases the pressure on brain arteries, causing blood vessels to rupture, causing brain bleeding, Phuong said.
Cold weather also makes many people tend to eat more salty and more fatty foods while reducing exercise.
"It is dangerous that when it is cold, patients with hypertension are too lazy to take medicine or run out of medicine but they are afraid to go to see the doctor again, making the blood pressure uncontrollable," he said.
It is estimated an annual incidence of strokes in Vietnam at 200,000 and the figure increases by about 2 percent every year. However, people don't have knowledge about the disease, measures to prevent it or first aid, said Phuong.
He said one of the most important criteria for reducing complications in stroke patients was to go to the hospital early.
"As soon as one of your relatives has such symptoms as hemiplegia, distorted mouth or slurred speech, you should immediately call an ambulance and bring them to the nearest hospital."
"We always want patients to arrive at the hospital within three hours from the time their symptoms appear but it is extremely difficult. There are only a few cases in Hanoi when this happens while the rest are mostly late.
"Many people are hospitalised after 2-3 days. At that time, treatment is very difficult and the ability to recover is limited," he said.
For patients with cerebral haemorrhage, if they come to the hospital early, their blood pressure will be controlled, greatly reducing after-stroke risks, according to Phuong.
The Ministry of Health has sent an urgent dispatch to departments of health in cities and provinces in the northern and central regions ordering preventive measures to protect people's health in response to the cold snaps.
They were asked to guide people on how to keep warm outside and in closed rooms.
Health facilities were also required to ensure there was enough medicine for treatment and enhance control over diseases including blood pressure, cardiovascular and respiratory diseases, especially in the elderly and children.
The National Centre for Hydro-Meteorological Forecasting said that temperatures in the north will continue dropping in the next few days.
Cold air hit the northern delta area on January 19 with the lowest temperature of 9-12 degrees Celsius and 5-8 degrees Celsius in mountainous areas.
Meteorological experts have warned that snowfall is predicted to occur in the high mountain areas of Lao Cai and Lai Chau provinces in the next few days./.
25th Asian Television Awards honours local singer
Vietnamese singer Jack has won the title of Best Music Video at the 25th Asian Television Awards (ATA) for his video "Hoa Hai Duong" (Camelia).

This year's awards ceremony took place virtually on January 16, with Singapore hosting the online event due to the impact of the novel coronavirus (COVID-19) pandemic.
The music video by the local singer successfully beat off competition from other candidates from Singapore and India, along with the video for popular hit "Bigcityboi" by Vietnamese rapper Binz, to finish first in the Best Music Video category.
The ATA are held annually with the aim of honouring various artworks and artists from throughout the Asian region.
Last year saw Jack overcome other rivals from Indonesia, Malaysia, the Philippines, Singapore, and Thailand to claim the title of Best Southeast Asia Act at the MTV Europe Music Awards (MTV EMAs) 2020.
Ngoc Thao to compete at Miss Grand International
Ngoc Thao, second runner-up at Miss Vietnam 2020, will represent the country during Miss Grand International, with the global beauty pageant set to be held in Thailand this March.

Ngoc Thao, second runner-up at Miss Vietnam 2020, will  compete at Miss Grand International
As scheduled, the Vietnamese beauty will touch down in Thailand in late February before completing a 14-day quarantine period from March 1 to March 14 alongside other foreign contestants.
During their spell in quarantine, participants will still be able to attend a number of activities taking place on the sideline of the event from their rooms via online platforms such as Facebook or Zoom, including introductions, interviews, and a souvenir auction.
Miss Grand International is one of the six major global beauty contests which is held annually, alongside Miss World, Miss Universe, Miss International, Miss Earth, and Miss Supranational.
Thua Thien Hue offers visitors free entry for three days during Tet
Vietnamese visitors to the Hue Imperial Relic Site are set to be exempt from buying ticket during the opening three days of the Lunar New Year festival, known locally as Tet, according to Hue Monuments Conservation Centre in the central Thua Thien Hue province.
This move will see the Hue Imperial Relic Site open to domestic visitors free of charge from February 16 to February 18.
Throughout this period, a range of special cultural activities will take place at Dai Noi, also known as the Hue Imperial Citadel, which will re-enact traditional royal ritual ceremonies.
Most notably, Thai Hoa palace will host a royal ceremony on February 2 to commemorate a King from the Nguyen dynasty.
Vo Le Nhat, director of Hue Monuments Conservation Center, emphasised that a range of royal ritual ceremonies will be held throughout Tet to help tourists gain greater insights into the Tet atmosphere at the old palace.
Young athletes of the year 2020 to be honoured
The Vietnam Sports Administration has launched a vote to identify the athletes and coaches who recorded the most outstanding achievements in 2020, with many young faces among those nominated.

Included in the list are shooters Bui Thuy Thu Thuy, 18, and Phi Thanh Thao, 16, both of whom bagged plenty of medals and broke national records during a national youth shooting tournament and national championship held in 2020.
Meanwhile, 15-year-old skater Tran Khanh Linh won a gold and a bronze at an international tournament, in addition to a gold at an national tournament in 2020. She was the first Vietnamese representative to compete at the World Skate Oceania and the Junior Grand Prix, a series of junior international competitions which is organised by the International Skating Union.
Among the honoured athletes, 29-year-old captain of the national women's football team Huynh Nhu makes the list, alongside Minh Tri, 24, a member of Vietnamese futsal team, and Nguyen Linh Chi, 30, a volleyballer of the LienVietPostBank team.
In the coach category, Ngo Thi Ngan Ha, 31, of the national shooting team, is the youngest coach to be considered among those with outstanding records last year.
In total, the list features 28 athletes and 17 coaches, together with six handicapped athletes and five handicapped coaches.
The result of the vote is scheduled to be announced on January 22.
Vietnam could host Asian region's remaining World Cup qualifiers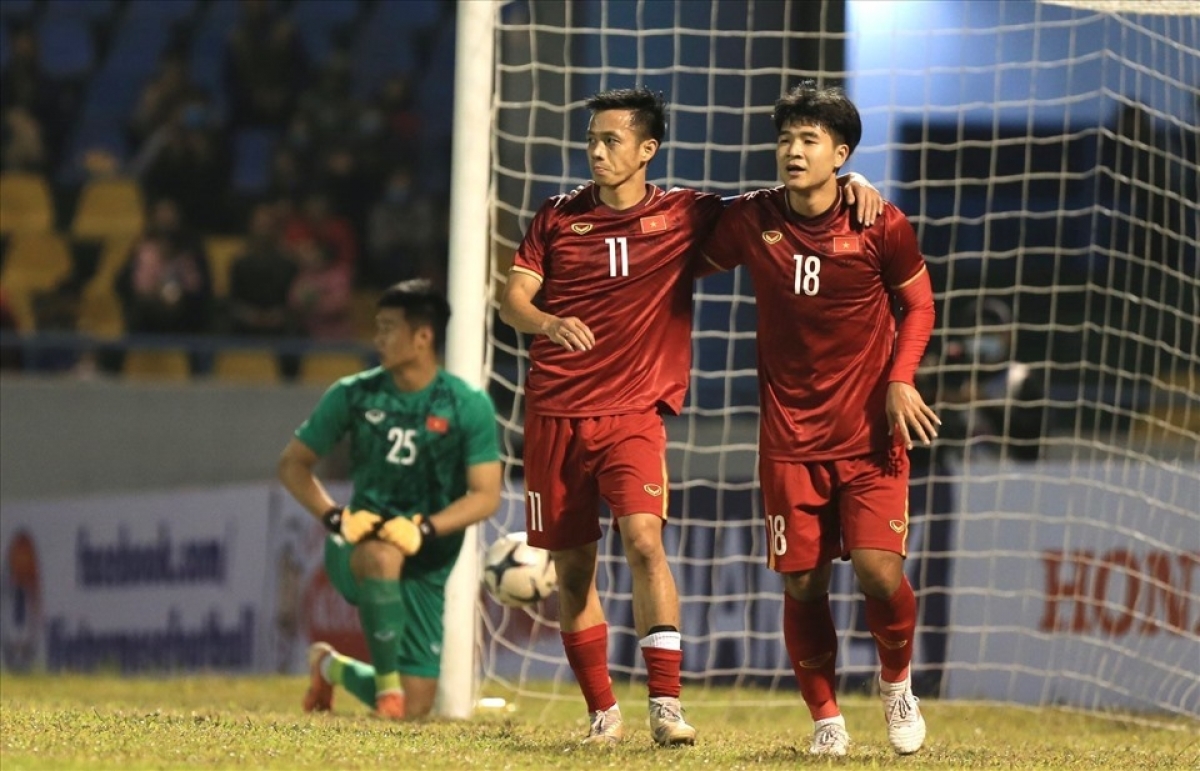 Footballers of the Vietnamese national men's football team play in their final gathering of 2020.
Providing that the Vietnamese national men's football team advance to the third round of matches in the Asian region's qualifiers for the 2020 World Cup, it is possible that they play games at home as Vietnam is planning to host the remaining qualifying fixtures following its COVID-19 control success.

According to reports by Tran Quoc Tuan, permanent vice president of the Vietnam Football Federation (VFF), important meetings have been held with the Asian Football Confederation (AFC) in recent times to discuss where the games will be held.
All fixtures in the second qualifying round of the World Cup qualifiers in the Asian region must be completed before June 15.
The third round of regional qualifiers are scheduled take place from June in order to  choose the best Asian representatives to the 2022 FIFA World Cup in Qatar slated for November 21, 2022, to December 18, 2022.
Vietnam is viewed as a safe destination to host the games following the successful control of the COVID-19 pandemic and the organization of the 2020 football season (V.League).
If Vietnam is chosen to host the remaining World Cup qualifiers, it will be positive news for the national team and their Korean head coach Park Hang-seo.
The Vietnamese squad are scheduled to compete in three matches as part of the current qualifying process, with ties against Malaysia on March 30, Indonesia on June 7, and the United Arab Emirates (UAE) on June 15.
Winner of Fair Play Awards 2020 announced
Local futsal player Nguyen Nho of Sanna Khanh Hoa FC has been granted first prize in the Fair Play Awards 2020 during a ceremony held in Ho Chi Minh City on January 20.

The honour was granted to Nho following his excellent performance in a match between his club Sanna Khanh Hoa and Kardiachain Sai Gon FC, as part of the first leg of the National Futsal Championship 2020.
When Nho received a pass from his teammate and was attempting to run through on goal, a Kardiachain Sai Gon FC defender suddenly slipped and fell. Without hesitation Nho decided to kick the ball out of play in order to allow doctors to treat the opposition defender.
Meanwhile, Nguyen Phong Hong Duy of Hoang Anh Gia Lai (HAGL) FC was given second-place prize. He was able to restrain himself after Thanh Tu of Sai Gon FC threw the ball directly into his face during a V.League 1 match in 2020, with Duy willing to forgive his opponent's bad actions.
Third place went to footballer Do Hung Dung of Hanoi FC for encouraging his teammates to stop fighting with staff from rivals Binh Duong Becamex FC during a 2020 V.League 1 season match in order to allow a stretcher onto the pitch at the Go Dau stadium.
The annual Fair Play Awards is organised by the Ho Chi Minh City Law newspaper, aiming to honour fair performances whilst rejecting violence and gambling.
New book on poet Đặng Đình Hưng to be released
The French Cultural Centre (L'Espace) will host a new book launch to commemorate the 30th anniversary of the death of poet Đặng Đình Hưng. 
The book entitled Đặng Đình Hưng - Một Bến Lạ (Đặng Đình Hưng - An Unknown River) is published by the Writers' Association Publishing House. 
The ceremony and talk will be held on Wednesday at L'Espace with the participation of literary researchers and critics Hoàng Hưng, Đỗ Lai Thúy and Nguyễn Thị Thúy Hạnh. 
Hưng (1924-1990) was central to the country's poetry development. 
"He contributed to the innovation and creativity in the New Poetry Movement and the literary scene of Việt Nam," said poet Nguyễn Thụy Kha. 
"He wrote poems about his experiences. He was ranked among top poets such as Hoàng Cầm, Lê Đạt and Văn Cao."
Hưng was born in Thụy Hương Village, on the outskirts of Hà Nội. He graduated from Bưởi High School and studied law at the University of Indochina.
After the August Revolution in 1945, he joined Việt Minh (the League for the Independence of Vietnam).
Later, he was head and political instructor of the Central Art Performance Troupe where he met pianist Thái Thị Liên. They got married and their son Đặng Thái Sơn is the first Asian to win a gold medal at the International Chopin Piano Competition in Warsaw in 1980. 
The new book will comprise six poems, as well as 20 small paintings and writings, about the poet and his poems by poets and researchers Hoàng Cầm, Hoàng Hưng and Đỗ Lai Thúy. 
L'Espace director Thierry Vergon will deliver the opening speech at the event. Poet Hoàng Hưng will introduce the book and conduct the talk. 
It will include a piano piece by pianist Sơn and composer Đặng Hữu Phúc, as well as a poem recital. Sơn will also talk about his memories of his father. 
Poetry researchers will present their studies about Hưng's poetry. 
At the ceremony, artist Lê Thiết Cương will talk about the paintings which are displayed at the centre until February 28.
Awards for top musicians dished out
The Việt Nam Musician Association held the 2020 Việt Nam Music Award Ceremony on Sunday, celebrating artists and showcasing some award-winning performances.
Awards were dished out in several categories, including Vocal, Instrumental, Critiques, Musical Journalism and Musical Performance Programmes. 
Judging the quality of submissions, Associate Professor, Dr., Musician Đỗ Hồng Quân, President of Việt Nam Musician Association said: "In the Instrumental category, lots of artists examined topics related to history, wars and revolutions, patriotism and knew how to exploit our ethnicity, combining traditional and western music.
"Other pieces had creative findings in presented structure and language; symphonic poem performances were well written and beautifully presented by the international orchestra.
"However, some other pieces were too simplistic, with unclear structures, and didn't show personal identity or high level of professionalism. Some other pieces did not harmonise the sound with the total spectrum."
Overall, 78 excellent pieces from all categories were acknowledged and awarded with prizes.
This year's vocal entries increased compared to last year's. However, there wasn't a specific song that transcended techniques, topics, and musical language. The majority sounded familiar, using traditional styles, with many songs having similar melodies and contents. However, judges identified songs that stood out, with topics of current events like COVID-19 prevention, celebrating international friendship and teacher appreciation.
In the children's song category, compared to 2019, new compositions in 2020 had better content as well as presentation and presented songs suitable to their age group.
For critiques, entries mainly fell under research projects and collections of newspaper articles. Musician Đỗ Hồng Quân noted the majority of entries were of high quality, showing the professionalism of writers and researchers.
The council praised songwriters for contributing to musical criticism, which is typically a difficult field with few contributors, complimenting researchers for having articles published in scientific magazines with prestige nationally and internationally. 
In other critiques, some entries still had scientific issues, with some still subjective evaluations, without accuracy and objectivity. 
Swiss film festival offers service to assist directors from developing countries
Vietnamese filmmakers and those from Mongolia, South Asia and Southeast Asian countries have the opportunity to get remote consultancy with an international expert through the Locarno Film Festival.
Open Doors Consultancy, a new addition to the Open Doors initiative of the Swiss film festival has been launched in collaboration with the Swiss Agency for Development and Cooperation of the Federal Departments of Foreign Affairs.
It aims to contribute toward the growth and development of a local and regional filmmaking scene in regions of the south and the east of the world, where film production is particularly fragile.
It aims at assisting directors and producers by providing specific advice to selected film projects and creative teams.
The service is intended as a continuous activity taking place during the year, beyond the core days of the Locarno Film Festival.
Following a selective process, a few selected film projects and creative teams will benefit from online consultancy from a pool of international experts on maximum one of the following subjects: screenwriting; co-production and financing strategy; editing; international distribution; legal aspects and contracts.
About 12 projects per call will be selected to access an online consultancy with an international expert.
Professionals from these countries are invited to send their applications including Afghanistan, Bangladesh, Bhutan, Maldives, Nepal, Pakistan, Sri Lanka, Cambodia, Indonesia, Laos, Malaysia, Myanmar, Mongolia, the Philippines, Thailand, and Việt Nam.
According to the organisers, two more calls for entries will be launched, the first of which will open from February 15 -21 and only the first 45 eligible applications will be considered.
The second and last consultancy call of 2021 will be announced around mid-May.
Guidelines and regulations for the submissions are available on the Locarno Film Festival website. Further questions can be sent to opendoors@locarnofestival.ch.
Founded in 1946, the Locarno Film Festival is one of the most renowned and longest-running independent film festivals in the world.
This year's festival will fall on August 4-14. 
Schools urged to prevent accidents during extracurricular activities
Accidents when students participate in extracurricular activities happen almost every year despite the best efforts of the education and training sector.
Recently, two students died during extracurricular activities, including one who drowned in Bình Dương Province, while one died and two others were injured on a roller coaster in Ngọc Đảo Xanh tourist area in Phú Thọ Province.
Bùi Văn Linh, director of the Department of Political Education and Student Affairs under the Ministry of Education and Training (MoET), said: "The ministry always considers ensuring school safety as an important political task".
He told Thanh Niên (Young People) newspaper that in the last five years, some 20 legal documents such as decrees, circulars, instructions and directives have been sent by the MoET to provincial People's Committees to urge them to ensure students' safety.
Last year, after a 12th grader in Sóc Trăng Province died in an accident due to a bicycle fall during a trip to Đà Lạt City, the ministry called for an emphasis on the education of life skills, self-protection skills and observance of regulations for students when participating in practical activities.
It was necessary to work with parents to manage students in outdoor activities, Linh said.
"Although we have completed a legal corridor quite fully to minimise risks and create the best prevention, some painful cases still sometimes happen," said Linh.
Phạm Xuân Tiến, deputy director of the Hà Nội Department of Education and Training, expressed regret about the case of one student being killed and two others being injured on a roller coaster in Phú Thọ Province during the picnic.
Notably, in 2014 roller coaster accident also happened in Đảo Ngọc Xanh tourist area. Twelve high school students from Hà Nội were playing on the Ferris wheel when the carousel fell to the ground from a height of two metres, causing six to be lightly injured.
Tiến said that after this incident, the department emphasised clearly the need to ensure safety.
Phan Thị Thắng, who worked for more than 30 years as principal of a primary school in Hà Nội, said: "When building plans for extracurricular activities, the safety factor always comes first. First of all, it is necessary to choose safe locations and the administrators and parents' representatives must personally go to the scene for a check."
She added that before each trip, students should be reminded carefully about the rules, which always emphasise that they must follow the group and the instructions of teachers and guides.
Many experts have said that security at schools should be viewed in a more scientific way.
In Việt Nam, school safety assurance is often carried by deputy principals and teachers, without any real safety expert. Teachers are responsible but lack skills in accident prevention and risk assessment.
Banana farmers happy as prices, demand surge ahead of Tết
Farmers who grow xiêm banana in Kiên Giang Province's U Minh Thượng District have earned big incomes since both prices and demand for it have been high since August last year.
In the Cửu Long (Mekong) Delta district, traders buy the banana at the field at VNĐ 10,000 – 12,000 a cluster, a five-fold increase since before August.
The prices are expected to continue rising due to high demand for the fruit to make dried banana and jam for Tết (Lunar New Year), which falls on February 12, according to the district's Bureau of Agriculture and Rural Development.
U Minh Thượng, which is the province's largest banana producer, has more than 2,300ha under the fruit, mostly in Minh Thuận and An Minh Bắc communes.  
Nguyễn Văn Phương, who has a 4ha banana farm in An Minh Bắc's An Thạnh Hamlet, said he earns around VNĐ80 million (US$3,500) a month from selling banana blossoms and fruits.
The price of banana goes up and down, but growing it does not require much tending or fertilisers, and provides an income year round, he said.
The price of banana flowers is also high now, with traders buying them at VNĐ8,000 – 10,000 a kilogramme.
Nguyễn Văn Đen, deputy director of the An Minh Bắc Agriculture Services Co-operative, said the price is high since supply is limited as farmers do not have much to sell.
The prolonged price fall in the past saw farmers become disillusioned and give up farming of the fruit, he said.
Besides, Typhoon Sinlaku in August last year flattened many banana farms, he added.
Banana is a crop that has helped many farmers in U Minh Thượng escape poverty and attain a stable life since the district's alum-affected soil is suitable for growing it.
To increase their income, many farmers intercrop banana it with other crops like vegetables and other fruits and breed aquatic species in ponds in the orchard.
Most fresh bananas in the district are sold to traders since there is no local processing plant.  
However, many households make products like wine, jam and dried banana.  
Phạm Duy Tân, deputy head of the district's Bureau of Agriculture and Rural Development, said the district would continue to persuade farmers to continue growing banana and intercrop.
It encourages local residents to make products from banana to serve tourists and improve their incomes, he added.
HCM City to build new hospitals in next 5 years
HCM City plans to complete a number of key hospital infrastructure projects in the next five years.
The city's medical sector will build new infrastructure for three general hospitals in Hóc Môn, Củ Chi and Thủ Đức districts, and will build or renovate infrastructure for three international-standard general and specialist hospitals: Nhân dân Gia Định, An Bình and Bình Dân.
At Bình Chánh District's Tân Kiên – Bình Chánh Hi-Tech medical cluster, second branches will be built for Phạm Ngọc Thạch University of Medicine, the 115 emergency centre, and Bình Dân Hospital. A new blood bank will also be built.
Over the last five years, HCM City's medical sector has completed 52 hospital projects and purchased new equipment. As many as 42 other projects are being carried out.
Many new hospitals and medical centres with modern infrastructure have been put into service, including HCM City Children's Hospital, Oncology Hospital No 2, and the city's Centre for Disease Control and Prevention.
According to the city's Department of Health, the number of hospital visits in 2020 was around three times higher than in 2010.
However, 2020 saw a 20.8 per cent decrease in the number of visits compared to 2019 due to COVID-19. This was the first time a year-on-year drop in hospital visits had occurred over the last 10 years.
Routes leading to Long Thanh airport to be built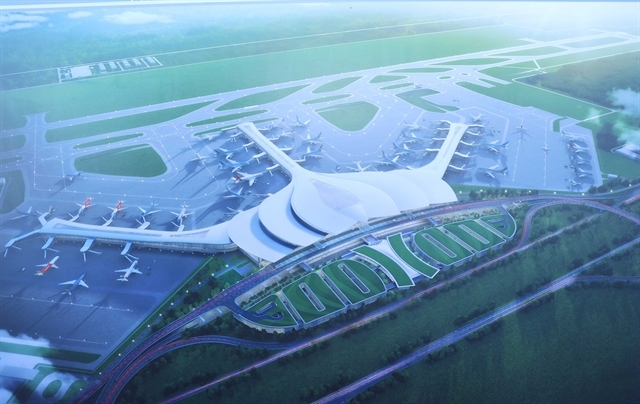 An artist's impression of the Long Thành International Airport in the southern province of Đồng Nai.
The southern province of Đồng Nai will build four routes linking localities with the area of Long Thành International Airport, construction of which began earlier this month.
According to Nguyễn Bôn, Deputy Director of the provincial Department of Transport, the construction of the roads, each stretching 45-60m, is expected to cost trillions of đồng.
The routes include three directly leading to the airport, notably one running from the intersection with road DT 763 in Định Quán District, Đồng Nai Province, to National Highway 51 in Long Thành District.
The route, with investment of VNĐ2.3 trillion (US$99.2 million), is a strategic road connecting Long Khánh City and districts such as Định Quán, Thống Nhất and Cẩm Mỹ with the airport.
The other aims to connect localities in the eastern part of Đồng Nai, and ease overloading on National Highways 1A and 20, and the Dầu Giây intersection.
Đồng Nai also plans to expand and upgrade seven routes in order to facilitate the trading of goods among 32 industrial parks in the province.
Cao Tiến Dũng, Chairman of the provincial People's Committee, said Đồng Nai considers Long Thành airport as the driver for its districts and cities to grow further, saying the province will develop a synchronous, modern transport network to optimise potential and advantages generated by the airport.
Construction of the first phase of Long Thành International Airport started on January 5.
The airport will be built in three phases over three decades, and is expected to become the country's largest airport.
In the first phase, one runway with a length of 4,000m, taxiways, an apron, and a passenger terminal with other auxiliary works sprawling 373,000sq.m will be built to serve 25 million passengers and 1.2 million tonnes of cargo each year.
The airport is designed to have four runways, four passenger terminals, and other auxiliary facilities to ensure a capacity of 100 million passengers and 5 million tonnes of cargo a year by 2040.
Covering a total area of more than 5,580ha, the airport will straddle six communes in Long Thành District. It is expected to cost VNĐ336.63 trillion ($14.5 billion), with the first phase needing over VNĐ109 trillion.
Around 4,800 households and 26 organisations are expected to be relocated to make way for it.
Located 40km to the east of HCM City, Long Thành airport is expected to relieve overloading at Tân Sơn Nhất international airport in the southern metropolis, now the country's largest airport. 
Organic dragon fruit cultivation expands in Long An
The Cửu Long (Mekong) Delta province of Long An will expand cultivation of organic dragon fruit, primarily in Châu Thành District, according to its Department of Agriculture and Rural Development.
Nguyễn Chí Thiện, deputy director of the department, said the authorities in the district, department and companies had piloted an organic dragon fruit model in Thanh Phú Long, Phú Ngãi Trị and Dương Xuân Hội communes that turned out to be highly efficient.
Nguyễn Ngọc Tài, who cultivates 520 organic dragon fruit in Dương Xuân Hội Commune, said the model does not use chemicals and pesticides, and produces a high yield.
Organic dragon fruit plants are guaranteed outlets and sell for prices 10 per cent higher than the market price, he said.
Châu Thành, which has the largest dragon fruit growing area in Long An, has more than 9,000ha of dragon fruit.
Nguyễn Quốc Trịnh, chairman of the Long An Dragon Fruit Association, said that localities should encourage farmers to expand the pilot models, which will help increase both yield and quality, and open up possibilities for exporting to demanding markets.
Long An, the country's second-largest dragon fruit producer, after only the south-central province of Bình Thuận, has nearly 12,000ha of dragon fruit, including nearly 2,100ha planted with efficient irrigation facilities and other advanced techniques.
Efficient irrigation helps farmers save 50 - 80 per cent on irrigation water compared to manual irrigation and 10 – 40 per cent on fertiliser, reducing production costs by VNĐ2 – 4 million (US$86 - $172) per hectare a month, according to the department.
Among other co-operatives that have received assistance, the Thanh Phú Long Agriculture Co-operative in Châu Thành's Thanh Phú Long Commune last year received instruction in growing techniques under Vietnamese Good Agricultural Practices (VietGAP) from the Việt Nam Co-operative Alliance. The alliance also helped them build a brand name for their dragon fruit and informed them of the importance of origin traceability.
After this, the co-operative signed contracts to supply dragon fruit to various supermarkets in HCM City.
Dragon fruit is one of Việt Nam's nine key crops that have competitive advantages in the world market. However, most dragon fruit farmers in the country have unstable incomes because they have not have secured outlets.
Dragon fruit is cultivated in 30 cities and provinces nationwide, with Bình Thuận, Long An and Tiền Giang provinces, accounting for 93 per cent of the country's total dragon fruit growing areas.
Bình Thuận has 29,000ha of dragon fruit and Tiền Giang has 8,000ha. 
ASEAN digital ministers convene first meeting
The first ASEAN Digital Ministers Meeting (ADGMIN1) took place virtually on January 21 under the theme of "ASEAN: A Digitally Connected Community".
Chaired by Malaysian Communications and Multimedia Minister Saifuddin Abdullah, the two-day meeting seeks to strengthen cooperation among ASEAN member states towards building digital ecosystems as a pillar in the post-COVID-19 development plan.
In his welcoming speech, Saifuddin said many things remain to be done for ASEAN to become a competitive and integrated digital economic bloc particularly given the pandemic.
The official also acknowledged ASEAN's achievement in the digital sphere over the last decade as the testament to how far the region has come, having been guided by the ASEAN ICT Master Plan 2015 (AIM2015) and the ASEAN ICT Master Plan 2020 (AIM2020).
He said while ASEAN countries find a footing in promoting economic recovery and transitioning to a new normal, the ASEAN's Digital Masterplan 2025 will steer the region through the next five years of digital development.
The meeting follows the two-day ASEAN Digital Senior Officials Meeting (ADGSOM1)./.
Partnership agreement on breast cancer treatment signed
The Ministry of Health and Vietnam Medical Association will work together on improving access to innovative therapies for high-risk breast cancer patients in Vietnam during 2020-25 as part of a Memorandum of Understanding signed on January 19.
The project aims to increase the rate of early breast cancer detection among women and improve access to advanced therapies for high-risk breast cancer patients.
Deputy Minister of Health Tran Van Thuan said that five to 10 years ago, over 70 percent of breast cancer patients visited hospitals and got treated at a late stage. In recent years, thanks to the communication campaigns, especially the national project on the prevention and control of non-communicable diseases including cancer, the rate of cancer patients getting medical examination and treatment in the early stages has increased.
"The implementation of the project on improving access to innovative therapies for high-risk breast cancer patients in the 2020-25 period" will contribute to the overall goal of the National Strategy on prevention and control of non-communicable diseases, including cancer. As this project is implemented nationwide with cooperation between all levels of health departments and agencies, it is expected to bring positive and sustainable changes, leading to the improvement of Vietnam's capability to respond to cancer," said Huan.
"This is the first project in Vietnam dedicated to breast cancer with unprecedented scale and number of partners, all in hope of helping cancer patients. The more healthcare professionals receive training to improve their capabilities of treating cancer, the more the workload will be reduced for each doctor and improve the quality of treatment for patients," President of Vietnam Medical Association Nguyen Thi Xuyen said.
To achieve this goal, the Ministry of Health and Vietnam Medical Association will cooperate on increasing early detection of breast cancer through raising public awareness, screening for breast cancer, developing policy and professional guidance on breast cancer screening. The two sides will also strengthen capabilities of medical systems for breast cancer diagnosis and treatment, develop a real-world data system on breast cancer and optimise current data and conduct general research on cost-effectiveness policy on breast cancer screening status, survey drug use in treatment of high risk breast cancer patients.
"Roche is committed to working with Vietnam to address healthcare challenges through a variety of activities. RocheVietnam is honoured to accompany the Vietnam Medical Association and Ministry of Health in a very meaningful project, bringing new hope to breast cancer patients in Vietnam," said Girish Mulye, Chief Representative of Roche Vietnam.
Breast cancer is the most common cancer among women in both developed and developing countries. Breast cancer incidence is on the rise in developing countries due to longer life expectancy, rapid urbanisation and changes in lifestyle.
According to the Global Cancer Observatory (Globocan2020), in Vietnam, breast cancer ranks first among all types of women's cancer, the number of new cases is 21,555 people, accounting for 25.8 percent of cancer incidents in both genders, taking third place (after liver and lung cancer). The average age of breast cancer incidence in women is 34.2 per 100,000 people. In both genders, breast cancer mortality rate ranks fourth (with 9,345 cases) after liver cancer, lung cancer and stomach cancer. The age-standardised mortality rate of breast cancer is 13.8 per 100,000 people./.
Nghe An targets 1.2 billion USD in export revenue
The central province of Nghe An has set forth a raft of measures to realise its yearly target of 1.2 billion USD in export revenue.
At a meeting on January 20, Vice Chairman of the provincial People's Committee Le Hong Vinh asked departments and agencies to focus on implementing the export promotion project for the 2021-2025 period.
Apart from developing major exports, it is a must to push ahead with administrative reform, hold more dialogues with businesses and step up infrastructure building, he went on.
The province has encouraged enterprises to expand production, overhaul technologies, raise productivity, especially in garment-textile, mining, and fruit and aquatic product processing, as well as enhance connectivity and effectively engage in value and production chains.
It has considered investment attraction a significant solution to increasing export value in the period, the official stressed.
Last year, enterprises in the locality overcame difficulties caused by the COVID-19 pandemic to expand the market and optimise advantages generated by free trade agreements (FTAs) to stabilise their production and boost exports.
Nghe An's products were delivered to 124 countries and territories in the year, earning over 1.12 billion USD, with processed industrial products making up 77.5 percent./.
Source: VNA/VNN/VNS/SGGP/VOV/NDO/Dtinews/SGT/VIR