VIETNAM NEWS JANUARY 13
Prosecution proposed against Tat Thanh Cang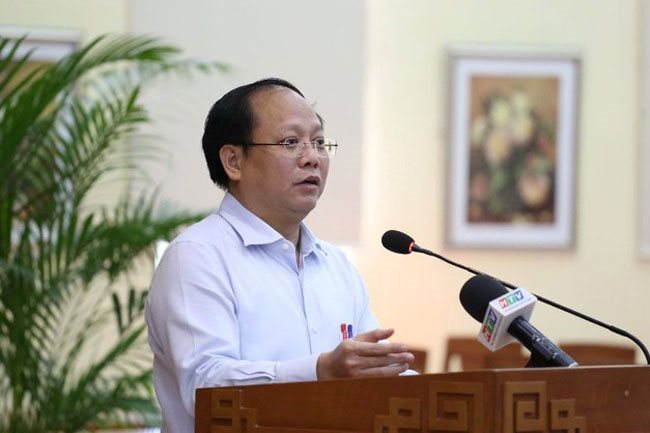 Tat Thanh Cang - PHOTO: PLO


The HCMC investigative police agency has proposed the city's prosecutors charge Tat Thanh Cang, former permanent deputy secretary of the municipal Party Committee, and his accomplices for the alleged mismanagement and misuse of State assets, which caused losses and wastefulness.
Investigators completed a probe into the case on January 12, the local media reported.
Accordingly, Cang was involved in violations in the sale of nine million shares of the South Saigon Development Corporation (SADECO) to Nguyen Kim Co., causing losses of VND208 billion for the State.
SADECO is a subsidiary of the State-run Tan Thuan Industrial Promotion Company Limited. In 2015, SADECO had charter capital of some VND170 billion. At the time, it reported an outstanding performance with an after-tax profit of over VND153 billion in 2016 and VND111 billion in 2017 as well as a high annual dividend payout ratio, even 40%.
However, based on a proposal by former SADECO general director Ho Thi Thanh Phuc, who had been prosecuted and arrested, a group of shareholders holding State capital at SADECO suggested the HCMC Party Committee Office come up with a plan to issues SADECO's shares to its strategic stakeholder, Nguyen Kim Co., to raise SADECO's charter capital.
On April 28, 2017, the HCMC Party Committee Office asked for Cang's approval over the proposal.
After the share issuance, the ownership of the State shareholders at SADECO fell from 62.8% to 41%, while Nguyen Kim held more than 54% of SADECO's charter capital and took control of the corporation.
According to the police, the capacity of the strategic shareholder was not assessed correctly, while the share price was not corresponding to SADECO's asset value and potential and not based on any legal foundation or to ensure benefits for SADECO and its stakeholders.
COVID-19 tally reaches 1,520 as five new imported cases reported
Five new imported COVID-19 cases, all Vietnamese, were recorded between 6pm on January 11 and 6pm on January 12, raising the infection tally in the country so far to 1,520, said the National Steering Committee for COVID-19 Prevention and Control.
Among the new patients, a 24-year-old woman returned from Japan on Flight QH9417 which landed at Noi Bai International Airport in Hanoi on January 10.
A 24-year-old man from the US transited the Republic of Korea before flying to Cam Ranh International Airport in central Khanh Hoa province on Flight VN441 on January 1.
The three others, comprising two women, 36 and 37, and a 36-year-old man, entered Vietnam via Moc Bai International Border Gate in southern Tay Ninh province on January 7.
All the new cases have been quarantined upon their arrival.
Of the 1,520 cases of COVID-19, 693 are domestic infections. As many as 1,361 patients have recovered while the number of fatalities is still kept at 35.
Nine of those still under treatment have tested negative for the coronavirus SAR-CoV-2 once, eight others twice, and eight thrice, according to the treatment sub-committee.
There are 17,555 people having close contact with confirmed cases or coming from pandemic-hit areas in quarantine at present./.
Gov't presses on with thrift practice, wastefulness combat
Prime Minister Nguyễn Xuân Phúc has signed a decision promulgating the Government's master plan on thrift practice and wastefulness combat.
The decision described the master plan as important to creating resources to help address consequences of the COVID-19 pandemic, natural disasters, and climate change, recover and develop the economy, and realise socio-economic targets for 2021.
The master plan underlines the task of tightening financial and budgetary discipline; expanding the tax base; enhancing management over tax collection; drastically carrying out solutions to tax losses, transfer pricing, and tax arrears; and strictly controlling the State budget overspending.
It points out the need to continue restructuring the State budget spending towards effectiveness and sustainability, ensure a reasonable balance between saving and spending, increase spending on development investment, reducing the sum for frequent expenditure, and ensure adequate expenditure on human development, social security, defence, and security purposes.
The master plan requests strict compliance with the principle of budget transparency, thorough thrift practice and wastefulness prevention right from the stage of setting up tasks, proactive review of policies and tasks to remove overlapping or inefficient ones, and arrangement of items of expenditure according to their level of priority and feasibility in 2021.
This programme emphasises serious review of the plans using ODA capital and concessional loans provided by foreign sponsors, removal of unnecessary or poor-performing projects, arrangement of foreign-sourced public funds for the projects carried out on schedule, and no provision of funding from foreign loans for regular expenditure.
It also urges accelerated disbursement and effective use of public investment capital, which must be viewed as an important political task for stimulating production, business, and consumption, creating jobs, and guaranteeing social security.
Wage policy and social insurance reforms, apparatus re-organisation, and staff streamlining are also among solutions to practise thrift and prevent wastefulness under the master plan.
Regarding public asset management and use, it highlights the need to review and re-organise public assets, especially housing and land, to ensure that they are used for right purposes and in line with regulations, resolutely revoke assets used in wrong ways, and handle assets in accordance with law. It also orders serious adherence to legal regulations on the sale and transfer of public assets, as well as stringent settlement of violations.
 Vietnam to clear 800,000 ha of bombs and mines by 2025
Vietnam spent US$549 million on unexploded ordnance settlement in 2010-20. Nearly one fifth of the investment comes from international non-refundable aid.
Deputy Minister of National Defence Nguyen Chi Vinh urged relevant agencies to continue researches and application of technologies in settling unexploded ordnance (UXO) to reach the clearance area of 800,000 ha by 2025.
Sen. Lt. Gen Vinh was speaking at a meeting held in Hanoi on January 8.
Soldiers in protective gear search for unexploded ordnance in the central province of Quang Tri. Photo: Trọng Đức
He said between 2010 and 2020, the total clearance area is estimated to reach more than 500,000 ha, including over 400,000 ha conducted by the Ministry of National Defence and the remaining by international organizations.
In the last decade, the settlement of UXOs and dioxin has been reported at Danang Airport in the central city of Danang, Phu Cat Airport in the central province of Binh Dinh, Bien Hoa Airport in the southern province of Dong Nai, and Aso Airport in the central province of Thua Thien-Hue.
Vietnam has spent approximately VND12.6 trillion (US$549 million) on bomb and mine clearance in the past decade starting in 2010.
The total amount includes VND9 trillion (US$391 million) from development and investment projects, VND1.42 trillion (US$62 million) from the national action plan against post-war legacy, and VND2.2 trillion (US$96 million) from international non-refundable aid.
The Standing Board of the National Steering Committee on the Settlement of Post-War Unexploded Ordnance and Toxic Chemical Consequences (Steering Committee 701) has taken responsibility for handling 260 tons of o-chlorobenzylidene malononitrile (CS), zoning affected areas, and mapping places of residues.
 Sen. Lt. Gen Nguyen Chi Vinh, deputy defense minister, at the meeting. Photo: Quandoinhandan
Mr. Vinh requested the authorized forces to continue conducting dioxin cleanup and reporting chemical residues in war-affected zones, and monitoring post-settlement sites.
He also asked the relevant agencies under the Ministry of National Defence to continue working for legitimate rights of Agent Orange/dioxin victims.
So far, Vietnam has roughly 163,000 war-related people contaminated with chemical toxins and more than 73,000 others who are their children, who are beneficiaries of monthly allowance and health insurance, local media reported.
UXO was scattered over Vietnam, Laos and Cambodia by U.S. bombers in the Vietnam War, at three times the volume of ordnance dropped in World War II, according to Project Renew, a non-governmental organization located in Quang Tri province, Vietnam.
In June 2019, staff at the US Congressional Research Service (a department within the Library of Congress) sent legislators an analysis of the US$400 million the US has spent on UXO clearance in Southeast Asia, VOA reported.
It said cleanup will probably involve several more decades and probably casualties. These human and dollar costs, as well as the long time that war legacies have lasted, are factors for legislators to consider, the report said.
Naval ships carry Tet gifts to Spratly soldiers
Four naval ships have left Cam Ranh Port in the southern central province of Khanh Hoa to take Tet necessities to soldiers in the Truong Sa (Spratly) Islands.
The ships, which left Cam Ranh Port on Sunday evening, transport hundreds of tonnes of goods, necessities, fruits and vegetables, including for the Lunar New Year.
The goods will be distributed to naval soldiers at 33 military posts across Spratly Islands.  
Senior Lieutenant Colonel Luong Xuan Giap from Naval Region 4's Brigade 146 said that despite numerous difficulties caused by the on-going Covid-19, many localities nationwide have supported soldiers in the Truong Sa (Spratly) Islands. On behalf of the brigade, he expressed deep thanks to the public's assistance.
Nguyen Tan Tuan, chairman of Khanh Hoa People's Committee, presented gifts to the delegation which brings the goods to soldiers.
The four ships also include many soldiers who volunteer to be on duty on the Spratly Islands.
Lieutenant Nguyen Dac Lu from Brigade 146 said he was proud to be part of the delegation to the Spratly Islands this time.
Bringing Tet presents to soldiers is an annual activity to support those serving in armed forces who are serving tours of duty at sea and on the islands.
Remains of 23 martyrs reburied in Hoa Binh
The authorities of the northern province of Hoa Binh on January 11 held a ceremony to rebury remains of 23 martyrs who laid down their lives during the anti-French resistance war in a martyrs' cemetery in Luong Son district's Trung Son commune.
According to the provincial steering committee on searching, repatriation and identification of remains of fallen soldiers, the remains were found in Thach Quyen village, Cao Duong commune, Luong Son district between December 23, 2020 and January 6, 2021.
They were defined as remains of soldiers of Regiment 43 of Interzone 3 who died in the Doi Moi Post battle in 1947 – 1950.
The search and gathering of martyrs' remains is a meaningful activity to pay tribute to those who sacrificed their lives for the independence and freedom of the nation, and to meet the aspirations of the people./.
Cambodia reopens public schools as COVID-19 under control
Cambodia reopened public schools across the country on January 11 after the first community outbreak of COVID-19 was over late last year.
In a message to mark the 2020-2021 new academic year, Prime Minister Hun Sen urged all schools to strictly adhere to the safety measures set by the Ministry of Health.
He said both teachers and students must wear face masks, have their temperature checked, wash hands frequently and keep a social distance of 1.5 meters from each other.
Cambodia has seen success in controlling the spread of COVID-19. The Southeast Asian country has reported a total of 392 confirmed cases to date, with zero deaths and 374 recoveries, according to the Ministry of Health./.
UNFPA hands over 6,903 dignity kits to local women
The United Nations Population Fund (UNFPA) recently handed over 6,903 dignity kits to the Central Committee of the Vietnam Farmers' Union (VFU) in support of women and girls at risk of violence in five central provinces hit by flooding - Thua Thien-Hue, Quang Tri, Quang Ngai, Nghe An, and Thanh Hoa. 
The kits were funded by the UN Central Emergency Response Fund.
Women and girls in the central provinces of Ha Tinh, Quang Binh, and Quang Nam received similar kits earlier.
More than 12,400 women from eight central provinces have received such kits so far.
Speaking at the ceremony, UNFPA Chief Representative in Vietnam Naomi Kitahara said the dignity kits are part of the UNFPA's comprehensive humanitarian assistance package to protect sexual and reproductive health, ensure the rights of women and girls, cut the risk of gender violence, and shield women and girls from the negative impact of crises.
VFU Chairman Thao Xuan Sung, for his part, lauded the close cooperation over the years between the UNFPA and the VFU Central Committee in the fields of population, reproductive healthcare, gender equality, and the prevention of violence against women and girls.
He also thanked the UNFPA for providing effective support to women and girls in central localities hit by floods.
According to a national study in 2019 on violence against women, nearly two out of three married women suffered one or more kinds of physical, sexual, emotional, or economic violence in the previous 12 months. Some 48 percent said they did not reveal their problem to anyone, while 90.4 percent did not seek any support from relevant authorities. Workplace productivity loss due to violence against women accounted for 1.81 percent of GDP in 2018./.
Voluntary social insurance coverage sees rapid growth in 2019-2020: Conference
The number of people voluntarily joining the social insurance network has grown by 750,000 over the last two years, three times higher than a decade ago, heard an online conference held by the Ministry of Labour, Invalids and Social Affairs on January 11 to introduce tasks for 2021.
Addressing the conference, Deputy Prime Minister Vu Duc Dam praised the labour sector's achievements last year amid COVID-19, particularly in poverty reduction, ensuring social welfare, employment, and vocational training.
Despite the impact of the pandemic, more than 1.3 million jobs were created in 2020, meeting 83.3 percent of the goal set for the year and bringing the total number generated in 2016-2020 to nearly 8 million. Sixteen million people, or 33.2 percent of people of working age, joined the social insurance network last year.
The Deputy PM asked the ministry to focus on improving its performance in implementing social policies targeting revolutionary contributors, developing a diverse and multilayer social welfare network, and enhancing human resources via increasing training quality, among other matters.
He requested that good care be given to those in need as well as people who rendered services to the country's revolution at the upcoming Lunar New Year (Tet) holiday.
The sector revealed targets for 2021 at the conference, including developing a flexible and adaptive labour market that can meet requirements in post-pandemic recovery, and boosting the quality of vocational education, with a focus on building a high-quality workforce.
The building of harmonious, stable, and progressive workplace relations is also important, especially with the appearance of new issues such as salary policies, extended retirement age, and those relating to workplace relations development as stipulated in the revised Labour Code, which took effect on January 1./.
Thousands new COVID-19 cases reported in Southeast Asian countries
The COVID-19 pandemic remains complicated in Southeast Asia as several regional countries have reported more cases of infections and deaths over the last 24 hours.
Indonesia on January 10 recorded 9,640 new COVID-19 cases and 182 fatalities, raising its total of infections and deaths to 828,026 and 24,129, respectively.
The pandemic has spread across all 34 provinces of Indonesia. In particular, the capital Jakarta reported 2,711 new cases in the last 24 hours, West Java had an additional 1,468 cases, followed by Central Java (1,045 cases), East Java (1,004 cases) and South Sulawesi (585 cases).
The same day, the Health Ministry of the Philippines reported 1,906 more cases, lifting the total of infections in the country to 487,690. The number of deaths also increased to 9,405.
The Philippines has tested for COVID-19 on 6.59 million people since the disease appeared in January last year.
Meanwhile, Thailand is facing the worst outbreak of COVID-19 with over 200 new cases reported every day, mainly community infections.
The country has so far detected 10,298 COVID-19 cases. The death toll still stands at 67.
The Thai government has announced that it classifies the capital city of Bangkok and 28 other provinces as "red zones", where the maximum level of pandemic control is applied./. 
Cambodia prepares to welcome migrant workers from Thailand
Cambodia's National Employment Agency (NEA) is offering 20,000 local jobs to Cambodian migrant workers who have returned from Thailand, Khmer Times reported.
The workers can apply for the jobs as soon as they complete their 14-day mandatory quarantine period in areas bordering Thailand. The agency is offering local jobs to the returning migrant workers as a means to support them to find employment at home rather than going back to Thailand.
More than 12,000 migrant workers returned from Thailand to Cambodia along borders in Battambang, Banteay Meanchey, Oddar Meanchey, Pailin and Koh Kong during December 20 and January 9, according to Cambodia's competent agencies.
The Cambodian Health Ministry said 27 Cambodian workers returning from Thailand were infected with the novel virus.
As of January 11, Cambodia documented 392 COVID-19 infections./.
Poor district in Mekong Delta province gets new primary school
Kim Đồng Primary School has been built in a remote area in Hậu Giang Province by Saigon Children's Charity (saigonchildren), and it opened last week with more than 90 students.
It is in Kinh Cùng Township in Phụng Hiệp District, one of the poorest in the province with 11 per cent of all households classified as poor.
According to the Ministry of Education & Training less than half of primary schools in the Mekong Delta province are permanent structures built of concrete.
At the school opening ceremony, chemical company BASF and its partners donated a library to it, and US software and computer services company HP donated a computer and a printer.
Angelique Masse Nguyen, head of fundraising and communications at saigonchildren, said: "Building schools in remote areas is one of our core programmes to provide access to education to disadvantaged children. When we build a school, we are in fact contributing bricks to build a generation's future."
Labour sector reaches significant results in five years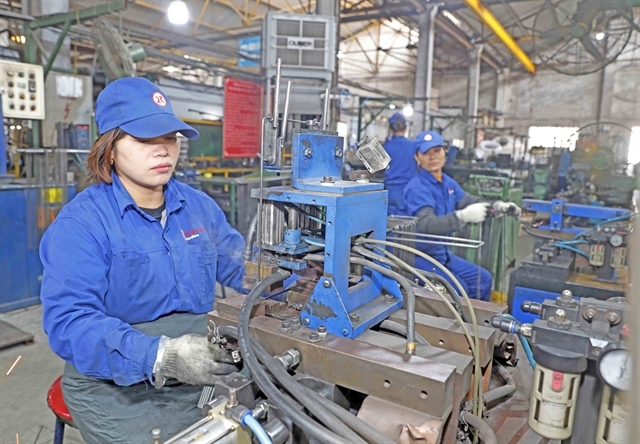 Workers produce interior decorations at a company in the northern province of Vĩnh Phúc. The labour sector has made remarkable achievement in the past five years.
Việt Nam has created new jobs for more than eight million workers over the past five years and is one of 10 countries worldwide with the lowest unemployment rate.
Minister of Labour, Invalids and Social Affairs Đào Ngọc Dung made the announcement during a nationwide online conference held yesterday in Hà Nội.
The conference aimed at summarising the ministry's work in the period 2016-20 and drawing up plans for the next five years.
Achievements
Dung said that in the period 2015-20, while many countries in the region and the world fell into recession, Việt Nam was proud to have achieved "double goals" in pandemic prevention and control and maintain economic growth whereas social security is guaranteed.
He said this was particularly important because of problems last year with COVID-19 and natural disasters causing extensive loss of life and damage to infrastructure.
He also revealed more than 635,000 people had been working abroad under contracts in the past five years exceeding the target by 27 per cent.
There has also been a commitment to reducing inequality with Việt Nam currently ranked second in the ASEAN region and 77 out of 158 countries worldwide in terms of ensuring gender equality and promoting women's rights.
In particular, the country successfully completed the role of ASEAN Chairmanship last year.
"In the past five years, the labour sector has persisted in implementing goals, synchronous tasks, creating breakthroughs and outstanding results," said Dung.
Multidimensional poverty reduction also received good results. The average reduction of the past five years is 1.35 per cent per year, from 9.88 per cent in 2015 to 2.75 per cent in 2020.
Plan
Experts at the conference agreed that in the context of international integration and the fourth industrial revolution, along with efforts to restore the global economy after the effects of the COVID-19 pandemic, it requires more work, determination and creativity in implementing tasks.
Minister Dung said that in the period 2021-25, the labour, invalids and social affairs sector should focus on developing a synchronous, modern and efficient labour market with quality human resources to meet rapid development, sustainability and economic competitiveness.
It would also develop a comprehensive social security system, towards covering the entire population, to meet the basic needs and allow people to live a safe, equal and happy life, contributing to ensuring social justice.
The sector would also focus on building a harmonious, stable and progressive labour system and form the representative organisation of employees at enterprises as prescribed in the Labour Code, effective from the beginning of this year.
"These are very important issues that will make fundamental changes in industrial relations in the business sector," said Dung. 
Vietnam completes Scheme for Digitisation of Terrestrial Television
Vietnam has completed the Scheme for Digitisation of Terrestrial Television to 2020, heard a press conference held by the Ministry of Information and Communications in Hanoi on January 11.
Accordingly, the country formally stopped providing analog television service nationwide from late December 2020.
In his remarks, Minister Nguyen Manh Hung said that the scheme has fulfilled all four major set targets, including the completion of infrastructure transition.
Television coverage is now able to reach even the farthest regions of Vietnam, enabling all people in 63 provinces and cities to access this utility.
In addition, all local television broadcasters are reorganised in order to focus more on quality of content.
Statistics showed that in 2020, 16 million families could enjoy cable TV and Internet Protocol TV (IPTV), while 3.2 million others use free satellite TV. Around 1.9 million poor households were provided with a suitable set top box from 2015 to 2020.
As a result, including 20 percent of satellite TV coverage, all of the Vietnamese population are able to access digital television in 2020.
The formal cessation of analog television in Vietnam has turned it into the fifth nation among 10 ASEAN members and the 78th out of 193 countries worldwide to complete the TV digitalisation process./.
Exhibition marks start of work on national innovation centre
An international exhibition displaying the year's leading innovations opened on January 9 in Hanoi alongside the ground-breaking ceremony for the national innovation centre.

Addressing the ceremony, Prime Minister Nguyen Xuan Phuc noted that innovation can be viewed as vital to the success of the socio-economic development strategies devised by most countries and territories, in addition to bringing about a range of  important advantages.
According to the PM, the Party and State are aware of the decisive role of innovation as a means of renewing the growth model, thereby laying a firm foundation for maintaining high and sustainable growth whilst simultaneously creating quality jobs. With the rapid development of Industry 4.0, the country must swiftly adapt and take firm steps to implement a plan.
Referring to great Vietnamese achievements in 2020, the PM stated that Vietnam has received official recognition as a dynamic economy in Asia, with an annual GDP growth rate of 6.3% over the past 10 years. Indeed last year alone saw the country ranked as one of the 16 most successful emerging economies to successfully achieve the dual goal of epidemic prevention and economic recovery. This can be seen through positive growth of 2.9%, making Vietnam among a group of nations to record the highest growth rate in the world.
The PM attributed last year's success to the country's efforts in applying technological advances to production and business activities, serving to create added value to the national economy.
As part of the strategy to turn the country into a developed and high income nation by 2045, PM Phuc said Vietnam must rely on knowledge, science, and technology, especially innovation, all of which can be considered important factors for growth.
Most notably, it is the use of new technology coupled with suitable human resources that will be the decisive factor for long-term growth, the key to achieving development breakthroughs, and helping the country to get out of the middle-income trap, said PM Phuc.
He expressed his great appreciation for the Ministry of Planning and Investment's initiative to organise the innovation exhibition as a way of promoting the central role of enterprises in the innovation ecosystem and expressing Vietnamese desires to be a regional innovation destination.
The Prime Minister maintained that the commencement of the National Innovation Centre project will create an ideal condition for the local innovation ecosystem to develop and reach out across the globe. He also expressed his hope that the centre will be soon come into operation in order to become a pioneering model that can be promoted nationwide.
The exhibition, the first of its kind in the country, has attracted the participation of 113 local businesses, 22 foreign invested firms, and 21 institutions to showcase new products and technology models across 156 booths.
Early disaster warning system discussed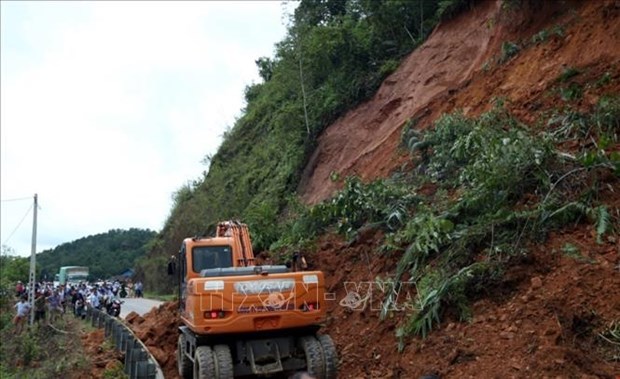 Landslide in Dien Bien province

The Ministry of Natural Resources and Environment (MoNRE) held a meeting in Hanoi on January 11 to discuss launching a project on building an early disaster warning system for the mountainous and midland regions.
The project aims to survey and update information about landslides and flashfloods in Vietnamese mountainous and midland regions based on effective joint work between local authorities and socio-political organisations, develop an inter-sectoral information management system for sensitive areas to mitigate human and material loss.
Head of the ministry's Department of Science and Technology Tran Binh Trong said the project will build a real-time data management system and monitoring stations, as well as help issue legal documents to launch the task in the field, and raise public awareness of the effort.
The scheme will be carried out from January 2021 to December 2025 to ensure urgency and meet requirements for disaster prevention and control./.
Malaysia re-imposes movement control order in six states
Malaysian Prime Minister Muhyiddin Yassin announced on January 11 that the movement control order (MCO) will be reintroduced in Kuala Lumpur and five other states to curb new coronavirus outbreaks.
In a televised address, Muhyiddin said five states, including Penang, Selangor, Melaka, Johor and Sabah, and the federal territories of Kuala Lumpur, Putrajaya and Labuan will be placed under the MCO again for two weeks until January 26.
Interstate travel is banned across the country, while travelling between districts is not allowed for the states under the MCO.
Recent four-digit daily jump in cases brought the national total to more than 138,000, with 555 deaths.
Meanwhile, on the same day, Indonesian Health Minister Budi Gunadi Sadikin asked COVID-19 patients who have slight or no symptoms to strictly follow stay-at-home quarantine as the country's hospitals are full.
Budi said that the country now has only 15,000 hospital beds for COVID-19 treatment, much lower than the demand of 36,000 beds, or 30 percent of the 120,000 active cases as of January 10./.
Vietnam among ten countries with lowest unemployment rates
Vietnam is one of ten countries with the lowest unemployment rates, the Ministry of Labor, Invalids and Social Affairs reported Monday.
The Southeast Asian country's national unemployment rate was unchanged at 2.48 in 2020 while urban unemployment rate stood at 4%.
A total of eight million new jobs were created over the past five years, said Minister Dao Ngoc Dung at a conference reviewing the ministry's performance in 2020.
In addition, more than 635,000 local residents were sent to work abroad under contracts, exceeding the preset goal by 27%, Dung added.
Viet Nam ranked 110th out of 198 countries in Human Development Index (HDI) and second in quality of human resources in the Southeast Asian region.
Specifically, multidimensional poverty rate fell by 1.35% per year, from 9.88% in 2015 to 2.75% in 2020.
The central government and local authorities allocated VND 31.5 trillion (US$ 1.5 billion) to support people affected by the COVID-19 pandemic, according to Minister Dung.
19 hotels, resorts in Binh Thuan labeled as safe from Covid-19
Authorities in Binh Thuan Province have inspected and categorized 19 tourist lodging facilities in the province as safe from Covid-19, the disease caused by the novel coronavirus, reported Phap Luat Online newspaper.
Given the impact of the deadly disease, the provincial Department of Culture, Sports and Tourism had worked with the provincial steering committee for Covid-19 infection prevention and control to issue Covid-19 protocols for travel agencies and tour operators in this south-central province, Nguyen Lan Ngoc, deputy director of the department, said in a statement in response to the province's Tourism Association.
The department in coordination with the relevant agencies set up a team to inspect the compliance with Covid-19 safety protocols at local tourism businesses.
Until now, the team has checked the Covid-19 safety practices of 20 hotels and announced that 19 of them have met requirements and received Covid-19 safety labels to be able to serve tourists.
The Covid-19 safety labeling has received support from local travel firms and positive feedback from tourists.
In the coming time, the tourism department will continue to call on more local tourism businesses to register to implement Covid-19 safety protocols as well as promote its efforts to fight the coronavirus so as to develop Binh Thuan as a safe and friendly destination for travelers.
HCMC transport dept proposes putting electric buses into service
The HCMC Department of Transport has proposed the municipal government submit its plan to put electric buses into operation to the prime minister to protect the environment and expand the city's public transport network.
The department also proposed ordering electric buses made by VinFast, the automotive arm of Vingroup, and conducting the pilot program within 24 months, Tuoi Tre Online reported.
During a study on the proposal to pilot electric buses, other departments and agencies in the city threw their weight behind the plan, according to the municipal department.
The HCMC Department of Natural Resources and Environment said that opening five routes for electric buses in the city would contribute to reducing environmental pollution and cutting greenhouse gas emissions.
Besides, the government of District 9 backed Vingroup's proposal to introduce routes for buses powered by clean energy sources in HCMC.
Moreover, the HCMC Department of Planning and Investment said that initiating five electric bus routes connecting the Vinhomes Grand Park project in District 9 with other parts of the city was suitable to HCMC's bus route development plan.
Echoing the view, the municipal Department of Transport said that the start and end points of bus routes mainly located in the Vinhomes Grand Park project will create favorable conditions for building parking lots, maintenance facilities and charging stations.
Vingroup had earlier proposed the prime minister allow implementing a project to operate electric buses in Hanoi and HCMC.
School managers make efforts to offer Tet bonus to teachers
School managers in Ho Chi Minh City have been planning to give Tet bonus to teachers as the special holiday ( the Lunar New Year) is approaching. 
School leaders are calculating revenues and expenses over the academic to prepare the budget for Tet bonus to teachers, said Principal of Bui Thi Xuan High School in District 1 Vu Thi Ngoc Dung. Each teacher and employee will have different Tet bonus based on their seniority, positions, top performing and mission. The school tries to maintain Tet bonus like last year averagely around VND 10 million-VND12 million per person.
Similarly, a manager of Dao Duy Anh High School in District 6 said the coronavirus pandemic have had the significant impact on the school's collection; yet , the amount of any Tet bonus for each teaching staff will be dependent on their seniority and performance ranging from VND2 million – VND8 million which is the same as last year's.
As schools are not business facilities, the bonus is not equivalent to nearly one-month salary; therefore, the amount of any Tet bonus is different from schools to schools. However, all schools tried to give the highest bonus which is generally paid two weeks before Tet so that employees could be proactive with their spending and shopping.
Head of a high school in outlying district Can Gio said that in addition to Tet bonus, the school will maintain activities such as wrapping tet cake - a Vietnamese traditional cake made primarily from glutinous rice, which is rolled in a banana leaf into a thick, log-like cylindrical shape, with a mung bean or mung bean and pork filling, then boiled – to five poor teaching staff as well as give free bus tickets to teachers who return to their homeland to reunite with their relatives.
Deputy Principal of a school in Go Vap District said that the school managers give pieces of cloths to female teachers, coupons, and lucky money to teachers' children. Without Tet bonus, employees can infer that the company has poor business or does not care for their life, especially on important occasions like Tet.
This year, the education sector's Labor Union will give top priority to teachers who suffer untreatable sickness, labor accidents, teachers from low-income families, pregnant teachers or those who are feeding children under 12 months. Female teachers whose husbands are soldiers in distant islands or those whose husbands/ wives are out-of-work also receive the union's care.
Moreover, the union will take care of teachers whose houses are located in natural disaster-hit areas. Each above-mentioned teacher will receive at least VND500,000 Tet bonus.
Last but not least, the education sector will give Tet bonus including VND1 million cash and gift worth VND500,000 to clerks, guards and cleaners and extremely poor teachers.
Charity fundraising walk for taking care of poor residents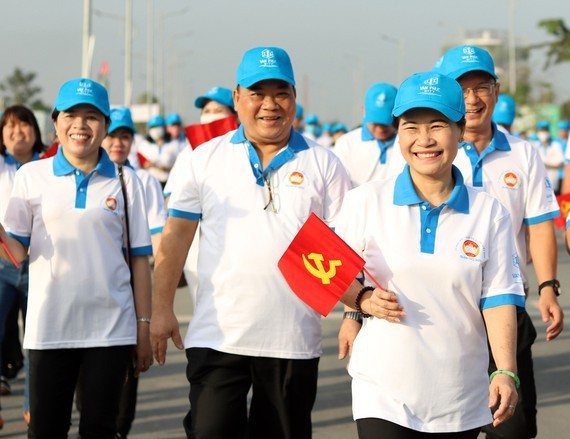 Nguyen Thi Le, Deputy Secretary of the Ho Chi Minh City Party Committee, takes part in the walk

An amount of over VND3.9 billion (US$169,329 ) was collected from the charity walk yesterday organized by the Vietnam Fatherland Front Committee in Thu Duc District to support poor residents.
Nguyen Thi Le, Deputy Secretary of the Ho Chi Minh City Party Committee; Le Hoa Binh, Deputy Chairman of the city People's Committee; To Thi Bich Chau, Chairwoman of the Vietnam Fatherland Front Committee in the city and more than 1,500 employees of state organizations, students and people from all walks of life took part in the charity walk.
Speaking at the event, Chairman of the Vietnam Fatherland Front Committee in Thu Duc District Ha Tuan Anh said that the district fund for the poor received financial contributions from all organizations and people from all walks of life in response to the campaign "Residents join hand to help the poor across the country - Don't let the poor be left behind" launched by the Prime Minister.
The year 2020 had passed but the impact of the coronavirus pandemic on people is enormous. Therefore, the Fatherland Front in Thu Duc District and in wards have encouraged people to contribute to the fund for the poor. The fund organizers have so far collected over VND8.6 billion (US$ 386,642).
HCMC to thoroughly resolve littering issues
 
In order to alleviate illegal littering around the city, Ho Chi Minh City (HCMC) People's Committee is planning to maintain the rate of 100 percent of wards in the city propagandizing hygiene improvement and environment protection via constructive dialogues between the community and the local authorities. All households in HCMC are also asked to commit to putting garbage in legal gathering points.
The Office of HCMC People's Committee yesterday reported that after two years launching the scheme 'City Dwellers Do Not Litter on Streets and Channels for a Greener City', the city has received impressive results and been able to erase many hot spots of pollution.
In the upcoming time, besides increasing the awareness of the public about environment protection and collecting practical solutions from the community, HCMC People's Committee is going to maintain the rate of 100 percent of land pollution locations being tackled.
It will also strive to avoid the appearance of new hot spots, while raising the rate of transforming existing ones into common community spaces. The last goal is to upgrade solid waste processing technologies to reach the proportion of harnessing power from 80 percent and 100 percent of burnt garbage in 2025 and 2030 respectively.
In order to avoid illegal littering, the People's Committee of all districts are asked to establish their own waste recycling systems and to implement waste segregation and sorting at source (into two groups of 'recyclable' and 'other') for more effective treatment.
The local authorities are encouraged to model reducing the use of plastic in daily activities and work operations, such as lessening the selection of disposable plastics in serviceware and propagandizing tasks. They are requested to more strictly monitor the environment quality in their area, imposing strict administrative fines when necessary to environmental law breaking and structural encroachment upon discharge gates, drainage tunnels and covers.
Extracts from camera systems will be used as a proof to handle law breaking cases, along with suitable indirect or direct warnings. Corresponding punishments will then be applied, such as fining, community service work.
More innovative methods to carry out dialogues between the authorities and the community, businesses about environmental issues should be introduced to increase effectiveness as well as raising the awareness.
There must be a transparent pricelist for solid waste collection services in each ward and district, plus supporting policies to form cooperatives or legal businesses for waste collectors. There must also be suitable policies to help upgrading garbage collection equipment and vehicles, making use of the Environment Protection Fund.
The evaluation of services for waste collection and transport in accordance with the law should be completed. More modern closed garbage compactors should be built to maintain hygiene in the city.
All successfully transformed hot spots must be monitored closely by corresponding People's Committee of each district so that pollution there can be permanently erased. Meanwhile, these state units are requested to regularly hold community campaigns regarding garbage collection.
Finally, power harnessed from burnt solid waste should be added to the common electricity grid, while suitable electric substations should be installed to collect this energy kind from garbage processing plants around the city.
Untapped potential in Mekong Delta inland waterway transport
Waterway transportation in the Mekong Delta has not been fully utilized in order to share the burden with road transport despite advantageous conditions due to various reasons. 
According to multiple sources, waterway transport in the Mekong Delta is generally more cost effective than road transport despite taking a longer time.
There are 12 national waterways with a total length of 418km passing through Dong Thap province, according to the local Department of Transport. In which, Hau river, Tien river and 4 of its branches can accommodate barges of over 4x600 tons and inland vessels of over 1,000 tons.
Additionally, the province is home to government funded port systems which can accommodate vessels up to 3,000-5,000 tons, said Deputy Director of the Dong Thap Provincial Department of Transport Tran Ngo Minh Tuan.
On the matter, he suggested integrating more than 660 private inland ports into the provincial logistics system.
In Ca Mau Province, most rivers and canals converge with national waterways flowing into 4 different directions and would meet a variety of demands for freight and travel.
However, experts pointed out that despite advantageous weather conditions and untapped potential, it is quite difficult to fully utilize waterway routes in the whole Mekong Delta.
For example, Cho Gao canal is the only waterway route connecting the Mekong Delta with Ho Chi Minh City, shortens the distance compared to sea travel, and receives about 1,800 vessels with 100 to 2,000 payload each day.
However, heavy-lift vessels can get stranded when the water is low due to the canal's narrow bed and eroded banks, creating a bottle neck during high traffic.
In the Ca Mau peninsula, narrow width salinity sewers and irrigation dams can also obstruct waterway freights, forcing vessels to take long detours.
In face of the situation, the Central Government had launched the scheme to upgrade the Cho Gao canal with a total capital of VND786 billion (about US$34 million) from the Government bond.
However, phase 2 of this scheme is facing several roadblocks due to lack of funding.
HCMC requires operation safety of means on Can Gio- Vung Tau ferry route
The Ho Chi Minh City Department of Transport yesterday required the Municipal  Inland Waterway Port Authority to promptly collaborate with the People's Committee of Can Gio District, the Waterway Traffic Police, Ho Chi Minh City Border Guard, Maritime Administration and relevant agencies for directly checking means at Ranh Gai Bay, propagandize regulations on maritime safety to ship owners and captains and implement management to licensed vehicles as they enter or leave the ports.
The requirement aims to ensure traffic order and safety for passenger and cargo transport on the Can Gio- Vung Tau ferry route as well as at the Tac Suat inland waterway port.
Accordingly, vehicles will be allowed enter and leave the port from 6AM to 6PM daily when they conduct the regulations. Wharf owners, vehicle owners and captains have to strictly carry out the regulations on inland waterways transport and the provisions of the Inland Waterway Transport Law, especially they have to have certificates as prescribed.
Currently, there is an underground cable line crossing Dinh Ba River 2 at Can Gio - Vung Tau inland waterway port to generate electricity to Thanh An Commune of Can Gio District so ships and boats passing through the area must strictly comply with warning signals as well as the safety corridor for the underground cable line. 
Extreme cold spell kills over 200 cattle in northern Vietnam
More than 200 cattle, including buffaloes and cows, have died over the past two days due to the severe cold spell which has hit northern Vietnam.

Ta Cong Huy, head of Lao Cai province's Steering Committee on Disaster Prevention and Rescue, described how heavy snow spread to Sa Pa and Bat Xat districts on January 11. A thick layer of snow between 10cm and 20cm rapidly developed and badly impacted livestock breeding.
By January 11, approximately 93 hectares of flower and vegetable plantation had been covered in snow, leading to 1,050 pots of orchid flowers being destroyed and 45 buffaloes killed in Lao Cai province.
In total the cold weather caused losses in excess of VND2 billion, and the figure is set to increase as the extreme cold spell is forecast to continue over the coming days, Huy noted.
Hoang Van Vien, vice director of Dien Bien province's Department of Agriculture and Rural Development, said local authorities have urged farmers to deal with the devastating impact of the harsh weather, although due to prolonged drops in temperature, many cattle have died because of the cold.
The entirety of Dien Bien province reported that 91 buffalos and cows have died, with losses estimated to be at VND1.3 billion.
A similar situation occurred in Son La province, where over 90 cattle have been killed due to periods of extreme cold spell and frost.
Foreign NGOs urged to focus on sustainable development projects
The Ho Chi Minh City Union of Friendship Organisations has called on foreign non-governmental organisations (NGOs) to fund sustainable development projects which remain in need of assistance in the city and in Vietnam as well.

Dr. Vuong Duc Hoang Quan, chairman of the HCM City Union of Friendship Organisations made the call during an annual meeting with foreign NGOs in the city on January 12.
According to Quan, support and assistance will be focused on areas such as education and vocational training development, medical services for the poor, HIV/AIDS and drug prevention and control.
Funds will also be used to raise public awareness of and exercise the rights of children and women, raise community awareness of environmental protection, and promote traffic safety.
The HCM City Union of Friendship Organisations will work closely with its partners to manage and utilize the grants practically and effectively, Quan said.
He thanked foreign consular offices, business associations, organisations and NGOs for having funded development projects over the past year, helping improve the spiritual and material life of Vietnamese people in the city and the country in general.
Currently as many as 163 foreign NGOs have been permitted to operate in HCM City in various areas such as health, education-training, social welfare, community development, the environment and climate change, among others. In 2020 they have committed nearly US$84.2 million for development projects in the city.
Source: VNA/VNN/VNS/SGGP/VOV/NDO/Dtinews/SGT/VIR