NEWS HEADLINES SEPTEMBER 23
Teacher helps ethnic minorities in Hoa Binh escape illiteracy
Hang Kia in Mai Chau district, Hoa Binh province is a disadvantaged commune, with a population of 95 percent H'Mong ethnic people. In this situation, a devoted teacher, Ha Thi Hang, 52, for years, has helped local people escape illiteracy.
The school's branch which teacher Hang is in charge of used to have a high ratio of dropouts with 37.5 percent at primary level and 66 percent for higher classes.
Since working at the school, the teacher has developed regulations for classes and encouraged teachers to overcome difficulties to help ethnic minority people learn Vietnamese.
In the school year 2018-2019, the percentage of students going to class at both primary and secondary levels in Hang Kia commune reached 100 percent and there are no more dropouts.
With the love for teaching, Ha Thi Hang and other staff and teachers of the school are implementing the guidelines and policies of the Party and the State to improve the awareness of Mong people and socio-economic development in the locality.
Thanh Hóa on brink of relegation after late defeat
Thanh Hóa against Đà Nẵng in the V.League 1 over the weekend. Thanh Hóa lost 1-0. — Photo vietnam9.net
Thanh Hóa's hopes of staying in the V.League 1 suffered a blow on Saturday, as a 93rd-minute winner from Đà Nẵng ensured they stayed second from bottom in the table.
The 1-0 defeat in Đà Nẵng coupled with bottom side Khánh Hòa's shock 3-0 win over Nam Định means Thanh Hoá are only a point off bottom with two games to go.
Đà Nẵng meanwhile ensured they can't be relegated and sit in the fifth spot on 33 points.
In the 14-team V.League 1, the bottom team get automatically relegated while the team in 13th faces a playoff against the second placed V.League 2 team.
In desperate need of a win, the away side attacked from the opening whistle, but couldn't convert their chances into goals.
Just as it seemed they would have to settle for a point, disaster struck.
In the third and final minute of stoppage time, Thanh Hóa were caught in possession and hit on the counter. Đặng Anh Tuấn played a through ball to striker Phan Văn Long, who hammered the ball into the top corner past goalie Lương Bá Sơn.
The final whistle sounded soon after, condemning Thanh Hóa to their seventh consecutive defeat. The northern side are currently in the relegation playoff spot, a season after finishing second in the league.
In the Nam Định against Khánh Hòa match, goalie Nguyễn Tuấn Mạnh kept a rare clean sheet to help his side to a 3-0 win at home.
"My teammates and I made every effort in this match. After seeing the result of the match between Thanh Hóa and Đà Nẵng, we tried more and targeted three points," said Mạnh, who has been called up to the national team to prepare for upcoming World Cup qualifiers.
The victory leaves Khánh Hòa bottom on 24 points, but Thanh Hoá are in sight on 25 points.
The league only has two rounds of fixtures to go, but it will temporarily stop for a month for the national team games against Malaysia and Indonesia in October.
"The long rest will affect Khánh Hòa as the whole team are very excited and united. I am afraid that after a long time, my team won't play well," said Mạnh. 
Ha Giang hosts Tay Con Linh Challenge Off-Road tournament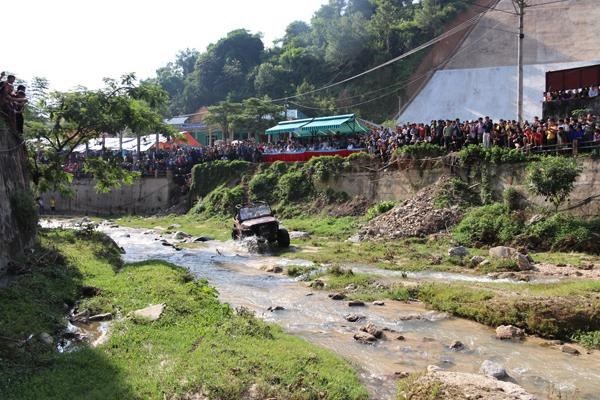 The Tay Con Linh Challenge Off-Road features a 40-kilometre race to conquer Tay Con Linh mountain range and Po Lung bunker. (Photo: baohagiang.vn)
Forty terrain motorbike and car racing teams from Japan, the Republic of Korea and Vietnam join the Tay Con Linh Challenge Off-Road, which take place in Vinh Quang town, Hoang Su Phi district, the northern mountainous province of Ha Giang, from September 20-22.
The event, among the activities held within the "Through the legacy of Hoang Su Phi terraced fields" culture week, features a 40-kilometre race to conquer Tay Con Linh mountain range and Po Lung bunker.
In the framework of the culture week was a paragliding event themed "Flying over the golden terraced fields", which attracted 35 participants from four domestic and foreign groups.
Partakers at the event had a chance to enjoy the gorgeous terraced fields and ripening rice of Hoang Su Phi district.
The activities aimed to popularise the beauty of Hoang Su Phi terraced field complex, which was recognised as a national heritage in 2011, and uphold traditional cultural values of the local ethnic groups.
Vietnam takes part in solidarity festival in Belgium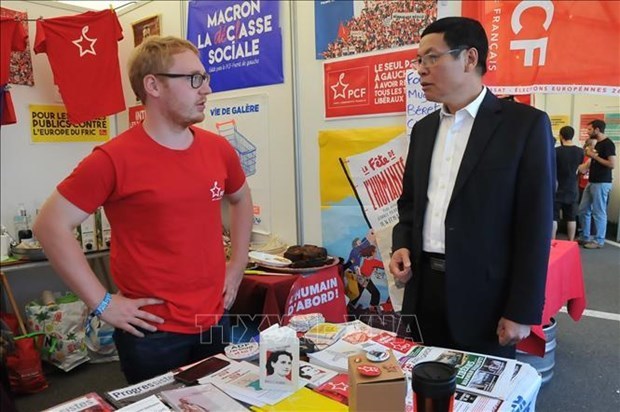 Vietnamese Ambassador to Belgium Vu Anh Quang (R) at the festival
Vietnamese Ambassador to Belgium and Head of the Vietnamese mission to the European Union (EU) Vu Anh Quang led a delegation to attend a solidarity festival (Manifiesta) hosted by the Workers' Party of Belgium (PTB) from September 21-22.
The festival, organised on Bredene beach in Northern Belgium, attracted representatives from 20 communist and left-wing parties from many countries.
The Vietnamese delegation visited booths of the PTB and those from communist parties of Cuba, France, Germany and Portugal to share experience and learn about the development of these countries.
On the occasion, Quang met Vice President of the PTB David Pestieau, during which the host praised Vietnam for its recent economic achievements.
In an interview with a Vietnam News Agency correspondent in Belgium, Quang highlighted the significance of the festival in promoting solidarity among communist parties, the working class and labourers.
It offers a good chance for Vietnam to enhance solidarity with communist parties worldwide, he said, adding that Vietnam intends to open a booth at next year's festival to introduce Vietnamese food and culture to international friends.
Mario Franssen, director of the Manifiesta festival, applauded the support of the Vietnamese Embassy, expressing his hope to see a Vietnamese booth at next year's event.
In its 10th edition, Manisfiesta is a festival of solidarity, diversity, unity, and is an important message of Belgium with the country severely divided between the French-speaking region and the Dutch-speaking region.
It featured more than 100 pavilions. Music performances and nearly 200 debates related to women's rights, environmental protection and racial discrimination were held during the event.
The 11th festival is scheduled to be held from September 19-20, 2020.
Vietnamese start-up challenge concludes in Australia
The final round of the United Association of Vietnamese Students (UAVS) Start-up Challenge took place in Sydney on September 21.
Accordingly, the Sister Bag team won the competition with Made-in-Vietnam handbag project, looking to bring eco-friendly and handmade fashionable products to consumers via online channel.
UAVS President Nguyen Duong Nguyen said it is the first time a start-up competition for Vietnamese students has been held in Australia, which attracted hundreds of entries.
Vice Chairman of the Start-up Vietnam Foundation (SVF) Nguyen Duy Hieu, a member of the jury, expressed his hope that the competition will generate many successful Vietnamese start-ups, especially by students abroad.
He added that the SVF will coordinate with the UAVS to connect start-up teams with different venture funds and turn their ideas into realities.
The challenge is expected to be held every two years.
My Son sanctuary under restoration
The My Son sanctuary in Quang Nam province was recognized by UNESCO as a World Cultural Heritage site 20 years ago.
The site has undergone several restorations with support from domestic and international organizations and experts which has kept it largely intact to this day.
Restoration of the My Son sanctuary began in the early 1980s. A Vietnam-Poland cooperative restoration program together with the participation of the Institute for Relic Preservation contributed greatly to preserving the relic. Initial restoration efforts under the program helped the site become recognized as a World Cultural Heritage.
From 1997 to 2000, Italian experts surveyed and evaluated the physical, geological, and hydrological status of the relic as well as the construction materials, glue, and techniques used to build the Cham towers.
Based on these surveys, the Italian government and UNESCO provided funding and support to protect the My Son World Heritage Site. More than 3,000 artifacts and traces have been unearthed and classified on an excavation site of more than 1,800 square meters.
From 2011 to 2015, the Institute for Relic Preservation implemented a project to restore the E7 tower, one of the Kosagrha architectural structures with a boat-shaped roof.
Archaeologist Le Van Minh said, "During the last 40 years of restoration of the My Son sanctuary, the advancement in restoration techniques from 1980 to 1990 have played an important role. In the ensuing years, thanks to greater resources, the restoration of the relic site has been more professional and sustainable."
All the techniques to restore the relic followed professional and scientific archaeological methods, and thus bringing about sustainable results.
Phan Ho, Director of the My Son Cultural Heritage Preservation Management Board, said the initial restoration of the My Son relic site has been maintained to this day.
Ho said, "After being recognized as World Cultural Heritage, My Son has changed dramatically. It has been protected under the International Convention and the Vietnam Heritage Law. It has attracted Vietnamese and foreign researchers, and scientists, together with organizations and visitors."
Thanks to increased efforts and technical interventions, the My Son relic site has been well preserved and restored, helping to promote Vietnamese heritage and making it one of the most popular tourist attractions in Vietnam.
Major donors for the restoration of the heritage site include the Japan International Cooperation Agency, the Italian government, UNESCO, and the Indian government.
Nguyen Thanh Hong, Director of the Quang Nam Provincial Department of Culture, Sports, and Tourism, said, "We have developed programs to sustainably restore, protect, and apply the great value of the relic to promote tourism and attract foreign investment. We are calling on investment from private enterprises and travel agencies to promote tourism in buffer zones around the relic site."
There remain more than 70 ruins on the My Son relic site, so a lot work is still ahead to preserve the site.
Hoang Su Phi terraced field culture week opens in Ha Giang
National Assembly Vice Chairman Uong Chu Luu attended the opening of the "Through the legacy of Hoang Su Phi terraced fields" culture week in the northern mountainous province of Ha Giang on September 21.
The event aims to honour and uphold traditional cultural values of the local ethnic groups, thus contributing to socio-economic development.
Speaking at the opening ceremony, Luu hailed Ha Giang authorities and people for choosing tourism as a pillar economy for sustainable development and developing agriculture on the back of terraced fields.
He suggested that the province should clarify its potentials and push forward fields of its strength such as tourism, herbal medicine and cross-border trade.
The official also asked the province to strengthen its national defence and security stability in combination with the new-style rural development campaign, thus firmly safeguarding national sovereignty over border areas.
At the event, the Ministry of Culture, Sports and Tourism granted a decision recognising the silver jewelry making of Nung ethnic group in Hoang Su Phi as a national intangible cultural heritage, and presented awards to Vietnamese tea brewers 2019.
Luu also took the occasion to visit and present gifts to families of war heroes in Ban May commune and staff of Ban May border gate station.
Paragliding festival returns Yen Bai province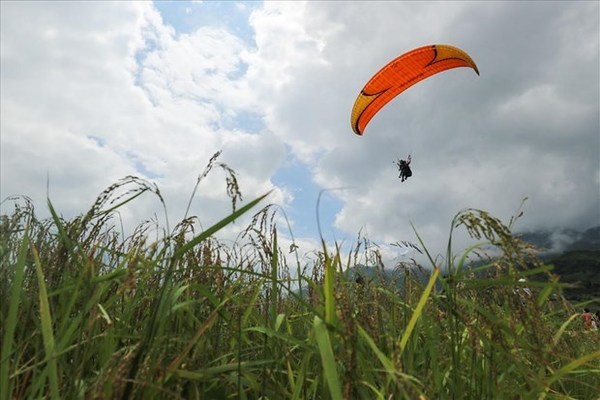 The paragliding festival opens in Mu Cang Chai district on September 21. (Photo: laodong.vn)
The paragliding festival which opened in Mu Cang Chai district's Lim Mong village, the northern mountainous province of Yen Bai, on September 21 has impressed thousands of domestic and foreign visitors to the locality those days.
The annual paragliding festival, themed "Flying over the golden paddies", is part of the activities within the 2019 Muong Lo Tourism-Culture Week and the Mu Cang Chai Terraced Field Festival.
With flights staring in a sea of clouds at the peak of the Khau Pha Mountains, standing 1,200 metres above the sea level, participants have a chance to marvel at the beautiful terraced rice fields under their feet, as well as enjoy spectacular mountain views and fresh air.
Mu Cang Chai has 500 hectares of rice terraces, cultivated for centuries by the Mong ethnic minority people in La Pan Tan, Che Cu Nha and De Xu Phinh communes. Local terraces are among the 2,500 hectares recognised as a national heritage site in 2007 by the Ministry of Culture, Sports and Tourism.
The area's elevation makes farming methods from delta regions impossible to execute. The terraced fields make the most of the water supply by preventing it from flowing downhill.
The area is beautiful all year round. In March, the unplanted ponds glitter. Locals plant rice seedlings from April to May. After May, the green hills nurture their crop until the fields start to turn yellow with ripe rice in early September. During the harvest in October, the golden rice fields stand out amidst green forests.
Besides the adventure sport, the festival also featured photo exhibitions, cuisine booths and local staples.
The two-day festival is expected to help Mu Cang Chai district popularise its stunning landscapes, gorgeous terraced fields, and friendly people to domestic and international friends.
Water shortage threatens upcoming rice crop
Water in many reservoirs in the south-central province of Ninh Thuận Province have dropped to concerning low level.
A prolonged dry spell has caused many reservoirs in the central coastal province of Ninh Thuận to almost run out of water, negatively impacting the coming rice crop.
According to the Ninh Thuận Irrigation Work Operation Ltd., as of Tuesday, the water in the company's 21 reservoirs was only 97.35 million cu.m – only 50 per cent of their designed capacity, according to Vietnam News Agency.
The water level in Sông Sắt reservoir was 53 million cu.m while the other 20 were almost running out of water. Đơn Dương reservoir is barely getting by with 22 per cent of the designed operational volume.
The amount of available water was just enough for people's daily life uses, animals' needs, irrigation for perennial tree areas and some key production sectors by the end this year.
According to calculations, the water needed for people's daily lives was 6.9 million cu.m, animal feed was 2 million cu.m, and irrigation for perennial trees and other key production was about 8 million cu.m.
In the situation, the provincial People's Committee had suggested several plans of agricultural production to minimise losses for the upcoming rice crop.
Phan Quang Thựu, vice director of the provincial department of Agriculture and Rural Development, said that the hardest struggle now was to find water sources for irrigation needs.
"With the remaining amount of water, the province had to set up detailed plans of production for each locality so as to effectively cope with the water shortage," Thựu said.
Due to the water shortage, farmers in many communes had to stop agricultural production over an area of 800ha, said Diệp Minh Xuân, vice chairman of People's Committee of Thuận Nam District.
"If there is no rain by the end this month, the district would totally stop rice production which would cause difficulties for the farmers," said Xuân.
"In the scenarios that we need to shift towards growing vegetables or perennial trees, the current water sources would still not meet irrigation needs," he said.
In fact, local farmers were not optimistic about the upcoming rice crop due to severe weather and spread of disease, the official said.
Farmers in some communes of Thuận Nam District had decided to skip the crop altogether and wait until the winter-spring crop in 2019-2020.
Facing the same situation, Ninh Phước District is also mulling foregoing the rice crop because of its low economic value.
"Ninh Phước is one of the key rice production areas of the province. But due to the water shortage, at present, production has been halted on one third of the district's total rice cultivation areas," said Ninh Phước People's Committee vice chairman Nguyễn Hữu Đức.
"Moreover, the current crop did not bring high yields as expected so the farmers were suggested to skip the upcoming crop and let the land rest," said Đức.
The province's leaders asked that the districts carefully weigh their decisions because halting production might result in disruptions to the food supply, especially in the last months of the year.
Under the plan suggested by the agriculture sector, Ninh Thuận would cultivate 21,600ha of rice and other crops if it rains by the end of this month and water in reservoirs reached over 50 per cent of the designed capacity.
The agriculture sector had to closely monitor the weather conditions and water levels in reservoirs to ensure people and production's needs, said the provincial People's Committee vice chairman Trần Quốc Nam.
FAP TV receives YouTube Diamond Play Button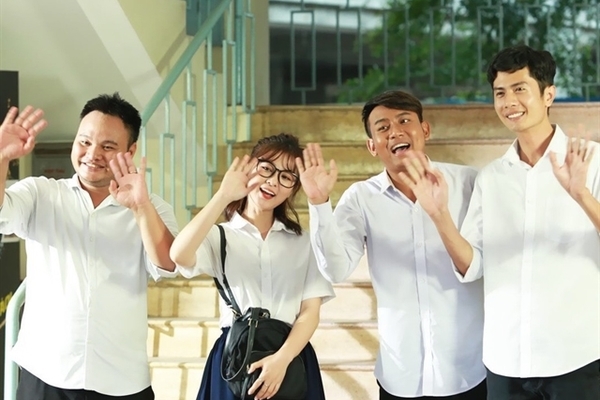 FAP was founded in 2014 with only four members. After five years, the group has 60 members and its channel FAP TV become the first Vietnamese channel receiving YouTube Diamond Play Button for 10 million subscribers. Photo courtesy of FAP TV Facebook page
FAP TV, the YouTube channel of FAP comic group, is the first Vietnamese channel to receive a Diamond Play Button for surpassing 10 million subscribers.
The channel's 423 comedy videos about social issues have earned a total of 4 billion views.
"Our precious property is the audience who love our videos," FAP said on its YouTube channel.
The group has received many congratulations as well as encouragement from fans on their channel.
The group has expressed their gratitude to fans and asked them to continue to watch them.
They said that fan support had motivated them to continue bringing laughter and meaningful life lessons through their videos.
FAP was founded in 2004 with four members, director Trần Đức Viễn, producer AT117, actor Thái Vi, aka rapper Black Bi, and actress-model Ribi Sachi.
The group now has over 60 members.
Many of them quickly became promising performers in the local comedy scene, including Huỳnh Phương, Vinh Râu and Trịnh Thảo.
"We are doing what we love," Thái Vũ told local media.
In the beginning, FAP members spent their own money to make videos.
Their videos were well-known for rustic humor and acting featuring topics about friendship, family and love, which have attracted young audiences, especially students.
A year later, FAP decided to launch its first series called Cơm Nguội (Day-old Rice) to reflect social relationships and familiar issues in daily life.
The group releases three to seven episodes of the series every week.
The series has 205 episodes, and has had five million to eight million views.
They have also released four series about school life, including 16-episode Yêu Ư? Để Sau (Love? Later), 12-episode Là Anh (It's You), 12-episode Ai Nói Tui Yêu Anh (Who Said I Loved You), and the ongoing Sạc Pin Trái Tim (Charging Your Heart).
These series features young actors like Nguyên Yunie,Võ Đình Hiếu, Kim Ngân, Mai Xuân Thứ, and Huỳnh Phương
Interesting plots and talented actors have helped these series earn from three to 14 million views for each episode.
"I like FAP TV. Their videos are funny and meaningful. The plot is close to my daily life at home and school and the actors are cute," said Đỗ Thành Công, a student at Hùng Vương High School in Đồng Nai Province.
As a result, FAP's effort and hard work has paid off.
They received the Silver Play Button for 100,000 subscribers in 2015, Golden Play Button for 1 million subcribers in 2016, and now the Diamond Play Button.
Kiên Giang expands marine aquaculture on industrial scale
Breeding marine fish in floating cages on Phú Quốc Island in the southern province of Kiên Giang Province.
The Cửu Long (Mekong) Delta province of Kiên Giang will expand marine aquaculture on an industrial scale in an aim to improve residents' income and protect the environment on islands and coastal areas from now until 2030.
The province plans to set aside zones for marine aquaculture in Phú Quốc, Kiên Hải and Kiên Lương districts, Hà Tiên City, Long Xuyên Quadrangle and U Minh Thượng areas, according to its Department of Agriculture and Rural Development.
Nguyễn Văn Tâm, director of the department, said the province would develop marine aquaculture in combination with fishery services and tourism.
The province's marine aquaculture breeds mostly marine fish and bivalve mollusks, but its economic efficiency is not high, according to Tâm.
The province's marine aquaculture has high potential but is small scale and has inadequate infrastructure.
Most marine fish breeders are households that use small fish to feed marine fish, causing pollution risks and unsustainable development.
The province lacks factories for producing animal feed as well as factories for processing harvested marine fish. There is also a shortage of establishments that produce marine fish fry.
As of this month, the province has 3,464 floating cages that breed various kinds of marine fish species, up 27 per cent against the same period last year.
The marine fish species include cobia, grouper, black banded trevally and white pomfret.
Last year, the province bred nearly 21,800ha of bivalve mollusks with a total output of 66,000 tonnes.
The bivalve mollusks, mostly mud clam, blood cockles and green mussels, are bred in alluvial grounds, shrimp ponds and mangrove forests.
The province estimates that it will be breeding bivalve mollusks on an area of 22,700ha with total output of 78,100 tonnes this year, according to the department.
The province also has about 50ha of oyster farming area for harvesting pearls in Phú Quốc District. Private enterprise Ngọc Hiền Pearl has invested in the area that produced about 250,000 pearls last year. The district's pearl farming has contributed to tourism.
In recent years, the province has called on companies to invest in farming marine fish with advanced techniques.
The Trấn Phú Trading and Import-Export Co Ltd in Phú Quốc District is breeding white pomfret and red drum in floating cages with Norwegian techniques.
In the 2016-18 period, the company had four such floating cages with a total output of 100 tonnes a year. This year, the company added eight floating cages.
In July, the province gave approval to the Mavin Group to invest in breeding marine fish in Kiên Hải District for export. The project will cover 2,000ha of surface water off the coast of Kiên Hải and cost US$30 million.
The project is scheduled to operate in 2021 and will produce 30,000 tonnes of marine fish a year.
The province has nearly 200km of coast and favourable natural conditions for breeding fish in floating cages. 
Quảng Ngãi's fish ports quiet now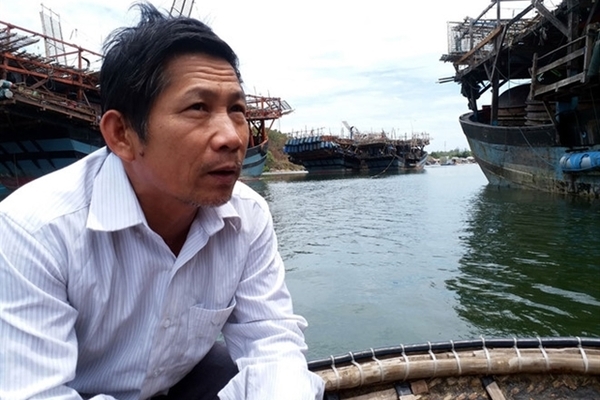 Trần Dân, a fisherman, whose vessel to catch squid just returns from the deep sea, says he is very sad because the wholesalers push down the squid price.—Photo thanhnien.vn
:
 
The fish ports in the central province of Quảng Ngãi are quieter these days, as a lack of fish to catch offshore has led fishermen to sell their boats, while wholesalers are driving down the price for those who are sticking with the trade.
Trần Minh, 54, of Bình Thuận Commune, Bình Sơn District said his family had fished for a living for three generations, before he had to sell his boat.
"I had to sell the vessel. It's sad but true, the nearshore zone seems to have run out of fish," he said.
He couldn't look after his family with the money he earned by catching fish anymore, he said.
Võ Minh Thư, of Tịnh Khê Commune, Sơn Tịnh District, has fished for 50 years. When he was young, he went far offshore to fish, but in recent years, as he has passed 70 years old, he only works in the nearshore zone.
"This year, there are very few fish to catch. It is because people have overfished. They even catch baby fish," he said.
This had led to the depletion of aquatic resources, he added.
Trần Văn Dân, 50, of Bình Thạnh Commune, Bình Sơn District, a fishing vessel owner, said his vessel only caught about 10 tonnes of squid after it went sailing for a month and a half near the Trường Sa (Spratly) Islands.
Normally they could watch about 40-50 tonnes, Thanh Niên (Young People) online newspaper reported.
When at the sea, the crew heard seafood wholesalers had put down the price, so they stopped catching and returned to the mainland, he said.
Đặng Tằm, of Bình Châu Commune, another vessel owner, said it was hard to earn a living by catching fish offshore. This meant it was hard for fishing vessel owners to hire labourers to go on fishing expeditions.
He's even had to pay workers in advance to get enough crew for his ship.
Reel problem
Statistics of the Directorate of Fisheries under the Ministry of Agriculture and Rural Development reveal that fishermen exploit more 2.5 million tonnes of fish each year, while the recommended number is about 1.7 million tonnes.
Overfishing and poor fishing techniques were blamed for the depletion of aquatic resources. This was the consequence of loose management of fisheries by the authorities, according to experts.
In Quảng Ngãi alone, 5,664 fishing vessels currently operate with about 38,000 labourers.
Dương Văn Rin, head of a local aquatic processing company, said he had asked agencies to limit the number of newly-built ships in the province.
Other local fishermen also suggested agencies set up marine protected areas and ban fishing in some areas.
Tạ Văn Minh, vice chairman of the People's Committee of Bình Thuận Commune, said the commune now had about 200 fishing vessels, dozens of fishing vessels lower compared to 2016.
In the long-term, Minh advised the local administration to help local fishermen change careers.
Phùng Đình Toàn, deputy head of the provincial Fisheries Division, said the province had tightened management of fishing vessels' activities.
The province was compiling regulations to limit newly built fishing vessels, he said.
It had also made efforts to raise awareness of local people of the importance of sustainable exploitation. Spontaneous exploitation would be improved. Then, local fishermen would gradually shift to sustainable exploitation, he said. 
Multi-dimensional poverty measurements need adjustment
Thanks to a preferential loan for fresh-out-of-poverty households, Đinh Thị Xuyên, a Mường ethnic minority household in Yên Lãng Commune, Thanh Sơn District of the northern province Phú Thọ, has been raising a small herd of goats and cows, helping ensure that the family stays out of poverty.
Multi-dimensional poverty standards should be adjusted to suit the current economic conditions of the country, an official of Ministry of Labour, Invalids and Social Affairs has said.
Speaking at a workshop in Bạc Liêu Province on Thursday, Phạm Minh Thu of the ministry's Institute of Labour Science and Social Affairs proposed new multidimensional poverty standards and measures for the 2021-25 period.
The country's Sustainable Poverty Programme applies multidimensional poverty standards from 2016 to 2020.
"Multi-dimensional measures should follow international multi-dimensional poverty standards in the next period," she said.
The main causes of poverty are disadvantages related to natural conditions, physical and human capital, business risks, and other life upheavals.
In the 2016-2020 period, the national poverty rate is estimated to be around 5.23 per cent and the near-poverty rate at 4.59 per cent.
The northwestern mountainous region has the highest poverty rate, 4.63 times higher than the national poverty rate. It is followed by the northeastern mountainous region and the Tây Nguyên (Central Highlands) region.
The southeastern region has the lowest poverty rate, with less than 1 per cent.
Thu said that a national database should be created to unify all information related to the programme on multi-dimensional poverty standards.
"Localities should build poverty-reduction policies and integrate them into their socio-economic development plans, depending on each locality's condition," she said.
Communication activities should also be improved to raise public awareness about sustainable poverty-reduction goals, multi-dimensional standards, and the multi-dimensional poverty line.
Lò Thị Đức of the Việt Nam General Statistics Office's Social and Environmental Statistics Department said that multidimensional measures should focus on education, healthcare, clean water and sanitation, better access to information, and social security services.
"Multi-dimensional poverty criteria, measurement and standards should be simple to identify and measure," she said.
Vương Phương Nam, vice chairman of Bạc Liêu Province's People's Committee, said: "Many of the solutions applying multidimensional poverty standards are contributing to the province's sustainable poverty reduction."
Last year, the province spent VNĐ26.5 billion (US$1.14 million) to support 7,400 poor households, offering financial support, providing seedlings and breeding varieties, and instructing them in production models and livelihood diversification.
"Most households have escaped from poverty in a sustainable way," Nam said.
The province also used VND1.5 billion (US$546,500) to offer a year of health insurance for people who escaped poverty to ensure that they remained in good health.
However, difficulties still exist in poverty reduction. Public awareness activities in some localities had not been effective, and job creation efforts needed improvement, he said.
In addition, some poor households relied on assistance from the Government instead of trying to emerge from poverty, Nam said.
Breakthroughs in Binh Duong New City development
Emerging as an industrial hub in southern Vietnam, Binh Duong province is taking the lead in improving business climate and increasing investment attraction.
The Binh Duong New City is being built with the modern infrastructure to serve the local comprehensive, sustainable development.
The 1,000-hectare Binh Duong New City was approved by the Prime Minister to become a sophisticated and modern urban area of Binh Duong city by 2020.
The project is run by Becamex IDC, a leading industrial and urban development corporation which has seen success with the My Phuoc industrial park and a series of Vietnam-Singapore industrial parks across Vietnam. After three years of implementing the project, Becamex IDC has changed the facelift of Binh Duong remarkably.
Mai Hung Dung, Vice Chairman of the Binh Duong provincial People's Committee, said "We have communicated the goal of developing Binh Duong into a smart city among local residents, businesses, and vocational training facilities. We have cooperated with local universities in promoting research, launching new products following market demands, and establishing laboratories. State management agencies have advised us on how best to integrate smart city models toward sustainable development."
Famous architects inside and outside Vietnam have been engaged in major projects in the Binh Duong New City, which is expected to become an international gateway for trade and services exchanges and the world's most advanced technology.
Economists praise the Binh Duong New City for its strategic location. It lies at the junction of Ho Chi Minh City's belt roads and at the center of routes linking north and south of Binh Duong province playing an important role in the development of Vietnam's southern economic hub. With rapid development of the industrial and service sectors and upgraded infrastructure, the Binh Duong New City has become central to the local development.
Vice Chairman Dung further elaborated "We plan to develop science-technology industrial parks into smart industrial parks to gather technological enterprises, IT application enterprises and enterprises that produce semi-conductors used in smart city building. We are upgrading our transportation infrastructure and linking ports with roads and railways. These are among Binh Duong's major plans."
Becamex IDC has worked closely with the local administration and implemented numerous initiatives to create breakthroughs for the Binh Duong New City project.
Nguyen Van Hung, General Director of Becamex Binh Duong told VOV "We are upgrading the railway system, called smart My Phuoc – Tan Van route, linking industrial parks, sea ports, and international airports. This is an important project which will bring yield major benefits once completed."
The Binh Duong New City has become an administrative, economic and cultural center of Binh Duong province, offering all types of services and a comprehensive infrastructure system, with close connections to neighboring localities.
Ha Long Bay named one of most popular attractions in Asia
Ha Long Bay in the northern province of Quang Ninh is one of the most popular attractions in Asia.
Ha Long Bay in the northern province of Quang Ninh is one of the most popular attractions in Asia, according to the South China Morning Post (SCMP) based in Hong Kong.
The newspaper said the UNESCO World Heritage site in the northern province of Quang Ninh came in fifth among the top 10 most popular Asian gems, which was topped by the Great Wall of China.
Around 5.2 million foreigners visited Ha Long Bay last year, up 22 percent from a year ago, accounting for 30 percent of the 15.6 million foreign tourist arrivals to Vietnam.
The boom in foreign tourists in Ha Long Bay is attributed to major infrastructural improvements that have made it easier for foreigners to visit the world-famous bay, according to SCMP.
Mount Fuji in Japan came in second on the top 10 list, followed by China's Forbidden City and India's Taj Mahal. The rest were Mount Everest in Nepal and Tibet; Angkor Wat in Cambodia; Komodo Island in Indonesia; The Grand Palace in Bangkok; and Oriental Pearl Tower in Shanghai.
News and art photo competition 2019 launched
The news and art photo competition 2019, themed "City landscape 2019', was launched in Ho Chi Minh City on September 20.
Tra Duc Khang, Deputy Director of the Ho Chi Minh City Information and Exhibition Centre - the organising unit, said the event encourages entries featuring the city's tourism potential, local lives when spring comes, social charity activities, towards building Ho Chi Minh City into a worth-living city.
He suggested that entries should depict achievements in the new-style rural development with improving infrastructure and quality farm produce, combat readiness training activities, among others.
The organising board will receive entries until November 15.
2019 national taekwondo champs closes in Da Nang
The 2019 National Taekwondo Championships wrapped up in the central city of Da Nang on September 22 after six days of competition.
The organising board presented 29 sets of medals in performance and combat events to athletes.
At the men team's combat, the first prize went to the team of Ho Chi Minh City, the second prize for Da Nang, and the third for Hanoi and Quang Ninh.
Meanwhile, the Quang Nam women team grabbed the first prize, that from Hanoi earned the second, and others from Nghe An and Da Nang shared the third prize.
At the men individual's combat, the first, second and third prizes were presented to the teams from Ho Chi Minh City, Binh Phuoc and Hanoi, respectively.
Their female counterparts from Hanoi, Da Nang and Quang Nam received the first, second and third prizes.
Co-organised by the Vietnam Taekwondo Federation and the municipal Department of Culture and Sports, the competition attracted nearly 300 athletes of 31 teams from cities, provinces and departments nationwide.
Binh Thuan needs to become constructive administration: Deputy PM
The south-central province of Binh Thuan should pay due attention to building a constructive administration which is able to handle challenges for both locals and investors, Deputy Prime Minister Truong Hoa Binh said on September 22.
Attending the province's investment promotion conference in Phan Thiet city, Deputy PM Binh ordered the locality to continue building a good investment climate and outlining attractive policies to lure more strategic investors, aiming to create a driving force for local sustainable development.
To do so, good planning management should be made in the three core sectors of clean energy, tourism, and high-tech agriculture, he suggested, stressing the importance of planning for coastal urban.
Deputy PM Binh said as Binh Thuan province possesses huge potential to develop renewable energies such as wind and solar power, and green tourism, it should work to attract key investments, and branch out tourism in tandem with high-tech agriculture so as to create standout tourism products.
He urged the province to make full use of its resources to accelerate and improve quality of economic growth in order to turn itself into a well-developed locality in the south-central coastal area, and the Central Highlands region.
At the event, Binh also expressed his hope that the investors will have long-term business strategy, and exercise their corporate responsibility while landing investment in the province.
The province has attained significant advancement in the economic development since it organised the first investment promotion conference in 2017. It has granted investment licenses for 264 projects with a combined registered capital of over 53 trillion VND (2.28 billion USD).
At this year's conference, Binh Thuan introduced its strengths, potential, and priority projects in tourism, high-end entertainment complexes, urban areas, processing industry, renewable energies and smart agriculture to the investors.
Under the witness of the Deputy PM and leaders of ministries and sectors, Binh Thuan province presented investment intention decisions to 11 projects valued over 23 trillion VND. Meanwhile, the provincial People's Committee signed a Memorandum of Understanding on registering investment for 14 projects worth 20.32 billion USD in various sectors.
US-funded project helps develop rattan, herbal plants in Quang Nam
About 2,500 residents in mountainous districts of central Quang Nam province, mostly women and impoverished ethnic minorities, are expected to get stable jobs and higher income thanks to a US-funded sub-project.
The sub-project, worth 57 billion VND (2.45 million USD), was recently launched by the Vietnam Handicraft Exporters Association (Vietcraft) and Truong Son Xanh (Green Annamites) – a project on climate change response funded by the US Agency for International Development (USAID).
The sub-project will be carried out in Dong Giang, Tay Giang, Nam Giang, Nui Thanh and Phuoc Son districts for a year starting from September 2019.
More than 600 households in the target localities will be supported to plant 100 hectares of rattan and exploit 50 hectares of rattan in wild forests sustainably. They will also receive training on making rattan and bamboo handicrafts.
Notably, showrooms will be set up to display the handicrafts, serving community-based tourism.
Under the sub-project, a centre will be established in Hoi An, a popular tourist destination in Quang Nam, to design and promote the handicrafts.
According to Le Ba Ngoc, Vice President of Vietcraft, rattan in wild forests in Quang Nam province is on the edge of exhaustion. Meanwhile, there is a huge demand for rattan to serve handicraft production to replace plastic products.
Therefore, the sub-project will contribute to giving a facelift to the bamboo and rattan craft in Quang Nam, while improving locals' awareness of forest protection, he said.
Besides, the sub-project will help develop the cultivation of local herbal plants in forest and diversify herbal medicine products in the localities, focusing on intensive processing.
Volunteer soldiers mark 30 years of mission fulfillment in Cambodia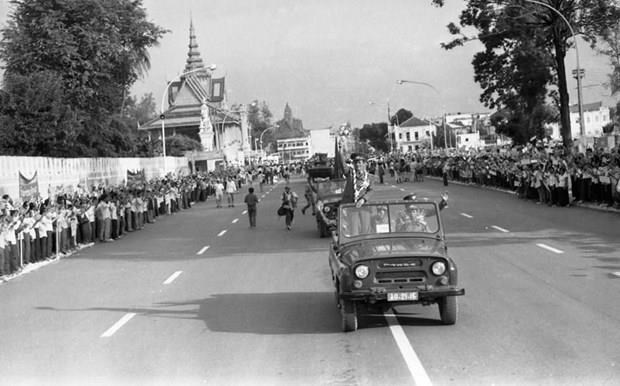 Volunteer soldiers of Front 479 on way home
The Vietnam - Cambodia Friendship Association of former volunteer soldiers of Front 479 held a ceremony in Hanoi on September 22 to mark 30 years of the fulfillment of their international mission in Cambodia.
On the occasion, the association presented gifts to heroic Vietnamese mothers, families of invalids and martyrs, and Cambodian students in Vietnam.
Speaking at the event, Chairman of the association Le Cuong said in response to urgent appeal by the Cambodian United Front for National Salvation and people, Vietnamese voluntary soldiers and Cambodian armed forces overthrew the Pol Pot-Ieng Sary genocidal regime on January 7, 1979.
From 1979 to 1985, both sides launched raids against Khmer Rouge remnant bases in border and inland areas.
During the 1984 – 1985 dry season, an unprecedentedly large campaign was launched, which won a decisive victory and put an end to the Khmer Rouge regime.
Since the late 1985, reactionary forces have been basically no longer a threat to the Cambodian revolutionary administration.
On September 26, 1989, all Vietnamese voluntary soldiers and military experts returned home.
Founded on April 14, 1979, Front 479 was assigned with the task of helping Cambodians with medical treatment and production, armed forces building from the central to local levels, and fighting to eradicate the threat of the revival of the genocidal regime.
During a decade of working in Cambodia, the Front and the host armed forces waged over 16,000 attacks, putting about 100,000 enemies out of action, and seizing over 43,000 guns and 462 tonnes of munitions and military equipment.