NEWS HEADLINES SEPTEMBER 20
Two men detained for illegal tiger transportation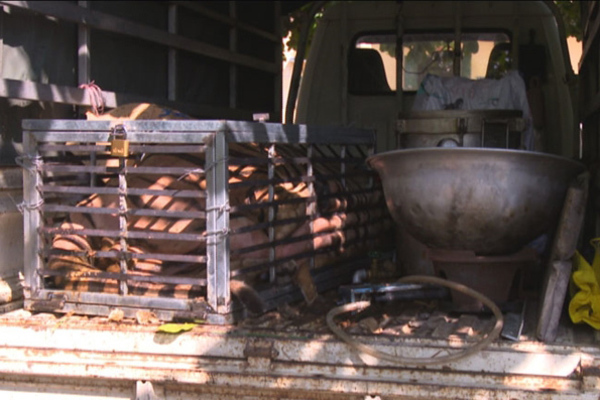 The tiger found in the pickup truck
The police in the northern province of Quang Ninh have arrested two men for illegally transporting a 240-kilo tiger.
Nguyen Nhat Hong, 37, and Nguyen Thai Chien, 27, were found transporting the tiger in a pickup truck from Nghe An to Quang Ninh Province. 
Minh admitted that he bought the animal from a man in Nghe An and hired Chien, the car owner, to bring the tiger to Nguyen Van Minh, in Quang Ninh's Ha Long City. Minh then intended to use the tiger for bone glue production.
At Minh's house, the police also detected tiger bones and skin.  
Vietnamese ace Nguyen Van Bay hospitalised in critical condition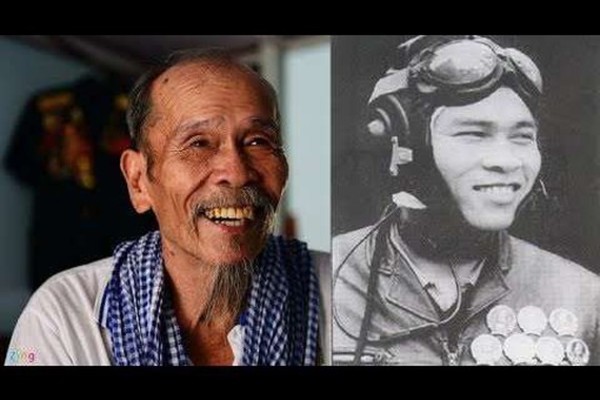 File photos of pilot Nguyen Van Bay. Photo by TPO
Vietnamese heroic pilot Nguyen Van Bay who shot down seven US aircraft during the American War was hospitalised in critical condition after a stroke.
Colonel Nguyen Van Bay was a well-known jet fighter ace for the Vietnam People's Air Force during the American War. He shot down seven US aircraft.
According to the family of Colonel Nguyen Van Bay, he was rushed to hospital after a fall at his home in the southern province of Dong Thap.
The Ho Chi Minh City-based 175 Military Hospital announced on September 18 that they were making all efforts to treat Bay who lost consciousness due to a stroke.
"We have held a consultation among experts and doctors to find the best treatment methods for him but unfortunately we cannot perform surgery now due to his condition," the hospital said, adding that the prognosis was devastating.
Born in 1936 in Dong Thap Province, Colonel Nguyen Van Bay joined the army at the age of 17 and was assigned to the 923rd Fighter Regiment where he started his first aerial combat in the northern province of Lang Son.
Pilot Bay operated 94 flights with a MiG17 and claimed seven aerial combat victories against US aircraft.
Bay was honoured as a military hero in 1967. After retiring in 1989, Bay returned to live in his hometown in Dong Thap Province.
Man sentenced death penalty for murder and robbery
Nguyễn Văn Dũng at the court hearing.
The People's Court of northern Hà Nam Province on Thursday sentenced a man to death on charges of murder and robbery.
According to the indictment of the provincial People's Procuracy, Nguyễn Văn Dũng, 29 years old, residing in Đơn Dương District, Central Highlands province of Lâm Đồng, took a coach from Hà Nội to Liêm Tuyền Flyover in Hà Nam on May 16, 2019.
He hired Nguyễn Công Tư, a xe ôm (motorbike taxi) driver to take him to the Hồng (Red) River Dyke in Chân Lý Commune, Lý Nhân District.
When reaching the dyke, Dũng used a bamboo stick to beat the driver to death.
He then stole the driver's Yamaha Sirius motorbike, a mobile phone, a wallet and other possessions with value of more than VNĐ9.6 million (US$417).
Tư was a xe ôm driver residing in Phủ Lý City, Hà Nam and usually waited for passengers at Liêm Tuyền Flyover area.
Dũng was handed five years in prison for robbery and the death penalty for murder.
Hạ Long Bay named one of most popular attractions in Asia
Hạ Long Bay in the northern province of Quảng Ninh is one of the most popular attractions in Asia, according to the South China Morning Post (SCMP) based in Hong Kong.
The newspaper said the UNESCO World Heritage site in the northern province of Quảng Ninh came in fifth among the top 10 most popular Asian gems, which was topped by the Great Wall of China.
Around 5.2 million foreigners visited Hạ Long Bay last year, up 22 per cent from a year ago, accounting for 30 per cent of the 15.6 million foreign tourist arrivals to Việt Nam.
The boom in foreign tourists in Hạ Long Bay is attributed to major infrastructural improvements that have made it easier for foreigners to visit the world-famous bay, according to SCMP.
Mount Fuji in Japan came in second on the top 10 list, followed by China's Forbidden City and India's Taj Mahal. The rest were Mount Everest in Nepal and Tibet; Angkor Wat in Cambodia; Komodo Island in Indonesia; The Grand Palace in Bangkok; and Oriental Pearl Tower in Shanghai.
Navy joins programme to present a million national flags to fishermen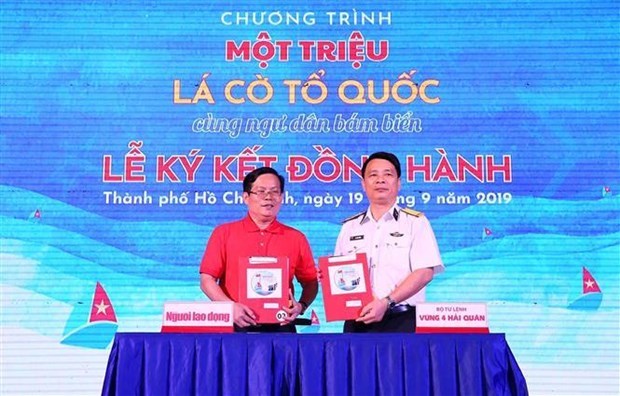 Nguoi Lao Dong newspaper's editor-in-chief To Dinh Tuan (L) and representative of the navy at the event
The Nguoi Lao Dong newspaper and the navy and the coast guard force on September 19 signed a cooperation agreement to implement a programme to present one million national flags to fishermen of 28 coastal localities of Vietnam.
Under the programme, initiated by the Nguoi Lao Dong newspaper, 100,000 national flags have been handed over to fishermen in 10 localities during the past three months.
Speaking at the signing ceremony, the newspaper's editor-in-chief To Dinh Tuan said the programme demonstrates the sentiments of Vietnamese people at home and abroad in the protection of the country's sea and island sovereignty.
Vietnamese fishing ships carrying the national flags are the "live markers" asserting the national sovereignty at sea.
Sen. Lieut. Col. Do Hong Duyen of the High Command of Naval Region 2 said the programme has strengthened the bond between the Vietnam People's Navy in general and Naval Region 2 in particular with fishermen.
Tran Van Quang, a fisherman from Can Gio district of HCM City said the national flag not only tell their vessels' country of origin, but also affirm Vietnamese fishermen's resolve to help declare and protect the country's sea and island sovereignty.
Saline intrusion affects Trà Vinh people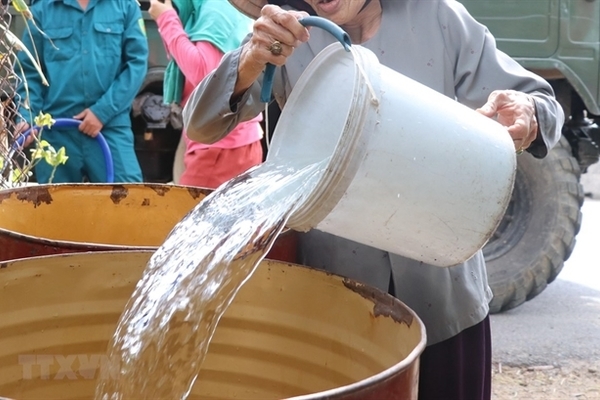 Nearly 10,000 households in Trà Vinh Province are seriously lacking clean water due to saline intrusion.
A shortage of fresh water and severe saline intrusion has seriously affected the lives of people in the Mekong Delta province of Trà Vinh for half of the year.
According to the provincial Clean Water and Environmental Sanitation Centre, nearly 10,000 households have suffered from lack of fresh water, especially in Châu Thành and Càng Long districts.
Since mid-February, more than 5,220 households living in ten communes of Châu Thành District have been forced to use surface water from canals, ditches or drilled wells for everyday living.
In the dry season, the water is salted while the underground water is contaminated with alum, causing a serious shortage of fresh water, local agriculture and rural development office said.
To cope, many households have been storing rainwater.
The authorities in Châu Thành District said the local fresh water supply system only met 50 per cent of demand and the rest were forced to drill wells.
Bùi Văn Mừng, director of provincial Rural Water Supply and Sanitation Centre, said some water supply stations built were old and degraded and their initial designed capacity did not meet the needs due to population growth.
About 6 per cent of rural households cannot reach fresh water because fresh supply water system cannot build in some remote areas, he said.
Proposals have been put to the province to build a water reservoir at four water supply stations using surface water to ensure sufficient fresh water supply in six months of dry season.
It also suggested building more pipeline systems in areas affected by saline intrusion and provide plastic tanks for about 2,000 poor households to store clean water.
The project is estimated to cost VNĐ18 billion (roughly US$766,000).
Hanoi to spend VND36bn on To Lich River bridges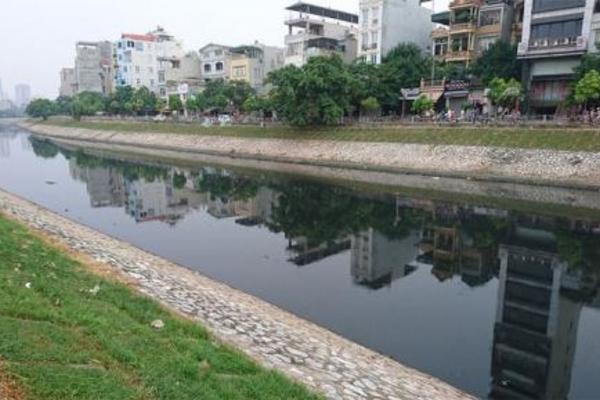 To Lich River in Hanoi
Hanoi Department of Transport has proposed to build three bridges over the To Lich River for pedestrians and bicycle riders.
From 2019 to 2020, Hanoi authorities will have to spend VND36bn (USD1.5m) to build the bridges at 221 Nguyen Khang Street, 79 Nguyen Khang Street and 169 Nguyen Ngoc Vu Street.VND28bn of the investment will come from the city's budget.
Lang Street is highly populated with many schools, hospitals, state offices and new urban areas. Even though there are many bus stops, they are located away from the bridges and cause difficulties for travellers who want to reach Lang Street from Nguyen Khang and Nguyen Ngoc Vu.
According to the department, it is necessary to build more pedestrian bridges.
RoK-funded project helps build more libraries in Vietnam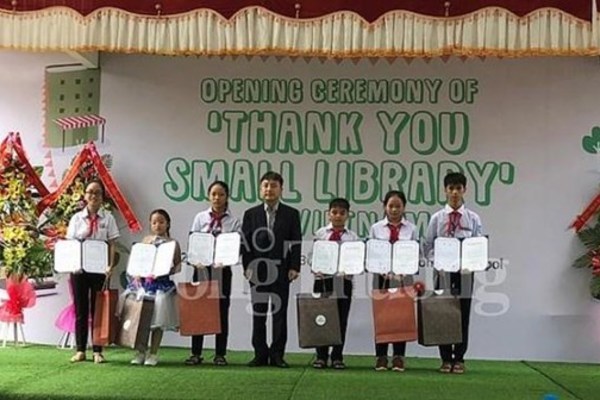 At the launching ceremony in a school in Nam Dinh
The Ministry of Culture of the Republic of Korea (RoK) said on September 19 that the country has launched three more libraries for Vietnamese students, lifting the total number in the Southeast Asian country to 14.
This is part of an official development assistance (ODA) project funded by the RoK side.
According to the ministry, the new libraries have been constructed in three secondary schools in the northern province of Nam Dinh, benefiting about 1,000 students. It also presented about 6,000 books for these libraries.
Earlier, the RoK financed the construction of four libraries in Hanoi, four in Vinh Phuc, and three in Phu Tho.
The RoK has so far built 129 libraries in 13 Asian and African countries.
Vietnam to compete in six categories in World Travel Awards 2019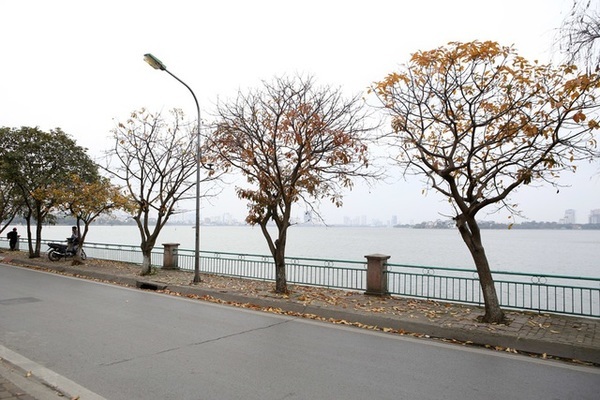 The West Lake in Hanoi
Vietnam has been nominated in six categories of the annual prestigious World Travel Awards (WTA) 2019.
In this year Awards, Vietnam is among nominees for World's Leading Destination, Culinary Destination and Cultural Destination titles.
The capital city of Hanoi has also been chosen as a nominee for the World's Leading City Destination title while the ancient town of Hoi An will race for the World's Leading Cultural City Destination awards.
Meanwhile, Vietnam National Administration of Tourism will compete for the title of World's Leading Tourist Board.
The World Travel Awards 2019 ceremony for Asia will take place in Phu Quoc island District in the southern province of Kien Giang on October 12. After that, the world's awards ceremony will be held in Muscat, Oman in November.
To vote for Vietnam online, visit https://www.worldtravelawards.com/vote
British Council's IELTS Fair 2019 on horizon
The British Council in Vietnam has introduced the IELTS Fair 2019, to take place in Ho Chi Minh City and Hanoi on September 21 and 22, respectively. The fair gathers together top IELTS gurus, including leading experts from the British Council and famous Vietnamese teachers, ready to empower Vietnamese IELTS test takers for better success.
IELTS is one of the world's most prestigious English certifications and succeeding in the IELTS test is a passport to a world of new opportunities for test takers whether they want to study, work or live overseas or are simply looking for career progression or broadening their social interactions locally and when traveling.
"Over 3.5 million people took the IELTS test in 2018, which makes it the most widely used high-stakes English proficiency test in the world," said Mr. Andrew Burlton, Director of English Language Services at the British Council Vietnam.
"More than 10,000 organizations in over 140 countries and territories trust and seek IELTS, because it's a reliable and valid test of real ability to communicate in English - whether for education, work, or immigration purposes. That's why IELTS can unlock so many opportunities internationally."
"As a proud co-owner of the IELTS test, the British Council is delighted to bring Vietnamese test takers an experience such as the IELTS Fair, to support them in achieving better success in their IELTS tests, and beyond that to grab opportunities to expand their global horizons," said Ms. Nguyen Thi Thanh Hoa, Assistant Director at the British Council Vietnam.
The IELTS Fair was held for the first time last year and attracted more than 1,000 participants and nearly 30 IELTS partners who presented information sessions and exciting offers to get visitors prepared for their experience abroad. Building on the first year's success, the IELTS Fair 2019 will be held again by the British Council in Ho Chi Minh City and Hanoi.
The IELTS Fair 2019, with the theme "IELTS - Passport to the World", is organized by the British Council in collaboration with VTV7 - Vietnam National Education Channel and the renowned IELTS Face-Off show, to bring exhilarating experiences to Vietnamese test takers.
One of the fair's highlights is the IELTS workshop series with well-known local IELTS gurus. In 30 to 45-minute sessions, each trainer will share valuable tips for prospective IELTS test takers to achieve better scores in the four IELTS skills of Reading, Listening, Speaking and Writing.
Participants are also invited to discover endless opportunities offered by the British Council's many IELTS partners, such as English language centers, representatives from overseas study and immigration advisors, and representatives of embassies and consulates of the UK, the US, Canada and Australia in Vietnam. Brought exclusively to the IELTS Fair 2019, offers and information will greatly support IELTS test takers in Vietnam to open up a world of opportunities.
Con Son – Kiep Bac Autumn Festival attracts crowds of participants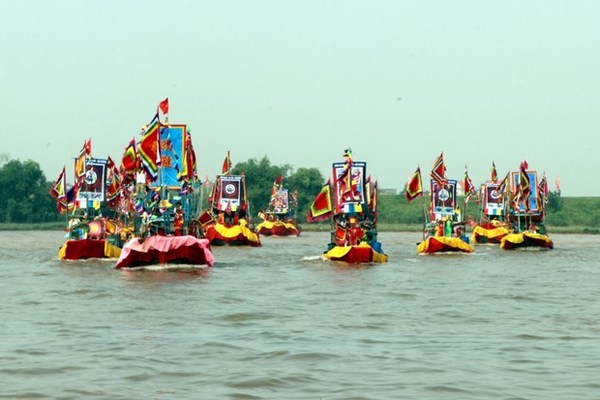 Boats on the Luc Dau River reenact the three victories of the Tran Dynasty over the Yuan-Mongol invaders over 700 years ago, an activity of the Con Son – Kiep Bac Autumn Festival
The special national relic site Con Son – Kiep Bac in Chi Linh city, the northern province of Hai Duong, welcomed about 120,000 visitors from September 13 to 18 during its autumn festival, up about 40 percent year on year.
On the three peak days of the event from September 14 to 16, it attracted around 75,000 people, according to the relic site's management board.
The annual Con Son – Kiep Bac Autumn Festival takes place in the eighth lunar month, which is in the middle of autumn according to folk beliefs.
This year, it marked the 719th death anniversary of national hero Hung Dao Dai Vuong Tran Quoc Tuan (1228 – 1300), known as Tran Hung Dao for short, and honoured the Tran Dynasty (1225 – 1400). The event also celebrated the 577th death anniversary of the world's Great Man of Culture Nguyen Trai (1380 – 1442).
The festival featured a range of traditional rituals and cultural activities. Notably, a performance with the participation of 1,500 people and around 500 boats on the Luc Dau River reenacted the three victories of the Tran Dynasty over the Yuan-Mongol invaders over 700 years ago.
Activities during the festival also aimed to popularize the values of the Con Son – Kiep Bac special national relic site, helping to raise public awareness of the practice, preservation and promotion of national cultural heritage.
Most visitors to this year's event were satisfied with landscape improvements at the site, which had many of its facilities upgraded and services bettered.
They also received support from local youth volunteers who helped with keeping the environment clean and giving instructions to visitors.
Additionally, in response to the anti-plastic waste campaign, organisers placed a number of large water containers in multiple places across the site to serve visitors for free instead of distributing small bottles. Flower lanterns floated at the event were made of paper.
Under the Tran Dynasty, commander Tran Hung Dao led the military of Dai Viet (Great Viet – the name of Vietnam then) to victories over two of the three Yuan-Mongol invasions, in 1285 and 1288.
Kiep Bac Temple is the most renowned place of worship of Tran Hung Dao. The local area was also his birthplace and the place where he set his military base during the fights against the foreign invaders.
Meanwhile, Nguyen Trai was a great contributor to the establishment of the Hau Le (Latter Le) Dynasty (1428 – 1789) following the triumph over the Ming invaders. He was also a most famous poets and writers in the country's history.
Con Son Mountain was where Nguyen Trai spent part of his time in seclusion.
Con Son – Kiep Bac was recognised as a national relic site in 1962 and a special national relic site in 2012.
Aside from the autumn festival, it is also the venue of an annual spring festival. Both events were listed as national intangible cultural heritage in 2013 by the Ministry of Culture, Sports and Tourism.
Hai Duong province was associated with the lives of not only Tran Hung Dao or Nguyen Trai but also many other renowned figures in Vietnam's history such as Khuc Thua Du, Chu Van An and Mac Dinh Chi.
It is home to more than 2,200 historical and cultural relic sites, including 144 national relic sites and four special national ones.
Additionally, Hai Duong boasts a number of scenic landscapes like Con Son Mountain, Phuong Hoang Mountain, An Phu Mountain, Duong Nham Mountain, Kinh Chu Cave and the Luc Dau River.
Craft villages have also make the province known far and wide, including Dong Giao wood engraving village, Chu Dau pottery village, Chau Khe jewelry making village, Xuan Neo embroidery village, and Tien Kieu mat weaving village.
Thanh Ha pottery recognised as national heritage
Traditional trade Thanh Ha pottery from Hội An in the central province of Quang Nam, has been recognised as National Intangible Heritage by the Ministry of Culture, Sports and Tourism.

The 500-year-old pottery trade in Thanh Ha Village emerged in the ancient town of Hoi An in the late 15th century, and some villagers still make items using brick kilns.
The pottery craft was one of the oldest trades that still remains in the UNESCO-recognised world heritage site Hoi An.
The trade is introduced as a craft experience for tourists rather than for mass production as in previous decades.
Pottery products from Thanh Ha were major commodities exchanged with businessmen from Japan, China and Europe in the 17th century.
The village – a popular destination on Hoi An's tourism map – hosts around 100 tourists each day.
Lao nationals in Son La granted Vietnamese citizenship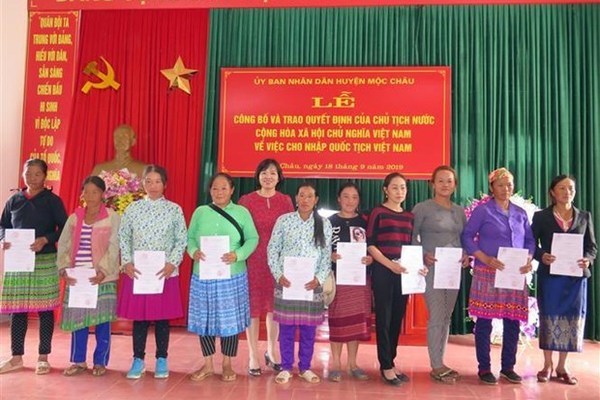 The citizenship recipients at the ceremony
As many as 88 Lao nationals currently residing in the north-western province of Son La were granted Vietnamese citizenship during a ceremony held in the province on September 18.
In pursuant to Decision No. 1372 dated August 14, 2019 of President Nguyen Phu Trong, the Vietnamese citizenship was offered to Lao nationals in Long Sap, Chieng Son, Chieng Khua communes of Moc Chau district.
At the event, Chairman of the People's Committee of Moc Chau district Pham Duc Chinh said local authorities will create optimal conditions for them to take part in socio-economic activities, thereby contributing to the province's development.
On behalf of the citizenship recipients, Vang Thi Pa from Long Sap commune vowed to comply with Vietnam's policies and laws.
The newly-recognised Vietnamese citizens will be helped with procedures such as the application for birth certificates, identity cards, and marriage registration documents.
From now until October 15, an additional 200 Lao nationals living in the province will be granted Vietnamese citizenship, in line with the Vietnamese and Lao Governments' agreement on addressing undocumented migration and marriage in the shared border regions.
Hydro-meteorological sector seeks stronger links with development partners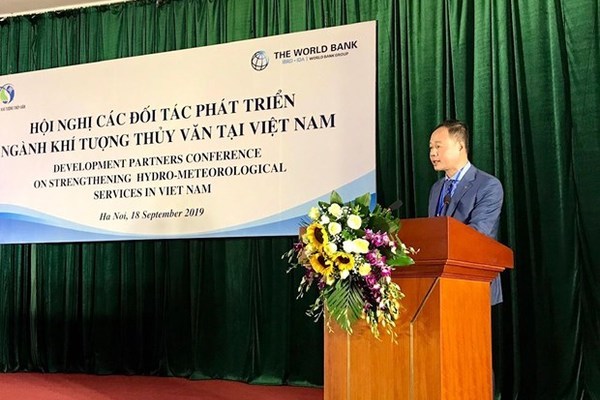 General Director of the Vietnam Meteorological and Hydrological Administration Tran Hong Thai speaks at the conference in Hanoi on September 18 (Photo: dangcongsan.vn)
Hydrometeorology is a borderless issue, so to minimise natural disaster-related losses and risks, close cooperation among countries around the world is needed, head of the Vietnamese hydro-meteorological administration has said.
At a conference in Hanoi on September 18, General Director of the Vietnam Meteorological and Hydrological Administration Tran Hong Thai said over the last five years, cooperation between his administration and development partners has been growing, generating positive outcomes.
He underlined the need to enhance hydro-meteorological cooperation among countries around the world through building capacity, transferring technology, and sharing forecasts, statistics and climate change knowledge.
Expanding cooperation in hydrometeorology is essential for development, Thai said.
Vietnamese Deputy Minister of Natural Resources and Environment Le Cong Thanh said one of the biggest challenges to Vietnam's hydro-meteorological sector is climate change. Therefore, it is necessary to build a concrete development strategy for it until 2030, with a vision to 2050.
Besides, development partners' role in its targets and development strategies need to maximise resources and prevent wastefulness. It is also important for the sector to have open dialogues with State agencies, private companies that use hydro-meteorological services and development partners to enhance private parties' engagement in this field.
He also highlighted the necessity to utilise bilateral and multilateral relations to modernise the country's hydro-meteorological sector.
According to Thai, under the sector's development strategy until 2020, a system with 10 modern radars and a lightning detection network with 18 stations nationwide have been installed. Data integration and supercomputer systems are also hoped to become operational soon.
However, the sector still needs more investment for the next 10-20 years to meet requirements relevant to disaster prevention and mitigation, socio-economic development, defence-security ensuring, reasonable natural resource exploitation and environmental protection.
The conference was attended by representatives of the World Bank, the Italian and Finnish embassies, development partners, and domestic and foreign private companies. They learned about the Vietnamese sector's development demand for 2020-2030 and pinpointed potential sponsors to help the sector realise its goals.
Thu Thiem 4 Bridge project to connect District 2 and 4 in HCM City
A construction plan for the Thu Thiem 4 Bridge Project which spans the Sai Gon River and connects District 2 and District 7 in Ho Chi Minh City was announced by the municipal People's Committee on Tuesday.
The project has an estimated investment of VND5.2 trillion (USD226 million) and is expected to facilitate the development of Thu Thiem New Urban Area.
According to the design plan, the bridge is nearly 2.2 kilometres long and 28 metres wide with six lanes and two pavements. The speed limit is 60 kilometres per hour.
The construction of the bridge will be carried out by local companies under a Build-and-Transfer contract with an estimated investment of VND5.2 trillion (USD226 million).
The Thu Thiem 4 Bridge will connect Thu Thiem New Urban Area and Nam Sai Gon New Urban Area and is expected to ease traffic congestion from the city's southern area to the centre. It will also help boost the development of Thu Thiem New Urban Area.
According to the plans by the municipal people's committee, five bridges and one tunnel will connect Thu Thiem New Urban Area in District 2 with different parts of the city. The Thu Thiem 1 Bridge and Saigon River Tunnel which connect District 2 and District 1 have already been put into operation. The Thu Thiem 2 Bridge which began construction in early 2015 with total investment of nearly VND3.1 trillion has yet not been completed.
Campaign seeks donations for SOS Children's Villages Vietnam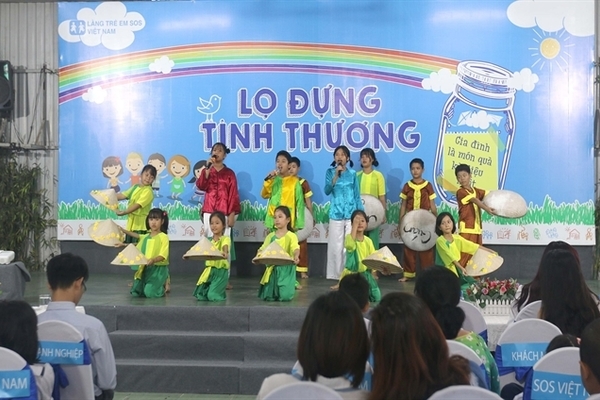 Children at SOS Children's Villages Vietnam in Gò Vấp District dance during the launching ceremony of the fundraising campaign Lọ Đựng Tình Thương (Love-Filled Jar) in HCM City on September 13.
SOS Children's Villages Vietnam on September 13 launched the campaign Lọ Đựng Tình Thương (Love-Filled Jar) to raise funds for more than 3,000 children at its 17 villages throughout the country.
Deputy Minister of Labour, Invalids and Social Affairs Nguyễn Thị Hà said at the launching ceremony that the campaign was expected to attract many sponsors.
"Even VNĐ10,000 donations could be small amount of money for many people, but it would help change the life and future of these children," Hà added.
Nguyễn Thị Phượng, one of the children living at SOS Children's Villages Vietnam, said that thanks to the community's sponsorship, she is a student at the HCM City University of Food Industry.
Donations should be made via the website sosvietnam.org/lo-dung-tinh-thuong or hotline 0989.73 77 33 or (028) 38 227 227 until December 31.
Opportunities arise for increased labour exports to Europe
Aside from traditional markets such as Japan, the Republic of Korea, and Taiwan, Europe is emerging as a potential market for Vietnamese workers following the Ministry of Labour, Invalids and Social Affairs's continued negotiation for the signing of labour co-operation agreements with European nations.
opportunities arise for increased labour exports to europe hinh 0As a result, the 2019 target of sending 120,000 domestic workers overseas set by the Ministry of Labour, Invalids and Social Affairs (MoLISA) is achievable.
According to MoLISA Minister Dao Ngoc Dung, numerous foreign delegations has visited Vietnam in recent times with the aim of seeking to sign co-operation agreements on labour exports as many countries are facing aging population, thus leading to a shortage of employees.
Czech Republic resumes work visas for Vietnamese citizens
As a vast labour market which is not inferior to developed nations like the US and Canada, the Czech Republic is considered a highly lucrative market for foreign workers thanks to high wages, attractive social welfare, and high living conditions, however, working requirements have remained relatively strict.
The central European nation resumed long-term visas for Vietnamese citizens on June 6 this year after a one-year suspension. The Czech Republic Embassy in Hanoi received the first batch of 200 visa applications submitted by Vietnamese citizens who plan on visiting the Czech Republic for work from this August onwards.
The resumption of visas available to Vietnamese labourers and travelers is a meaningful co-operative activity that benefits the interests of both countries,
Vietnam has plenty of experience in organising recruitment and training events, in addition to sending local workers abroad.
Evidence for this can be seen in success enjoyed by Vietnamese nurses and orderlies who have been sent to Japan and Germany.
The Czech Parliament's Chamber of Deputies, Vojtěch Filip, said his country wishes to co-operate with Vietnam in dispatching Vietnamese medical workers and orderlies to work in the Czech Republic towards building a training facility in Vietnam.
He added that the European nation is capable of receiving between 3,000 and 4,000 Vietnamese nurses for the purpose of study and work.
Nursing training opportunities in Germany
As one of the most developed countries in Europe, Germany enjoys a strong economy which is home to a large number of major groups and seen as an ideal destination for Vietnamese workers seeking employment in nursing.
During a recent conference on the nursing training programme for 2019-2020 in Germany, Dang Sy Dung, deputy director of the Department of Overseas Labour, said the programme aims at selecting 230 candidates for nursing training courses in Germany.
The trainees would take part in a three-year course in Germany. During their training in Germany, they would be offered a training salary of about EUR1,326 (VND34 million).
After their graduation, they can be considered for permanent residency in Germany if they wish and receive a starting monthly salary of around EUR2,000 as high as a German citizen gets, and enjoy social welfare in accordance with German law, Dung said.
Regarding the support from the German Development Cooperation Organization (GIZ) for Vietnamese trainees, Jasper Abramowski - Country Director of GIZ Vietnam said the trainees would receive full support in terms of everyday life- related activities and admission procedures during their first week in Germany.
Each trainee would then pay up to EUR300 (VND7.7 million) for their accommodation each month and the training facility would pay the different level if their rent is higher.
All trainees would be under the care of GIZ during the first year of training and would be given advice about the way to deal with difficulties in their daily life in the country of residence, he noted.
PM vows iron will and generous resources for sustainable development
Prime Minister Nguyen Xuan Phuc has vowed an iron will and generous resources to achieve Vietnam's sustainable development goals in the next decade.
At a recent national conference in Hanoi, he stressed the need to mainstream sustainable development in all Party guidelines and State policies because sustainable development is an urgent need and an obvious trend.
Since national renewal was initiated more than 30 years ago, Vietnam has recorded impressive development achievements. Vietnam's poverty rate has dropped from 60% to 5%.
Its Human Development Index (HDI) was 0.694 in 2017, higher than the average of 189 countries surveyed. According to the UN's 4th sustainable development goals report, Vietnam ranks 54th, up 3 notches compared with 2018, and 2nd in Southeast Asia.
PM Nguyen Xuan Phuc said Vietnam is consistent in its sustainable development policy. The government has promulgated a national plan of action on implementing the UN's Agenda 2030 for Sustainable Development
"We have incorporated sustainable development goals in documents to be discussed at the 13th National Party Congress. Rapid but sustainable development is defined as a political task of the Party, the political system, and people of all social strata," he said.
Prime Minister Phuc said Vietnam puts people at the center of the development process to build a strong country and a fair, democratic, and civilized society. But he pointed out an overlap of policies, which has resulted in inefficient implementation.
In the next decade Vietnam will map out specific plans for sustainable development in concert with an accelerated economic restructuring towards more effective use of natural resources, stronger national competitiveness, technological reform, and climate change adaptation, he added.
"Globalization, technological trends, and breakthrough business models have radically changed the business mindset and business approaches, making economic and civil activities better and more sustainable. But traditional cultural values and national identities will last forever, making a difference, backing long-term economic prosperity, propelling our advances in the 21st century and beyond."
The cabinet leader said the government will issue a resolution on sustainable development in October and work with the international community to promptly realize the Paris Agreement on Climate Change. He warned of higher taxes to be levied on production and consumption actions that are harmful to sustainable development and encouraged the circular economic model.
He called for policies to narrow the gap in accessing basic social services to help reduce malnutrition among ethnic groups. He called on localities, especially the 30 provinces and cities that haven't yet promulgated their plans of action on sustainable development to pay special attention to achieving social targets, such as education, healthcare, environmental protection, and cultural preservation.
Mông children in poor uplands come to like studies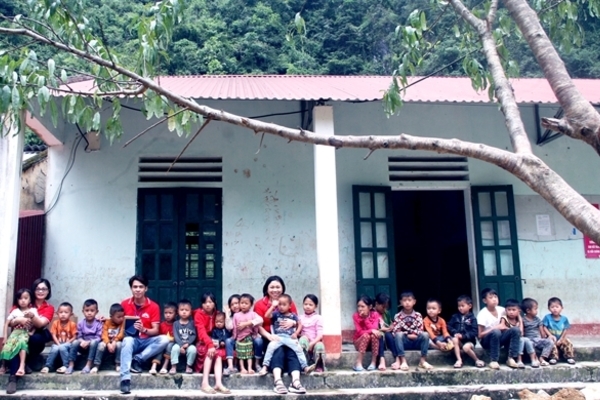 Teachers and H'Mông students posed for a photo at Phố Cáo Primary School's satellite facility in Sảng Pả Village in Cáo Phó Commune, Đồng Văn District of the northern mountainous province of Hà Giang. 
Most of Phố Cáo Commune in the northern mountainous province of Hà Giang, save for a small area of relatively flat valley, is marked by sharp rocks and treacherous slopes with a scattered population living amongst the great wilderness.
Nearly all of the people here belong to the Mông ethnic minority, whose sole means of livelihood is traditional agricultural practices that bring very little income given that there is not much arable land this high up.
Socio-economic conditions in Phố Cáo are not unlike other poor, ethnic minority-dominant communities across the northern localities of Việt Nam, but in the last four to five years, education has really been looking up.
As Mông children are inspired to enjoy learning and going to school, teachers no longer have to feel like they are pursuing a lost cause as the days of forgoing their teaching duties to go knocking on doors to urge Mông children to come back to school seems to be behind them.
The head of Phố Cáo primary school, Nguyễn Thị Hạnh, who oversees 58 teachers and staff divided between the main facility and 14 satellite schools 10-13 kilometres away from each other, is not a local but originally from the capital city of Hà Nội.
"I have lived in the uplands for more than 25 years and now I think I can call myself a citizen of the Đồng Văn karst plateau," she said.
"My house is here, my little family is here. My son is following in my footsteps and now has become my colleague. It's not easy managing all these scattered schools – some cannot even be reached by motorbike, you have to go up on foot and the hike will take at least one and a half hours," Hạnh said.
"Đồng Văn is misty and rainy nearly all year round, while the winter is freezing cold," she added, further compounding the road to schools.
Phố Cáo Commune has 18 villages – including three border villages – but a total of 15 primary and kindergarten schools.
This means that the local students find the journey to school easier, their parents could be spared a burden and focus on making a livelihood in these poor lands, while the inconveniences of long winding and treacherous paths are shifted onto the teachers.
The male teachers usually took up the jobs in the most remote locations while the nearer spots are given to female teachers, those who are with small children or are at an advanced age.
Hạnh said that two of the school's managers are both females so they take turns each week to visit the satellite schools to get hold of the situation there.
Thanks to the Party and State policies and the commitment from the teachers, currently Phố Cáo Commune no longer has any school-age child that are not going to school.
"H'Mông children have now learned to like studying and are willing to go to school," Hạnh said, adding that the school currently has 410 female students out of 833, translating to a female ratio of nearly 50 per cent.
Hoàng Thị Thanh Bình, a teacher, said that classrooms at Phố Cáo school's satellite facilities in Sảng Pả and Xẻo Lủng villages were built in 2010.
"At a glance, the infrastructure looks decent but on closer inspection, one can see that the roof is covered in old tiles and the bricks seem ready to crumble at any time," Bình said, adding that H'Mông parents and teachers hope that the State soon invests in upgrading the facilities, especially as this area is prone to cyclones.
A new small school Pho Chi is being built 13km away from its parent school near the border and construction is expected to be finished by the end of September.
The school's construction has been competed thanks to VNĐ320 million (US$14,100) in donations from generous philanthropists who wished to see an education facility for children in the area farthest removed from the commune's centre.
Pho Chi Village has just 22 households and nine children in second-grade, two in first grade that have been entrusted to another school, and no children in third or fourth grade.
The lack of school supplies like textbooks, notebooks, pens and blackboards is a serious concern among teachers here.
Ironically, in this regard, the poorer households are doing better as they receive support from the Government, while the near-poor households struggle to provide for their own children even though the line between near-poor and poor household here is really not that distinct.
This school year is a luckier year for children, as a charity group (Bridges between the Hearts) based in Hà Nội had visited the school and donated textbooks, notebooks and other practical items for the Mông children here, alleviating burdens on their families.
Hạnh said that despite all the difficulties, Phố Cáo students have made their names known at competitions at a province-level over the last two years, which is something that teachers in the poor communes of mountainous localities "couldn't even imagine in their wildest dreams".
Aside from efforts to enhance the quality of teaching, the students' improved academic performance could be attributed to improvements in their Vietnamese language proficiency, which would help them better understand the lectures and communicate with teachers: 80 per cent of the first-grade students in this school year (2019-20) have already been able to speak and listen to Vietnamese quite well since they learnt the language in kindergarten.
All Phố Cáo primary schools are also upholding the requirements that there must be at least 20 Vietnamese language classes taught to the Mông children before the first-grade students start their new school year.
During the school year, if it arises that the students need further lessons, the teachers would hold free classes for them as well.
In return, Mông language mastery is compulsory for all teachers of other ethnicities, not only to help explain the Vietnamese lessons to the children but also a great asset to establish rapport with the Mông students.
In Phố Cáo primary school, in addition to seven Mông teachers, their colleagues will need to obtain a Mông proficiency certificate in place of the usual English certificate.
Nguyễn Thị Hạnh said that "every improvement, no matter how small it might seem, takes tremendous efforts from the teachers, since their efforts are not bolstered by support from the parents.
"The locals might understand the important role of Vietnamese language but most students here have lived with their family their whole life – who might have not gone to school or can't speak Vietnamese.
"There is no industrial park in Phố Cáo Commune or Đồng Văn District so adults need to travel very far to work, entrusting their children's' educations to the schools and the teachers here," Hạnh said. 
Int'l conference on animal production, environment held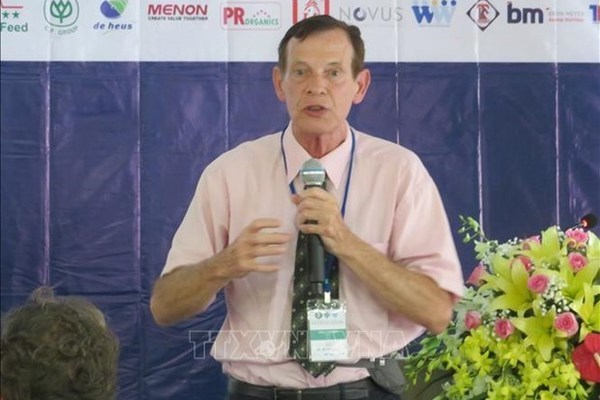 Prof. Paul Oliver at the event
Can Tho University and the Animal Husbandry Association of Vietnam (AHAV) are organising the second international conference on animal production and environment in the Mekong Delta city of Can Tho on September 18-19.
The event aimed to share orientations and strategies on animal husbandry, veterinary medicine and environment and form networking among institutes, schools, agencies and businesses to step up research and training.
Speaking at the event, Nguyen Van Duc from AHAV forecast that agriculture will still play a crucial role in exports in the coming years with a total export value of around 42.2 billion USD.
He called for strengthening management from the central to local level to help farming households and businesses adopt modern technologies, and effectively controlling epidemics on animals.
Prof. Paul Oliver from the US organisation, Empowering the Poor through Waste Transformation (EPWT), presented ways to transform waste into useful resources.
Domestic and foreign experts also introduced a number of studies on the combination of animal farming and environment protection, such as the use of wastewater from biogas vault to improve the quality of fish ponds on alkaline soil in the Mekong Delta, and the use of biotechnology in addressing environment issues, among others.
Vietnam joins int'l art festival, exhibition in Indonesia
Three Vietnamese artists joined the Yogyakarta Art Festival and Borobudur International Exhibition that took place in Central Java, Indonesia from September 9-18.
The event drew 35 artists from 17 countries and territories, including Bangladesh, Canada, India, Indonesia, Malaysia, Nepal, the Netherlands, the Philippines, Poland, the Republic of Korea, Romania, Taiwan (China), Thailand, Turkey, the US, and Vietnam.
Le Thong from the Vietnam Fine Arts Association said that this is the third time that Vietnamese artists have been invited to the event after 2015 and 2017.
Along with creating and exhibiting their works, Vietnamese artists joined exchanges and shared experience with their local and international peers.
According to the organising board, Yogyakarta and Borobudur in particular are famous art centres of Indonesia as well as the world. This year, the event introduced numerous works with diverse styles, colours and materials typical for each country.
It also aimed to contribute to promoting cultural exchange among participating countries, while introducing the image of Borobudur, a well-known tourist destination of Indonesia, to foreign friends.
Run to Give 2019 set for around Vietnam
The 6th Run to Give 2019 charity run, organized by Marriott International Hotels in Vietnam in cooperation with California Fitness as a partner, will be held on Sunday, September 22 in Hanoi, Da Nang, and Nha Trang, and on Sunday and another day in November in Ho Chi Minh City.
Entering its sixth year, the charity run in Nha Trang is calling for 600 runners and aims to raise $20,000 for Operation Smile Vietnam.
All profits will go to support Operation Smile Vietnam in performing life-changing surgeries to repair cleft lips and palates for children who couldn't otherwise afford the surgery and ongoing medical therapies to children in the low and middle-income brackets around Vietnam.
Sheraton Nha Trang Hotel & Spa in partnership with California Fitness and Yoga Center Nha Trang are grateful for the support of so many companies in Vietnam for "Run To Give 2019". Both organizations are proud that all profits from registration fees, donations, and sponsorships raised will go to cleft palate surgery for unfortunate children in Vietnam.
"We believe that every child deserves comprehensive healthcare and a chance for greater well-being," said Mr. Joon Park, General Manager of Sheraton NhaTrang. "We are honored to give back to our community by working with Operation Smile to ensure that no child suffers from lack of access to safe surgery."