NEWS HEADLINES SEPTEMBER 18
Short circuit caused Rang Dong fire: police
The fire at the Rạng Đông light bulb warehouse in Hanoi was caused by an electrical short circuit by a LED circuit board, according to police.
The overview of the Rạng Đông light bulb warehouse in Thanh Xuân District's Hạ Đình Ward, which has been destroyed by the fire on August 28.
Speaking at a press conference on Tuesday, city police said the fire started on the second floor of the warehouse in Thanh Xuân District's Hạ Đình Ward.
The fire was caused by an electrical short circuit of the LED circuit board, and quickly spread into the surrounding areas.
On August 28, a six-hour fire broke out at a warehouse of the Rạng Đông Light Source and Vacuum Flask JSC in Thanh Xuân District, destroying a third of the approximately 6,000 square-metre warehouses.
The incident sparked public concern about the 15-27 kg of mercury released into the environment.
On September 4, the Ministry of Health announced the level of mercury in the vicinity of the burnt-down area was safe for human health.
More than 50 tonnes of waste has been collected from the burnt warehouse after four days of clean-up.
South Korean man found stealing money at Noi Bai airport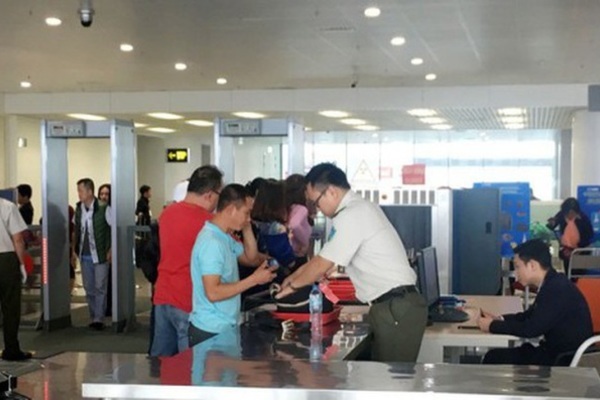 Noi Bai International Airport's security check area
A South Korean man has been found stealing a money wallet from another passenger at Noi Bai International Airport.
Lee Yong K, 62, took the wallet at the security check area before getting on a Vietnam Airlines' fight from Hanoi to Cam Ranh in the central province of Khanh Hoa on Monday.
Right being informed of the lost wallet, the airport security staff checked the camera and quickly identified the thief.
They then co-operated with security at Cam Ranh Airport to detain the South Korean. With the clear evidence, Lee admitted his guilt.
The case will be handled by the Central Airports Authority.
Passenger refused flight for carrying gun parts
A male passenger has been refused to board a flight from Hanoi to Buon Ma Thuot City after he was found to carry gun parts in hand luggage.
Security authorities at Noi Bai International Airport on September 12 found two parts of a gun, a gun lock and a scope, kept in a hand luggage of Dang Hong S, 32, from Dak Nong Province.
S told security officers that he found these items while working on his farm.
The passenger was then refused to board the Vietjet Air flight and the case was transferred to the police.
According to a security officer, the passenger might not be aware that it is illegal to bring these items on flight. However, there may be cases in which criminals can dismantle a gun into different parts in attempt to transport gun.
Vietnam Laws regulate that individuals and organisations must have permission from the authorities for using and trading weapons, explosives and supporting devices. Any violations will be subject to heavy fines.
80 pre-school children treated in hospital for food poisoning
Pre-school children are treated in hospital for food poisoning. — Photo baogiaothong.vn
Up to 80 children from a local pre-school in northern Phú Thọ Province's Cẩm Khê District treated in hospital for food poisoning in the past three days.
The Medical Health Centre of Cẩm Khê District said the first child was taken to the centre for treatment at 10pm on September 13 with the symptoms of bellyache, vomiting and fever.
The centre received more than 30 children in the next few days with the same symptoms.
By September 16, as many as 80 children were taken to the centre for treatment.
The children have been diagnosed with food poison.
All the children are studying at Thụy Liễu Pre-school. They are in a stable condition and will be discharged from the health centre soon.
The incident was reported to the district's People's Committee, the provincial Health Department and the provincial Sub-department of Food Safety and Hygiene.
Nguyễn Huy Ngọc, director of the provincial Health Department has asked the relevant units to re-examine and encourage parents whose children had the symptoms to seek medical attention.
He has asked the provincial peadiatric health centre to send doctors to Cẩm Khê Health Centre to bring the best treatment for the patients.
The Sub-department of Food Safety and Hygiene has taken the samples of food for tests.
Ngọc has asked the functional forces to co-operate with the district authority to inspect the food safety and hygiene of the kitchen of Thụy Liễu Pre-school.
Gia Lai forest destruction to be investigated
Forest rangers in Gia Lai Province have asked for a police investigation following the destruction of nearly 1,200 hectares of forest in the area.
Various violations were found out after the provincial inspectorate examined the management and usage of funds and forest land at Ia Puch Forest.
Ia Puch Protective Forest Management Board was responsible for 16,763 hectares of land. However, since 2008, local people have illegally destroyed 868 hectares of forest land for agricultural activities. Firms destroyed 359 hectares for rubber plantations.
The management board only filed reports about violations on 62 hectares. They didn't know about the other cases.
The inspectorate also found out that 110 illegally built residential houses on 12.4 hectares of forestry land along National Highway 14C. They are mostly workers at Quoc Cuong Gia Lai Company and Binh Duong Company. The management board has reported about this problem but it hadn't been dealt with properly.
The inspectorate concluded that Nguyen Thi Huong, the director of Ia Puch Protection Forest Management Board from 2008 to 2013, and Phan Quoc Huy, the current director, must take full responsibility.
It is also revealed that while building the offices, the management board has wrongly paid out VND37.8m. The management board was asked to recover and return the money. The inspectorate suggested transferring the forest destruction case to the police for further investigation.
First patient dies of dengue fever in Đắk Nông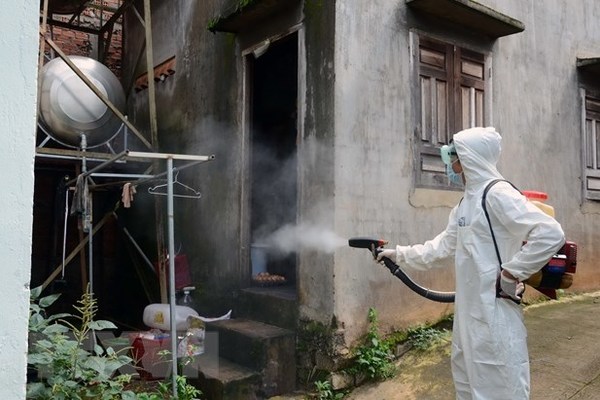 A medical worker sprays chemicals to sterilise residential areas to prevent dengue fever in Central Highlands Đăk Nông Province.
Central Highlands Đắk Nông Province has recorded the first death from dengue fever, the provincial Department of Health announced on Monday.
Phạm Thanh Mai, 23, from Đăk Song District's Nam Bình Commune, was taken to Đăk Nông general hospital on September 11 in a weak condition.
She was diagnosed with dengue fever and was given intensive treatment but did not recover. She died at around 3.30am the next day, according to the department's deputy director Hà Văn Hùng.
Before being sent to hospital, she had health-check up at a private health clinic in Gia Nghĩa Commune on September 7 and 11. She was diagnosed with dengue fever and was directed to take medicine together with getting infused. However, her conditions got worse.
Local authorities immediately asked medical workers to deal with the outbreak in Nghĩa Trung Ward where the patient lived to prevent further spreading.
The province has so far this year recorded 3,900 cases of dengue fever, increasing by more than 3,600 cases over the same period last year.
"World's Largest Lesson" on sustainability comes to Việt Nam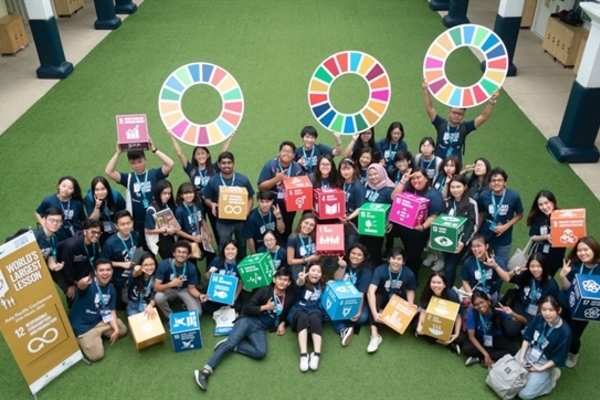 The "World's Largest Lesson" on sustainability will be held for the first time in Việt Nam in September and October in HCM City. — Photo courtesy of the organisation board
As many as 1,000 secondary school students nationwide will learn about global goals for sustainable development at the global event "World's Biggest Lesson" to be held for the first time in Việt Nam in September and October in HCM City.
Speaking at a press meeting in the city on Monday (Sept 16), Trần Lê Tuấn Anh, head of the event's organisation board, said about 300 young volunteers will give presentations on the United Nations' 17 Sustainable Development Goals (SDGs) to 2030.
"The global event aims to raise public awareness, especially of young people and children, about their role and responsibilities in implementing these goals and spreading them throughout the community," he said.
With the theme "Define Your Eco Vibe", the participants will be offered chances to share their initiatives that deal with social problems in the country. Practical issues of reducing plastic waste, food waste and greenhouse gas emissions will be the focus.
On Sunday (Sept 22), there will be an introduction for the event, and on Sept 29, training for volunteers, and on Oct 4-5, lessons for students.
The event is organised by the International Youth Organisation AIESEC in Việt Nam in partnership with UNICEF Việt Nam, Việt Nam Business Council for Sustainable Development (VBCSD) and Việt Nam Chamber of Commerce and Industry (VCCI).
The UN's SDGs are intended to end poverty and protect the environment.
SDGs include: no poverty; zero hunger; good health and well-being; quality education; gender equality; clean water and sanitation; affordable and clean energy; decent work and economic growth; industry, innovation and infrastructure; sustainable cities and communities; responsible consumption and production; climate action; life below water; life on land; peace, justice and strong institutions; and partnerships for the SDG goals.
The "World's Largest Lesson" has been presented in more than 130 countries, positively affecting more than 8 million children each year.
AIESEC is the world's largest international student organisation and is present at over 2,400 universities in 126 countries and territories, with more than 70,000 members and 1 million former members.
Workshop seeks to enhance Vietnam's disaster management capacity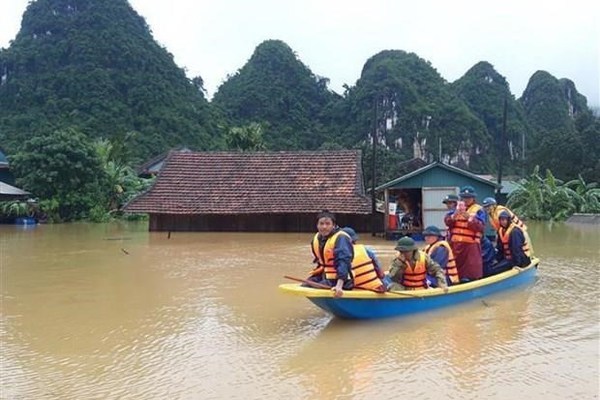 An area in Tan Hoa commune of Minh Hoa district, the central province of Thanh Hoa, is flooded in early September
The Multi-Agency Coordination and Emergency Operations Centre Workshop is being held in Hanoi from September 17-20 to share the latest information and scientific knowledge with disaster management officials from central to local levels.
The workshop is jointly organised by the Vietnam Disaster Management Authority (VDMA) and the US Forest Service (USFS).
Speaking at the event, VDMA Director General Tran Quang Hoai said under the US-ASEAN cooperation programme in natural disaster management, the VDMA and USFS have worked together to develop a non-project aid for training and enhancing management capacity in natural disaster prevention and control in Vietnam.
Its objectives are to strengthen disaster management in Vietnam and to enhance the country's capacity to respond quickly and effectively to emergency incidents when a disaster occurs, said Hoai, who is also deputy head of the Central Steering Committee for Natural Disaster Prevention and Control.
"Currently, we are doing quite well when a disaster emergency happens because the community, ministries and public agencies, all together, joined hands," he said. "But after the disaster, we almost do nothing."
"Most of the time, we have worked based on experience and local funding, following the will of local leaders with lack of proper knowledge in disaster management," he added.
To solve the problems, he continued, more attention should be paid to multi-agency coordination and communications in disaster prevention and control as sharing information with the press means sharing with the community to effectively response to natural disasters.
Vietnam Renewable Energy Week launched in Hanoi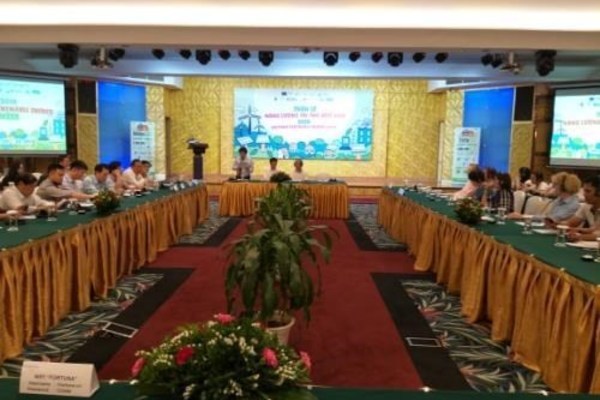 At the launch of the Vietnam Renewable Energy Week
Vietnam Renewable Energy Week 2019 was launched in Hanoi on September 17 as part of efforts to implement the Government's policies on renewable energy development.
The event, which is running in Hanoi and the Mekong Delta province of An Giang from September 17 to 20, is jointly organised by the Vietnam Sustainable Energy Alliance (VSEA), Vietnam Climate Action Alliance (VCCA) and the Working Group on Climate Change (CCWG).
The week's theme focuses on opportunities, challenges and lessons from international users in the energy transition in Vietnam.
This year's event aims to create a forum for information exchanges and multi-stakeholder dialogue to put forth solutions to achieving equal transition of energy and bringing the greatest benefits for sustainable development in Vietnam.
The week will feature three main workshops, namely "energy transition in Vietnam", "green finance for renewable energy in industrial sector in Vietnam", and "sustainable energy transition: opportunities and challenges for the Mekong Delta."
Vietnam is moving along with the global trend in energy transition as renewable energy is acknowledged to be the most important and effective solution to climate change. The adjusted 7th national electricity plan aims to raise the percentage of renewable energy in the national electricity generation to 7 percent in 2020, and 10 percent by 2030.
During the past two years, the government has issued a series of support mechanisms and incentives for the development of renewable energy, such as preferential prices for solar and wind power.
As a result, Vietnam has made significant strides in developing renewable energy in recent years, particularly solar power, turning the country into one of the most dynamic and attractive renewable energy markets in the Southeast Asian region.
As of July this year, solar and wind energy has accounted for more than 9 percent of the national electricity generation, surpassing the target for 2020. The total capacity of solar power plants in the country has reached 4,543.8 MW and that of wind power plants 626.8 MW.
However, this rapid development is also posing new challenges for the development of the national grid system, land usage, electricity pricing mechanism, human resources, employment and financial resources.
Workshop talks gender responsive budgeting
Gender responsive budgeting was the main topic of a workshop held by the National Assembly's Committee for Social Affairs and the UN Entity for Gender Equality and the Empowerment of Women in Hanoi on September 17.
Speaking at the event, Le Thi Nguyet, deputy head of the NA's Committee for Social Affairs, said the integration of gender equality into the building of the 2015 Law on State Budget was an important premise to achieve the target of equality in access to and management of national resources.
The Law on Gender Equality, which was approved by the Vietnamese legislature in 2006, has set basic principles of gender equality, including the integration of gender equality in the building and execution of laws and policies, she said.
Therefore, the Law on State Budget has included gender equality into State budget management principles and made gender equality a basis to build the annual State budget estimate.
Delegates shared the view that although Vietnam has reached noted achievements in ensuring gender equality such as the higher rates of female in the NA and in the workforce, there remain many problems.
The percentage of women holding management positions is lower than that among men. Average income of female labourers is lower than that of their male counterparts, and women still bear the main responsibility for house work.
Regarding the implementation of regulations of the Law on State Budget, the participants said the enforcement of State budget should be carried out effectively, contributing to promoting gender equality and women's empowerment.
They suggested more proper analysis of gender issues during the building of State budget estimates as well as State management policies. 
ILO launches global media competition on labour migration
The International Labour Organization (ILO) has launched its fifth annual Global Media Competition, themed "fair recruitment and the future of labour migration", aiming to recognise exemplary media coverage of the issue.
For the first time, the competition has a student prize category with a fellowship, according to the ILO office in Vietnam.
The competition aims to promote quality reporting on labour migration issues, as
balanced and ethical reporting can play an important role in addressing stereotypes and misconceptions, and in highlighting the positive contributions migrant workers make in their home and destination countries.
The competition contributes to some of the targets of the recently adopted Global Compact for Safe, Orderly and Regular Migration and the Global Compact for Refugees, which include improving working conditions for migrant workers and changing misperceptions of labour migration. It also helps raise awareness on decent work and migration, a topic which features strongly in the United Nations Declaration on the 2030 Agenda for Sustainable Development.
Candidates must complete the online entry form in either 'professional' or 'student' category. They can submit their pieces as written article, photo essay, multimedia, video and/or radio.
To qualify, entries must have been published between November 1, 2018 and October 31, 2019. A submission in any language is welcome, however an English, French or Spanish translation must be included if the submitted material or parts of it are in another language.
The deadline for submissions, via the online entry form, is October 31, 2019 (23:59, Central European Time).
Competition winners will be announced on December 18, 2019 - International Migrants Day.
The competition will award four professional prizes (two in the category "fair recruitment of migrant workers" and two for "the future of labour migration" category) and one student prize.
The winners will be able to choose between cash (1,000 USD in the professional category and 300 USD for the student category) or a paid fellowship to participate in an ITC-Turin course on a fair recruitment or labour migration topic in 2020.
Vietnam develops renewable energy
Since 2017, the Vietnamese Government has issued a number of priority policies to develop renewable energy to boost production and attract domestic and foreign investment, heard a workshop in Hanoi on September 17.
As a result, in just two years, the proportion of renewable energy in the national electricity structure has increased rapidly to more than 9 percent with wind power and solar power being the two main sources.
These are positive changes that show the Government and people's efforts to reduce dependence on traditional forms of energy to protect the environment and promote Vietnam's sustainable development, said Pham Ngoc Linh, Director of the Department of Science and Technology under the Party Central Commission for Popularisation and Education.
The important thing is to gradually improve the transition from fossil fuels to renewable energy resources, he added.
According to Le Hai Dang, head of the strategy department from the Electricity of Vietnam (EVN), 50 percent of electricity used in Vietnam at present are generated from coal-fired plants.
In the past eight months, the country generated 2.8 billion kWh of electricity from renewable energy, surpassing the yearly estimate by 6 percent.
To ensure power supply through 2025, the EVN has proposed the Prime Minister and the Ministry of Industry and Trade continue encouraging the development of renewable energy projects according to the feed-in-tariff (FIT) pricing mechanism.
The workshop is part of the Vietnam Renewable Energy Week, which is running in Hanoi and the Mekong Delta province of An Giang from September 17 to 20.
HCM City to put forth programme on building AI application ecosystem
Traffic jam in Ho Chi Minh City
Ho Chi Minh City will roll out a programme on building an ecosystem of artificial intelligence (AI) application for 2019-2020, heard a press conference in the Vietnamese southern metropolis on September 17.
According to Duong Anh Duc, Director of the municipal Department of Information and Communications, since 2018, the city has proposed and issued mechanisms and policies on AI research and application in production, daily activities and smart city building.
In 2019 and 2020, the southern hub plans to launch a contest aiming to seek solutions of AI application in management and production in knowledge-intensive sectors, thus bringing about high economic benefits, he said.
The official said the city will identify priorities in AI application such as transport, health care, high-tech agriculture, tourism, environment, water supply and sewage, and electricity in order to overcome challenges to urbanization.
Duc told the press conference that the municipal People's Committee and the World Bank will co-organise an international seminar on domestic and international experience in AI research and application, and recommendations for HCM City in this regard, on September 25.
The seminar is expected to see the participation of many domestic and foreign experts and managers, including those from the WB, Singapore and Microsoft Group.
A training course will also be held on September 26 to improve the knowledge and awareness of local managers and officials about AI.
Vietnamese nationals honoured for proactive engagement in national campaign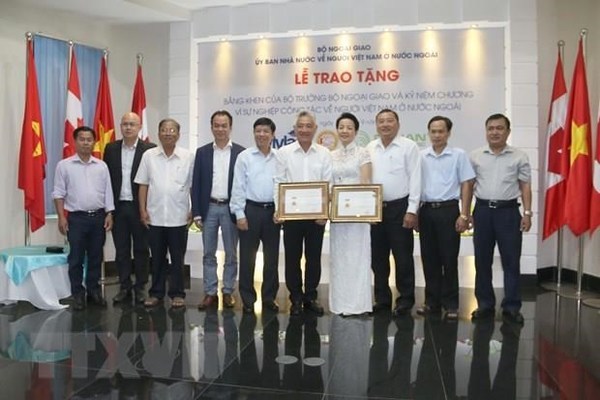 PhD Nguyen Thanh My (fifth from left) and his spouse Bui Thi Nhan are honoured for their contributions to promoting the "Vietnamese prioritise Vietnamese goods" campaign overseas.
PhD Nguyen Thanh My, who was once Chairman of the Overseas Vietnamese Business Association, and his spouse Bui Thi Nhan were honoured for their contributions to promoting the "Vietnamese prioritise Vietnamese goods" campaign overseas.
Deputy Foreign Minister and Head of the State Committee for Overseas Vietnamese Affairs Nguyen Quoc Cuong on September 17 presented Deputy Prime Minister and Foreign Minister Pham Binh Minh's certificate of merit to My, and insignias of the committee to My and Nhan.
Cuong praised My for working tirelessly to mobilise oversea Vietnamese to join efforts in building and developing the country.
After 20 years living and working in Canada and the US, My returned to his homeland in the Mekong Delta province of Tra Vinh in 2004. With more than 200 licenses of invention, My and his wife established nine high-tech enterprises, and created jobs for nearly 500 local labourers.
In the past years, they have spent more than 10 billion VND (431,300 USD) on building schools, presenting scholarships to local students, building houses for policy beneficiary families and poor households, and constructed rural bridges.
Martyrs' Cemetery Hill 82 to be upgraded into national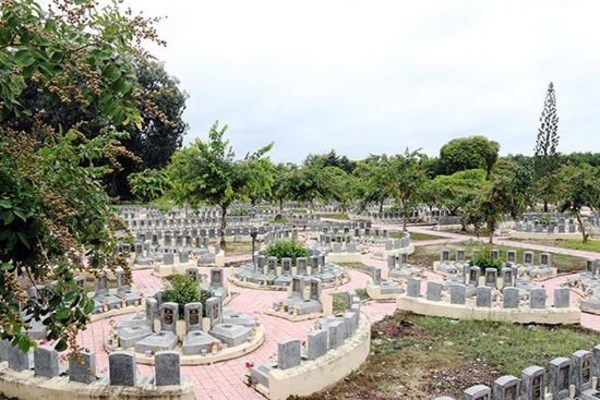 Martyrs' Cemetery Hill 82 in the southwestern border province of Tay Ninh will be upgraded into a national one, with its total area to be expanded from 26.7 hectares to 30 hectares. (Source: quangnam.gov.vn)_
Martyrs' Cemetery Hill 82 in the southwestern border province of Tay Ninh will be upgraded into a national one, with its total area to be expanded from 26.7 hectares to 30 hectares, a local official said on September 17.
Nguyen Thanh Ngoc, Vice Chairman of the People's Committee of Tay Ninh province, released the information at a meeting with representatives of some ministries who were gathering to contribute opinions on the project on upgrading the cemetery and building a monument dedicated to volunteer Vietnamese soldiers who sacrificed their lives in Cambodia.
The cemetery, located in Thanh Tay commune, Tan Bien district, was put into service in 1989. It is now the resting place of 13,976 martyrs who sacrificed their lives during the war against the US and while performing their international missions.
Meanwhile, the monument is expected to be built in the centre of the cemetery in order to make it easier for memorial services.
Prime Minister Nguyen Xuan Phuc has instructed the provincial People's Committee to coordinate with relevant ministries and agencies to complete the above-mentioned project.
The project will cost some 180 billion VND (7.74 million USD), of which 160 billion VND is for upgrading the cemetery.
Private sector's engagement crucial for HIV/AIDS prevention, control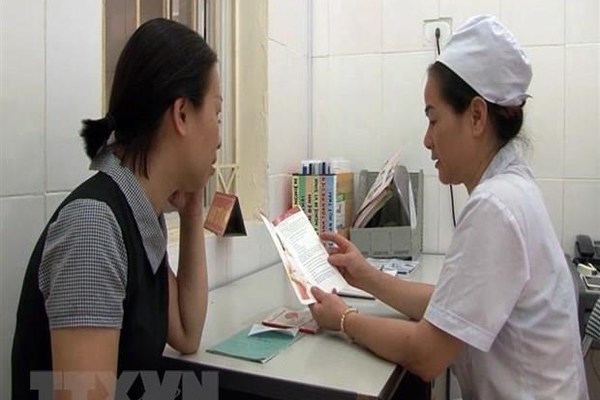 Health care staff gives consultations on HIV transmission prevention
Due to the reduction in international funding for HIV/AIDS prevention and control, the private sector is expected to get more involved in providing treatment opportunities for people living with the virus, contributing to putting an end to the epidemic by 2030.
According to head of the Department of HIV/AIDS Prevention and Control Nguyen Hoang Long, the drop in financial assistance is a considerable challenge to HIV prevention and control.
To deal with the situation, the Ministry of Health, the US Agency for International Development (USAID) and PATH organisation have launched a programme to promote the engagement of the private sector in the work, he said.
Over the years, the private sector has been involved in HIV prevention and control activities, helping increase access to treatment services.
Since 2015, more than 140,000 people have been tested for HIV through support of community-based and social enterprises, while various HIV/AIDS prevention and control programmes have been implemented with the support of the sector.
So far, domestic firms have successfully met 100 percent of demand for Methadone as well as equipment and materials to prevent the infection, which has been delivered free to the community.
Since 2016, eight private clinics have been set up to provide services for HIV-infected people.
K. Grin, Director of Healthy Markets Project and PATH Global Director for HIV/AIDS prevention, said that the Healthy Markets Project, funded by the USAID and implemented by PATH, has been carried out with the cooperation of the Department of the Department of HIV/AIDS Prevention and Control since 2014, aiming to develop the commercial market for HIV/AIDS prevention and control services and goods.
Over the past five years, about 80 percent of funds for HIV/AIDS prevention and control came from foreign donors connected by PATH, she said, stressing the need for more domestic financial resources from the private sector.
PATH has connected commercial, social enterprises with community organisations to make up shortages of financial resources for HIV/AIDS programmes, she said.
Currently, 140,000 people with HIV/AIDS are receiving treatment at public health care establishments, along with about 10,000 others using private facilities, including those accepting health insurance.
Patient safety a global health priority: WHO representative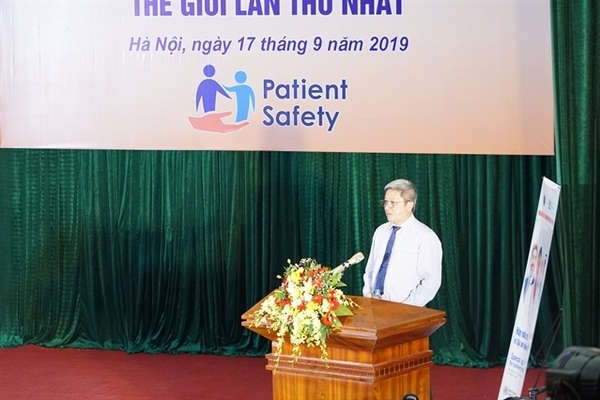 Deputy Minister of Health Nguyễn Trường Sơn speaks at a meeting in Hà Nội on Tuesday to mark the first World Patient Safety Day (September 17).
Health experts called for improving patient safety at medical facilities at a meeting held in Hà Nội on Tuesday by the Medical Services under the Ministry of Health and the World Health Organisation on the occasion of World Patient Safety Day (September 17).
"Patient safety is regarded as an essential element of universal health coverage and has become a global health priority," said WHO Health System Coordinator Momoe Takeuchi at the meeting.
Takeuchi said that the WHO recognised "patient safety was a critical element of, and the foundation for, delivering quality healthcare", as stated in its recently adopted World Health Assembly Resolution on Global Action on Patient Safety.
She said that patient harm can originate at both primary care and hospital care level. The most detrimental errors are related to diagnosis, prescription and the use of medicines, health care-associated infections, and unsafe surgical care procedures. Patient harm costs lives and huge unnecessary expenditures for the health system, families and communities, to deal with consequences of safety failures.
"Safer care reduces the need for additional treatment or extended hospital stays, the burden of litigation and costs of long-term care occurring due to injury or disability. Safer care can also improve trust in the healthcare system and enable patients to seek often crucial healthcare promptly," said Takeuchi.
"Patient safety failures are among the 10 leading causes of death and disability in the world. Most of these deaths and disability are avoidable," said Takeuchi.
Deputy Minister of Health Nguyễn Trường Sơn said that the health ministry issued circular 43 in 2018 on "Guidelines to prevention of medical adverse incidents in healthcare facilities" for improving patient safety at medical facilities nationwide with a focus on safe use of medicine, surgical safety, control of hospital infection and reducing risks.
Sơn also called on improving awareness on patient safety and commitment to building a safety culture and friendly environment for patients at health facilities nationwide.
While it seems obvious that no one should be harmed while receiving healthcare, yet 2.6 million patients die due to patient safety issues every year in low- and middle-income countries (LMICs). Globally, five people die every minute due to errors while receiving healthcare or more than 7,000 people die every day due to unsafe healthcare worldwide, according to a WHO report.
Organised for the first time in Việt Nam, the event aims to strengthen awareness of health workers and community on patient safety in Việt Nam and around the world. With the slogan "Speak up for patient safety", it targets healthcare managers to create enabling environments where healthcare staff can speak up for patient safety, comply, and gradually adopt the culture of patient safety. 
Sơn La beat Thái Nguyên at national women's football champs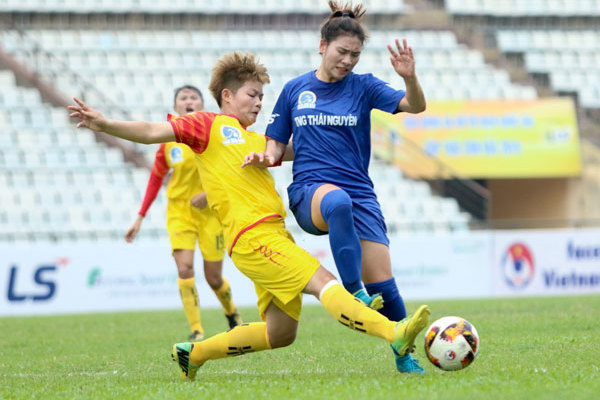 Sơn La vs Thái Nguyên at the National Women's Football Championship on Monday. – Photo vff.org.vn
Underdogs Sơn La defeated Thái Nguyên 1-0 at the National Women's Football Championship on Monday.
The game was held at Hà Nam Stadium in the northern province of Hà Nam.
That was the first time Sơn La have ever beaten Thái Nguyên.
Sơn La proved their determination to get all three points from the get-go. However, the two sides missed many chances and failed to find the net.
After the break, both teams became more cautious.
In the 60th minute a pass from captain Đinh Thị Duyên found striker Lê Hồng Vân who beat the offside trap and slotted home for Sơn La.
After the goal, coach Lường Văn Chuyên of Sơn La asked his players to sit back and defend their lead, which they did to secure their first ever win against Thái Nguyên.
In other match, defending champions Phong Phú Hà Nam lost to Việt Nam Coal and Mineral 1-0.
The hosts Hà Nam quickly controlled the game and created pressure on their rival's goal, but the luck still didn't come their way.
In injury time, taking full advantage of an error of Hà Nam's defence line, Hà Thị Nhài helped Việt Nam Coal and Mineral win 1-0.
With this loss, Hà Nam are second in the rankings with 16 points. Having the same points with Hà Nam, Việt Nam Coal and Mineral are third due to goal difference. HCM City top the list with 19 points.
Vietnam thumped by DPRK at AFC U-16 Women's Championship
The Vietnam under-16 women's national football team suffered an emphatic defeat at the hands of their opponents from the Democratic People's Republic of Korea (DPRK) at the 2019 AFC U-16 Women's Championship on September 16.
The DPRK opened the scoring in the eighth minute, before extending their lead in the 44th minute through a penalty kick.
The second half saw the team from the DPRK run riot by adding a further eight goals to the score line. The final score finished 10-0 in favour of the DPRK.
Following the result, the DPRK top the group with three points.
Elsewhere, China beat the Republic of Korea (RoK) 2-0 thanks to goals scored by Zou Mengyao and Shao Ziqin.
China are currently tied on points with the DPRK, but are ranked in second place due to goal difference.
Following the tie against the DPRK, Vietnam will next play against the RoK at 19:00 on September 19, before their final group match against China at 16:00 on September 22.