VIETNAM NEWS HEADLINES SEPTEMBER 15
HCM City sees decrease in COVID fatalities thanks to improved home treatment
The number of fatalities due to COVID-19 was down by 30 per cent in HCM City last week thanks to the improvement in treatment of patients especially at home.
The city's districts and communes have enough health workers, medicines, oxygen cylinders, and generators to efficiently treat patients at home.  
After two weeks of getting treatment at home, five people belonging to a family in District 12 recovered.
N.H, 24, one of them, said: "My uncle was found to have COVID through mass testing at Tân Chánh Hiệp Ward where my family lives. Because his infection was mild, he was treated and isolated at home. Ward health officials delivered medicines to him immediately."
A few days later she suffered from anosmia, or loss of smell, and tested positive herself.
And then three more people in the family tested positive. But they too had mild symptoms and were treated at home.  
"At first we were anxious. But after getting detailed advice about the disease's progress, how to treat it and what to do to help recover quickly from the ward health officials, the anxiety went away. They called us to ask about our health every two or three days."
H.P, 28, of Bình Thạnh District also is also being treated at home because of her mild condition. She received medicines from local health officials and told how to use them.
"I felt assured about being treated at home," she said.
P is among 92,355 COVID patients being treated at home as of September 4, according to the city Centre for Diseases Control and Prevention (HCDC).
The city administration has set up 520 mobile medical stations to monitor the condition of COVID patients treated at home.
The patients are provided with sufficient medicines and a hotline to local health officials, the HCDC said.   
Speaking at press meeting on September 8, Nguyễn Hữu Hưng, deputy head of the city Department of Health, said more than 130,000 packs containing fever medicines, vitamins and anti-inflammatory drugs have been provided to local health stations.    
Besides, more than 7,980 packs of the antiviral drug molnupiravir have been given to COVID patients, he said.
The department has petitioned the city People's Committee to provide another 200,000 packs, he added.
Nguyễn Trần Bình, vice chairman of the District 11 People's Committee, said besides the medicines provided by the department, the district's 34 mobile medical stations which monitor 6,645 COVID patients at home also got donations of medicines and now have enough.
"Through the mobile medical stations, patients get medicines quickly."
They also have enough doctors to monitor patients now unlike in the past after being provided more by the Military Medical Department.    
"Effective treatment of COVID-19 patients at home helps prevent the disease from worsening. The district has seen a reduction in the transfer of patients to hospitals." 
Dr Lâm Phước Trí, head of the Tân Quý Ward medical station in Tân Phú District, said, "The ward has enough human resources, medicines, oxygen cylinders, and generators to treat COVID-19 patients at home."
In August the ward got six health workers from the Military Medical Department, and the city's Hồ Chí Minh Communist Youth Union dispatched volunteers to assist with administrative tasks, he said.
"When new COVID-19 patients are found, they are provided with medicines and told what they need to do. In the case of patients using the antiviral drug molnupiravir, we call them every day to ask about their health status and if there are side effects.
"As of now no one has any side effect. They have also recovered quickly."
If COVID patients call his medical station hotline and report about a shortness of breath, Trí dispatches his emergency aid team along with oxygen cylinders and generators. 
The ward currently has 500 patients at home, he added.
Field hospitals are carrying out a number of therapies and methods to improve their treatment efficacy.  
At the Phú Nhuận COVID treatment field hospital No 1 at a high school in Phú Nhuận District, patients are treated using a regime called 4T- tinh thần (improvement of mental health), tập luyện (doing physical exercises), thức ăn (nutritious meals), and thuốc (medicine).
Its patients are all moderately ill but face a high risk of worsening because many of them are old and have underlying medical conditions.
They do physical exercises twice a day, in the morning and afternoon.
Dr Trần Minh Quang of the HCM City Traditional Medicine Institute, which manages the hospital, said: "Regular physical exercises help strengthen patients' health and boost their immune system. Patients also do exercises to strengthen their respiratory muscles including the diaphragm, the rib cage muscles and the abdominal muscles.
"When these muscles are strengthened, they help enhance a patient's breathing.
"Moreover, exercises help increase the blood circulation. This helps in the treatment of COVID-19 patients."
The patients also get encouragement and detailed explanations about their disease status to mitigate their anxiety since mental well-being helps them recover rapidly, he added.   
A medical worker at the field hospital No 8 in HCM City tells people who have recovered from COVID how to take care of themselves at home. Photo Courtesy of the Bình Dân Hospital which manages the field hospital No 8 in the collaboration of Thống Nhất Hospital
Patients at field hospital No 8, especially those with underlying medical conditions and seniors, are closely monitored to ensure they are treated in time if their disease worsens.
They are given the hospital's hotline and added to its zalo group to ensure they get immediate assistance if their condition becomes worse.
Dr Lê Hoàng Văn of the hospital said, "Using these methods, the hospital's doctors detect early which patients are at high risk of becoming worse and provide emergency aid in time."
The hospital also has psychologists and counsellors to help mitigate the anxiety felt by patients and their relatives.
The Thủ Đức city COVID-19 Resuscitation Hospital, which admits severe patients, said providing early emergency treatment to patients whose condition worsens before being brought in it helps decrease the risk of death.
It has helped reduce the rate of fatalities from 39.8 per cent in July to 26 per cent in August, the hospital said.  
The Department of Health has been increasing the supply of ventilators, dialysis machines, extracorporeal membrane oxygenation ( ECMO) machines, X-ray machines, PCR testing systems, beds with oxygen systems, and other medical equipment to COVID treatment facilities.
It has set up a team to efficiently transfer patients in severe condition from field hospitals to treatment facilities.
The city has 191 quarantine facilities with 35,369 beds to treat patients who cannot be left at home, 81 hospitals for moderately sick patients and 10 hospitals to treat the most severe cases.
Ten private hospitals are also treating patients.
Speaking at a meeting of the National Steering Committee for COVID-19 Prevention and Control, Minister of Health Nguyễn Thanh Long said the city has seen a significant decrease in new cases and deaths, pointing out that the number of deaths last week was down by 30 per cent.  
Ministry statistics show that 200 people died on September 12 compared to 340 on August 22.  
The Department of Health expects the number of discharged patients to be equal to or higher than the number of those hospitalised in the coming time.
HCM City residents despair at high food delivery fees
Many people in Ho Chi Minh City have decided to continue cooking after seeing high food delivery fees.
Nguyen Thi Tinh in Binh Thanh District said that she was very happy when hearing that the city had allowed restaurants to provide take-away services since September 8.
"I live alone and I rarely cook," Tinh said. "I faced lots of difficulties after the city closed restaurants. I had to search for recipes for many dishes online. Now I'm happy that I can eat food from my favourite restaurants again."
But Tinh said that she was shocked when seeing the delivery fees which are higher than even the prices of some dishes.
"Yesterday I intended to order pho but I didn't after seeing the delivery fee," Tinh said. "The noodles only cost VND45,000 but the delivery fee was VND 27,000. A mango smoothie cost only VND 25,000 but the delivery fee was even higher, at VND 30,000. The shipping fees were too expensive as the restaurants are only a kilometre from my home."
Pham Tat Giang in Thu Duc City also said that he would still cook to save money during social distancing.
"I ordered two roast ducks on September 9 from a restaurant near my home and saw that both the duck prices and the delivery fees had sharply increased," he said. "The restaurant used to offer free delivery before the pandemic but now I had to book shipping online on my own and it cost VND200,000 (USD8.60)."
The man said that his family of six members would only order food for special occasions.
"Our income has been badly affected by the pandemic so cooking at home is helping us save some money," he said. "Now we're also staying home all day during the social distancing period so cooking isn't a problem."
On some apps specialising in delivery services, many companies have also explained the high fees during this social distancing time in Ho Chi Minh City.
A representative of Loship said that the main reason for the increase was the lack of staff.
"At present, demand is huge in the city while the number of delivery drivers with permits is limited," he said. "Besides the rising fees, we've also had to refuse many orders due to personnel shortages."
Vietnam thanks Guangxi for presenting vaccine against COVID-19
Foreign Minister Bui Thanh Son talked on the phone with Party Secretary of China's Guangxi Zhuang Autonomous Region Lu Xinshe on September 14, congratulating Guangxi on its achievements in recent years, especially in controlling the pandemic and maintaining socio-economic development momentum, as well as its successful organisation of the 18th China-ASEAN Expo (CAEXPO).
Son thanked Guangxi for its decision to grant 800,000 doses of SinoPharm vaccine and medical equipment and supplies in support of Vietnam's pandemic prevention and control.
He affirmed that the Vietnamese Party, State and people always attach great importance to developing the friendship and comprehensive strategic cooperative partnership between Vietnam and China, and support Vietnamese ministries, sectors and localities in strengthening ties with Guangxi.
The Vietnamese FM suggested the two sides maintain exchange and contact at all levels in a flexible form; step up the sharing of information and policies related to pandemic prevention and control and coordinate in this work in border areas; apply effective measures to maintain the growth momentum of economic-trade cooperation; facilitate the import of Vietnamese goods, especially agricultural and aquatic products; coordinate in managing border areas, speed up the construction of border gate infrastructure connectivity and soon complete internal procedures to upgrade border gates; and promptly handle arising problems.
For his part, Lu affirmed that Guangxi appreciates the fine development of China-Vietnam relations as well as the achievements in cooperation between Guangxi and Vietnamese ministries, sectors and localities.
Guangxi will make efforts to improve the efficiency of customs clearance of goods at railway and road border gates, facilitate the import of Vietnamese products, and well implement common perceptions of high-ranking leaders of the two parties and two countries, and strengthen friendship exchanges and substantive cooperation with Vietnamese localities, especially those along the borderline, thus contributing to consolidating the China-Vietnam comprehensive strategic cooperative partnership./.
Over 99,000 Covid patients undergo home isolation and care in HCMC
The number of Covid-19 patients undergoing isolation and care at home in HCMC is 99,402, the HCMC Center for Disease Control (HCDC) said today, September 14.
Among them, 64,460 patients have been self-quarantining at home since they were confirmed positive for the coronavirus, while some 38,000 others are self-isolating at home after they were discharged from hospitals.
More than 25,380 other active cases are under quarantine and treatment at concentrated quarantine facilities citywide, the local media reported.
The city has set up hundreds of pop-up healthcare stations and rapid response teams to monitor the health condition of Covid-19 patients receiving home-based care, and has sped up the distribution of medicine bags to Covid patients, according to the center.
Besides, HCMC is placing 2,405 people who had close contact with confirmed Covid cases under concentrated quarantine, while 21,839 others are being put under home quarantine.
Currently, the city is treating 39,290 Covid patients, including some 2,940 children, over 2,610 patients relying on ventilators and 23 others requiring ECMO support.
Over 2,550 Covid patients were discharged from hospitals in HCMC on September 13, raising the total number of recoveries in the city in the year to date to 152,894.
As of September 13, over 6.5 million Covid vaccine doses had been administered, with more than 1.3 million adults having received two shots.
The city is speeding up the administration of second doses for residents to quickly reach herd immunity, which is expected to help the economy recover.
HCM City's Cu Chi District, District 7 find effective ways to control the outbreak
Củ Chi District and District 7 in HCM City have kept the COVID-19 outbreak under control thanks to strict and early management of infected cases, timely emergency care and an increase in the number of treatment beds.
Secretary of the HCM City Party Committee Nguyễn Văn Nên said a pilot "new normal" scheme for HCM City after September 15 will first operate in the two districts.
At an online meeting of the city Party Committee last Monday, Nên agreed with the HCM City's Steering Committee of Epidemic Prevention and Control that District 7 and Củ Chi District have basically controlled the COVID-19 epidemic and chose the two districts to pilot a new scheme of operation for HCM City after September 15. 
The outlying district of Củ Chi has recorded over 6,000 cases of COVID-19, most of which have recovered. Very few cases have become severe. 
Chairman of the district People's Committee Phạm Thị Thanh Hiền said that Củ Chi had stayed alert and developed a response strategy to minimise the number of deaths when the fourth wave broke out in June.
Separation of positive COVID-19 cases has been Củ Chi District's priority. While many were encouraged to visit the nearest medical facilities for an examination,  some cases isolating at home have been closely monitored with support from doctors and volunteers.
Củ Chi stressed the importance of "remote interception" in reducing morbidity and morality rates among infected cases. 
About 10 mobile medical teams were formed in many wards to take care of COVID-19 patients and people with other conditions isolating at home.
Isolation zones have operated as nursing areas, creating comfortable conditions for patients during treatment.
Dr Trương Tấn Hùng from the Củ Chi District Medical Centre said that a relaxed and optimistic mindset is beneficial to patients' recovery. 
Isolation areas in Củ Chi District initially received and classified infected patients based on their level of illness and transferred them to upper-level hospitals offering COVID-19 treatment.
However, due to overloading at upper-level hospitals, the area has been converted to a district hospital with COVID-19 treatment for patients with mild to no symptoms.
Doctors there have quickly mobilised necessary equipment, drugs, first aid kits, oxygen tanks and operators to provide timely emergency care to seriously ill patients.
Hiền added that many volunteers were joining hands to help the medical force.
"Many teachers cooked lemongrass juice for infected cases on a daily basis, while young and healthy asymptomatic patients helped monitor elderly patients' health staying in the same room in an effort to reduce the workload for doctors and nurses," Hiền said.
Efforts to invest in low-level care kept the rate of seriously ill patients in Củ Chi at 3.5 per cent, about 114 cases of the more than 3,200 cases in concentrated isolation zones in HCM City. More than 10 people have died.
Deputy Health Minister Nguyễn Trường Sơn praised Củ Chi District's efforts to maintain its green zone status and ensure quality of life for infected cases. 
Similarly, District 7 has taken the initiative to take care of infected patients from the beginning, helping to limit the morality rate.
Previously, the district recorded 10 to 12 deaths per day. However, the number of deaths had fallen to one or two as of late August, while the average number of deaths per day in HCM City was more than 260.
The chairman of District 7 People's Committee, Hoàng Minh Tuấn Anh, said in early May when the city required each district to have about 200 treatment beds, District 7 had prepared 33 facilities with about 3,400 beds capable of separating infected cases from the community. At the same time, a specialised hospital with COVID-19 treatment, consisting of 600 treatment beds and 150 emergency beds, was built as well.
By the beginning of August, when the number of infected cases in HCM City had exceeded 100,000 and hospitals were overloaded with patients, District 7 pioneered the operation of a community health system in 10 wards to promptly support new cases in isolation areas. 
Each ward has a team of 10 to 15 medical staff and volunteers, two hotlines, ambulances, medical equipment, wheelchairs and stretchers to help locals in small alleys. 
They have been able to take care of over 2,500 patients and 1,800 patients with suspected illness at home.
District 7 has also established 34 mobile medical stations with 83 doctors, 272 volunteers and medical staffs to provide treatment and primary care for common diseases. Since August 20, about 2,500 cases have been assisted and 86 locals have been transferred to designated hospitals.
Dr Nguyễn Thị Thu Nga, deputy director of District 7 Hospital, said that medical teams were trying to keep in touch with patients at home, which has helped reduce the number of severe cases, and thus the mortality rate.
Patients with moderate to severe symptoms are being treated at the 3,000-bed Hospital 16, the Intensive Care Centre (ICU) at Bạch Mai Hospital with 500 beds, District 7 Hospital and some private hospitals.
When the number of critically ill patients increased in the early days of August, the Intensive Care Centre, which just went into operation, has solved the overloading problem. 
About 70 per cent of patients from lower levels transferred to this hospital required mechanical ventilation. Support in terms of manpower and machinery from ICU has helped more than 200 patients recover.
In order to share the burden with the city, a hospital offering COVID-19 treatment in District 7 has installed a 32-tonne oxygen tank to provide healthcare for hundreds of patients, instead of having to change hundreds of bottles of oxygen every day.
Since April 27, HCM City has recorded more than 265,000 COVID-19 cases. 
President Nguyen Xuan Phuc to hold phone talks with Japanese PM
President Nguyen Xuan Phuc is scheduled to hold phone talks with Japanese Prime Minister Suga Yoshihide on September 15.
At the talks, the two leaders will discuss the bilateral relations, as well as regional and international issues of mutual concern.
After Vietnam and Japan established diplomatic ties on September 21, 1973, the bilateral relationship has experienced rapid development over the past years.
The Vietnam-Japan relationship is now at its best since the establishment of the diplomatic ties, with high mutual trust.
Japan is Vietnam's leading important economic partner, the largest official development assistance (ODA) provider, second biggest investor, third largest tourism partner and fourth largest trade partner./.
Three children aged below 18 get Covid shots despite no guidance
Although the Ministry of Health has not issued vaccination guidelines for children aged below 18 against Covid-19, three children in Can Tho City have received the vaccine.
Specifically, a 13-year-old girl in Thot Not District, Can Tho City, received two shots of the Pfizer vaccine on August 11 and September 4 at the Thot Not Medical Center, the local media reported.
The district also given shots to two other children, aged 14 and 17, on September 4.
Can Tho Vice Chairman Duong Tan Hien on September 14 said the municipal government had assigned the municipal Department of Health to coordinate with the Tho Not District government to clarify the case.
On the same day, Thot Not District Chairman Trinh Minh Thang said the district had received the request for clarification from the Can Tho government and was working on the issue.
The district has suspended Nguyen Kim Hai, director of the Thot Not Medical Center, from work for 15 days for vaccinating people aged below 18 without consent from the district's steering committee for Covid-19 infection prevention and control.
Hai was also suspended from the post of deputy head of the district's steering committee for directing the Covid-19 vaccination.
When news about the vaccination for children aged below 18 in the district was circulating on social media, Hai explained these children were all relatives of frontline workers in the district, so the vaccination did not go against regulations.
Hai admitted that the Ministry of Health and Can Tho City had yet to issue guidelines for the inoculation of children aged below 18. However, he knew that the Pfizer vaccine could be used for children aged from 12.
The Thot Not District government has also suspended D.K.Q, a medical worker of Tan Loc Ward, Thot Not District, and aunt of the 13-year-old girl, from work as she had abused her relations to vaccinate her niece.
Can Tho health official suspended for Covid-19 vaccination violations
A health official in the Mekong Delta City of Can Tho's Thot Not District has been suspended for 15 days for prioritising the Covid-19 vaccination for a local 13-year-old.
According to Le Thi Thuy Hang, vice chairwoman of Thot Not District People's Committee, the decision came after the information that the child in Tan Loc Ward was provided with two shots of Pfizer Covid-19 vaccine.  
The certificate about the child's Covid-19 vaccination was also published online along with messages showing that the priority was thanks to the support of health workers.   
Local authorities decided to impose the suspension for Nguyen Kim Hai, health director of the district's health centre.
Besides Hai, a member of a staff from Tan Loc Ward Medical Station was also suspended.
Hai explained that the child was the grandson of a member of staff at Hoa Loc Ward Medical Station. They live in the same house. The health worker is a member of the local frontline Covid-19 prevention and control team. So they claimed it was not against regulations to offer a Covid-19 vaccination for the child.
Hai noted that in some other cases, people below 18 were also vaccinated as they were relatives of frontline medical staff.
However, an official from Can Tho City's Health Department said that the city had not yet issued a decision about giving Covid-19 vaccination to people under 18.
Tran Viet Cuong, chairman of Can Tho City People's Committee, said that concerned agencies have been instructed to deal with violations.
HCMC is unlikely to achieve "zero Covid-19" status: Health Department Director
Epidemiologist said that the virus may never go away and it could not detect all persons with Covid-19 but reducing the risk of the pandemic that has impacted every aspect of life, said Director of the HCMC's Health Department, Associate Professor, Ph.D., Dr. Tang Chi Thuong at a press conference on the situation with Covid-19 in HCMC on September 13.
For the first time, HCMC saw a significant bump in new Covid-19 cases and the municipal health sector has yet approached all of Covid-19 patients. The city has then allowed Covid-19 patients with mild or asymptomatic symptoms to quarantine themselves at home to reduce over pressure to health facilities.
The city has seen a gradual drop in the number of confirmed coronavirus cases and death rates for the past three weeks, he added.
Although the reduction was not as expected and did not meet the criteria on controlling the disease issued by the Ministry of Health and the principles of disease elimination and eradication of WHO but it showed a positive result in Covid-19 fight.
Regarding the "Covid Green Card" that will be provided to fully vaccinated people or recovered Covid-19 patients, the Director of the municipal Health Department said that the health sector acknowledged that many F0 cases are self-care during the treatment and quarantine at home and have not recognized by the local healthcare units yet. Thus they have difficulty applying for the "Covid Green Card". The HCMC People's Committee and the Health Department will work together to launch a solution.
Covid-19 antibody test that can help identify people who may have been infected with the SARS-CoV-2 virus or have recovered from Covid-19 is a new method. So the city will give Covid-19 vaccine injection to recovered patients to ensure safety.
The "Covid Green Card" can't replace Covid-19 testing and implementation of the health ministry's 5K message but the combination of the three factors, he stressed.
Vietnam joins Zapad 2021 military drill in Russia as observer
Representatives from the Vietnam People's Army, along with those from China and Myanmar, took part as observers in the most important phase of the Zapad 2021 military drill in Nizhny Novgorod, Russia, on September 13.
Meanwhile, military units of the Western Military District of Russia, Armenia, Belarus, India, Kazakhstan, Kyrgyzstan and Mongolia participate in the phase. Officers from Uzbekistan, Pakistan and Sri Lanka joined the phase's commanding group. 
Russian President Vladimir Putin and Defence Minister Sergei Shoigu were present at the site.
The drill, comprising three phases, is being held in nine training grounds in Russia and five in Belarus, with the participation of about 200,000 soldiers, 80 aircraft and helicopters, more than 290 tanks, 240 canons, missile defence systems and mortars, and 15 military vessels, among others./.
Tran Dai Nghia Award launched to honour outstanding scientists
The Vietnam Academy of Science and Technology launched the third Tran Dai Nghia Award on September 13 to honour outstanding scientists with highly applicable research.
The award will go to scientists who have won recognition from both domestic and international research circles, doing research across seven fields including mathematics, mechanics, information science and computing, physics, chemistry, life sciences and earth sciences.
The nominees' research must have been implemented in Vietnam and have made certain contributions to national socio-economic development or security-defence.
The winners of the award will be honoured at a ceremony scheduled for May, 2022.
The award is named after professor and academician Tran Dai Nghia (1913-1997), an eminent scientist who devoted his life to science in Vietnam, particularly the field of military science. He was also one of the first generals in the Vietnam People's Army.
Held every three years since 2016, the award has honoured 14 scientists who authored six pieces of research with significant contributions to national development or security-defence.
Northern provinces urged to improve regional linkage and planning
Regional linkage and planning was important to the development of every single locality and the whole northern region, Minister of Planning and Investment Nguyễn Chí Dũng said on Tuesday.
Speaking at an online meeting on next year's socio-economic development plan and public investment plan for the northern region, Dũng said that proper regional linkage and planning would help localities make use of their advantages but not destroy the motivations of others.
The northern region of Việt Nam is divided into two economic zones with the northern midland and mountainous zone consisting of 14 provinces - Hà Giang, Cao Bằng, Lào Cai, Bắc Kạn, Lạng Sơn, Tuyên Quang, Yên Bái, Thái Nguyên, Phú Thọ, Bắc Giang, Lai Châu, Điện Biên, Sơn La and Hòa Bình.
The Red River Delta zone consists of ten provinces and cities - Bắc Ninh, Hà Nam, Hà Nội, Hải Dương, Hải Phòng, Hưng Yên, Nam Định, Ninh Bình, Thái Bình and Vĩnh Phúc.
In the last eight months, despite the impacts of the COVID-19 pandemic, provinces in the region maintained a stable macroeconomy, ensured social security and continued trade and production activities.
In the first half of this year, provinces in the two zones had high economic growth rates such as Hòa Bình 16.1 per cent, Vĩnh Phúc 14.21 per cent, Hải Phòng 13.52 per cent, Sơn La 10.67 per cent, Hà Nam 10.41 per cent, Bắc Giang 10.2 per cent and Lai Châu 10.08 per cent.
The two zones contributed VNĐ406.6 trillion (US$18 billion) to State budget in the first eight months of this year, accounting for 38.25 per cent of the total national budget collection.
Their export value in the first eight months was $108.62 billion, accounting for more than half of the country's export value. The two zones attracted foreign direct investment of $6.9 billion in the eight months.
Provinces of Quảng Ninh, Hải Phòng, Bắc Ninh and Bắc Giang successfully controlled major COVID-19 outbreaks, which helped people and enterprises soon resume daily activities and production.
According to the ministry, the northern region is expected to achieve a growth rate of 7.04 per cent this year due to the pandemic and its impacts on society, production and trade, particularly reduced demand for key exports like cars, motorbikes, mobile phones and electronic components.
The ministry also forecasts that next year, the region's gross regional domestic products (GRDP) would reach 7.91 per cent with an average income of VNĐ110 million per year per capita. The northern region will gain about $98 billion from exports.
In 2022, Việt Nam would continue to be affected by the COVID-19 pandemic as, despite projected recoveries, the world's economy still faces risks and challenges relating to financial crisis, public debt, trade and investment.
"The years 2022 and 2023 are the time for Việt Nam's economy to recover from the slowdown caused by the COVID-19 pandemic," said Minister of Planning and Investment Nguyễn Chí Dũng.
This is part of the national economic recovery plan which the ministry is completing and expects to submit to the Government next month.
The plan was quickly developed after Prime Minister Phạm Minh Chính last month asked for scenarios to restore and boost Việt Nam's economy in the new situation when the COVID-19 is under control.
"As Việt Nam has been making efforts to get COVID-19 vaccines for about 70 per cent of its population early next year to achieve herd immunity, sufficient vaccination will pave the way for the country's economic recovery," Dũng said.
"Restructuring the tourism industry is key for the post-COVID-19 development of the northern region," Dũng said, asking localities to have tourism development plans in the new normal stage.
"It is necessary to connect tourist destinations in the region with tourism routes. Inter-provincial tours will help attract more visitors and promote tourism of localities," he said.
Some northern provinces would host major national and international events including the SEA Games. Thus, the provinces should take advantage of these occasions to promote their images, he said.
Free education platforms, PCs offered to students
In response to the Prime Minister's call for donations to the program "Internet and PCs for students", benefactors continue to give computer software and equipment to teachers and students nationwide to facilitate online teaching.
Vietnamese technology companies have announced six free online teaching platforms namely VNEdu, ViettelStudy, MobiEdu, Onluyen, Hocmai, and Misa EMIS, worth up to US$8.7 million.
Meanwhile, localities across the country have donated around $2.8 million to the program. The Ministry of Education and Training and the Vietnam Education Union have also called for donations worth a minimum of 1 day's income from teachers and education staff members.
One week after the school year starts, Hanoi has handed over 2,300 laptops and teaching equipment to students in need. HCMC is also calling for donations of cash, personal computers and smartphones for 77,000 students to use for studying.
Binh Duong basically puts COVID-19 outbreak under control
The southern province of Binh Duong, the second biggest coronavirus hotspot in Viet Nam, has basically put COVID-19 outbreak under control, said Chairman of the provincial People's Committee Vo Van Minh on September 14.
Binh Duong will resume socio-economic activities gradually, Vo said in reply to a question about the locality's plan to loosen social distancing and return to a "new normal" after September 15. 
The province will gradually reopen activities at "green" areas or pandemic-free zones while tightening social distancing and enhancing prevention measures at "red" or "high-risk" areas of COVID-19 transmission, he added.
In the fourth wave of COVID-19 resurgence in Viet Nam, Binh Duong has recorded more than 160,000 COVID-19 infection cases, including 1,420 coronavirus-related deaths and 104,000 recoveries. 
So far, six "green" areas, including Dau Tieng, Bau Bang, Phu Giao, Bac Tan Uyen, Ben Cat Town and Thu Dau Mot City have resumed business activities in line with ensuring safety. Residents in these areas are allowed to go to work and go outside after 14 days since the date they take at least one shot of COVID-19 vaccines.
Fully vaccinated local residents will be granted with "vaccine green pass" and permitted to travel within their districts after September 15 and around the locality after September 20, Vo said.
Approximately 95 percent of local people aged 18 and over have received at least one shot of COVID-19 vaccine, according to Vo.
Vietnamese film week to run in Poland
A Vietnamese film week programme will take place in five Polish cities from October 6 to 31.
The event features five films – Truyen thuyet ve Quan tien (The Legend of Quan Tien), Bo gia (Dad, I'm Sorry), Tiec trang mau (Blood Moon Party), Mat biec (Dreamy Eyes), and Song Lang.
They are expected to introduce Vietnam's cinema industry as well as people and landscapes to international friends.
The films will be screened in Torun, Warsaw, Krakow, Lodz, and Gdynia in line with the local COVID-19 prevention and control measures./.
Con Dao prepares to welcome domestic tourists on charter flights
Con Dao district (Ba Ria - Vung Tau) is being allowed to pilot welcome domestic tourists on tours, from September 15. 
The People's Committee of Ba Ria - Vung Tau province has just issued a document allowing a number of production, business and service activities in the districts of Chau Duc, Xuyen Moc, Dat Do and Con Dao to reopen from September 15.
Accordingly, in the immediate future, from September 15 to October 30, 2021, Authorities in Ba Ria-Vung Tau will allow four resorts and tourist areas in green zones to admit fully vaccinated travelers from within the country. They are the Grand Ho Tram Strip tourism complex, Melia Ho Tram beach resort and Binh Chau Hot Spring Resort in Xuyen Moc District, and Six Senses Con Dao beach resort in Con Dao District.
The facilities must have all anti-epidemic measures in place.
They must have quarantine areas and ensure staff stay at the workplace and have been vaccinated at least once for Covid-19 at least 14 days prior to resuming work, and everyone must undergo a PCR test every 72 hours.
They have to transport the tourists to and from other cities and provinces using heir own vehicles.
To visit these facilities, travelers need to furnish documents showing they have received two shots of a vaccine, the second between 14 days and 12 months before their date of arrival.
Guests will be tested for Covid-19 on the first, sixth and 13th days.
They are not allowed to go out and have to strictly follow anti-pandemic regulations. They are required to make a reservation and pay a deposit to the facilities.
Based on the evaluation of the implementation results, the Provincial People's Committee will develop an implementation plan for the period from November 1 onwards in accordance with the epidemic situation.
Remains of Vietnamese soldiers found in Quang Tri
The remains of four Vietnamese soldiers who died in the American War have been found at a construction site in Quang Tri Province's Vinh Linh District.
Chairman of Vinh O Commune People's Committee, Tran Van Tang, confirmed on September 14 that the four sets of remains were found at a house construction site of Ho Thi Lun in Mit Village.
After receiving the information from local people, local authorities sent the military to the site and found the remains which lay between 2.5-3 metres underground, the official said. Many belongings were also found buried beside the remains.
The remains have been moved to Vinh Linh District Martyrs Cemetery while officers are expanding the research area.
Quang Tri Province was one of the major battlefields during the American War, especially during 1968-1972.
During the war, Quang Tri was known as the Land of Fire because of heavy bombardments. This is where Vietnam's two biggest cemeteries – the Truong Son National Martyrs Cemetery and the Road 9 National Martyrs Cemetery – are now located.
HCM City to build new reservoir to ensure clean water supply
HCM City plans to build a new reservoir to cope with the shortage of clean water and ensure residents' quality of life.
The city's water supply industry has submitted a plan to build a reservoir with a capacity of 5 million m3, which could provide clean water to the people of HCM City within seven days.
It is expected to be built 1km upstream from the confluence of the Sài Gòn and Thị Tính rivers in order to avoid pollution and saltwater intrusion. 
The head of the water supply management department of Saigon Water Corporation (SAWACO), Trần Kim Thạch, said that water quality is seriously affected by storms, floods, unusual droughts and environmental pollution.
Thạch suggested short-term solutions such as adjusting the flow of water from reservoirs to ensure uninterrupted water supply.
He told Tuổi Trẻ (Youth) newspaper that the water supply industry in the city had always been closely related to two reservoirs upstream of the Sài Gòn River (Dầu Tiếng Lake) and Đồng Nai River (Trị An Lake).
All involved parties every day inform one another about the quality level of the river water. When an incident occurs that pollutes water sources, the upstream river reservoir will discharge clean water to dilute and wash away the pollution in the water.
During a recent seminar, water supply experts from Taiwan (China), Japan, Korea, Singapore, Bangladesh and Israel expressed concern about the decline of clean water sources due to climate change.
HCM City stressed the negative impact of the COVID-19 pandemic in limiting the source of clean water globally, especially in parts of the US where people are experiencing a severe drought in the summer of 2021.
A prolonged drought since 2020 has also brought challenges to Taiwan's water supply companies. Extremely low rainfall has made it difficult to store clean water.
Singapore, with a rapidly growing population and limited resources, has prepared multiple solutions to provide clean water for domestic and industrial activities, including turning seawater into fresh water for locals to use.
Meanwhile, in HCM City, experts are worried about saline intrusion, flooding and pollutant discharge, which affect clean water supply. Together with irregular rainfall caused by climate change, the city will soon face water shortages similar to what Bangkok has been experiencing.
The amount of the city's groundwater reserve is decreasing due to long-term over-exploitation. 
HCM City eyes adaptation to life with COVID
The COVID-19 outbreak will remain complex so HCM City will take various measures to adapt to it, Phan Văn Mãi, chairman of the city People's Committee, has said.
Speaking at a press meeting on Monday (September 13) he said economic activities must be made safe since the disease would prolong.  
The city Steering Committee for COVID-19 Prevention and Control would work to control the disease, and based on the results the city would gradually ease social distancing and reopen the economy, he said.   
Easing social distancing would be based on measurable indexes such as the rate of vaccination, transmission rate and the capacity of the city health system, he said.
The city has a system to measure and update these indexes periodically and would soon have a set of safety criteria for businesses, he said.  
It is also considering how to design green cards to be provided to people who are fully vaccinated.  
It is set to speed up provision of second shots to people who have got the first.  
It plans to strengthen the capacity of health facilities, including medical stations at wards and communes, at the grassroots level to improve COVID treatment.
Since August 23 the city has seen red zones, or extremely high-risk areas, steadily shrink and green zones, deemed to be free of transmission risk, expand thanks to the restrictions in place.
Admission of COVID-19 patients into hospitals and treatment have also improved.
Patients treated at home have been provided with medicines and timely medical assistance since the Military Medical Department dispatched its doctors to mobile medical stations at wards and communes in August.  
More than 6.5 million people have got at least one shot of the vaccine, or 90 per cent of the city's population aged 18 and above, and 1.3 million have received a second.    
Districts Cần Giờ, Củ Chi, Phú Nhuận, Nhà Bè, 5, 7, and 11, which have controlled the outbreak well, have been allowed to ease social distancing requirements.
This week the city will seek opinions from experts in various fields, businesses and the public to wrap up plans for COVID prevention and control and reviving the economy. 
Localities expand COVID-19 free zones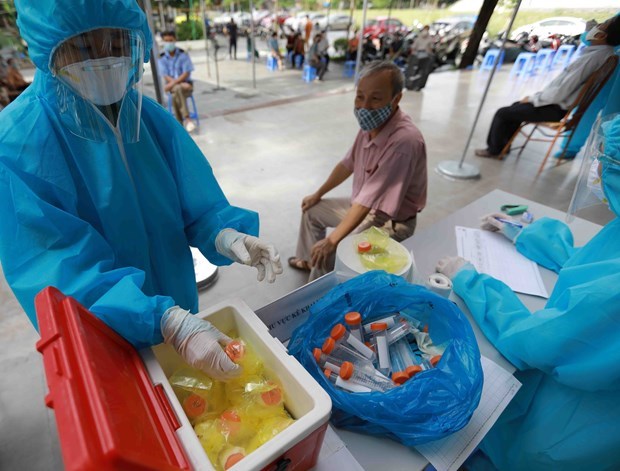 Illustrative image (Photo: VNA)
Many localities across the countries have begun to relax some social distancing measures as COVID-19 free zones or so called "green zones" are expanding.
In Ho Chi Minh City, the country's largest COVID-19 epicenter, the municipal People's Committee plans to seek approval of the municipal Party Committee on piloting the relaxation of some social distancing measures in Can Gio, Cu Chi and District 7 which have contained the pandemic outbreaks. The piloting period will be from September 16 to 30.
Accordingly, shippers will be likely to be allow to deliver goods across districts.
In Hanoi, the standing board of the municipal Party Committee has assigned the Party delegation to the municipal People's Committee to consider and decide a plan on easing restriction for some activities and services.
The northern port city of Hai Phong has also adjusted pandemic prevention measures to suit the new situation. As from 0am September 15, the city allows some services such as restaurants and spas to re-open on the condition of ensuring prevention measures. Parks in the city are open to visitors, but gatherings of more than 10 people are not allowed, and people should keep a distance of 2m from each other.
The northern province of Thai Binh also allows eateries to open from 5am September 15, but they must close at 9pm every day.
Vietnam always treasures and wants to further develop relations with RoK: PM
Vietnam always treasures and wants to further develop relations with the Republic of Korea (RoK), Prime Minister Pham Minh Chinh has said, suggesting Korean Ambassador to Vietnam Park Noh-wan and businesses continue supporting and contributing to the bilateral ties.
During a working session with the Korean Ambassador and leaders of Korean associations and enterprises, PM Chinh said Vietnam consistently pursues a foreign policy of independence, self-reliance, diversification, multilateralisation, proactive and active international integration; being a friend, a reliable partner and responsible member of the international community.
For businesses, Vietnam partners with them in the spirit of harmonising interests and sharing risks, he said, adding that the Vietnamese Government advocates offering all possible support to firms to restore production while ensuring pandemic prevention and control.
He also thanked the Korean Government and people for assisting Vietnam in the fight against COVID-19, and hailed Korean firms for joining hands with Vietnam in actively combating the pandemic and continuing to do long-term business in the country.
Participants put forth a number of measures to maintain supply chains, transport and circulation of goods and continue business and production activities.
PM Chinh affirmed that safety from the pandemic is not something taken for granted but a result of efforts by every individual, agency, unit and business and the whole society.
He also proposed the RoK pay attention to the Vietnamese market by promoting investment and working with Vietnam to attract FDI hi-tech projects while creating conditions for Vietnam's big enterprises to cooperate with and invest in fields in which the RoK has advantages.
Park, for his part, affirmed that the Korean Government and business community in Vietnam always stand by side with the Vietnamese Government in the fight against the pandemic.
The Korean Government is also considering further donation of COVID-19 vaccines to Vietnam, he said./.
HCM City to pilot COVID-19 green cards in three districts
Ho Chi Minh City is planning to pilot COVID-19 green cards in districts 7, Can Gio and Cu Chi, where the pandemic has basically been controlled.
Lam Dinh Thang, Director of the Department of Information and Communications, said the green cards would help the city monitor people who would become eligible to travel and work based on COVID-19 preventive criteria.
It would include information about holders' vaccination, COVID-19 testing and health declaration status, he said.
When it is approved by the Government, it would be put into use in districts 7, Can Gio and Cu Chi, he added.
The green cards will be issued to people who are vaccinated after a minimum of two weeks from the time they get their second shots of Astrazeneca, Pfizer, Moderna, Sinopharm, or Sputnik V vaccines or one shot of Johnson & Johnson's Janssen vaccine or if they have fully recovered after contracting COVID.
The card will be valid for six months.
According to the city's Steering Committee for COVID-19 Prevention and Control, districts 7, Cu Chi and Can Gio have been chosen as socio-economic development models for the new normal period with efforts to be made to revive their economy.
The three districts will allow the resumption of trading in essential products and street businesses with stringent safety conditions for a month from September 20.
Everyone involved in these businesses must be fully vaccinated and comply with all the conditions set by local authorities.
The businesses will initially be allowed to operate from 6am to 6pm./.
President holds working session on handling capital punishment dossiers
President Nguyen Xuan Phuc held a working session on September 14 with officials of the Supreme People's Court, the Presidential Office and agencies concerned on the implementation of an inter-sectoral plan on dealing with capital punishment dossiers in line with the law.
It was the second working session in the past more than three months between the President and central judicial agencies on the settlement of capital punishment dossiers and clemency for the death penalty under the authority of the President in accordance with the Constitution and the Criminal Procedure Code.
Phuc asked the Supreme People's Court, the Supreme People's Procuracy, the Ministry of Public Security and Presidential Office to continue working closely together to carry out the plan. He also required the agencies to closely follow the President's conclusion at the early June meeting on the processing and submission of  applications for clemency to the President for consideration, thus ensuring the strictness of law while demonstrating the humanitarian tradition of the nation.
The Presidential Office was assigned to amend the mechanism for coordination with the Supreme People's Court and Supreme People's Procuracy regarding te process and procedures of submitting applications for penalty clemency to the President to ensure transparency, correctness, objectiveness and close supervision./.
NA Standing Committee debates draft revised Cinematography Law
Members of the National Assembly (NA) Standing Committee on September 14 debated the draft revised Law on Cinematography as part of their ongoing third session.
Delivering a report summarising the bill, Minister of Culture, Sport and Tourism Nguyen Van Hung said that the bill comprises eight chapters and 52 articles, including 25 articles from the current version and 27 new ones.
It aims to create favourable conditions for and encourage organisations and individuals to engage in film production, while supporting the publishing and popularising Vietnamese movies at home and abroad, he said.
It is also expected to help reform the management of cinematography and strengthen the application of advanced technologies in the field amid the development of science and technology, added the minister.
He said that the draft revised law gives two plans of managing the publishing of films on the Internet, including pre-release and post-release examination. However, the NA Committee on Culture and Education suggested the combination of the two plans.
Addressing the discussion, NA Chairman Vuong Dinh Hue clarified that cinematography not only helps enrich people's spititual life but also contributes to building the Vietnamese culture.
However, the Cinematography Law 2006 has failed to catch up with the development of the sector, he noted, stressing the need to revise the law to ensure that cinematography is seen as an economic sector and an industry.
The NA leader suggested that members of the committee focus on making adjustments of cinematic activities in the digital technology environment so as to encourage the fast growth of the sector, while creating a legal corridor for the development of the Vietnamese cinematography industry.
Concluding the session, NA Standing Vice Chairman Tran Thanh Man said that the revision of the law should result in a legal corridor and breakthrough policies with long-term vision for the sector's development as a cultural-art sector and a cultural service and economic sector at the same time, thus boosting international cooperation and digital technology application in all stages from film production, publishing, promoting and archiving.
He underlined the need that the adoption of the bill will help develop a modern Vietnamese cinematography imbued with national identity and gaining global prestige, thus better protecting the right to creativity and the right to enjoying cultural-art values of people and the community./.
Vietnam receives 1.5 million doses of COVID-19 vaccine from France, Italy
A ceremony was held in Hanoi on September 14 to symbolically receive 1.5 million doses of AstraZeneca COVID-19 vaccine donated by the governments of France and Italy through the COVAX Facility.
Addressing the event, Deputy Foreign Minister To Anh Dung thanked the French and Italian governments and people for supporting Vietnam in the COVID-19 fight.
This is evidence of the dynamic development of the strategic partnership between Vietnam and the two European countries as well as their friendship and solidarity to overcome the pandemic, he stated.
Dung spoke highly of the initiative to set up the COVAX mechanism to ensure fair and equal access to COVID-19 vaccines in the globe, with France and Italy being among leading EU donors.
He expressed belief that the valuable support that France and Italy give to Vietnam and ASEAN countries will help speed up the countries' reopening process, facilitating people's travel.
Deputy Minister of Health Tran Van Thuan affirmed that the ministry will soon allocate the vaccine to localities for highest efficiency.
On behalf of the COVAX mechanism, Dr. Kidong Park, World Health Oganisation Representative in Vietnam, thanked France and Italy for providing the vaccine to Vietnam through COVAX, noting that so far, Vietnam has received 11.7 million of COVID-19 vaccine doses via the mechanism.
For his part, French Ambassador to Vietnam Nicholas Warnery said that France's donation of 672,000 COVID-19 vaccine doses to Vietnam manifests the solidarity and mutual support with Vietnam in difficult time as well as the successful and long-term cooperation in health care between the two countries.
Along with financial contributions, France has committed to sharing 60 million COVID-19 vaccine doses through COVAX in 2021 with an aim to pushing back the pandemic in the world, he said.
Paolo Epifani from the Italian Embassy in Vietnam lauded Vietnam's efforts to control COVID-19, adding that he hopes 812,060 doses of COVID-19 vaccine provided by Italy will help speed up vaccinations in Vietnam.
So far, France and Italy have been the leading providers of COVID-19 vaccines to Vietnam among EU countries./.
NA Standing Committee discusses State Audit Office's performance, work plan
The National Assembly (NA) Standing Committee gave opinions on the 2021 performance report and the 2022 audit plan of the State Audit Office of Vietnam (SAV) on September 14 morning.
As of August 31, audit agencies nationwide had deployed 144 of the 211 planned audit teams, with 108 teams finishing their tasks and 83 audit reports issued. The audits were basically carried out on schedule and achieved the set targets, according to Chairman of the NA's Committee for Financial and Budgetary Affairs Nguyen Phu Cuong.
The SAV discovered and proposed settlement of many violations related to the management and use of public finance, transferred five cases showing crime signs to police for investigation, and proposed the amendment of 205 documents that don't match legal regulations or the reality.
It has also achieved encouraging outcomes in enhancing cooperation with foreign partners and performing many other tasks.
However, the Financial and Budgetary Affairs Committee also pointed out that the issuance of the 2021 plan on corruption prevention and control was slower than expected while the implementation of some focal duties for this year has yet to be fully analysed or reported.
It requested the SAV to boost IT application, build a database with sufficient and precise information for the audit sector, improve the quality of auditing activities, and reform working methods as required in the strategy for SAV development by 2030.
Regarding the orientations and tasks for 2022, the committee asked the SAV to build and issue solutions, farm out tasks, and specify a road map for duty performance right from the year's beginning.
NA Chairman Vuong Dinh Hue spoke highly of the SAV's report and the committee's verification report, asking for more attention to the mobilisation, allocation, and use of resources for the COVID-19 fight, along with the preparation, distribution, and disbursement of capital sources for basic construction at the central and local levels./.
PM hands over appointment decision to Vietnam News Agency's General Director
Prime Minister Pham Minh Chinh on September 14 handed over a decision appointing Vu Viet Trang as General Director of the Vietnam News Agency (VNA).
The ceremony was also attended by Deputy PM Vu Duc Dam, Minister of Information and Communications Nguyen Manh Hung and representatives from relevant ministries and agencies and the VNA's departments.
On behalf of the Government, PM Chinh congratulated Trang on her appointment, saying she is the first female leader of the State-run news agency.
The appointment reflects not only Trang's efforts in her career but also the VNA's personnel reform, the PM said, expressing his hope that she will continue to outstandingly complete her assigned tasks.
On this occasion, PM Chinh asked relevant ministries and agencies to coordinate with the VNA and its General Director in the common work, helping the VNA carry forward its role as the strategic news agency of the Party and the State.
Vu Viet Trang, born October 16, 1969, graduated from the Vietnam National University - Hanoi, majoring in English, in 1993.
She started working at the VNA in 1993 as a sub-editor at the News for Foreign Service Department.
In 2004, she was promoted to head of the English Desk at the News for Foreign Service Department and Assistant to the Department's Director.
In 2005, Trang was appointed Deputy Director of the Editorial Secretariat and External Relations Department of the VNA.
She became Director of the Editorial Secretariat and External Relations Department in 2011.
On November 17, 2017, Trang was appointed Deputy General Director of the VNA by the Prime Minister.
During her career, she has been awarded the Prime Minister's Certificates of Merit several times, for contributions to the coverage of the APEC Leaders' Meeting and related meetings in 2006 and the communication drive on the 12th National Party Congress in 2016, for outstanding work performance in 2018, and for her role in the communication drive on the Vietnam ASEAN Year 2020.
She was admitted to the Party in 2000, and has been a member of the VNA's Party Committee since 2014 and a member of the standing board of the VNA's Party Committee since 2015./.
Hanoi on track to meet adult vaccination target
Hanoi is expected to fulfil its target of inoculating residents aged 18 and above against COVID-19 with at least one dose of vaccine on September 15, municipal Party Secretary Dinh Tien Dung has confirmed.
He told the media that as of 6:30pm on September 13, Hanoi had administered 4.3 million doses of the 5.3 million allocated to the capital city.
Dung took the occasion to thank the nearly 8,000 medical workers and students from 12 neighbouring provinces who have been dispatched to assist Hanoi in its mass vaccination and testing campaign.
He asked the city's agencies to work with the health department and provinces' delegations to take advantage of every minute to complete the vaccination as scheduled.
The municipal Party leader also requested district authorities to step up measures so that the people will visit vaccination sites on time and strictly follow COVID-19 prevention guidelines at such sites.
For its part, the health department was directed to get shots into arms as soon as the vaccines are available in order to fulfil the target as scheduled.
Supporting foreigners amidst COVID-19
The unexpected COVID-19 pandemic has caused difficulties for many people, including foreigners living and working in Vietnam. In addition to having their jobs affected and incomes reduced, many of them don't have relatives or close relationships in Vietnam for support in urgent situations.
Following the motto "leave no one behind" and ensuring health and safety for everyone, without discriminating against domestic or foreign people, the Vietnamese Party, State and Government have issued guidelines and policies on promptly supporting foreign citizens in Vietnam who are facing difficulties due to the pandemic.
The community has also made practical moves to help international friends. A story went viral in April 2020 when a foreign teacher in Ho Chi Minh City stood at a street corner with a signboard calling for help as he had lost his job and was living in difficulties due to COVID-19. Many people in Ho Chi Minh City reached out to help immediately, causing the foreign man to be "overwhelmed by the compassion and generosity of the Vietnamese people".
The story shows that the country and people of Vietnam always care for and are willing to help those in need, whoever they are. Over the past two years since COVID-19 broke out, foreigners living and working in Vietnam have received help in various forms, from food donations and medical care to vaccination against COVID-19.
Many foreign patients have been treated wholeheartedly by Vietnamese medical staff, helping them escape from death and return to life. Prominently, Vietnamese doctors saved life of the British male pilot, a critical COVID-19 patient in July 2020, which has been highly appreciated by international friends. 
During the fourth wave of COVID-19, many provinces and cities across the country have continued to pay strong attention to foreigners. In Ho Chi Minh City, the authorities have met with and visited foreigners living in the city whose livelihood are being affected by the pandemic to provide necessities, gift packages and vaccination against COVID-19.
The city has also launched call centres in five foreign languages at https://bit.ly/SupportForeigner to support foreigners in need.
In Hanoi, many organisations and individuals have provided timely support to foreign students studying at Vietnamese universities. Meanwhile, a programme is being implemented in Binh Thuan Province to present cash and essential goods to dozens of jobless foreigners living in difficulties in the province. Quick response teams have also been set up in localities to provide support to foreigners and share in their difficulties.
These are vivid illustrations of human compassion, the spirit of sharing and mutual support of the Vietnamese people, which provide a source of motivation for the country to battle it out with the pandemic.
Private healthcare facilities need city's support in Covid-19 treatment
According to the plan of prevention and control of the pandemic after September 15, the HCMC Department of Health has called on all the community's resources, including the private healthcare system to participate in Covid-19 treatment. However, there is still not any support policy to encourage private medical facilities to join the fight against the virus.
Hoan My Covid-19 Treatment Hospital has tried to maintain the offer of treatment to about 150 Covid-19 patients for over the last one month.
The hospital transformed from the Thu Duc Hoan My International General Hospital in Thu Duc City is the first private medical facility to respond to the municipal government's call for the private healthcare sector to participate in the fight against Covid-19.
The healthcare unit has put money for the self-installation of medical devices, such as liquid oxygen tank, High-flow nasal cannula (HFNC) machines, kidney dialysis machines, drugs and more.
In addition, the hospital has also offered accommodations, meals and personal protective suits for its medical staff.
The Nam Sai Gon Hospital has also spent a large amount of money on investing medical products and taken a burden of expense of taking care of Covid-19 patients and providing essential services for 300 workers.
Many private healthcare facilities have joined hands with the municipal government in the fight against Covid-19.
According to Director of Ngoc Minh Healthcare Clinic Cao Xuan Minh, the medical unit has organized many testing and vaccination teams. In spite of having temporarily suspend its operation due to social distancing measures, the clinic has spent hundreds of millions of VND to pay salary, purchase of medical products and others since the end of June.
Statistics by the HCMC Health Department show that 63 private clinics are operating in the city. Ten hospitals offering 966 beds were turned into Covid-19 treatment facilities.
An average expense of hospital care for Covid-19 treatment ranges from VND7 million (US$308) to VND30 million (US$1,300) per day, based on mild or severe symptoms. With these costs and without any payment for hospotal services, private hospitals won't be able to hold out much longer if they have not got any support from the authorities.
Medical experts hoped the municipal government and health sector to evaluate the role of the private healthcare sector and create a fairness between the public and private healthcare systems in caring for the people's health and fighting against the pandemic.
The Ministries of Health and Finance should build standards and essential services for Covid-19 treatment in private hospitals that help they publish a list of charges for all given services. In addition, the approval for collecting fees and expenses will be one of the suitable solutions.
The People's Committee of HCMC has proposed the Prime Minister to approve the payment of fees and costs for Covid-19 treatment in private hospitals because of the differences of treatment cost, purchase and investment of medical products and devices between the public and private healthcare facilities.
Source: VNA/VNS/VOV/VIR/SGT/SGGP/Nhan Dan/Hanoitimes  

Dong Nai to ease mobility restrictions, reopen after Sept 20