NEWS HEADLINES SEPTEMBER 11
 New school year ceremony held for terminally-ill children
Nearly 100 children, parents and volunteers at Ho Chi Minh City Oncology Hospital on September 9 attended a new school-year opening ceremony at their special class organised inside the hospital.
This is part of the special classroom for cancer child patients and Thuy's Dream Programme.
Nearly 50 child patients have attended the new school year ceremony. In the past 10 years, the programme has received 1,200 children who have been patients at the Oncology Hospital. At first, it was only a playground for the children then the volunteers start teaching first-grade pupils. After that, the programme was opened for first to ninth-graders who had to take a leave of absence from schools.
Many people said they were moved after seeing the children without hairs or lost a limb enjoying the day with their intravenous needles.
6-year-old Nguyen Le Thao Nhi said she was happy to be able to attend the ceremony at the hospital. She was admitted to the hospital right on the national new school-year ceremony day. She already lost one leg but is very lively.
Another child patient, Bach Ngoc Tieu Vy loves studying and works hard to catch up with the programme at school. The classroom has become her favourite place at the hospital.
However, there are still many children couldn't join the ceremony at HCM City Oncology Hospital due to health issues. In the end, they could only watch the ceremony from afar.
HCM City seeks to reduce pressure on treasury to fund infrastructure
District 1 in downtown HCM City.
HCM CITY HCM City is seeking other sources of funds for major infrastructure works to ease the pressure on the public treasury.
Speaking at a recent conference on socio-economic development Nguyễn Thành Phong, Chairman of the city People's Committee, instructed the Department of Planning and Investment to help mobilise funds from private sources for infrastructure.
The city plans to soon start construction of another waste treatment plant using incineration technology to treat 4,000 tonnes of waste a day.
It will ensure that 50 per cent of solid household waste is treated using clean technologies.
The figures released by the department show the city needs VNĐ326 trillion (US$14 billion) for infrastructure in 2016-20, but can only raise 52 per cent of that amount.
It means authorities need to find non-public sources to bridge the huge gap, but despite efforts to attract PPP investment, the actual mobilisation remains far below the requirement.
Trần Anh Tuấn, deputy director of the department, told the conference that to maintain its economic competitiveness, the city would require further investment in infrastructure, especially in areas like transport, health, education, and environment.
Like other major cities around the world, depending solely on public investment cannot meet its huge infrastructure and other development needs, according to Tuấn.
Investment in PPP mode requires competitiveness and transparency, and projects should benefit both the city and the private investors.
According to the department, since 2000 the city has signed contracts worth nearly VNĐ70 trillion (US$3 billion) for 22 PPP projects, including 16 in the transport sector and three in infrastructure.
It has plans for another 130 worth nearly VNĐ381 trillion.
The Departments of Finance and Planning and Investment were told to finalise the new cost of the metro line No 1 between Bến Thành Market in District 1 and Suối Tiên Tourism Park in District 9 for ratification by the Government.
The city has advanced VNĐ5 trillion (over $216 million) for the work, and the money has yet to be refunded.
Phong instructed the Department of Construction to take measures to ensure construction works are carried out in an orderly fashion and to sanction violations of laws and regulations.
The Department of Planning and Architecture has been instructed to organise a conference on the protection of landscapes around the Sài Gòn River and the city's canal networks.
At the event, Lê Thị Huỳnh Mai, director of the Department of Planning and Investment, said in the first eight months of this year retail sales were worth over VNĐ747 trillion, up by 11.8 per cent year-on-year.
The city's exports had risen by 8.9 per cent to US$27.2 billion, she said.
According to the Department of Industry and Trade, exports to Taiwan rose by 134.5 per cent, the Philippines by 78.1 per cent, Hong Kong by 20.5 per cent, and mainland China by 18.1 per cent.
In the first eight months the city authorities licensed 28,465 enterprises and firms with total capital of over VNĐ456 trillion.
Hundreds of smuggling, trade fraud cases detected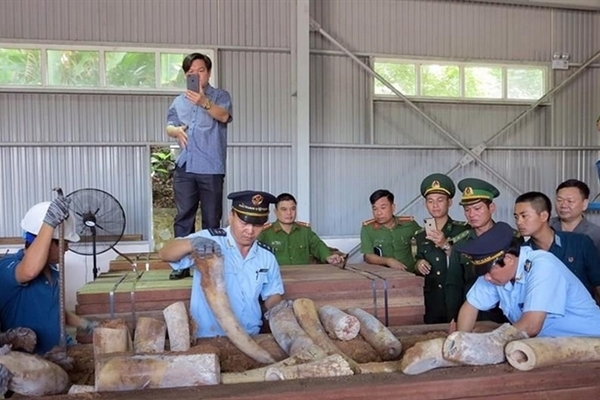 Customs officers check an illegal shipment of ivory. Photo for illustration.
Hà Nội Customs Department has reported that it had dealt with 623 violations in the first eight months of this year, contributing VNĐ48.4 billion (over US$2 million) of fines to the State budget.
Deputy head of the department Nguyễn Trường Giang said at a meeting earlier this week that it had taken measures to curb smuggling, trade fraud and illegal transportation of goods across the border.
In an effort to fight this crime, authorities were reinforcing patrol teams and inspections in key areas such as borders, he said, adding that they had also strengthened investigation capacity in hotspots of smuggling and trade fraud.
Regarding illegal trade in wild animals, the units discovered and seized 141.13kg of rhino horn, over 16.5kg of ivory and 10,375 cigars.
In the last months of the year, the Hà Nội Customs Department would promote reform in import-export activities to facilitate firms' operation and complete the national single window system as well as automatic customs supervision system at Nội Bài International Airport.
BOT investors asked to prepare for automated non-stop toll collection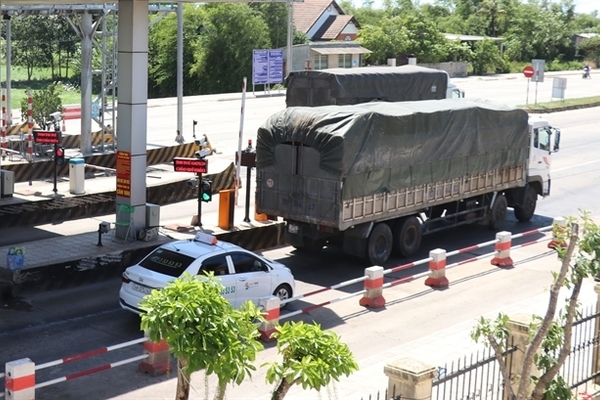 Quảng Trị BOT booth in Triệu Phong District, central province of Quảng Trị.
The Directorate for Roads of Việt Nam has asked Build-Operate-Transfer (BOT) investors nationwide to hand over BOT toll booths before September 25 to implement electronic toll collection (ETC).
The directorate also ordered the investors to develop plans to deal with redundant labour force and properties after the automated toll fee collection system is put into operation.
The BOT investors must work with ETC investors to operate and manage fee collection.
The Road Management Department under the Directorate for Roads of Việt Nam is responsible for reviewing the transfer of toll booths and solutions to deal with labour force and properties. The department has been assigned to report to the directorate before October 7.
For BOT stations of which investors have not submitted required plans, the investors must allocate their own budgets for management after toll collection is shifted to ETC.
Decision 07/2017 issued by the Prime Minister required BOT investors on National Highway No 1 and the section of Hồ Chí Minh Expressway running through the Central Highlands to transfer all toll booths to fee collection service providers to prepare for ETC. The deadline was December 31, 2018.
Investors of BOT booths constructed after January 1, 2019 must transfer the booths to service providers after they are put into operation.
The deadline to apply automated non-stop toll collection across the country is by the end of this year.
Toll collection of BOT projects failing to apply the automated non-stop toll collection as requested will be suspended.
The transport ministry was tasked to increase inspection and supervision, ensuring smooth operation of automated non-stop toll collection systems.
The ministry is responsible for supporting BOT investors and toll collectors in applying the model, Prime Minister Nguyễn Xuân Phúc said.
Minister of Transport Nguyễn Văn Thể said in June in front of the National Assembly that toll booths will add cameras to monitor traffic and revenues. So far, only 30 per cent of toll stations nationwide have used automated non-stop toll collection services.
In order to pay a toll through the automated system, automobile owners will be granted an e-tag free of charge along with a toll payment account.
The cards are to be placed on the front window of the automobile, and when the vehicle passes a toll collection lane, a Radio Frequency Identification system installed at the toll station will activate a camera to photograph the vehicle's plate number while reading the e-tag.
The toll will be deducted from the driver's account and a text message will be sent to the account holder's mobile phone.
According to the transport ministry, more than 700,000 vehicles were given e-tags as of June.
Health sector detects more than 50,600 new TB patients in the first six months of 2019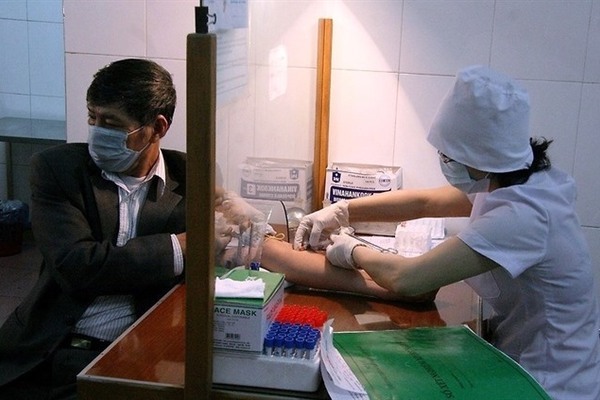 A patient takes a tuberculosis test at the Hải Phòng Tuberculosis and Lung Diseases Hospital. — Photo baohaiphong.vn
More than 50,000 new tuberculosis (TB) patients have been discovered nationwide in the first six months of 2019.
The health sector say that's a detection rate of 52/100,000, but more than 90 per cent of new and relapsed TB patients have been successfully treated.
The figure is a slight increase from the same period last year, according to the latest figures released by the National Tuberculosis (TB) Prevention Programme.
Programme director Prof. Nguyễn Viết Nhung said that they will continue to achieve the objective of implementing tuberculosis prevention in 100 per cent of districts, communes and wards nationwide.
"The percentage of the population covered by the programme has reached 100 per cent," said Nhung.
"The tuberculosis network continues to be expanded and strengthened throughout the country. Currently 48/63 provinces and cities have established lung, tuberculosis and lung hospitals.
"The treatment rate of TB patients with new and relapsed bacteriological evidence was maintained at a high level, 87.1 per cent, meeting the targets set by the World Health Organisation (WHO).
"Some provinces have high cure rates such as Hà Nội (94.6 per cent), Quảng Ngãi (94.9 per cent) and Hậu Giang (97.6 per cent). However, the achieved rate nationwide is still below the National Tuberculosis Prevention Programme's goal of more than 90 per cent," said Nhung.
Nhung said that country has faced many challenges in TB control and prevention, such as the insufficient supply of biological products for testing and drugs and the coordination in public-private health activities remained ineffective, especially the detecting TB among children and prisoners.
"In the future, the programme will continue to carry out activities such as proactive detection of multi-drug resistant tuberculosis, latent TB, pediatric TB, TB/HIV to achieve treatment goals in efforts to reach the goal of successfully cure at least 90 per cent of new and relapsed TB patients," said Nhung.
In addition, Nhung added, the programme will promote active interventions, new initiatives, the application of new technologies and techniques in tuberculosis diagnostic testing, and the application of accurate medicine in diagnosis and treatment.
According to a report from the World Health Organisation (WHO), Việt Nam is still a country with a high burden of tuberculosis, ranked 16th among 30 countries with the highest number of TB patients globally and ranked 13th among 30 countries with the highest MDR-TB burden in the world.
NGO helps disadvantaged children in HCM City get personal documents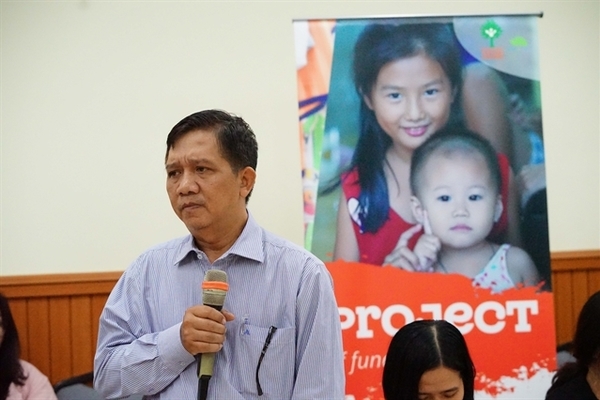 Nguyễn Triều Lưu, head of civil status and citizenship at the city Department of Justice, speaks at the seminar to launch the "New Life Page" project in the period from June 2019 to May 2020 in HCM City on Friday. — Photo courtesy of MSD
An NGO, Research Centre for Management and Sustainable Development, is helping 130 disadvantaged children in HCM City get personal documents, something they might otherwise struggle to do because of their circumstances.
"New Life Page" project seeks to complete the task between June this year and May 2020 with assistance from the city Department of Justice. It gets financial support from the Justice Initiatives Facilitation Fund, a component of the EU Justice and Legal Empowerment Program in Việt Nam.
The project began in 2014 and the centre has so far helped 45 children.
Delegates told a seminar held on Friday to introduce the project that the city has around 1.5 million children, with 350,000 living in migrant and poor households and thousands not having any personal documents.
Without documents, they have no access to education, healthcare, social insurance, or any other public service.
According to Nguyễn Phương Linh, director of the centre, a birth certificate is like a passport for children in their early life and one of the first papers to identify them and help them enjoy the rights of a citizen.
"Through New Life Page, we are proud to support many children. With those papers, children have access to education, public services and social services."
Nguyễn Triều Lưu, head of civil status and citizenship at the Department of Justice, said: "In the process of granting birth certificates to children in special circumstances, we find that families themselves do not fully understand the importance of identification documents, resulting in difficulties in issuing birth certificates for their children."
There was one family that applied for a birth certificate for a 10-year-old child in which the parents themselves did not have any personal documents, he said.
"I hope this project will contribute to raising people's awareness about the importance of having birth certificates for their children, especially disadvantaged families."
The department would always be ready to support special cases so that no child suffers due to the lack of a birth certificate, he added.
Đồng Tháp craft villages do well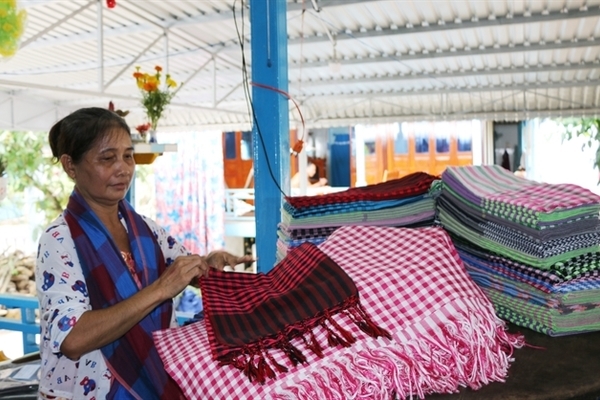 Checkered scarves made in Long Khánh A Scarf Weaving Village in Đồng Tháp Province.
Craft villages in the Cửu Long (Mekong) Delta province of Đồng Tháp operate efficiently, providing steady jobs and incomes to many people.
The province has the largest number of craft villages in the delta - 39 - whose workers produce ornamental flowers and plants, weaving products, processed foods, fine arts products, and others.
These are also popular destinations for both Vietnamese and foreign tourists.
The Mỹ Tân bamboo weaving village in Cao Lãnh City's Mỹ Tân Commune makes baskets and flower pots from bamboo and provides steady jobs to locals.
Trương Văn Dũng, whose family has been making bamboo baskets for more than 10 years, said traders bought the village's products year round.
Each worker in the village earns VNĐ3 – 4 million (US$130 - 170) a month from making the baskets.
The Định Yên sedge mat weaving village in Lấp Vò District's Định Yên Commune, which has been recognised as an intangible national cultural heritage, has more than 3,000 workers.
The Sa Đéc flower village in Sa Đéc City, one of the country's largest such villages, has more than 2,300 households growing flowers and ornamental plants on an area of more than 500ha.
The households earn an average of VNĐ200 million ($8,610) per hectare per year.
Võ Thanh Tùng, chairman of the city People's Committee, said measures had been taken to promote linkages in growing flowers and ornamental plants, increase the value of products and develop tourism.
In recent years the province has taken many measures to develop and revive craft villages, including providing vocational training and financial support for craft villages to buy equipment and machinery.
Besides mechanising their production, crafts villages have diversified their products to meet market demand.
The Sa Đéc rice flour making village has expanded production to an industrial scale, has more than 2,000 workers and produces around 50,000 tonnes of rice flour a year.
Its flour is sold nation-wide and exported to Southeast Asian countries.
The Long Khánh A Scarf Weaving Village in Hồng Ngự District has been revived and is developing well, with locals diversifying their products and using mechanised looms to increase capacity.
Established more than 100 years ago, the village used to produce traditional checkered black and white scarves, but declined in 2000 – 12 in the face of intense competition.
The village then started making checkered scarves in other colours and improved their design to make them beautiful and fashionable.
The changes restored the attraction consumers used to have for them.
Besides, the village also began to make handbags, neckties, hats, and other products from its weaving cloth.
It has 120 mechanised looms with 200 permanent workers and produces nearly 1.5 million scarves a year.
They are sold mostly in the delta, HCM City and Cambodia.
According to Đặng Lệ Thủy, who has woven scarves for 30 years, the village produces year round but the busiest time is before Tết (the Lunar New Year) and the fourth lunar month.
Nguyễn Phước Thiện, deputy director of the province's Department of Agriculture and Rural Development, said the target was to develop craft villages by getting them to adopt advanced techniques and diversify their products by 2020.
This would improve their quality and competitiveness, he added. 
Agricultural restructuring raises farmers' incomes in Bình Thuận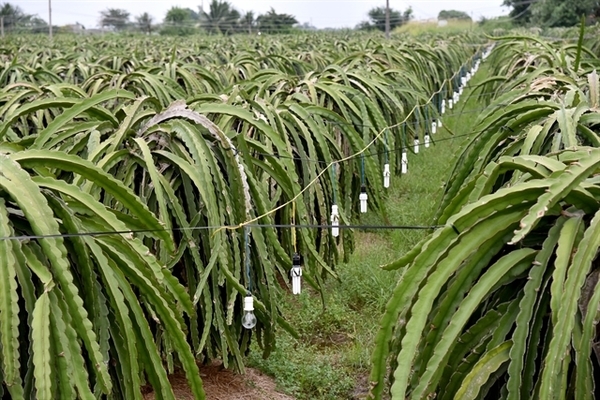 Dragon fruit is a key agricultural product in Bình Thuận Province.
The restructuring of agricultural production in the south-central province of Bình Thuận has achieved positive results as more rice farmers have switched to high-value crops in drought-prone areas, earning higher incomes.
More than 3,000ha of ineffective rice fields were used for other crops last year, saving irrigation water in drought-prone areas, according to the province's Department of Agriculture and Rural Development.
Tuy Phong, one of the province's districts that restructured agricultural production, has unfertile soil and the lowest rainfall in the country.
Under the province's agricultural plan targeting sustainability, which was launched six years ago, district farmers began to grow other high value plants including dragon fruit, grape, mango and coconut.
In the district's Bình Thạnh and Phong Phú communes, farmers have planted high value fruits such as mango and king orange on a total area of 80ha.
In the district's Vĩnh Hảo and Vĩnh Tân communes, farmers have planted 300ha of Java olive trees and earned high income from harvesting the sap.
The district has also developed its salt making areas to 540ha. Farmers have produced clean salt by using plastic sheets to cover the beds of salt fields.
Farmers have also been encouraged to breed cows and goats.
Huỳnh Văn Điển, chairman of the Tuy Phong People's Committee, said the district has restructured agriculture towards value addition. "The district has focused on switching to drought-prone areas," he said.
The district's farm economy now produces quality products that meet market demand, according to the district's Agriculture and Rural Development Bureau.
Most farms in the district have an average income of VNĐ500 million – VNĐ1 billion (US$21,500 – 43,000) a year.
The province, which has mountainous, coastal and flat plain areas, has more than 670,000ha of agricultural land.
However, the competitiveness of the province's agricultural products is still low as high-tech production last year accounted for about 5 per cent of its agricultural produce value.
Mai Kiều, director of the province's Department of Agriculture and Rural Development, said the province would restructure production in combination with the use of high technologies.
The province is building a 2,000ha high-tech agriculture zone in Bắc Bình District which will grow high-value dry crops such as vegetables, garlic, onion, medicinal plants, food plants, fruits and other plants.
The department has provided farmers with advanced farming techniques and good agricultural practices (GAP) standards and encouraged them to apply VietGAP and GlobalGAP standards.
The province, the country's largest dragon fruit producer, has more than 10,000ha of its 30,000ha of dragon fruit planted to VietGAP standards.
It has also more than 264ha of dragon fruit planted to GlobalGAP, according to the department.
The province has 30 co-operatives that grow, buy and process dragon fruit, with most of them growing it to VietGAP standards.
The province targets growing 50 per cent of dragon fruit under VietGAP standards next year and 70 per cent by 2025.
Dragon fruit and shrimp fry are the province's key agricultural products.
The province, the country's largest shrimp fry producer, has more than 100 shrimp-fry producing establishments, mostly in Tuy Phong District.
It produced more than 13 billion of shrimp fry, mostly black tiger shrimp and white-legged shrimp, in the first half of the year, up 5.5 per cent against the same period last year.
Đồng Tháp farmers grow mango in off-season to stagger supply, sustain prices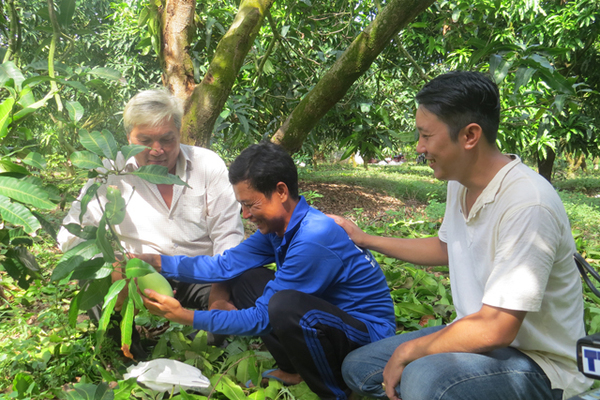 Farmers tend mangoes grown to VietGAP standards in Thanh Bình District's Tân Hòa Commune in Đồng Tháp Province. – Photo baodongthap.vn
Đồng Tháp Province, the Cửu Long (Mekong) Delta's largest mango producer, is staggering its production of the fruit to improve farmers' incomes.
The province has 9,648ha under mango, almost a fifth of the delta's total mango area, and grows 127,000 tonnes, annually.
Of this, 6,300ha produce the fruit in the off-season, according to the province's Department of Agriculture and Rural Development.
Prices in the off-season are often VNĐ10,000 per kilogramme higher than in the main season.
The province has developed six models for growing clean mango on a total area of 416ha in Cao Lãnh District and Cao Lãnh City.
Đoàn Thanh Hiền, a member of the Mỹ Xương Mango Co-operative in the district, was one of the first to grow clean mangoes in the off-season.
"This model helps stagger supply over the year and reduce oversupply," Hiền said.
Besides, it provides farmers with 1.5 – 2 times the normal income.
The main mango season is April-May.
Nguyễn Phước Thiện, deputy director of the department, said the province had a number of solutions to restructure agriculture, which include fruit farming models such as growing mango in the off-season.
The province would continue to restructure mango production and instruct farmers in techniques to grow the fruit in the off-season to meet export quality standards, he said.
Đồng Tháp's mangos are exported to Japan, Australia, South Korea, and the US.
Its main varieties are Cát Chu and Hòa Lộc, which account for 70 per cent and 20 per cent of the farming area.
More farmers in the province are growing the fruit to good agricultural practice (GAP) standards like VietGAP and GlobalGAP.
Farmers use bags to cover the fruits on around 85 per cent of the growing area.
The province has eight co-operatives and 29 co-operative teams that grow mango under contract for processing companies.
Trần Quốc Đạt, head of a mango co-operative team in Thanh Bình District's Tân Hòa Commune, said his 1.3ha orchard had been VietGAP-compliant for nearly two years.
He set up the co-operative team together with three neighbours.
Phan Thị Như Quỳnh, an agricultural official in Tân Hòa, said more than 45ha of the commune's 230ha of mango were compliant with VietGAP standards.
Most farmers were aware of the demand for quality mangoes and so join hands to grow them, she said.
Commune authorities have called on companies to sign contracts with farmers to ensure outlets for their fruits.
Đồng Tháp grows 181ha of mango to VietGAP standards and 43ha to GlobalGAP standards.
It harvested 76,450 tonnes in the first half of this year. 
Vietnam Stage Day celebrated nationwide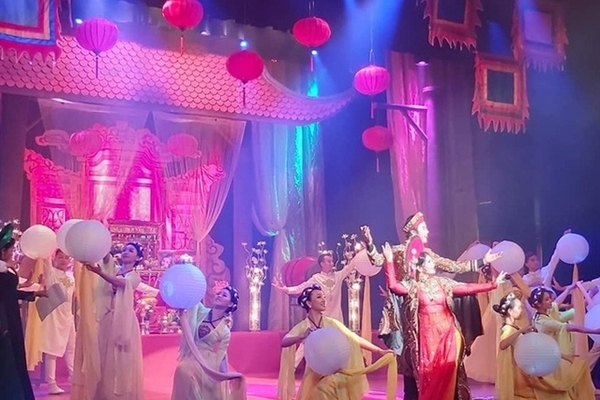 Performances are held nationwide to celebrate the 10th Vietnam Stage Day. — Photo netnews.vn
Artists across the country gathered to pay tribute to the theatre's ancestors who laid the foundations for the national art forms and contributed to their development through the years at a celebration held yesterday.
Organised by the Việt Nam Association of Stage Artists (VASA), the event also aimed to mark its traditional day or the 12th day of the eighth lunar month.
Addressing the celebration, artist Lê Chức, deputy chairman of VASA, said that 2019 is the tenth consecutive year that Việt Nam Stage Day has been organised.
"On the day, theatrical artists nationwide feel proud and pay tribute to their career's ancestors, review the past year to evaluate the achievements, highlight issues and encourage theatrical artists across the country to create more high-quality works, contributing to the cultural life of people," he said.
The VASA honoured older artists who have contributed to the theatre over their careers and awarded the Arts Prize. The participating artists also burnt incense at a ceremony to their predecessors.
A variety of activities have also been held by artists based in HCM City to celebrate the traditional day of Việt Nam's stage.
According to artist Thanh Vy, many artists have jointly held events in various locations. Many ceremonies have also been organised, which demonstrates that Vietnamese artists' profound gratitude to their ancestors, she added.
Endocrinology hospital crucial in treating non-infectious diseases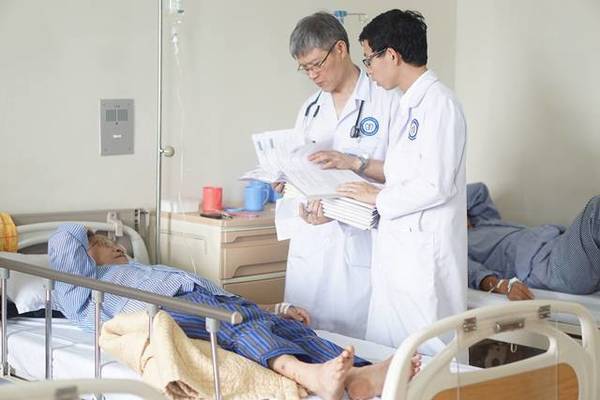 Doctors at the National Hospital of Endocrinology check on a patient. Photo courtesy of the Ministry of Health
The National Hospital of Endocrinology held a ceremony to celebrate its 50th anniversary yesterday and received the Labour Order first class from the Government in recognition of its outstanding achievements and contribution to public healthcare and national construction.
Addressing the ceremony, Deputy Prime Minister Phạm Bình Minh spoke highly of efforts and achievements of the hospital staff in recent years.
"We are proud of the development achievements of the hospital in recent years but the road ahead will be difficult. Việt Nam still faces an increasing number of non-infectious diseases, particularly heart-related diseases, diabetes and cancer," he said.
As a leading hospital in preventing and treating endocrine-related diseases, the Deputy PM urged the hospital to continue its renewal, be creative and strive to treat such diseases, becoming a trustworthy destination for patients and medical colleagues both inside and outside the country.
The hospital also needed to continuously provide training to raise medical workers' professional capacity and skills and strive more in scientific research, he said.
He noted that the hospital should actively provide transfers of techniques to hospitals at lower levels or satellite hospitals.
He instructed the hospital's staff to continue improving health check-up and treatment quality with the motto "all for the satisfaction of patients".
It was also necessary to mobilise social investment to further develop and modernise infrastructure for the hospital, contributing to meeting treatment demands, Minh said.
Director of the hospital Trần Ngọc Long said over the past 50 years, the hospital had gained achievements in many fields, particularly in taking the lead in the national network for preventing and controlling endocrine diseases and metabolic disorders.
The hospital built two establishments with modern equipment and facilities with the participation of skilled medical experts to provide health check-ups and treatment for patients.
From 30 patient beds when it was established in 1969, the hospital now has 1,079 beds for in-patients with more than 900 medical workers.
The hospital successfully carried out many scientific projects, updated advanced technology and increased international cooperation with foreign partners, according to Long.
In 2018, the hospital provided health check-up and treatment for more than 42,000 patients.
EducationUSA Graduate Fair 2019 to be held in HCM City

The US Consulate General in HCM City will hold its first-ever EducationUSA Graduate Fair on September 14 at the Reverie Saigon Hotel in District 1.
This is part of a multi-country fair series, with two stops in Ha Noi and HCM City on September 12 and 14, respectively.
The EducationUSA Graduate Fair gives students the opportunity to interact one-on-one with representatives from 18 accredited US universities offering graduate-level programs, and two educational organisations.
Through discussions with these representatives, students will learn more about the different options available to them in US higher education, including the graduate admissions process and scholarship opportunities for international students, such as the Fulbright Foreign Student programme.
At the fair, students will be able to learn about the student visa process from a US Consular Officer. They can ask questions about the documents required and the interview process, and discuss common mistakes and misconceptions about the visa application process.
The number of Vietnamese students in the US has increased consistently for 17 straight years. Viet Nam remains the sixth leading country of origin for all international students in the US, with more than 30,000 students currently studying there.
HCM City International Marathon 3,000 new entries available
Registration for the TECHCOMBANK International Ho Chi Minh City Marathon 2019 has expanded from its original allotment of 10,000 entries to now a total of 13,000 entries, exemplifying the overwhelming increase for running and fitness in Vietnam. The organizing team at Sunrise Events Vietnam is thrilled to announce that after the initial 10,000 slots were successfully sold out and filled by race participants, another 3,000 slots were made available to allow for even more race participants to sign up for race weekend as a part of the largest and most competitive event in the country.
The Organizing Team has had an incredible amount of support and owes thanks to the Department of Tourism, the Department of Culture and Sports, the Athletic Federation of Ho Chi Minh City who have made it possible to expand the race with these additional slots. Appreciation is also extended to the numerous corporate teams that are taking part in the race.
"The government has given an overwhelming level of support to allow the growth of the event," said Mr. Do Huynh Khanh Duy, Project Director of Sunrise Events Vietnam. "We owe a tremendous amount of gratitude and thanks to the government for helping support the healthy lifestyle movement that is happening in our beautiful and dynamic city. This also allows us to share this city with more foreign visitors to promote sports tourism in Vietnam overall."
The event begins on Friday, December 6th, 2019, with the "Marathon Village," which offers fun activities for the entire family with exciting exhibitors, live music performances, clinics, special talks and food and beverage offerings. The marathon (42.2km), half-marathon (21.1km), 10km, 5km and Kid's Run, for young athletes aged 5-14, will take place on Saturday December 7th and Sunday December 8th, making for a fantastic weekend of fun, health and fitness. All participants who complete the run within the specified time limit will be awarded an official finisher medal from the Organizing Committee.
"Running has never had a greater following in Vietnam, Techcombank is therefore honored to support an event that so avidly promotes athleticism, health and well-being," said Mrs. Nguyen Thi Van Anh, Chief Marketing Officer of Techcombank. "Seeing that thousands of participants have already registered is an inspiration for all of us here at Techcombank, and we look forward to encouraging more runners than ever to 'Be Greater Together' at this iconic weekend of competition."
This year's event will also serve as the only qualifying event in Vietnam, for the inaugural Abbott World Marathon Majors Wanda Age Group World Championships in 2021. The fastest overall Vietnamese male and female are guaranteed invitations to this seminal event, where they will represent Vietnam among 150 other nations from around the world.
The athletes participating in the Techcombank Ho Chi Minh City International Marathon 2019, who finish, will have an opportunity to change their lives as well as those around them. Participants that complete the race within the stipulated time period, the organizing committee will make a contribution of 10,000 VND – per 1 kilometer finished– made to the designated race charities.
The Techcombank Ho Chi Minh City International Marathon 2019, organized by Sunrise Events Vietnam, takes participants through vibrant Ho Chi Minh City, with a course that passes through historic and modern landmarks, ending with a sweeping view of the Ho Chi Minh City skyline at the breathtaking waterfront finish line.
This event would not be possible without the strong support of the Ho Chi Minh Department of Tourism, the Ho Chi Minh City Department of Culture and Sport and Ho Chi Minh City Federation of Athletics along with strategic partner Techcombank and finish line venue sponsor, Empire City. To register and for more information on the Techcombank Ho Chi Minh City International Marathon 2019, please visit www.marathonhcmc.com.
Multi-level marketing firm accused of cheating hundreds of people
A multi-level marketing company headquartered in the Central Highlands province of Dak Lak has been accused of swindling hundreds of people across Vietnam.
The police have received petitions from 319 people from 24 cities and provinces nationwide, denouncing Hoang Gia Company for defrauding them for a total of around VND30 billion (USD1.3 million).
The case was started early this year when a man whose name was kept in secret laid a charge against Do Thanh Tam, Hoang Gia Company for playing a trick on him.
According to the man, in February, he was invited to contribute capital into the company's Hoang Gia project.
The company was depicted as being large in scale, and operating in different areas with many branches across the country. So an investment would guarantee huge profits within a short time.
He then decided to pour VND144 million (USD6,262) into the project. However, after that, he did not receive the profit as pledged.
Dozens of other people, including those who even pumped into nearly VND1 billion into the project, were also in the same situation with him.
Another person in Buon Ma Thuot City, Dak Lak, invested up to VND864 billion (USD37,565) into the project since March last year.
Under the contract signed with the company, he would receive VND1.7 billion, consisting of both profit and the initial investment, after that, but until now he had been paid just VND500 million.
The company had delayed the repayment for dozens of the people on numerous times, reasoning their financial difficulties.
Colonel Nguyen Thi Xuan, deputy director of Dak Lak Department of Police said that the company's website domain was registered in Vietnam, but has different IP addresses in the US. The department has asked the Vietnamese People's Supreme Procuracy to co-operate with the US in the investigation.
Meanwhile, according to the company's website, it was voted among top 100 Asia-Pacific outstanding brands in 2017.
RMIT partners with Sovico and Vietjet in aviation training
A strategic partnership was formed on September 9 between RMIT University, the Sovico Group, and the Vietjet JSC to improve the quality of Vietnam's workforce in aviation, management, and engineering.
The signing ceremony took place in the presence of Mr. Tran Hoai Nam, Deputy General Director of HDBank and Vice President of Vietjet, Mr. Nguyen Thanh Hung, Chairman of the Sovico Group and Vice Chairman of Vietjet, and RMIT Vice-Chancellor and President Mr. Martin Bean.
"This partnership is set to build on RMIT's standing as Australia's largest aviation training school and truly highlights its strong industry connections," he said. "This collaboration will help us provide superior, industry-ready graduates who will go on to be future leaders in Vietnam's aviation industry."
"We are proud to work with great partners and lead in the region through our specialist courses in science, technology, aviation, and aerospace engineering."
With this new partnership, new-age carrier Vietjet Air looks forward to elevating the quality of human resources in aviation in response to the airline's trajectory in international expansion and standardization, while the Sovico Group will focus on developing its core mission of providing products and services in finance, banking, aviation, real estate, and manufacturing that live up to international standards and contribute to the development of the country's economic integration.
The MoU will be effective for a period of five years.
Photos of President Ho Chi Minh on display in Bangladesh
A photo exhibition on President Ho Chi Minh has been held for the first time by the Vietnamese Embassy in Bangladesh in the capital city of Dhaka.
The exhibition, titled President Ho Chi Minh's legacy, took place last week as part of a series of event to celebrate the 74th National Day and the 50th year of the late president's testament.
The two-day event featured 30 file photos provided by Ho Chi Minh Museum telling stories of the late president's three-decade fight for his homeland's independence and friendship between him and his foreign friends on that journey.
It was expected to help international friends and Bangladeshi people know more about the Vietnamese leader's great life and career.