Vietnam News Headlines (September 10th)
All the Vietnam news you need to know for September 10, 2019.
Huge bomb uncovered in Quảng Bình Province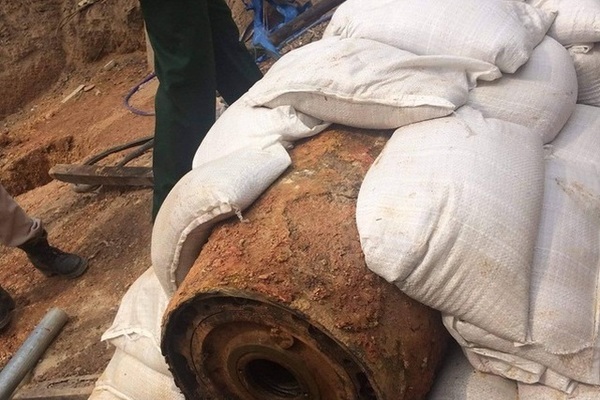 The 343kg bomb found during construction of a house in Quảng Bình Province's Quán Hàu District in March. Photo dantri.com.vn
A bomb weighing more than 300kg was uncovered on Sunday by electrical workers in the central province of Quảng Bình.
The bomb, reportedly left over from the American war, was found on the banks of Long Đại River crossing Quảng Ninh District 's Trường Xuân Commune
Upon receiving the information, local authority have reported the incident to the provincial Military Command.
To ensure the safety of residents, authorities blocked the location and warned people not to approach until it has been defused. A team was deployed to monitor the area through the night.
Earlier this year, the provincial Military Command successfully defused a 343kg bomb in Quán Hàu District.
It is estimated that about 800,000 tonnes of unexploded ordnances were left across Việt Nam after the war ended in 1975 with a high concentration in central provinces.
Fish die en masse in Hà Tĩnh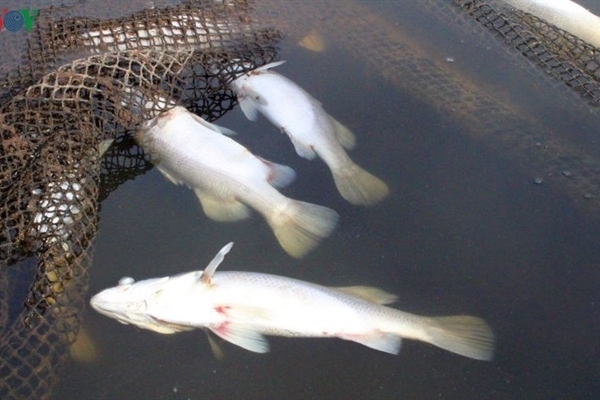 Fish died en masses during the past two days in Hà Tĩnh Province. — Photo vov.vn
An investigation has been launched after 85 tonnes of fish died since Sunday in Thạch Sơn and Thạch Đỉnh communes of Thạch Hà District.
The information was released by Nguyễn Văn Sáu, head of the district's Division of Agriculture and Rural Development in the central province of Hà Tĩnh.
The fish belonged to 61 households. The damage is estimated more than VNĐ10 billion (US$444,000).
Concerned organisations and local authorities on Monday took samples of the fish to search for reasons of the incident.
Local authorities banned farmers from selling fish until it is safe to do so.
Đặng Thị Thu Hoàn, deputy director of the Hà Tĩnh Department of Animal Health, said the department also took samples of the fish for analysis.
After a typhoon, the province has severe hot weather since last Saturday. An official from the Hà Tĩnh Department of Animal Health said the changing environmental atmosphere might be reason of the incident.
Sea dyke damaged by typhoon in Hà Tĩnh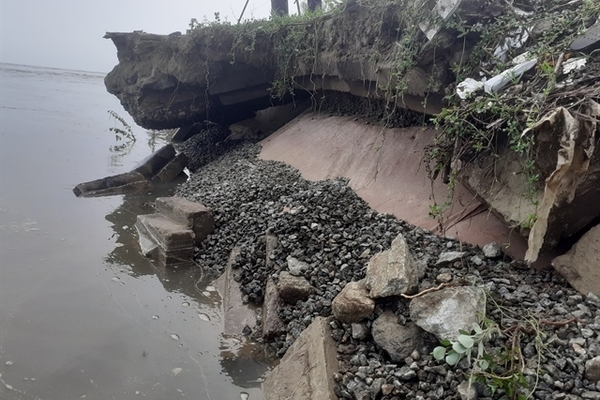 The dyke was damaged in Thịnh Lộc Commune, Lộc Hà District in the central province of Hà Tĩnh. — Photo doisongphapluat.vn
About 200m of sea dyke in the central province of Hà Tĩnh was hit by serious erosion after a recent typhoon, said Trần Văn Nghĩa, chairman of the Thịnh Lộc Commune People's Committee.
Nghĩa said that the committee had sent a report on the issue to the Lộc Hà District People's Committee and the Hà Tĩnh Department of Agriculture and Rural Development.
The eroded part is about 9km from the communes of Thịnh Lộc, Thạch Bằng and Thạch Kim in Lộc Hà District.
Construction of the dyke cost more than VNĐ300 billion (US$12.9 million). It was completed in 2015 to prevent sea water from encroaching the mainland.
However, it has been damaged by recent server weather, especially the 200m part in Yên Điềm Village in Thịnh Lộc Commune.
"The dyke system is very important because it protects 1,500 households living inland. The dyke also blocks waves. It is necessary to repair it," he said.
In the short term, Nghĩa proposed to use iron cages containing rocks to stabilise the base of the dyke.
Leaders of the provincial Department of Agriculture and Rural Development on Friday checked the dyke to come up with a proper solution.
Deputy director of the department Nguyễn Bá Đức said the department would soon develop a plan to improve the situation.
"Innovate like a Swede" contest launched in Hanoi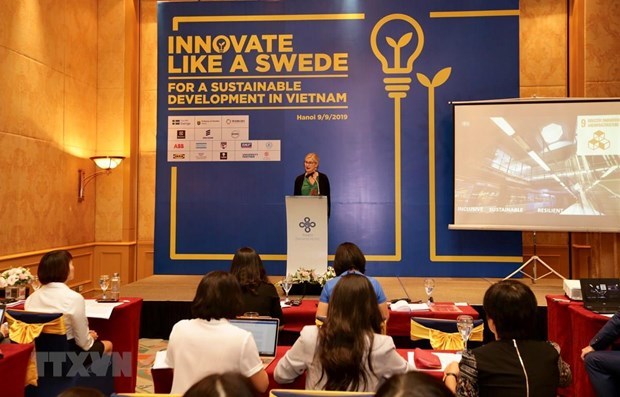 At the launching ceremony
A contest entitled "Innovate like a Swede" was launched in Hanoi on September 9, aiming to encourage Vietnamese youths to raise initiatives and innovative solutions to challenges in sustainable development.
The annual contest also responds to the United Nations Sustainable Development Goals (SDGs) by 2030.
Addressing the launching ceremony, Swedish Ambassador to Vietnam Ann Mawe said innovations and creativity are significant to Vietnam's path towards the SDGs.
The deadline for submission is November 19. Participants will form teams of two and their initiatives will be assessed based on whether the entries are innovative, creative, feasible, sustainable and commercially viable, as well as on what kind of lasting impact they will have.
The first prize is a trip to Sweden to visit headquarters of Swedish companies and Uppsala University.
Sweden was ranked second in this year's edition of the Global Innovation Index announced in July.
Meanwhile, Vietnam has jumped three spots to the 42nd position out of 129 world economies in the index.
Over 200 children receive cleft lip, palate jaw checkups
A doctor checks a boy's cleft lip
More than 200 children are receiving free-of-charge cleft lip and palate jaw examinations in the south central province of Phu Yen.
The children are from south central and Central Highlands provinces. The programme, which lasts from September 9-11, was conducted by 40 doctors from the Ho Chi Minh City National Hospital of Odonto-Stomatology, the Hanoi National Hospital of Odonto-Stomatology and the Vietnam-Cuba Friendship Hospital.
After examining the children and consulting with their families, the doctors will choose the kids most in need and conduct free-of-charge surgery.
The children receiving surgery must be at least six months old and weigh at least eight kilogrammes.
The Operation Smile Organisation and the Vietnam Sika sponsor the programme.
Doctor Le Trung Nghia, head of the medical team, said to prevent defects, women must keep healthy during pregnancy and avoid stress and hard work.
Phan Dinh Phung, Vice Chairman of the People's Committee of Phu Yen province, said the programme was especially helpful for poor families.
Phung express his hope that the programme would continue to be carried out in Phu Yen and neighbouring provinces.
He expected the doctors would transfer surgery technology to local doctors so that they can conduct surgeries for children themselves.
Project launched to boost ties in threatened species conservation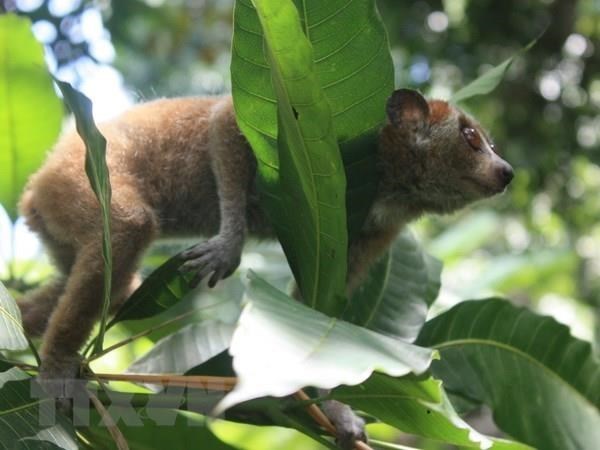 A pygmy slow loris at the Hon Me wildlife rescue centre in the southern province of Kien Giang
The Vietnam Environment Administration (VEA) and the World Bank (WB) launched on September 10 a project on strengthening the partnership in the conservation of endangered species in Vietnam.
This project is part of a global partnership programme on wildlife conservation and crime prevention for sustainable development funded by the Global Environment Fund through the WB.
The project will be carried out by the Ministry of Natural Resources and Environment from 2019 to 2022 to protect endangered species by reducing threats posed by illegal exploitation, trade and consumption through multilateral cooperation. It will engage joint efforts by domestic and foreign agencies and organisations, including non-governmental and social organisations and the private sector.
Data of the International Union for Conservation of Nature (IUCN) show that over the last 25 years, the rate of species becoming extinct has reached 10 percent. Meanwhile, the World Wildlife Fund pointed out that the population of mammals, reptiles, amphibians, birds and fish fell 60 percent between 1970 and 2014.
According to the Intergovernmental Science-Policy Platform on Biodiversity and Ecosystem Services, at least 1 million species, equivalent to one-eighth of the known species on earth, will disappear within this century if human do not promptly take appropriate actions.
Hoang Thi Thanh Nhan, deputy head of the VEA's department for nature and biodiversity conservation, said Vietnam has taken part in many international and regional initiatives and commitments such as the ASEAN Wildlife Enforcement Network, the London and Kasane declarations on illegal wildlife trade, the East Asia and APEC summits' statements on enhancing cooperation in fighting wildlife trafficking and consumption demand.
The country has boosted bilateral and multilateral cooperation with many countries in the work, she noted, adding that it has also fine-tuned the legal system and stepped up wildlife conservation, law enforcement and awareness raising communication.
However, Nhan admitted, such efforts are still not enough to reverse the downward trend in the species number.
Statistics indicate that the number of wild species and their populations in Vietnam are declining sharply. In the IUCN Red List updated in July 2019, the number of species classified as "near threatened" and above in Vietnam is 700. Surveys in 2016 also proposed 1,211 species, including 600 plant and fungus species and 611 animal species, be included in the Red Data Book, much higher than the 2007 assessment.-
Hanoi's animal health sector well prevents diseases in rainy season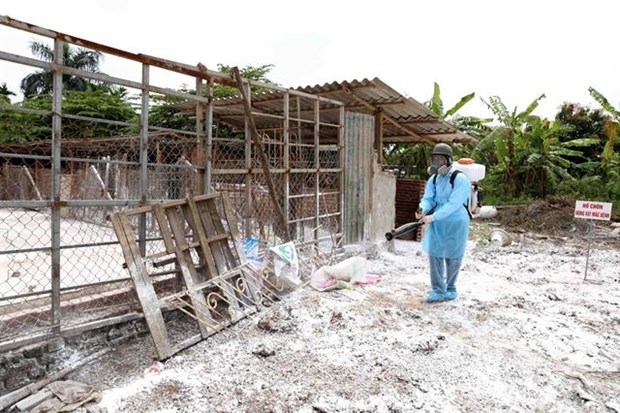 A veterinary worker sprays substances to prevent African swine fever from spreading in Hanoi
Hanoi's Department of Animal Health is joining the fight to prevent diseases among livestock and poultry during the rainy season.
They have delivered more than 41,000 litres of special liquids to be sprayed in affected areas.
The department assigned inspectors to check, supervise and give instructions on sterilisation in different districts and communes.
Districts and towns also contributed with more than 189.4 tonnes of powdered lime worth 337.6 million VND (14,600 USD).
The department said that during rainy season this year, local authorities were well prepared for the challenges ahead.
Vietnam Tuong Theatre marks 60th anniversary
Tuong, the Vietnamese classic drama, originated in the 12th century. (Photo: Bao Khanh Hoa)
The Vietnam Tuong Theatre, formally known as the Northern Tuong Art Troup, celebrated its 60th anniversary in a ceremony at Hong Ha theatre, downtown Hanoi, on September 9.
The Vietnam Tuong Theatre was established in 1959 with only 15 artists to preserve and promote the art of Tuong, the Vietnamese classic drama. The theatre, now home to 120 artists and staff, has won several awards from the State and Party as well as at international festivals for its contributions and performances.
The theatre was honoured by the Government on its 60th anniversary.
Tuong, originating in the 12th century, consists of singing, dancing and music, all of which are highly stylised and symbolic.
Common themes include fealty to kings and patriotic duty, which extend through the play's structure, features, language, music, colour, struggles and the personality of the characters.
Performers wear costumes that sometimes weigh up to 10kg. They use their entire body to dance vigorously and sing powerfully to express characters' emotions.
Vietnam, Japan work to develop antimicrobial monitoring system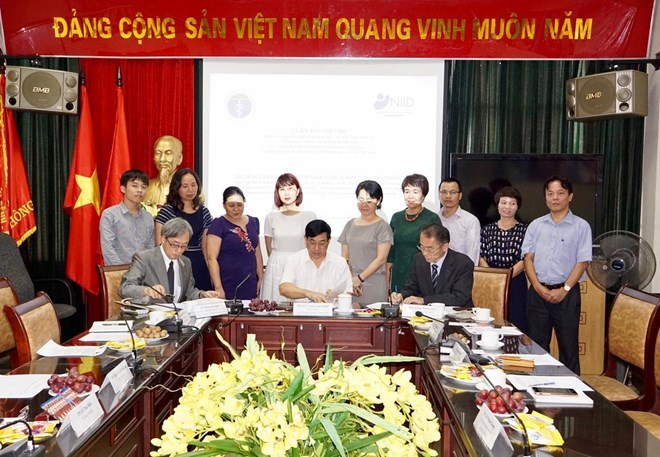 At the signing ceremony (Source: https://suckhoedoisong.vn)
The Health Ministry's Department of Medical Examination and Treatment and the Antimicrobial Resistance Research Centre of Japan on September 9 signed a Memorandum of Understanding (MoU) on cooperation in developing antimicrobial monitoring system in Vietnam.
Under the MoU, the two sides will coordinate to develop an antimicrobial resistance monitoring system in Vietnam, aiming to build a sustainable surveillance structure through developing a software module and a cooperation framework, thus creating a national report on antibiotic resistance and providing feedback on infection control in the country.
Dr. Luong Ngoc Khue, head of the department, said antimicrobial resistance is an increasingly serious threat to public health, requiring action coordination among countries.
Vietnam was the first country in the Western Pacific region that developed and adopted a national action plan on antimicrobial resistance in 2013, he said, adding the country is establishing an antibiotic resistance surveillance network and developing a national database on antibiotic resistance monitoring with the support from a number of international partners.
According to the World Health Organisation, antimicrobial resistance has been recognized as one of the leading global threats to human health in the 21st century due to the spread of antibiotic-resistant bacteria from one country to another.
Globally in 2016, there were 490,000 cases of multidrug-resistant tuberculosis. The drug resistance is starting to complicate the fight against HIV and malaria.
US organisations support disabled, poor people in Thua Thien-Hue
The sponsorships from US organisations are intended to support disabled and low-income people in Thua Thien-Hue
The central province of Thua Thien-Hue on September 9 received assistance from some US organisations to support medical checks and treatment and life improvement for local disabled and low-income people.
Through the "Hearts for Hue" fund, the ROTARY organsation provided the province with 58,171 USD to help improve living standards of disabled and low-income residents through chicken farming in Vinh Thai commune and Phu Vang district.
Meanwhile, the "Vets With A Mission" aided Thua Thien-Hue with nearly 10,000 USD through the province's Union of Friendship Organisations to assist medical checks and treatment for 15 disadvantaged patients with fatal illnesses in Thuong Quang, Thuong Lo and Huong Son communes of Nam Dong district.
Chairman of the provincial People's Committee Phan Ngoc Tho has asked local relevant agencies to use the sponsorships for right purposes and in an effective manner.
HCM City hospitals respond positively to call for reducing plastic waste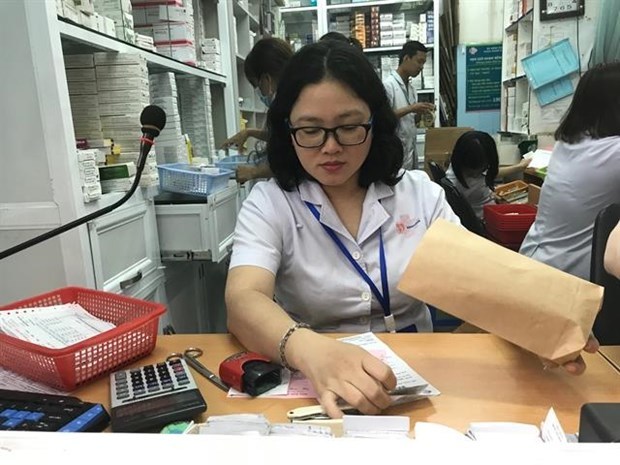 A Binh Dan Hospital pharmacy worker uses paper bags instead of plastic to pack medicines.
At the pharmacy in Binh Dan Hospital in Ho Chi Minh City's District 3, staff use paper bags to pack medicine instead of plastic.
This is a part of the hospital's response to the Government's pledge to rid Vietnam of single use plastic products by 2025 and the Ministry of Health's call to reduce plastic wastes in the health sector.
Holding a paper bag with medicines, To Nguyen Hue Tram of Thu Duc district, who received treatment at the hospital, said: "It is not inconvenient and I like the paper bag which is environment-friendly."
To Van Bay of the Mekong Delta province of Long An, who visited the hospital for treatment, was surprised when hospital staff handed him a paper bag with medicines.
"I am willing to take the paper bag because it is good for the environment."
Dr Mai Ba Tien Dung, chairman of the hospital trade union and head of the andrology department, said many patients are still not familiar with paper bags.
The hospital staff have explained to patients the reasons for replacing plastic bags with paper ones, he said.
Besides, they also encourage patients to use paper instead of plastic cups when drinking water at the hospital, he said.
Paper glasses have been placed by water coolers in the hospital, he said.
"Plastic waste is a consequence of advances in developing convenient medical devices."
For instance, plastic needles and syringes are made to replace glass ones, but used plastic needles are discarded and grow into large piles of plastic wastes which are toxic to the environment, he said.
The hospital's pharmaceutical council advises doctors to use medicines that have the same efficacy in place of shots to reduce plastic waste and the cost of waste treatment, he said, adding it also helps reduce the risk of transmission of diseases.
Nguyen Van Truyen, head of administration at the District 11 Hospital, said the hospital uses self-destructing plastic bags for medicines and X-ray films.
It has paper cups near water coolers for patients to use, and plans to organise an event to encourage patients to limit the use and discharge of plastic bags and bottles in the hospital, he said.
"Many patients and their relatives like the convenience of plastic bags and bottles, so it is difficult for them to stop using them."
The HCM City Oncology Hospital uses paper bags for X-ray, MRI and CT films, and self-destructing plastic bags are used for garbage at the hospital.
In the hospital's canteens, plastic straws and boxes and foam boxes are no longer used, and have been replaced by glass.
At the Gia Dinh People's Hospital in Binh Thanh district, patients are encouraged to carry medicines in their own bags because the hospital is reducing and will soon stop using plastic bags for the purpose.
It has stopped using plastic water bottles, cups, dishes and straws at its conferences, meetings and training courses, replacing with paper and glass.
The hospital has installed water purification equipment and paper cups for patients.
Many other hospitals in the city are also carrying out similar campaigns to reduce plastic waste though the costs are admittedly high.
According to the city Department of Health, there are 6,548 health facilities discarding nearly 30 tonnes of solid medical wastes each day including plastic needles, syringes and others.
Speaking in an online meeting to discuss reduction of plastic waste in the health sector last month, Minister of Health Nguyen Thi Kim Tien said the daily activities of health workers, patients and their family members, and professional medical activities such as packaging and storing medicines, chemicals, equipment, and medical materials generate large volumes of plastic waste.
"Most plastic waste is from plastic bags, which is difficult to decompose, and packaging and items used by patients for carrying food and daily items.
"A quick report from some hospitals showed that about 5 percent of medical waste per day is plastic."
According to European Commission statistics, an estimated 8.3 billion tonnes of plastic products were produced by 2018. Around 6.3 billion tonnes have become waste with five billion tonnes accumulating in the environment or buried.
Every year, 4.8-12.7 million tonnes of plastic waste is discharged into the oceans. 
Vice President hosts disadvantaged youths with outstanding achievement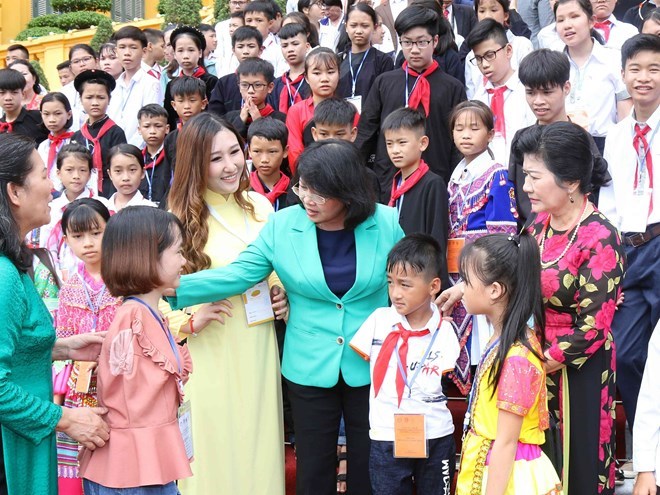 Vice President Dang Thi Ngoc Thinh (in turquoise) and the needy and disabled children
Quang Nam tourism eyes zero plastic waste
Participants discuss at the conference in Quang Nam province on September 9
A conference on sustainable tourism development of the central province of Quang Nam, themed "Zero plastic waste tourism", took place in the locality on September 9.
At the event, participants discussed the importance of sustainable tourism development in the province, solutions to develop green and accessible tourism in tourism value chain and ways to create a start-up and innovation ecosystem in tourism, among others.
They noted that plastic waste has been a global issue, especially in major tourist attractions. In particular, about 240,000 tonnes of garbage is generated in Quang Nam each year, equivalent to nearly 660 tonnes a day.
Quang Nam is currently home to about 630 accommodation establishments, mostly in the ancient city of Hoi An. The province is expected to welcome 8 million visitors by 2020.
However, the fast-growing tourism sector also poses a challenge due to increasing usage of products which take a long time to decompose such as plastic bottles and containers.
Hoi An city has been a pioneer in reducing plastic waste and building environmentally friendly tourism. In the past five years, about 300 litres of used cooking oil collected from restaurants in the city were used to make kitchen soap.
Besides, about 300 kg of single-use soap bars and 1.5 tonnes of used white cloth have been recycled since late 2018.
President of the Quang Nam Tourism Association Phan Xuan Thanh said tourism agencies in Hoi An city have paid due attention to and taken measures to reduce plastic waste.
To make a breakthrough in the campaign, there is a need for alternatives at reasonable prices for local people and accommodation establishments, he added.
Vice President Dang Thi Ngoc Thinh hosted a reception in Hanoi on September 9 for a delegation of 106 needy and disabled children who have overcome their obstacles to achieve outstanding academic performance.
Talking to the youths from seven cities and provinces nationwide, Thinh expressed her delight at their efforts that shine through various financial and spiritual difficulties.
She hoped they will continue moving forward, making their dreams come true and becoming good citizens who make considerable contributions to the national growth.
The vice president took the occasion to praise the operation of the Vietnam Association for Protection of Child Rights in caring for the disadvantaged group, helping them go to school and enjoy a better life.
Stressing that child protection is among key policies for the country to fulfill its development goals, the leader urged public agencies, sectors, social organisations, and schools to care for the younger generations, ensuring that they are educated and no one is left behind.
First patient dies of dengue complications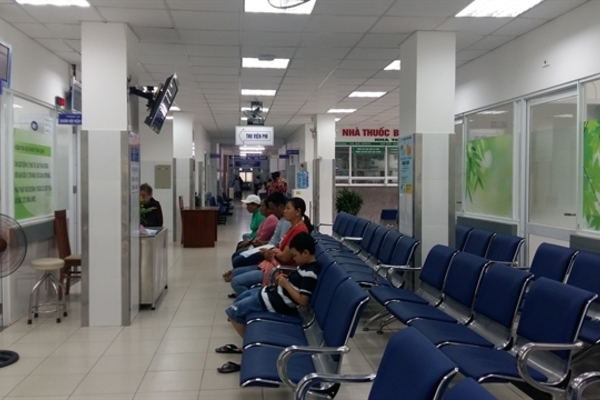 Patients at Đà Nẵng General Hospital. The hospital reported the first death due to dengue complications.
The central city has recorded the first death due to complications from dengue fever, director of the Đà Nẵng General Hospital, Nguyễn Đức Nhân confirmed yesterday, stating that a 28-year-old patient died on September 1 after undergoing treatment for a week.
Nhân said the patient was transferred from the Hải Châu district health centre to the hospital on August 24 in a coma with liver, kidney, heart and lung failure, blood infection (septicaemia) as well as multi-organ dysfunction syndrome.
Nhân said the patient was diagnosed with dengue fever.
The patient had received continuous blood transfusions and intensive care throughout the week. However, she was unable to recover and died due to the fever, serious blood infection and poor immune resistance.
Last week, Đà Nẵng medical authorities reported that 3,800 dengue cases were discovered in the city this year – three times as many as last year.
Vice director of the city's health department, Nguyễn Út said outbreaks of dengue fever often occurred during the rainy season (between late September and March).
The city's health department would officially announce the death later.
According to the department, local residents were warned of rising cases of dengue, and urged to clean their homes and dispose of any standing water to destroy mosquito larvae. 
First phase of Đuống river water treatment plant inaugurated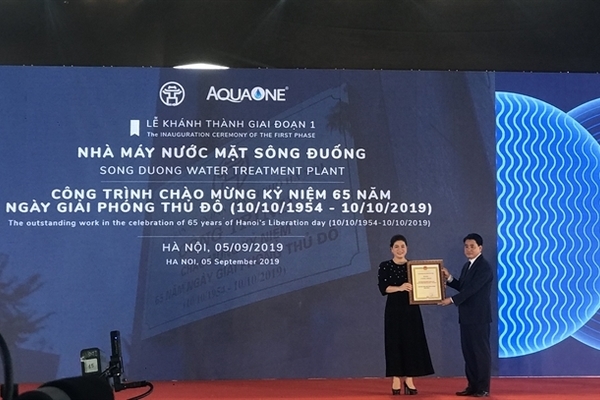 Chairman of the Hà Nội People's Committee Nguyễn Đức Chung awards the certificate of outstanding work in the celebration of 65 years of Hà Nội's Liberation Day to Đuống River Surface Water's chairman.
The first phase of the Đuống river surface water treatment plant was inaugurated last week in Hà Nội with a capacity of 300,000cu.m per day.
The project is in line with the master plan for Hà Nội's Water Supply System to 2030.
This is a regional-scale clean water plant with a total area of 65ha. The investment in the first phase costs around VNĐ5 trillion (US$225 million), with two periods – the first period was inaugurated on October 10, 2018 with a capacity of 150,000cu.m per day. The second has a capacity of 300,000cu.m per day, ensuring sufficient supply of clean water for about three million people, accounting for a third of Hà Nội's population and some nearby localities such as Bắc Ninh, Hưng Yên and gradually replace groundwater sources at high risk of pollution.
Following this period, the project will develop and expand to reach 600,000cu.m per day by 2023, 900,000cu.m per day by 2030, and 1.2 million cu.m per day after 2030.
Speaking at the inauguration ceremony, Chairman of Hà Nội People's Committee Nguyễn Đức Chung appreciated the efforts of the capital city's departments and agencies, People's Committee of Gia Lâm District, especially Aquaone Group and the Đuống River Surface Water Joint Stock Company on completing the project 16 months ahead of schedule, pioneering investment in the most advanced water treatment technology to ensure the quality of clean water.
Chung also proposed the People's Committee of Sơn Tây District further raise awareness of people in each commune and village of benefits of using clean water for public health and sustainable development.
He suggested reviewing and developing a roadmap to gradually stop groundwater exploitation to ensure people can use clean water sources.
Đỗ Thị Kim Liên, chairman of Đuống River Surface Water Joint Stock Company, said the aim and aspiration of Đuống river surface water treatment plant is to bring clean drinking water to all water-scarce areas of the capital and neighbouring provinces.
"If the People's Committee of Hà Nội and other provinces order, every 12 months, we can provide an additional 150,000cu.m of clean water per day and night, to continue spreading the source of life and human values to the community," Liên said.
The project is also awarded the certificate of outstanding work in the celebration of 65 years of Hà Nội's Liberation Day.
Rescued Quảng Nam fishermen return home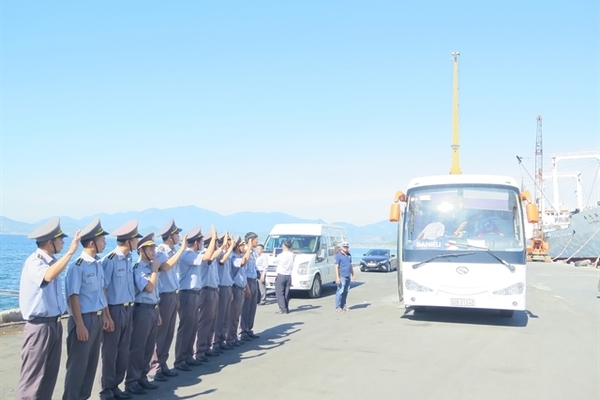 Coast guard officers salute the rescued fishermen.
41 fishermen in the central province of Quảng Nam who were rescued after their ship capsized 35 nautical miles from eastern Spratly Islands on September, returned home on Sunday morning.
At Ba Ngòi Port in Cam Ranh City, Khánh Hoà Province, the coast guard vessel under the Ministry of Agriculture and Rural Development handed over 41 survivors of the fishing boat to their families.
On September 2, while fishing east of Thuyền Chài Island of the Spratly archipelago, the vessel was overturned in rough seas. Another boat operating nearby promptly came to help yet could only save 41 fishermen, three others were lost.
The 41 survivors were then transferred for health checks and brought back to shore on September 5.
Although the Fourth Naval Regional Command have mobilised forces in collaboration with other fishing boats to search for these three victims, namely Nguyễn Tấn Vân, 56, Lê Văn Phường, 49 and Trần Văn Cảm, 55, their conditions remain unknown. 
Quảng Bình police arrest two for trafficking drugs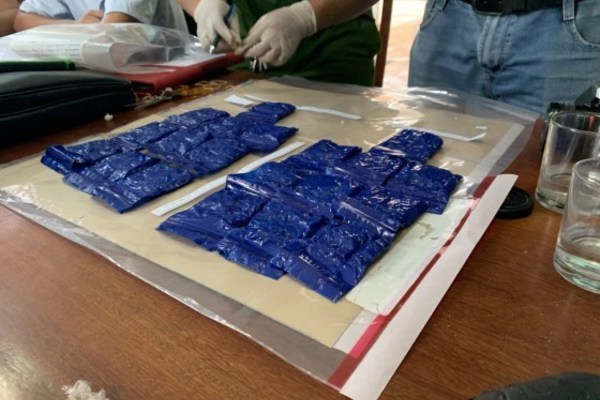 The seized drug pills at the police station. — Photo conganquangbinh.gov.vn
Police in the central province of Quảng Bình said on Sunday they have arrested two suspects for trafficking 6,000 pills.
On Thursday, the local drug investigation and traffic police stopped a car on the National Highway 1A section that crosses Lệ Thủy district. After a search of the vehicle, officers discovered the pills in a black plastic bag.
The car was driven by a man born in 1991 and residing in Bắc Lý ward, Quảng Bình's Đồng Hới city.
The suspect admitted he was hired by another man to transport the drugs from the neighbouring province of Quảng Tri's Đông Hà City to Đồng Hới City in Quảng Bình.
The second man, born in 1991 and residing in Đồng Hới City's Đức Ninh Commune, was arrested later.
The case, which involves a drug trafficking ring that has long been followed by local police, is under further investigation. 
New students get scholarships in new-school year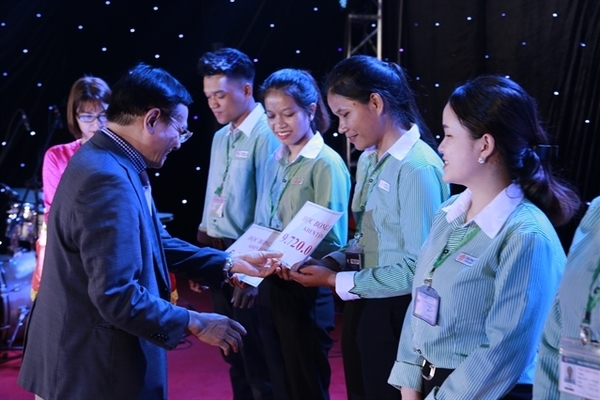 New students receive scholarships in the new school year at Đà Nẵng-based Đông Á College. Nearly US$1 million scholarships were donated to young students.
A Japanese business scholarship and employment foundation has been established providing support for students in central region.
The scheme offers a total scholarship of VNĐ12 billion (US$521,000) and more than 6,000 jobs.
The plan involves 82 Japanese enterprises that signed co-operation agreements with the Đà Nẵng-based Đông Á College.
It will help support Vietnamese students with cost, accommodation, Japanese language lessons, cultural and vocational experience, Kurato Suganuma, chairman of Suganuma Group said at the announcement in Đà Nẵng on Monday.
Đông Á College alone presented 279 scholarships worth VNĐ10 billion ($434,000) to new students in the 2019-20 school year.
Thirty nine other new students were beneficiaries of $20,000 scholarships from the Winning Philippines School and Vietnamese businesses.
The Sakura Foundation also presented VNĐ4.7 billion ($204,000) for new students in 2019-20.
According to the college, 2,000 new students from central Việt Nam were enrolled for four-year courses in nursing, information technology, hospitality, automobile and engineering.
Partners from Japan, Germany, Singapore and Malaysia agreed to employ 3,000 graduated students from central Việt Nam working in Asia and European countries from 2022.