VIETNAM NEWS HEADLINES OCTOBER 25
Lawmakers to mull over three draft laws on October 25
Lawmakers are discussing the draft law on amendments and supplements to several articles of the Criminal Procedure Code via videoconference during the second session of the 15th National Assembly on October 25 morning.
Prosecutor General of the Supreme People's Procuracy Le Minh Tri will explain several issues raised by deputies.
At the end of the morning sitting, the legislators will discuss in groups the revised draft Law on Insurance Business, which comprises eight chapters and 156 articles, and specifies seven groups of policies adopted by the Government under Resolution No.121/NQ-CP dated December 31, 2019.
Minister of Finance Ho Duc Phoc said the building of the bill aims to fine-tune relevant legal regulations, step up administrative reform in insurance business, protect legitimate rights and interests of investors and consumers as well as save social costs.
The NA's Committee for Economic Affairs basically agreed with the amendments in the draft law, saying that they will contribute to developing a safe, transparent, sustainable and effective insurance market in conformity with international standards, towards becoming an important channel to provide capital for the economy together with the securities market.
In the afternoon, the legislators are due to look into the draft Law on amendments and supplements to several articles of the Statistics Law.
Minister of Planning and Investment Nguyen Chi Dung will also clarify issues mentioned by NA deputies./. 
Vietnam to implement advanced technologies in water source protection
 
The Ho Chi Minh City Union of Science and Technology Associations has just organized a virtual meeting for businesses of the water industry between Vietnam and Hungary regarding current challenges and solutions to ensure security and quality of water sources in Vietnam.
In the virtual meeting, experts in the water industry of both nations agreed that climate change and limitation in water sources have brought along various tough challenges to water supply services. Therefore, water service businesses need to apply modern technologies to renovate their operation so that the water quality can be improved and the security of water sources can be maintained.
Chairman of Vietnam Water Supply and Sewerage Association Nguyen Ngoc Diep informed that Vietnam, especially the Mekong Delta, is one of the five countries to be severely affected by climate change, leading to significant impacts in socio-economic development. As a result, it is critical that Vietnam closely collaborate with other nations to devise the most feasible technology-based solutions to protect its water sources.
Representatives from Hungary stated that the country has much experience in processing and storing water, changing saline water into fresh one, treating household sewage and waste water from landfills, water facilities construction, and managing river flooding.
With 97 percent of its population enjoying clean water, Hungary is confident to use its strengths in water management to help Vietnam via partnership and investment.
Nearly 73 million Covid-19 vaccine doses administered in Vietnam
An additional 4,045 Covid-19 infections were confirmed in the past 24 hours in 47 localities in Vietnam while the country has so far administered nearly 73 million vaccine doses, the Ministry of Health reported on Sunday evening.
According to the ministry's report, 4,028 of the new patients are locally-transmitted cases confirmed in 47 localities including HCM City (966), Binh Duong (524), Dong Nai (429), An Giang (297), Soc Trang (296), Dak Lak (193), Bac Lieu (155), Tay Ninh (132), Tra Vinh (113), Long An (88), and Kien Giang (83). There were 17 imported patients confirmed today.
The new infections showed an increase of 667 cases compared to yesterday's figure. There were 1,599 infections found in the community.
As of Sunday evening, 884,177 infections have been reported since the new outbreak occurred in the country in late April. Some localities that have recorded the highest number of patients include HCM City (425,121), Binh Duong (228,840), Dong Nai (61,532), Long An (34,227), and Tien Giang (15,626). The outbreak has so far spread to 62 out of 63 cities and provinces nationwide.
With these new infection cases, the number of Covid-19 patients in Vietnam has increased to 888,940. The country now stands 40th among 223 countries and territories worldwide in the number of infections.
On October 24, an additional 1,314 more patients recovered from the disease, raising the number of recoveries in the country to 805,978.
On Sunday evening, a further 53 deaths related to Covid-19 were announced, bringing the total number of fatalities in Vietnam to 21,673. The deaths were reported in some localities including HCM City (30), Binh Duong (12), Dong Nai (5), Long An (2), An Giang (2), Tay Ninh (1), and Bac Lieu (1).
Vietnam today administered more than 936,739 million doses of Covid-19 vaccines. The country has so far conducted over 72.92 million Covid-19 vaccine shots, with over 21.04 million people having received two doses.
Scientific seminar on great Italian poet held
The Vietnam Academy of Social Sciences (VASS)' Institute of Literature and the Italian Embassy in Hanoi co-organised a scientific seminar on Italian poet Dante Alighieri on the occasion of his 700th death anniversary.
Scientific reports at the event affirmed the value of Dante Alighieri's Divine Comedy and his position in human culture as well as Italy's culture and literature in particular.
On the occasion, the institute together with the Italian Embassy and the VASS's Social Sciences Publishing House released a new version of the Inferno section in Divine Comedy, which is one of the literature initiatives in the action programme signed by the two Governments in May within the framework of the Italy-Vietnam strategic partnership.
Born in 1265 and passed away in 1321, Alighieri was a great Italian philosopher, a statesman, writer and poet of the Late Middle Ages. He pioneered the Renaissance art movement and made a great impact on the world culture and literature.
In Italy, he was known as a "Supreme Poet". His epic poem Divine Comedy is considered the greatest literary work composed in the Italian language and a masterpiece of the world literature. With 14,226 lines, the work is divided into three parts, including hell (Inferno), purgatory (Purgatorio) and paradise (Paradiso), each consisting of 33 cantos and an initial canto.
Dubbed as a Bible of the Middle Ages, the work played an important role in founding the literary language and cultural identity of Italy./. 
Nội Bài airport ensures COVID-19 safety to welcome back passengers
Nội Bài International Airport is preparing the best conditions to ensure COVID-19 safety when it welcomes back a large number of passengers as things gradually ease back to normal, according to the airport authority.
Following a decision by the Ministry of Transport issued on Wednesday, domestic flights are set to resume to full capacity by the end of November. Since Thursday, all airlines have opened ticket sales on most domestic routes and plan to resume their activities to the level before the fourth outbreak, by the end of next month.
As the second biggest airport in the country, on a normal day before the latest outbreak, Nội Bài accommodated thousands of people and hundreds of flights, and thus is considered a very high risk area.
The airport authority said all necessary measures are in place to ensure COVID prevention and control to prepare for the restoration of business activities.
Nguyễn Thị Kim Ngân, Deputy Director of Nội Bài International Airport told Việt Nam News: "Nội Bài International Airport has a centralised management system at the Airport Operation Control Center to coordinate activities of all units at the airport, with 2000 surveillance cameras that continuously transmit data to us.
"We can monitor the entire movements of passengers through that camera system and this helps us quickly track the movements of F0 cases when they are detected so that all units operating at the airport can carry out pandemic prevention and control measures according to regulations." 
"As soon as passengers or family members enter the terminal, there is an automatic temperature checking system, which is monitored by security staff to ensure 100 per cent of passengers and family members when entering the terminal do not have temperatures exceeding 37.5 degrees," Ngân added.
"Anyone with temperatures above that will be refused check in, and the security staff will coordinate with the emergency medical staff to handle them according to the pandemic prevention and control procedures."
A system of infrared temperature checks combined with hand sanitiser is also installed at all security check points as well as boarding gates.
To guarantee safety for passengers and staff, 95 per cent of staff members at the airport and 100 per cent of those having direct contact with passengers have been fully vaccinated, Ngân added.
"All staff have to make health declarations before starting their daily shifts and are fully equipped with pandemic prevention equipment in accordance with regulations of the Ministry of Health," Ngân said.
According to the Ministry of Transport decision, passengers who are living in or spending time before a flight at a locality defined as at COVID-19 level 4 (very high risk) must present a negative test result within 72 hours before the flight.
This also applies to those living in medical isolation areas or passengers departing from Tân Sơn Nhất and Cần Thơ airport.
Other passengers need to meet one of the three conditions as follows: having a certificate of two doses of COVID-19 vaccine; or having a certificate of recovery from COVID-19 or a hospital discharge certificate not older than 6 months; or having a negative test result within 72 hours.
All passengers must make medical declarations and complete a commitment paper on COVID-19 pandemic prevention before check-in.
Ngân said to ensure smooth flights and help reduce the risks of virus transmission due to overcrowding, passengers should prepare well in advance before going to the airport.
"In the future, when flights are restored, check-in staff will have to do a lot of steps to check all necessary documents for passengers. Therefore, passengers' cooperation is very much needed," she said.
"Everyone should prepare in advance anything that can be prepared at home, such as online check-in, automatic health declaration, filling out a form on committing to preventing COVID-19 pandemic to submit to medical staff, and other papers such as certificates of two doses of vaccine, to make sure that you have everything needed before going to the check-in area to avoid wasting time and unnecessary congestion." 
Information Security Webinar in 2021 takes place
The Southern Information Security Webinar in 2021 presented the overall picture of information security in Vietnam and the world, warnings, and recommendations for agencies and businesses in the context of digital transformation simultaneously the fight against the Covid-19 epidemic. 
The Southern Information Security Webinar in 2021 with the topic "Information Security in Digital Transformation, New Challenges and Opportunities" by the Vietnam Information Security Association (VNISA), the Information Security Department, and the Department of Information and Communications of Ho Chi Minh City, took place on October 23.
This is an important annual event that always attracts the attention of science and technology circles in the fields of information technology and information security.
Vice President of Vietnam Information Security Association (VNISA) in the South Tran Minh Triet highlighted that Vietnam jumped 25 positions ranking 25 out of 194 territories and countries in the Global Cybersecurity Index (GCI) in 2020, a significant jump of 25 places from its previous GCI rank in 2018.
Moreover, the Southeast Asian country's network system is monitored at the national level, technology and information security play an important role in the fight against Covid-19. He added that other countries in the world soon detected; however, there has been an increase in cyber-attacks and cyber-attacks relating to Covid-19 plus ransomware.
At the event, participants petitioned for improvement of the legal basis for personal information security as well as a general synchronous mechanism between the State and enterprises and between the central and local authorities for detection and handling of problems and develop the country's potential for information security.
All sectors together periodically survey information security throughout the country to have policies and strategies for information security development.
Socio-economic recovery, development scheme should be effective, feasible: PM
Prime Minister Pham Minh Chinh chaired a cabinet meeting on the drafting of a socio-economic recovery and development programme on October 24.
Addressing the meeting, the Government leader underlined that the scheme's scale should be large enough and its implementation duration should be long enough in line with the Resolution of the 13th National Party Congress and the socio-economic development plan for the 2021-2025 period as well as the socio-economic development programme for 2022.
It should be based on accurate and objective assessments and forecasts along with reliable statistics, he stated.
The PM stressed that the programme must have focuses and priorities. For example, in health care, attention should be paid to measures to improve the country's medical capacity from preventive medicine and grassroots health care system to vaccines and treatment activities. Meanwhile, in issues related to social welfare, the focus should be the recovery of the labour market and sustainable poverty reduction.
Regarding economic recovery, the programme should focus on boosting the recovery of businesses and cooperatives and strategic infrastructure development, strengthening the national governance capacity, completing the institutions, speeding up administrative reform, increasing decentralisation and distribution of power, and preventing and combating corruption, he said.
The Government leader underscored that the programme should include careful calculation of resources and flexible adjustments of monetary and fiscal policies, ensuring macro-economic stability and major balances as well as inflation control.
The drafting agency should continue to collect ideas from relevant agencies, he said, noting the need to ensure that the draft programme is effective and feasible in order to create consensus from the public./.
Famed Oc Eo culture set for preservation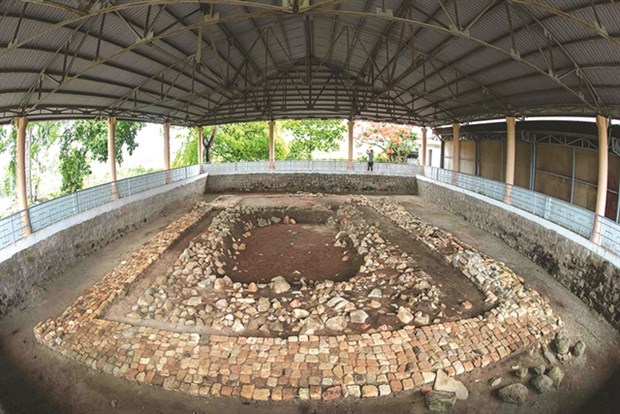 Go Cay Thi B relic in the Oc Eo - Ba The national special heritage site. (Photo: atv.org.vn)
One of the most prestigious archaeological sites in the country is set to undergo a lengthy period of restoration and preservation covering hundreds of hectares across the Mekong Delta.
The Oc Eo - Ba The national relic site in the southern province of An Giang mostly covers Oc Eo Town, Thoai Son District. Parts of the site are over 2,000 years old.
The renowned relic is believed to have been first excavated by French archaeologist Louis Malleret in 1944, and is believed to have been a prosperous commercial port of the once-powerful Phu Nam Kingdom two millennia ago.
Artefacts found in the area show an advanced civilisation with developed arts and crafts including jewellery and pottery making, as well as a system of canals and various temples and tombs built with bricks and stones. Several ancient Roman artefacts have also been uncovered at the site over the years.
Oc Eo culture was at its peak in the southern delta from the first to seventh centuries.
Through several archaeological excavations, Malleret also identified an ancient citadel and identified it as an ancient town, also known as Oc Eo port.
The name Oc Eo was given by him after the location of Oc Eo mound in Thoai Son when this relic was discovered and announced in the early 1940s.
In addition to being found in Thoai Son, Oc Eo cultural archaeological relics were also discovered in Tri Ton and Tinh Bien districts and several other towns in the province.
The relics in the region are extremely rich and diverse in terms of both style and material, giving an insight into the period's religion, residencies, architecture, burial areas, ancient canals and waterways.
With such historical and cultural value, the heritage site has been recognised by the Ministry of Culture, Sport and Tourism as a national heritage site with three clusters of relics, including two monuments of architecture and art. The stone and the four-armed Buddha were certified in 1988, and the two archaeological sites of Nam Linh Son Tu and Go Cay Thi in 2002.
The Director of the Oc Eo Cultural Relic Management Board, Nguyen Huu Gieng, said the new preservation plan was recently announced by the board under the provincial People's Committee's authorisation.
The plan will be implemented over 433 hectares, as identified in the Special National Monument Ranking Profile.
It aims to protect unearthed archaeological discoveries and the site relics, boost research and surveys, as well as expand the scope of archaeology to compile dossiers, edit records and clarify ideas related to the region, especially those connected to Oc Eo culture and civilization.
It also aims to preserve, upgrade and promote the Oc Eo - Ba The special national heritage to become an archaeological research zone to help identify the values of the site, contributing to socio-economic development, culture and tourism.
The plan will also help connect the relic site with important destinations in An Giang and the Mekong Delta region to create specific tourism products in terms of history, culture, tourism, river ecology, rural livelihoods, and tourism.
Gieng said the plan for preserving and restoring Oc Eo - Ba The was approved by the then Prime Minister Nguyen Xuan Phuc.
"This provides a legal basis for removing obstacles and limitations of the previous plan. It is an effective tool for planning management and urban development investment in the area of Oc Eo Town and Thoai Son District," he said.
It is expected that in November 2021, An Giang will hold a ceremony to officially announce the Government's approval of the preservation plan.
According to the plan, a relic site on the foothills of Ba The Mountain (Zone A) with a total of 144 hectares will be targeted including Protected Area I (50ha) and Protected Area II (93ha).
The Oc Eo field area (Zone B) covers 289ha, including Protected Area I (IB), which is 151ha and Protected Area II (IIB), which covers 138ha.
Seeking UNESCO recognition
Deputy Prime Minister Vu Duc Dam has recently assigned the Ministry of Culture, Sports and Tourism to take prime responsibility and coordinate with the Vietnam National Committee for UNESCO to submit a summary report on the Oc Eo - Ba The archaeological site to the UNESCO World Heritage Centre requesting its inclusion on the tentative list of World Heritage Profiles.
The ministry will guide the People's Committee of An Giang to compile a scientific dossier on the relic site in accordance with regulations.
For some time, the ministry has been striving to complete a dossier on the relic site to submit to UNESCO for recognition as a World Cultural Heritage Site.
In late 2012, it assigned the Vietnam Institute for Culture and Arts to complete and submit the dossier to UNESCO. Several workshops have been held to gather expert advice for the dossier.
"The Oc Eo - Ba The special national relic site contains numerous outstanding global values," according to experts and scientists at a workshop to discuss nominating Oc Eo - Ba The as a World Cultural Heritage Site, held by the People's Committee of An Giang in collaboration with the Southern Institute of Social Sciences and the Archaeological Association.
Associate Professor Dang Van Bai, Vice Chairman of the National Council for Cultural Heritage, said that the Oc Eo - Ba The site was proof of the unity of the cultural diversity of Southeast Asian countries.
"This is also a cultural space that has been playing a particularly important role in the meeting, exchanging and acculturating between major cultures in the world (East and West). In addition, the Oc Eo culture is also a link between the two most brilliantly developed civilisations in human history, China and India," he said.
Meanwhile, Prof. Tong Trung Tin, Chairman of the Vietnam Archaeological Association, said that the site showed a strong interaction with other world major cultures such as Buddhism and Hinduism, as well as with Chinese, Middle Eastern and Mediterranean cultures.
Researchers and scientists have highlighted the important role of Oc Eo culture in the formation of ancient nations in the Southern region in the early centuries of the common era.
From the late 1990s to 2011, many research programmes with local funding and international cooperation were conducted at the site. Initial results helped recreate the basic appearance of an ancient city with religious architectural and residential relics, making a significant contribution to promoting cultural heritage.
Vice Chairman of the An Giang Provincial People's Committee Tran Anh Thu said that along with Vietnam's eight other World Heritage Sites that had been honoured by UNESCO, the creation of a scientific dossier for the site demonstrated the country's great contribution to enriching humanity's cultural heritage, creating a national brand, and introducing a beautiful image of the country to the world.
An Giang in southwest Vietnam has an abundance of historical and cultural relics, and authorities and local residents have always paid much attention to cultural tourism.
The Oc Eo site not only receives many researchers and archaeologists but also attracts many local and foreign tourists who come to see what they view as one of the jewels in the country's cultural crown. With convenient transport infrastructure, a mysterious beauty and some of the most brilliant cultural heritage in the nation, the destination will create investment opportunities for those who desire to preserve the site as one of the special features of Vietnam./.
VN to build nine new railways by 2030
Deputy Prime Minister Lê Văn Thành has signed a decision approving the railway system plan for 2021-2030, with a vision to 2050, which sets a target of building nine new railways by 2030.
They will have a total length of 2,362km.
Under the plan, the railway industry will renovate and upgrade existing railways, connect with international transport routes; prepare capital and resources to start construction on new routes, with priority given to North-South high-speed ones and those linking gateway seaports, international airports, and main railways in major cities.
Specifically, the sector will upgrade the seven existing routes with a total length of 2,440km.
The nine new railways include a 1,545km north-south high-speed route connecting Hà Nội's Ngọc Hồi station and HCM City's Thủ Thiêm station, a 102km-long route connecting Hà Nội and northern Hải Phòng Port City, a 103km-long route connecting Vũng Áng Port and the Mụ Gia Pass along the Việt Nam-Lao border, and a 84km-long route connecting southern Biên Hòa City of southern Đồng Nai Province and southern Bà Rịa-Vũng Tàu Province.
They also include a 174km-long route linking HCM City and Mekong Delta's Cần Thơ City, a 128km-long route linking HCM City and Lộc Ninh District of southern Bình Phước Province (from Dĩ An railway station to the Hoa Lư border gate between Việt Nam and Cambodia); and a 38km-long route from Thủ Thiêm Railway Station in HCM City to Long Thành International Airport in southern Đồng Nai Province.
The total capital needed for both upgrading and building railways will be around VNĐ240 trillion (US$10.5 billion).
By 2030, the volume of goods transported is expected to reach 11.8 million tonnes, accounting for about 0.27 per cent of the market share, and the number of transported passengers will reach 460 million, accounting for a market share of about 4.40 per cent.
In order to fulfil the targets, the decision also put forward key measures and policies, including building and issuing mechanisms to encourage, support and create favourable conditions for domestic and foreign individuals and organisations to invest in railway transport and transport logistics services; continuing to attract and effectively use ODA capital sources and preferential loans of international donors in railway projects; socialise investment in railway services and logistics; mobilise all economic sectors, including foreign investors, to invest in means of public transports and construction of facilities supporting transport activities such as goods storage.
Other measures include reducing environmental pollution caused by railway transport activities, particularly in treating wastewater and industrial waste; promoting human resources training; and expanding international cooperation to learn from other countries' experience and science and technology in railway development.
A new storm likely to form in East Sea, hit southern Vietnam
A tropical depression has moved past the Philippines' Palawan island into the East Sea and is likely to gain strength into a storm in the coming days, according to the National Centre for Hydro Meteorological Forecasting (NCHMF).

At 04pm on October 24 the tropical depression was approximately 220km south-east of the Song Tu Tay island of Vietnam's Truong Sa archipelago.
In the next 24 to 48 hours, the depression is forecast to move west and north-west, strengthen into a storm and approach near the southern coast from Binh Dinh to Ninh Thuan provinces.   
The National Steering Committee for Natural Disasters Prevention and Control and the National Committee for Disaster Response and Search and Rescue requested that coastal localities from Quang Binh to Ba Ria – Vung Tau and relevant ministries and agencies keep a close watch on the development of the depression and put their rescue forces on standby.  
The localities were required to make regular contact with fishing vessels and guide them to come ashore, and at the same time reinforce fishing cages before the storm makes landfall.
HCM City drafts plan for urban development along first metro line
HCM City authorities are drafting design and construction plans for urban development along the city's first metro line, aiming to tackle issues such as flooding and congestion and improve the city's landscapes and residents' quality of life.
The Department of Planning and Architecture is seeking experts' opinions on exploiting public land along the route, which extends between Bến Thành market in District 1 and Suối Tiên Theme Park in the new Thủ Đức City. 
With natural landscapes and major cultural and historical works along the metro line, the large land fund along it will be developed into multi-functional and specialised service centres.
Under the draft, about 10 urban development projects will be built along a portion of the line that stretches 14.8 km through 11 wards in Thủ Đức City, according to the department.  
Dr Võ Kim Cương, HCM City's former deputy chief architect, said the urban developments would follow the TOD (Transit Oriented Development) model in which public transport would be connected with urban development to save land and ensure that public transport develops sustainably. 
"The metro line will become the main mode of transport, and there will be hundreds of bus routes connecting its stations with residential areas, industrial parks, universities and research institutes." 
People would be able to walk conveniently and safely on sidewalks, which would be designed with the hot, rainy climate in mind.
Hà Ngọc Trường, vice chairman of the HCM City Port and Bridge Association, pointed out, however, that the draft plan could conflict with previous plans, which would be costly to adjust.
Architect Ngô Viết Nam Sơn said the development of transport infrastructure such as the metro, boulevards and highways would increase the value of land in the vicinity. 
However, previous improper planning allowed many "tiny" houses, he said. Improper urban planning had also resulted in too many concrete buildings and encroachment of water bodies and greenery.
"The city needs to develop a comprehensive urban plan to develop housing that will address the issues," he said.
Trường noted that the public urban railway projects would require huge investments (billions of US dollars) and take a long time to recover capital through ticket sales and other commercial activities. 
Architect Ngô Viết Nam Sơn also said the Department of Planning and Architecture should work with the departments of Planning and Investment, Finance, and Natural Resources and Environment to develop a plan to compensate affected households at market prices. 
When the infrastructure is completed, the value of land will significantly increase and the state can later sell or auction it for investors to operate. "With this option, the city will have more budget to reinvest in other projects," he noted.
Public land within a radius of 800-1,000m of the first metro line and Ring Road No 2 (the section through Thủ Đức City) will be auctioned to help the city recover capital to invest in other public infrastructure projects, according to the department.
Experts recommended that the city earmark more public land along the route for urban beautification in line with the plan to develop Thủ Đức City, and that public transport should be predominant. 
The draft regulation on the management of urban architecture has been submitted by the Department of Planning and Architecture to the city People's Committee. 
With a total investment of more than VNĐ43.7 trillion (US$1.91 billion), the 20-km metro line has three underground stations and 11 elevated stations. 
More than 87 per cent of the route has been completed. That is expected to increase to 91 per cent by the end of the year. The completion date, originally slated for the year-end, has been pushed up to the end of 2023 or early 2024 due to the impact of the pandemic.
Additional 4,045 COVID-19 cases recorded on October 24
The Ministry of Health announced 4,045 new infections of COVID-19, on October 24, along with 53 COVID-19 related deaths.
Among these new cases, 17 were imported and 4,028 were local transmissions. Of these, 1,599 were detected in the community.
The national tally now stands at 888,940, of which 884,177 are the result of the fourth wave of infections that swept the country since late April.
Ho Chi Minh City remained the locality with the highest number of infections of 966, an increase of 217 cases compared to the previous day's figure. It was followed by Binh Duong province with 524 cases and Dong Nai province with 429. The capital city of Hanoi recorded 14 new cases in the past 24 hours.
The 53 COVID-related deaths were in HCM City (30), Binh Duong (12), Dong Nai (5), Long An (2), An Giang (2), Tay Ninh (1), and Bac Lieu (1). The country's death toll is now 21,673.
According to the Ministry of Health's report, 2,899 patients nationwide are in serious condition, with 19 on life support (ECMO).
A further 1,314 patients were given the all-clear on October 24, taking the total number of recoveries to 805,978.
Almost 936.74 million vaccine doses were administered in Vietnam on October 23. The country has now inoculated more than 72.9 million doses of vaccine to date, with over 21 million people fully vaccinated./.
Online hearings necessary to improve court transparency: NA deputies
Organising online court hearings is a breakthrough solution to improve the transparency of court proceedings, National Assembly (NA) deputies agreed on Sunday.
During a session discussing a resolution on organising online court hearings, they said the virtual format would create a driving force to solve cases more quickly, save time and travel expenses.
Deputy Lã Thanh Tân from northern Hải Phòng City said online court hearings was a new form of proceedings conducted on digital platforms. It is necessary to invest in equipment and take cautious steps when applying it. Trial online sessions should be held first.
Hải Phòng City held a trial online court hearing on August 7 and showed positive results, he said, proposing the Supreme People's Court consider piloting the online court model at Hải Phòng City People's Court after the resolution is approved by the NA.
Deputy Nguyễn Thị Yến from Bà Rịa-Vũng Tàu Province agreed that online court hearings were new and need to be piloted for three years. After that, the Supreme People's Court needs to report to the NA for further improvements.
Deputy Lê Tất Hiếu from Vĩnh Phúc Province said complicated cases or cases in which offenders did not admit to their crimes or involved many accomplices need to be held in person.
Online trials should only be for first-instance and appeal trials of civil and administrative cases, he said.
He said current laws did not mention in detail online court hearings, so the organisation must be carefully prepared. Agencies need to be trained before holding the online sessions.
Responding to NA deputies' comments, Chief Justice of the Supreme People's Court Nguyễn Hòa Bình said the feedback delivered at the NA meeting required higher quality for online court sessions.
The Supreme People's Court will listen to all of the feedback and submit annual reports to the NA.
He said the world had prepared the legal infrastructure for online trials in many different ways including adopting a separate law on online proceedings. Việt Nam has issued an inter-sectoral circular between the Ministry of Public Security, the Supreme People's Procuracy and the Supreme People's Court to make preparations for the launch of online court hearings.
The Supreme People's Court will continue to finalise the circular and the NA deputies can give feedback, he said.
He also further explained the online court definition. Accordingly, an online court involves three factors - information technology, humans using such technology and legal infrastructure for the use of IT at the courts.
Speaking to Vietnam News Agency on the sidelines of the NA meeting on Sunday, Nguyễn Thị Thu Hà, deputy head of Quảng Ninh Province's NA delegation, said online court hearings would create conditions for witnesses and lawyers who are far away to connect with the court.
It is also an inevitable trend of judicial activities, following the Party and State's guidelines. It aims to help Việt Nam realise international commitments to complete the building of online courts by 2025 when Việt Nam becomes a member of the Council of Chief Justices in the Asia-Pacific region and the ASEAN Council of Chief Justices, she said. 
Philanthropists donate nearly VND21 trillion to COVID-19 fight
Individual philanthropists and organisations have so far contributed nearly VND21 trillion in cash and kind to the national COVID-19 fight, according to the Vietnam Fatherland Front (VFF) Central Committee.

Nearly VND17 trillion, or 85.5% of the total, has been used to purchase medical supplies and COVID-19 vaccines and presented gifts to frontline forces as well as people in need.
The VFF says it will asked its chapters nationwide to monitor people moving from southern coronavirus hotspots to their home in the central and northern provinces to provide needy people with assistance.
It will continue to allocate mobilized funds and resources for pandemic prevention and control and support people to overcome difficulties.
It will also continue to mobilise individuals, businesses, and organizations to support the COVID-19 Vaccine Fund and COVID-19 Prevention and Control Fund through online payment apps such as Payoo, MoMo and Zalo Pay.
The fourth wave of the COVID-19 pandemic that started in late April has spread to all cities and provinces across the country. More than 800,000 people have been infected with the virus and more than 21,000 patients have died of the disease.
HCM City rolls out red carpet for workers
Workers from other cities and provinces coming to HCM City, which faces a labour shortage, to find jobs will get all kinds of support, city authorities have promised.
Many businesses in the city are in dire need of labour to resume operations after the city eased COVID-19 curbs earlier this month, with the shortage running into thousands, Nguyễn Văn Lâm, deputy director of the city Department of Labour, Invalids and Social Affairs, said. 
Workers would get vaccinated against COVID as soon as they arrive in the city, he told a programme called "Dân hỏi – Thành phố trả lời" (Residents ask – Authorities answer) last Friday (October 22).
The Department of Health is setting up temporary vaccination sites at city gateways and near factories to vaccinate returning workers, he said.
They would be fully vaccinated before going to work in companies or factories, he said.
They would also get vocational training to enhance their skills under a tie-up between the department and vocational schools, he said.
His department has co-ordinated with the Department of Transport to transport people who have registered with their local labour departments to HCM City to work, he added.
Nguyễn Quang Cường, director of the Youth Employment Services Centre, said travel restrictions and failure to get vaccinated are major barriers against returning for of a majority of workers. 
Businesses are taking measures to get employees, who left the city because of COVID, back, including arranging vehicles for them, he said.
His agency is carrying out an employment support programme that offers free consulting and COVID-19 rapid tests for workers and connects them with free places of accommodation and low-rent boarding houses, he said.
It is also liaising with hundreds of businesses who need thousands of workers, he said.
People can get employment information at the HCM City Employment Services Centre and the Youth Employment Services Centre.
More than 600,000 workers returned to their hometown when the city imposed COVID-related lockdowns and restrictions, including 300,000 factory workers, according to a report by the Department of Labour, Invalids and Social Affairs.
Conservation of Royal relics gets approval
Thua Thien-Hue province has approved five projects on conserving and restoring relics within the imperial capital of Hue, with total funding of about 20 million USD.
 
Conservation will be undertaken at Can Chanh Palace and Nam Giao Altar at the Hue Imperial Citadel, the Temple of Literature, and the tombs of Emperors Thieu Tri and Tu Duc.
Under the plan, it is recommended that investors complete legal procedures and consult specialists during project planning so as to ensure effective restoration.
The complex of relics within the ancient imperial capital welcomed thousands of domestic and international visitors each day prior to the Covid-19 outbreak and is one of the province's major tourist attractions.
Visitors to Thua Thien-Hue last year were estimated at 1.68 million, a decline of nearly 65 percent, of which international visitors were estimated at 558,800, down nearly 75 percent./.
The darkest days are over
This week begins with good news: HCM City authorities announced that the country's pandemic hotspot has contained its largest-ever COVID outbreak and is ready to reopen the economy.
The city has also closed some COVID-19 field hospitals located at dormitories and schools as the number of cases has dropped in recent weeks.
Even though the pandemic is far from over, things are looking up. 
With the Government determining to stop localities from setting policies inconsistent with regulations set by the central government, Resolution 128, after more than 10 days since being issued, has brought about relief for any business operating in Việt Nam after a long period of social distancing measures through different directive levels.
The most worrying problem for any country is the fear of resurgence of the pandemic after reopening the economy (and we've known examples of many), but as the level of vaccine coverage among adults in Việt Nam increases, the Government has asked localities to reach a consensus to implement policies throughout the country, getting rid of restrictions even higher than the central government's and causing negative impacts on people's lives, and businesses' operations.
With clear criteria, consistent and transparent application of COVID-19 restrictions, Resolution 128 has allowed localities to identify their risk levels and follow the do's and dont's accordingly.  
By October 21, all 63 provinces and cities nationwide announced their pandemic levels, with 26 of them being "green" – which means they are at low risk of transmission and most activities can resume. As many as 37 provinces are in "yellow" – average risk of transmision. And yes, we have no more orange and red areas.
Authorities in Khánh Hoà and Bà Rịa-Vũng Tàu provinces earlier this week reopened public beaches and restaurants in Nha Trang City and Vũng Tàu City, respectively, with restrictions.
And these localities are not alone.
Northern Quảng Ninh Province took the first steps by cancelling the requirement for people entering the province to show negative PCR (polymerase chain reaction) testing results within the last 72 hours. It also removed the regulation that Quảng Ninh's residents have to have a test before leaving the locality and returning.
Bình Dương Province scrapped the regulation asking workers to have the full two doses of COVID-19 vaccine or putting those coming from other localities in 7-day quarantine.
According to the province's Department of Industry and Trade, the province has allowed businesses to conduct tests and issue certificates for workers to travel, facilitating the mobility of workers and experts between Bình Dương and HCM City. 
Along with that, the province's authorities also helped businesses to access sources to buy qualified COVID-19 test kits at reasonable prices. It is expected that in October, 100 per cent of its workers will be fully vaccinated.
For Hải Dương those coming into the province from localities with risks of level 1, 2 and 3 (green, yellow and orange) don't need to show a negative test for SARS-CoV-2. Only those with suspected symptoms are asked to take a test. 
Firms are now more confident to welcome the workforce returning to their normal business activities while trying to maintain prevention measures at work place and taking appropriate strategies in line with the Ministry of Health's guidance.
As of October 20, Hà Nội has reopened 95 per cent of its industrial zones.
Approximately two-thirds of industries in HCM City have reopened. The number of businesses in export processing zones and industrial parks in HCM City resuming operations has reached approximately 66 per cent, while at the City's Saigon Hi-Tech park the rate is 74 per cent.
By October 15, more than 82 per cent of enterprises in industrial zones in Đồng Nai Province have resumed operation, with more than 54 per cent of their workers coming to work. 
All enterprises in industrial zones in Bình Dương Province have resumed operations, though the capacity has only reached 44 per cent compared to before the pandemic.
Even though a pre-pandemic state might take a long time to come, the darkest days are over. While small outbreaks and COVID-19 variants are possible in the future, the Government's new guidance provides a clear basis to help localities implement pandemic prevention and control measures in a unified, synchronous manner and with minimum impacts on people's health and businesses' operations. 
The business community highly welcome the move. 
Trần Việt Anh, General Director of Nam Thái Sơn Import-Export Joint Stock Company, said that the most important point of Resolution 128 was to help businesses define their operational status more clearly in the new context. 
Việt Anh said at the end of September, he had to make a bold decision to transfer a part of export orders to "rivals" to keep commitments with partners. But at the same time, the difficulty was that businesses did not know the Government's long-term pandemic prevention and control plan to build their own production plans. 
"I couldn't predict when to start production again, so that put my foreign customers in a passive situation as well, it was very likely that they could stop doing business with me and find another supplier. Now that Resolution 128 has clearer regulations, longer-term scenarios can be seen," he said.
Nguyễn Văn Bé, Chairman of the Association of Export Processing Zones and Industrial Zones in HCM City, said that when it was determined to step in to restore production, the most expected thing for businesses was to solve the problem of smooth circulation of goods. 
"Therefore, the introduction of Resolution 128 is very timely, creating a common mechanism for localities, helping businesses quickly go into production and complete the year-end plan," he said. 
Chief Representative of the German Industry and Commerce in Việt Nam (AHK Viet Nam) Marko Walde said as long as the guidelines are national and there is not a different in applying from province to province and between localities the enterprises should have no obstacles in implementing the resolution.
Support in labour shortage
When the lockdowns were lifted, thousands of workers returned to their hometowns for fear of another outbreak and resulting lockdowns. According to the General Statistics Office (GSO), about 1.3 million labourers returned to their hometowns between July and September 15. 
This has posed additional challenges for businesses and factories that want to resume production.
The Government has thus issued and supplemented many policies to support labourers and enterprises.
The Ministry of Labour, Invalids and Social Affairs is making plans to restore the labour market, according to which it will make sure employees can work in safe conditions with full vaccination. At the same time, the Government is also providing transportation from the provinces back to production sites to resume business activity.
The Ministry of Finance has advised the Government to reduce corporate income tax, VAT, personal income tax and waive fines for late tax payment for businesses facing difficulties. This total support package is worth about VNĐ21.3 trillion ($926 million).
Fiscal measures such as extension of loan payment and insurance premium payment, corporate income tax reduction, and exemption of fines on late payment cannot help businesses recover immediately, but they will provide solid support, helping businesses save more cash to maintain production and recover.
Businesses have their own initiatives and efforts in keeping workers, offering incentives such as free COVID-19 tests, hotel accommodation, free meals, and daily stipends to encourage workers to return. They have also given generous benefits to ensure workers remain at their jobs.
As of October 21, 2021, the Ministry of Health confirmed a total of 873,901 cases of COVID-19. However, 796,583 of the affected patients have recovered and been discharged from hospitals. 
The Government is developing a roadmap to fully open up to international visitors by June 2022. The plan will be implemented in phases with a pilot programme for fully vaccinated international tourists to Phú Quốc island in November 2021. This is expected to be followed by Nha Trang, Hạ Long, Hội An, and Đà Lạt in December.
Yet we still need to stay vigilant at the new developments of the pandemic in some countries like China (which had to brace for more COVID-19 curbs as a wave of infections raises concerns of a broader outbreak), Singapore (which has extended COVID restrictions to four more weeks after new daily cases hit a record high), or Latvia, (once seen as coronavirus success story but had just become the first country to reimpose lockdown in Europe's new COVID wave). 
Hopefully, with the vaccine rollout picking up pace and the whole community taking responsibility for their health, we will all return to a more normal existence, soon. 
Goethe supporting project to strengthen bear and nature conservation
The Goethe-Institut, the Centre for Nature Conservation and Development (CCD), and the Vietnamese Center for Wildlife Conservation (Four Paws Viet), have launched a project to raise awareness about ecological protection in Vietnam in the 2021-2022 period.
 
At the press conference for the launch, organisers said the purpose of the project is to find filmmakers who are interested in producing films telling stories about bear and nature conservation in the country.
Nature and wildlife conservation experts know about conservation but don't have the skills to tell their stories on film, the organisers said, adding that the participation of enthusiastic filmmakers is very much needed.
While the CCD wants to make a film on preserving landscapes, animals, and plants, and ensuring sustainable development, Four Paws Viet wants filmmakers to tell the story of the Ninh Binh bear conservation centre, where 39 bears are being cared for.
The organisers have said that two film production groups will be selected. The Goethe-Institut will provide 7,000 euros to the project and also help the films be screened at international film festivals. The films must run for a minimum of 24 minutes and a maximum of 30 minutes, and, more importantly, are required to be creative in their storytelling while respecting the truth. The goal is to spread a message about protecting the environment and nature.
The selection panel includes People's Artist Nguyen Nhu Vu, Director Phan Dang Di, and Screenwriter and Director Nguyen Le Hoang Viet. The results will be announced in December, and the selected filmmakers are to produce their films from January to August 2022./.
Botswana wants to beef up cooperation with Vietnam: President
Botswana always considers Vietnam a close friend and wants to further develop its friendship and cooperation with the Southeast Asian nation, especially in agriculture, health care, tourism, mining, and information-technology, President Mokgweeti Eric Keabetswe Masisi said.
President Mokgweeti Masisi made the statement at a reception for Vietnamese Ambassador to South Africa and Botswana Hoang Van Loi after the latter presented his credentials on October 19.
Loi conveyed greetings and invitations of Vietnamese leaders to President Mokgweeti Masisi to visit Vietnam after the COVID-19 pandemic is put under control.
In reply, the President said he will arrange the visit at a convenient time.
The ambassador affirmed that Vietnam always wants to promote the friendship and cooperation with African friends, including Botswana.
Earlier the same day, Loi presented a copy of his credentials and paid a courtesy visit to Botswana Minister of International Affairs and Cooperation Lemogang Kwape who suggested the two countries increase the exchange of delegations at all levels, especially the high-level ones, and further provide mutual support at multilateral forums, firstly the United Nations.
Botswana and Vietnam should promote negotiations to soon reach cooperation documents necessary to their sustainable bilateral ties, he said, adding that to increase two-way trade, Botswana will consider opening doors for some Vietnamese goods like agricultural products, consumption goods, apparels and electronics.
He also suggested Vietnam increase imports of minerals that Botswana has large reserves and competitive prices.
On this occasion, Loi had working sessions with leaders of the Botswana Investment and Trade Centre and Business Botswana to seek specific measures to connect and assist businesses of the two countries in the time ahead./.
Vietnamese culture promoted at festival in Geneva
The performance of ao dai (long dress) and display of special Vietnamese products, such as silk, handicrafts and souvenirs, have left a deep impression on visitors at Flavours of Asia festival which was recently held at the headquarters of the World Intellectual Property Organisation (WIPO) in Geneva, Switzerland.
It was jointly organised by the Ambassadors' Spouses Association in Geneva in coordination with the Delegation of Asian countries.
The cultural diversity and richness of the Asian region have been vividly and colorfully reflected at the festival through performances of their national costumes, music and arts, and introduction of garment products, souvenirs and cusine.
The Vietnamese delegation in Geneva brought to the festival typical silk and fine art products such as embroidery and lacquer paintings and souvenirs including bronze drums, paper fans, and lanterns as well as the performance of ao dai.
It is noteworthy that the festival was held on the occasion of Vietnamese Women's Day which falls on October 20 so it has become an opportunity for promoting Vietnam's culture and people to international friends.
According to the organisers, nearly 1,000 people took part in the festival. All proceeds from the sale of tickets and products will be donated to the Afghanistan Charity Foundation to support the country's women and children./.
White-blouse female soldiers on the frontlines of COVID-19 fight
Leaving behind their families, female medical workers from Hue Central Hospital in central Thua Thien-Hue province have made significant contributions to Vietnam's fight against COVID-19.
 
Overcoming all obstacles, their sense of responsibility and medical ethics have helped them continue the fight over the course of many sleepless nights.
Like her colleagues, Dr Mai Thi Hong Van worked around the clock to save lives in the COVID-19 hotspots of Bac Giang, Bac Ninh, Phu Yen, Dong Thap and Binh Duong provinces and Ho Chi Minh City.
Living far from her family for nearly two months, Dr Van was among the first medical workers at COVID-19 intensive care units (ICUs) in Ho Chi Minh City at the time when the city was in its most critical period.
Just like her colleagues, Dr Van felt she had more strength and motivation to continue the work after seeing patients make positive steps towards recovery.
The task of treating patients is the same everywhere, and is a dangerous job. This time, many medical workers lived far from their family and were quarantined from society. Many female staff worked on the frontlines even though their children and parents also needed their care.
Van and Bich are just two of many female medical workers from the Hue Central Hospital who accepted the grave danger to help people during the pandemic. From screening, examinations, and making medical declarations to offering nutritional care, taking care of personal hygiene, helping with rehabilitation, and injecting vaccinations, female nurses and doctors successfully completed their tasks with determination and dedication.
Female nurses and doctors have worked continually over the last two years as the pandemic is yet to be stamped out in Vietnam. With ethics and a sense of responsibility, medical workers will do their utmost in the fight against COVID-19./.
Ministry guides administration of Abdala Covid-19 vaccine
The Ministry of Health yesterday issued its guidelines on the administration of the three-shot Abdala coronavirus vaccine which was approved for emergency use.
According to the guidelines, the Abdala vaccine is manufactured at the AICA Laboratories Company, Base Business Unit (BBU) AICA in Cuba with the active ingredient recombinant protein indicated for injection in people aged 19-65 years.
The administration consists of three doses and the interval between doses is 14 days. So far, more than three million doses of the Abdala vaccine have been immunized for people in the community, with very rare cases of anaphylaxis and without deaths or other serious side effects related to vaccination.
On the evening of the same day, the Ministry of Health said that on the day, the National System of Covid-19 Case Management recorded 3,373 Covid-19 infection cases in 47 provinces and cities, including 1,332 locally transmitted cases.
Furthermore, 1,338 people with Covid-19 were discharged from medical facilities, bringing the total number of recoveries to 804,664 people while the Ministry also announced 77 deaths related to Covid-19.
Deputy Director of the Center for Disease Control (CDC) in Hanoi Khong Minh Tuan yesterday said that up to now, the capital city has examined and tested over 3,000 people from southern provinces. Thereby, 32 positive cases who were returnees from Ho Chi Minh City (23 cases), Dong Nai (5 cases), Binh Duong (3 cases), Tay Ninh (1 case) were detected. Of the 32 cases mentioned above, 19 people have got full two doses of the vaccines, 8 people have had one dose, 4 people have not been vaccinated and one person has not been eligible for vaccination.
Quang Nam develops tourism stimulus programme for My Son Sanctuary
According to the Management Board of the My Son Sanctuary in Duy Phu commune, Duy Xuyen district, in Quang Nam province, together with nearby Hoi An ancient town, the world cultural heritage site will focus on improving the quality of its tourism products to attract more visitors now that Covid-19 has been largely brought under control.
 
The new "Dem My Son huyen thoai" (Legendary My Son Night) program is expected to make a positive contribution to preserving and exploiting the intangible cultural values of the Cham ethnic minority and attract tourists, especially foreigners.
Held on the 16th night of every lunar month at My Son Sanctuary, the program will recreate the unique artistic values of Cham culture through traditional ceremonies, Cham folk dances and songs, excerpts from the Rija nugar festival, and displays of Cham pottery and brocade weaving, among others.
A highlight of the program will be story-telling and light shows taking audiences back to the mysterious past of the Cham people.
The new tourism program is hoped to boost tourism in the locality post-pandemic./.
Source: VNA/VNS/VOV/VIR/SGT/SGGP/Nhan Dan

HCM City to offer COVID-19 vaccinations for migrants