VIETNAM NEWS HEADLINES NOVEMBER 3
Vo Trong Nghia wins Dezeen Awards 'Architect of the year'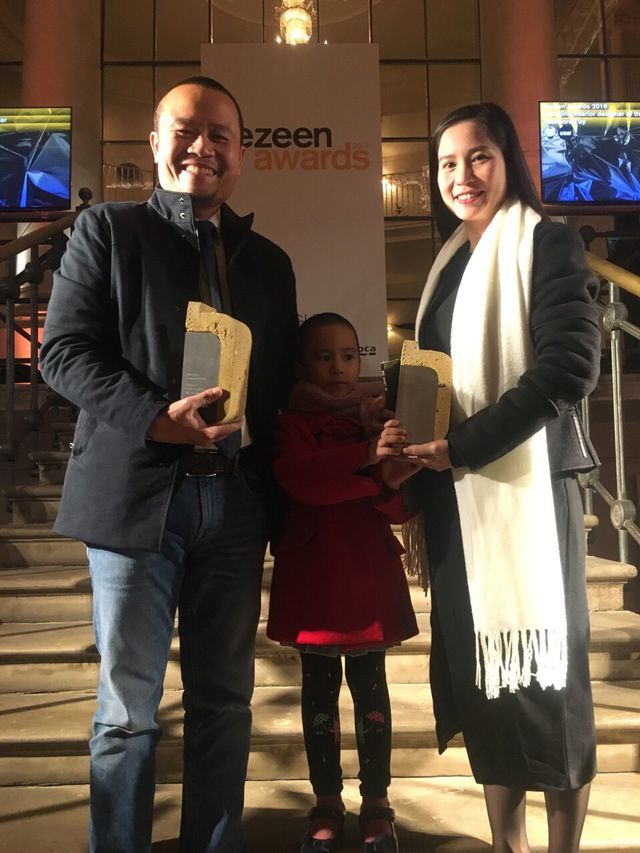 Architect Vo Trong Nghia wins the architect of the year title at the Dezeen Awards 2019.
Renowned Vietnamese architect Vo Trong Nghia has just won the architect of the year title at the Dezeen Awards 2019.
This is an annual awards organised by the Dezeen Magazine.
Participants came from famous architect studios including Mecanoo, ODA New York, Studio Giang, and Syudio Mk27. The judges are leading world architects like Sou Fujimoto, Lydon Neri, Kunle Adeyemi, Sonaii Rastogi and King Liu who would choose the winner based on such criteria as business success, influence, vision, and customers' consent.
According to judges comments, Vo Trong Nghia Architects Studio has an acute awareness of the context that it is working in. Vietnam's past is very much present in the work but it also recognises the modernity of the country. Vo Trong Nghia's projects signify a transition from old to new. The studio has developed its own school of thought and its own techniques.
Vo Trong Nghia Architects Studio was founded in 2006 and has offices in Ho Chi Minh City and Hanoi, working internationally on cultural, commercial, and residential projects.
Recent projects include a series of six triangular concrete pavilions connected by a low block of office spaces for Vietnamese telecommunications group Viettel, which has also been shortlisted in the civic building category.
Courses selling Chinese goods popular in Vietnam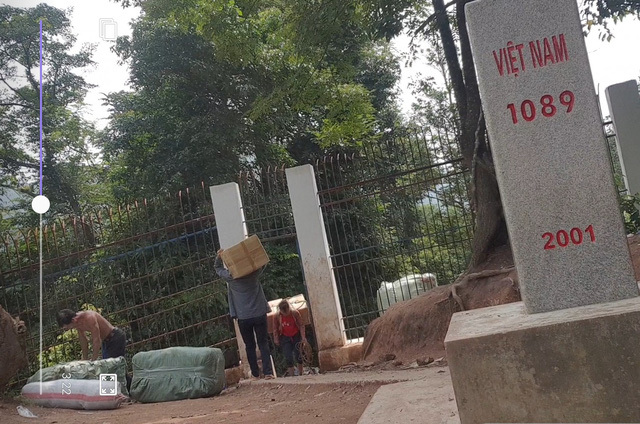 People illegally carry goods from China to Vietnam through a border in Lang Son Province. Photo by giadinh.net
A number of courses are being held to teach people how to sell Chinese goods, including items not officially imported, in Vietnam as a way of making huge profits.
Investigations by the Lao Dong Newspaper showed that with just VND2-5 million (USD87-217), learners will be taught the entire process of importing goods from China to Vietnam via official and unofficial channels.
Such courses are introduced on many social media sites.
According to a trainer of a course, the steps include creating an application on mobile phones to buy goods online from China like Taobao, Tmall, or 1688; making payment via a bank card issued by a Chinese bank; getting goods transported from China through the border.
'Some regular places for gathering goods in China include such markets as Pingxiang in Guangxi, Hekou in Yunnan,' he said. 'We are co-operating with many transport companies to bring goods safely from China to Vietnam. Although most of the goods are illegally transported by unofficial channels, the companies know well how to deal with it.'
Truong Thanh Long, 29, told the Lao Dong Newspaper that she had completed such a course organised by a group of people in Hoang Mai District in Hanoi six months ago.
"After being guided on how to choose the goods and make purchase orders with Chinese partners, I was shown how to transport them to Vietnam," Long said.
"There are two transport options. One by unofficial channel which means goods are illegally brought into Vietnam through borders at night. The second option is via official channels with higher transport fees.'
The man said the course is helpful and he is now starting his business and expect to earn good money.
'Made-in-China goods are very popular in Vietnam thanks to their good designs and cheap prices,' he said. 'So many people are taking advantage of the border between the two countries for the trading.'
Paintings on Russian wedding ceremonies displayed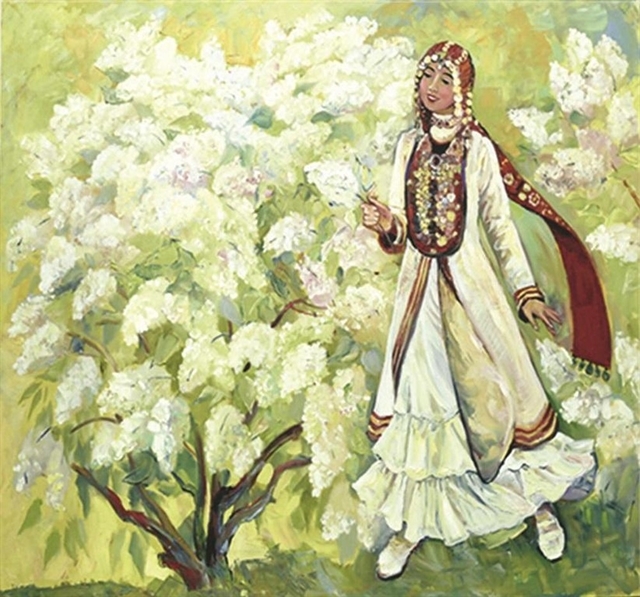 Oil-on-canvas painting entitled Spring Bride by artist V.A. Frolova.
A painting exhibition featuring traditional Russian wedding ceremonies opened on Friday at the Việt Nam Museum of Fine Arts in Hà Nội.
The exhibition entitled 'Wedding Excitement' includes 30 paintings by 20 international artists. The collection is from a contemporary art project which was carried out by the museum in 2019.
"Every nation has its own views and customs for holding a wedding ceremony," said Nguyễn Anh Minh, the museum's director.
"These paintings aim at preserving eternal human values; love and peace in the family; birth and upbringing of children and respect for parents."
An oil-on-canvas painting entitled Spring Bride by V.A. Frolova features a happy bride walking on the blooming flower ground. The Bashkirs ethnic group bridal costume includes red and white colours.
Red represents the warmth of the house and white is seen as a sign of the sun and family happiness. The bride's head is covered with a scarf and she wears a special kashmau hat for married women.
G.N. Petukhov's Wedding in Mari oil-on-canvas painting depicts a wedding ceremony in the Mari El Republic.
During the wedding ceremony in the plains of the Sernur District, the bride wears a hat made of fox fur. The hat is skewed to one side on the bride's head and is centred after the bride is recognised as married woman.
Entitled Wedding of Earth and Sun, the painting by S.Yu. Gorbachev is watercolour and features a man and a woman who represent the sun and earth. According to Slavic legend, the sun warms the earth with its light.
The exhibition is held by Russian Centre of Science and Culture in Hà Nội and Yelabuga State Museum - Reserve of Historical Architectural and Art.
Yelabuga is one of few historical centres in the Republic of Tatarstan.
Attendees at the opening ceremony including Russian ambassador Konstantin Vasilievich Vnukov, Nguyễn Phương Hòa, head of Ministry of Culture, Sports and Tourism's International Co-operation Department and others.
The exhibition runs until Tuesday at 66 Nguyễn Thái Học Street.
Công auctions medal for teen with cancer
World champion and Paralympic winner Lê Văn Công has auctioned his power-lifting World Cup gold medal to help his neighbour's daughter fight liver cancer.
The VNĐ125 million (US$5,400) he received from Nguyễn Thiện, a real estate businessman, on Thursday was given for treatment for 16-year-old Đoàn Thị Bích Hương, his neighbour's daughter in Hóc Môn District, HCM City.
Hương was diagnosed with liver cancer in July. The 11th grader's health has deteriorated and she is unable to move.
The auction accepted bids from October 21 until October 31 via Công's Facebook page.
Hương's mother, Vũ Thị Lài was very moved by Công's action.
"I hope my daughter will have an extraordinary will like Công. She will fight her disease and overcome it," said Lài.
Công is one of Viet Nam's most successful athletes with disabilities and is the world record-holder with a lift of 183.5kg in the men's 49kg class.
Difficulties remain in children abuse prevention, settlement
More than 4,900 children were abused in 2017, 2018 and the first six months of 2019, 80 percent of them suffered from sexual abuse, according to Deputy Minister of Labour, Invalids and Social Affairs (MoLISA) Nguyen Thi Ha.
She was addressing a conference in Hanoi on November 1 to give guidelines for the implementation of the Prime Minister Decision on conducting children support programmes and gather ideas on a national action plan to prevent and combat violence against children in the 2020-2025 period.
Ha said that there are still loopholes in dealing with children abuse cases, especially against boys, adding that children and their parents still lack of necessary skills to prevent children violations and abuse.
The official noted that currently, about 5 million children in Vietnam are living in poverty.
Ha underlined the need to design comprehensive national action programmes in the field and focus resources on the implementation of short-term and long-term measures to solve the problem.
The MoLISA has collected ideas from ministries, sectors and localities on a draft national action plan to prevent and combat violence against children in the 2020-2025 period, she said.
Lesley Miller, UNICEF Deputy Representative in Vietnam, lauded the country's commitments to integrate the development of children in their first years into the National Action Programme for Children, as well as efforts in supporting families to provide children with better nutrition, education and sanitation.
Currently, the UNICEF is working with the MoLISA and relevant agencies and localities to pilot a programme to ensure comprehensive development of children in the provinces of Dien Bien, Gia Lai and Kon Tum, she said.
The project aims to give parents better understanding on children's health and help them access community support, while providing children with basic services in physical and mental health care, she said./.
Trà Vinh promotes super – intensive shrimp farming
The Cửu Long (Mekong) Delta province of Trà Vinh is promoting the super-intensive shrimp farming model since it is efficient and plays an important role in developing aquaculture into a key economic sector.
The model was first tried in the province in 2017 by nearly 100 shrimp farmers together with C.P. Viet Nam Corporation.
The company instructed the farmers in the entire farming process, from building ponds and installing equipment to oxygenating the ponds, breeding density and feeding method.
The farmers bred white-legged shrimp on a total of 150ha of ponds and had a yield of 50 – 55 tonnes per hectare per crop. The model offered an income of VNĐ2 billion (US$86,200) per hectare per crop, 10 times the income from the industrial farming model.
According to Phan Văn Hận, who now breeds white-legged shrimp on an area of 3,200sq.m under the model in Cầu Ngang District's Mỹ Long Nam Commune, his farm has a density of 178 shrimp per square metre.
The model requires farmers to have a large breeding area and make a large initial investment in infrastructure of VNĐ3 billion ($130,000) per hectare.
The model requires ponds for breeding shrimp and treating wastewater, anti-sunlight nets to cover the ponds and plastic sheets to cover their beds and equipment for pumping oxygen and feeding the shrimp.
Trịnh Thị Loan, an agricultural expert in Mỹ Long Nam, has bred white-legged shrimp on 1.5ha under the model for two years and earned a large income.
The model is sustainable since the ponds are covered with plastic sheets to prevent the spread of disease pathogens from soil, according to Loan.
The covering also helps farmers proactively control the quality of water used for raising the shrimp.
This year she expects to harvest around 100 tonnes of shrimp in two crops and earn VNĐ5 billion ($216,000).
Phạm Minh Truyền, director of the province Department of Agriculture and Rural Development, said the model had been expanded to nearly 400ha this year.
It would be a basis for the province to develop its shrimp industry and increase exports to high-demand markets like the US and EU, he said.
The province has identified shrimp, rice, vegetables, tra fish, and coconuts as its key agricultural produce.
Potential
Being a coastal province, Trà Vinh has large potential for aquaculture with 95,000ha suitable for aquaculture, especially brackish-water and saltwater shrimp farming.
The province has 24,000ha of brackish water and saltwater ponds to farm shrimp, including 7,000ha under intensive and semi-intensive farming, and produces 35,000 tonnes annually.
But the average income from shrimp farming is only VNĐ100 – 150 million ($4,300 – 6,500) per hectare per year since most farms areas are small and do not use advanced techniques, according to the department.
Under a plan to restructure aquaculture in 2017 - 25, the province seeks to expand its shrimp farming area to 27,000ha and annual output to 87,000 tonnes next year.
It also plans to expand shrimp output by 5.3 per cent a year in 2021- 25.
To meet the targets, the province will expand its shrimp farming area and adopt advanced techniques to produce high-quality shrimp while also safeguarding the environment.
Đồng Văn Lâm, chairman of the province People's Committee, said both domestic consumption of and export demand for shrimp were high and steady, and so farmers would not need to worry about selling their produce.
The People's Committee had instructed all relevant agencies to assist shrimp farmers in terms of infrastructure and farming processes, he said.
The Department of Agriculture and Rural Development should zone efficient shrimp farming areas and strictly monitor them to adequately support farmers, he said.
The province will prioritise implementation of 25 projects at a cost of VNĐ3 trillion ($130 million), including in infrastructure like irrigation, power and transport for breeding brackish and saltwater shrimp, according to the People's Committee.
It will offer incentives to investors to produce and process shrimp. –
VTF Junior Tour 4 starts in Nghệ An
The Việt Nam Tennis Federation (VTF) Junior Tour 4 – 2019 started on Friday in the central province of Nghệ An.
The event attracted more than 200 players from 14 teams across the country including Bắc Ninh, Hà Nội, Đà Nẵng, Becamex Bình Dương, Ninh Bình and Thanh Hóa.
Participants will compete in the women's and men's singles and doubles in the various age groups.
The event will see the best young talents of the country such as Tất Thái Nguyên (Hưng Thịnh – HCM City), Từ Lê Khánh Duy (Becamex Bình Dương), Phạm Tuấn Long (Đà Nẵng), Trần Thuỵ Thanh Trúc (Hưng Thịnh – HCM City), Phạm Hoàng Hiếu (Đà Nẵng), Ngô Bảo Ngân (Đà Nẵng) and Nguyễn Thị Mai Linh (Hà Nội).
The event is co-organised by the National Sports Administration, Việt Nam Tennis Federation and the provincial Department of Culture and Sports.
It will last until November 9. 
Ninh Thuận expanding jujube cultivation, setting up value chain for fruit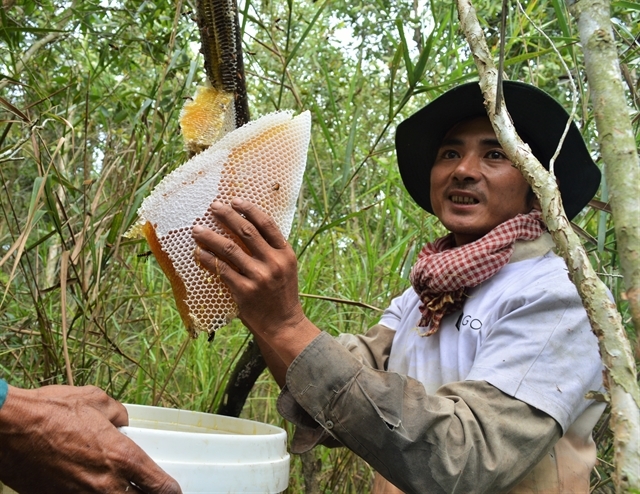 Harvesting jujube in Phước Dân Town in Ninh Thuận Province.
The south-central province of Ninh Thuận, the country's largest jujube producer, is expanding the area under the fruit and developing a value chain for it.
With its hot, dry weather, the province has ideal conditions for growing the fruit.
Many farmers in the province have switched to jujubes from other low-yielding crops under the province's plan to restructure agriculture and adapt to climate change.
Jujubes begin to fruit and are harvested starting one year after planting. The fruits are harvested two or three times a year, and the average annual yield is 40 – 50 tonnes per hectare.
At the current price of VNĐ10,000 per kilogramme, the annual income per hectare is VNĐ400 – 500 million (US$17,300 – 21,600), according to farmers.
Nguyễn Thi, who has a 2,000sq.m orchard in Ninh Phước District's Phước Dân Town, said he harvested nine tonnes in the last crop and earned VNĐ70 million ($3,000).
Traders came to his farm and bought the fruit at VNĐ8,000 – 12,000 per kilogramme, he said.
The initial cost of farming 1,000sq.m of jujubes is around VNĐ25 million ($1,080), including the cost of seedlings and input materials.
The province has 1,020ha under the fruit, mostly in Ninh Phước, Ninh Sơn and Ninh Hải districts and Phan Rang – Tháp Chàm City.
It plans to increase this to 1,200ha next year and annual output to 54,000 tonnes, according to its Department of Agriculture and Rural Development.
Phạm Dũng, head of the province's Plant Cultivation and Protection Sub-department, said value chains comprising co-operatives and co-operative groups are being developed.
The province is also zoning areas that grow the fruit to Vietnamese good agricultural practices (VietGAP) or organic standards, he said.
Many farmers use nets to cover their orchards during their fruiting period to protect them from pests, especially the Mediterranean fruit fly, or Medfly.
The insect causes severe damage to jujubes by laying eggs in them. When the eggs develop into larvae, they eat the fruits.
Besides controlling pests, the nets also protect the fruits from strong winds, rains and sunshine.
The quality of jujubes in net-covered orchards is vastly superior since farmers are not afraid of pests and let them ripen properly on the tree before harvesting them.
The department in co-operation with localities encourages farmers to adopt this technique and transfers techniques to farmers for growing Táo Bom NT 05, a new jujube variety.
The variety, created by the province's Nha Hố Research Institute for Cotton and Agriculture Development, is green when ripe, crunchy and two to three times larger than other varieties.
To diversify jujube products, the province has support policies for businesses producing syrups, jams, wines, and juices.
It is developing a tourism model that involves visits to jujube orchards, which will also enable farmers to sell their produce directly to consumers and get extra incomes from providing tourism services.
The province has identified the fruit as one of its 12 key products. 
Cà Mau promotes key agricultural products
The southernmost province of Cà Mau will promote its key agricultural products, especially collective brand names, to increase their value and competitiveness.
The province has 10 products that have been granted collective brand names by the National Office of Intellectual Property.
Most of the collective brand names of the key products are managed and used by agricultural co-operatives and farmer associations.
The province's key products are favoured by consumers as they have high quality. However, some key products have unstable outlets and low competitiveness as they are mostly produced on a small scale by households and small companies.
The key products of the province include U Minh honey, U Minh dried snakeskin gourami, Rạch Gốc dried shrimp, Năm Căn mud crab, Thới Bình fermented snakehead fish, Cái Nước bulrush, Cái Đôi Vàm dried creamfish, Tân Thành eel fish - marble goby, Trần Hợi dried banana and Mũi Cà Mau shrimp crackers.
In recent years, Cà Mau has organised many trade fairs and product display sites to develop its key products.
It has worked with the departments of industry and trade of HCM City, Hà Nội and other provinces and cities to promote its products to large distributors and wholesale markets since 2016.
Last year, the province's Department of Industry and Trade worked with five companies in Cà Mau City, Năm Căn and Ngọc Hiển districts to open six sites to display and sell the province's key products.
Lưu Văn Quốc, deputy director of the department, said that producers found it difficult to sell their products, especially rice, banana and fish.
The department in co-operation with the province's Department of Agriculture and Rural Development would review the quantity, quality and models of key products, and instruct producers in procedures to ensure that their products meet conditions to supply large distributors.
The province would tighten promotion of the sales of products that have large quantities like rice, shrimp, crab and banana, he said.
The province has encouraged the establishment of agricultural co-operatives that produce quality products and linkages between agricultural co-operatives and companies to develop value chains for agricultural products.
Châu Công Bằng, deputy director of the Department of Agriculture and Rural Development, said that cooperation from agricultural co-operatives was necessary to develop value chains for agricultural products.
This measure would secure outlets for farmers, provide quality products for companies, create favourable management condition for agencies and help consumers trace product origin, he said.
The province's People's Committee has instructed relevant departments and localities to improve protection of products that have been granted collective brand names.
Located in the Cửu Long (Mekong) delta with three sides bordering the sea, Cà Mau has great potential for developing agriculture, aquaculture, fish catching and seafood processing. The province is the country's largest shrimp producer.
It has developed shrimp farming areas meeting domestic and international standards such as Vietnamese good agricultural practices (VietGAP), Aquaculture Stewardship Council (ASC) and best aquaculture practices (BAP).
The province is building geographical indication certification for its black tiger shrimp and mud crab.
The province's three rice specialty varieties – một bụi lùn, tài nguyên đục and tép hành – have been granted intellectual property protection certificates.
The province produces more than 530,000 tonnes of paddy and 1.57 million tonnes of aquatic species a year, according to the province's People's Committee.