VIETNAM NEWS HEADLINES NOVEMBER 28
Vietnam Design Week to nurture creativity from traditional culture
With the theme "Awakening Tradition", from November 27 to December 3, Vietnam Design Week 2021 will take place at the Van Mieu-Quoc Tu Giam (Temple of Literature Complex) relic site located in Dong Da district, Hanoi. 
Tea pressed into cakes, printed with "Khue Van Cac" (Literature Pavilion) image, a souvenir product designed on the basis of traditional culture dedicated to the Van Mieu-Quoc Tu Giam relic site.
This event is organised by the Vietnam National Institute of Culture and Arts Studies under the Ministry of Culture, Sports and Tourism and partners.
Design is an activity that involves many areas of life. Currently, serveral countries in the world have been considered as "creative design countries", when design elements are promoted to apply within their economic and social development.
Therefore, Vietnam Design Week aims to encourage a change in design thinking, considering traditional values as an important resource in design; promoting sustainable trends of the design industry, particularly, the cultural and creative industries in general, and increasing the value of Vietnamese creative products in the international market.
Vietnam Design Week focuses on honouring excellent Vietnamese products and designers in the fields of: Communication design, Living design, Decor & Object design, Clothing design and Public design.
In particular, a number of events have been "launched" before, such as the "Designed by Vietnam" contest which started in July. The contest attracted 183 designs in many fields. On this occasion, 30 designs were selected for the final round, to be completed and exhibited at the Thai Hoc house, the Van Mieu - Quoc Tu Giam, as well as at the programme's website: www.vietnamdesignweek.com.
Within the framework of the event, there was also a workshop "Creative design from cultural resources of the Capital" taking place on November 28, chaired by the Hanoi Department of Culture and Sports, to share action plans, mechanisms and policies of Hanoi city with the title "Creative city"; Seminar "Awakening Tradition" to discuss traditional values exploited and embodied in the design of products and applications today; Seminar "Bolding identity" to share the importance of inheriting and promoting tradition, with current practical activities of young people; Workshop "Designed by Vietnam - Design and Manufacture".
In addition, the programme also has an activity named "opening the workshop" on December 2 in the online format. This activity helps the public to enter art and design studios, where works and products are born, including authors and groups of authors such as: Ta Huy Long, Dinh Cong Dat, 282design, Truc Chi Garden, Phap Lam Hue, Nguyen Tan Phat, Thang Kieu. The public can visit and learn about art studios, workspaces and the creative process of artists and designers.
Vietnamese, Swiss parties boost cooperation
Nguyen Thi Hoang Van, deputy head of the Communist Party of Vietnam Central Committee's Commission for External Relations, met with Chairman Alexandre Eniline and other leaders of the Swiss Party of Labour in Switzerland on November 27 (local time).
The meeting took place within the framework of President Nguyen Xuan Phuc's official visit to Switzerland.
At the meeting, the two sides informed each other about the situation of each party and country, shared experience in expanding the number of party members, and discussed measures to strengthen cooperation between the two sides in the coming time.
Van congratulated the Swiss Party of Labour on successfully organising its national congress. She thanked the party for supporting Vietnam in the cause of national defence, construction and development and for actively contributing to strengthening the Vietnam - Switzerland relations.
The official also suggested the Swiss party promote information exchanges with the Vietnamese side, further support Vietnam's stances on regional and international issues, and coordinate with Vietnam at multilateral party forums.
For his part, Alexandre Eniiline and other members affirmed that their party attaches great importance to cooperation with the Communist Party of Vietnam.
Expressing their admiration at the achievements that Vietnam has achieved in the Doi Moi (reform) process, especially in socio-economic fields, hunger eradication and poverty reduction, they said they highly value the good relationship between the two countries.
The two sides agreed to implement a series of measures to enhance cooperation between the two parties in the coming time for the benefits of the two countries' people./.
Vietnam reports no cases relating to new covid variant from southern African nations
Vietnam has not yet detected any cases infected with the new coronavirus variant Omicron in some southern African countries, the Ministry of Health said on November 28.
With the appearance of the new covid variant in some South African countries, the Ministry of Health has asked the National Institute of Hygiene and Epidemiology in Hanoi and the Pasteur Institute in Ho Chi Minh City to conduct gene sequencing of suspected new mutant infections, especially cases with an epidemiological history from countries in southern Africa.
The ministry proposed that all air travel to and from South Africa, Botswana, Namibia, Zimbabwe, Eswatini, Lesotho and Mozambique be suspended, and entry permits for passengers coming from these countries be halted.
Earlier on November 25, the World Health Organization (WHO) said that it has recorded a new strain called Omicron (B.1.1.529) detected in several southern African countries.
According to scientists, the Omicron variant was first discovered in Botswana on November 24, with up to 32 mutations in the spike protein. This is the most mutated variant of the novel coronavirus, which is said to spread faster with higher risk of reinfection than other strains.
The same day, the Ministry of Health confirmed 12,936 fresh cases of COVID-19 across 57 provinces and cities nationwide, posting a fall of 120 from the previous day.
Among the newly-detected infections, 7,100 cases were found in the community and eight were imported.
Three localities suffering the highest number of locally-transmitted cases included HCM City with 1,454, followed by Can Tho city with 966 and Binh Duong with 705. The capital city of Hanoi logged 277 new cases.
The Ministry of Health also reported the discharge of 1,712 coronavirus patients, pushing up total number of recoveries to 958,636.
A further 190 fatalities were recorded over the past 24 hours throughout the country, raising the death toll relating to COVID-19 to 24,882.
Vietnam has so far inoculated more than 118.7 million vaccine doses, with more than 49 million people receiving full two doses.
The Ministry of Health continues to finalize the 8th Draft Project on an overall strategy for COVID-19 prevention and control under the direction of the Prime Minister, Deputy Prime Ministers and suggestions from competent agencies.
Vietnam reports 12,936 new COVID-19 infections on November 28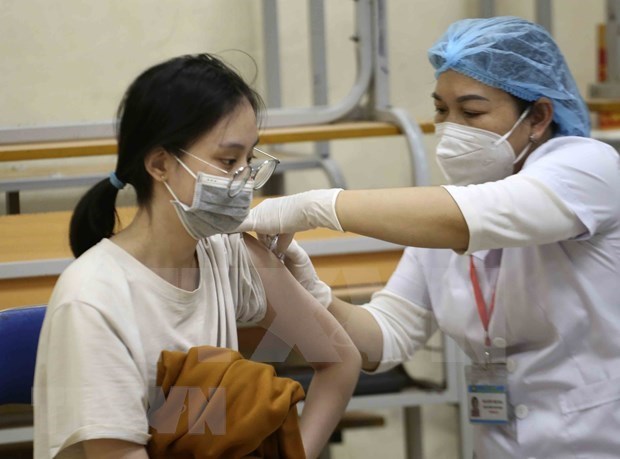 The ministry also said that Vietnam has not yet detected any cases infected with the new coronavirus variant Omicron.
Among the new cases, 7,100 were found in the community and eight were imported.
Compared to the previous, the number of daily cases fell nationally by 120.
The total number of cases nationwide is now 1,210,340.
HCM City topped the list with 1,454 new infections, followed by Can Tho city with 966 and Binh Duong with 705. The capital city of Hanoi reported 277 new cases.
A further 190 deaths were also recorded across the country, raising the total number of fatalities to 24,882.
The Ministry of Health also reported that 1,712 more patients had now fully recovered from COVID-19, bringing the total number of people given the all-clear to 958,636.
There are currently 6,096 patients in serious condition in hospital, while nine are on life support (ECMO).
Vietnam has so far administered more than 118.7 million doses of vaccines. More than 49 million citizens are now fully inoculated.
Effective satellite management promotes socio-economic development

Vietnam has so far owned six satellites in the orbit as a result of implementing the Government's Space Technology Research and Development Strategy towards 2020.

Of the six satellites, there are two telecommunications, one earth observation and three research satellites.
In 2008, Vietnam made VINASAT-1, its first telecommunications satellite. In 2012, the nation saw its second telecommunications satellite Vinasat-2 launched. In 2013, VNREDSat-1 – Vietnam's first remote sensing satellite – and PicoDragon – the first satellite completely manufactured by Vietnam (weighing 1kg) – were launched into orbit. In 2019, MicroDragon satellite, which weighs 50kg, was put into orbit to serve training in satellite technology for Vietnamese researchers in Japan.
Most recently, NanoDragon satellite, made entirely in Vietnam, successfully separated from Japan's fifth Epsilon solid-fuel rocket on November 9, flying in outer space by itself at a height of 560km.
These satellites have brought many benefits to Vietnam's socio-economic development, environmental monitoring, meteorology, mapping, climate change impact forecasting and assessment. It has also facilitated the analysis of long-term water pollution trends.
According to General Director of the Vietnam National Space Center (VNSC) Pham Anh Tuan, to capitalise on the satellites' functions, scientists involved should understand and master them for the most effective and optimal operation and exploitation. It means that operation teams must be well trained as well as have adequate working facilities, suitable incentives, and long-term orientations.
Meanwhile, regarding the data products provided by the satellites, it is necessary to have specific support policies so that many people and experts know, exploit, use and add more value to the data. These would result in the gradual formation of a community as well as basic tools and utilities for data processing, and the production of products that bring practical values serving the country's socio-economic development. .
On February 4 this year, the Prime Minister signed off a strategy for the development and application of space science and technology by 2030.
The strategy's overall goal is to widely apply achievements of space science and technology; selectively invest in some areas related to national defence, security, and management of natural resources and the environment; and improve the country's scientific and technological capacity, thereby helping to safeguard independence, sovereignty, unity, and territorial integrity, promote socio-economic development, and ensure other national interests. 
AFF U23 Championship 2022 slated for February
The ASEAN Football Federation (AFF) has announced that the AFF U23 Championship 2022 will take place in Cambodia next year.
The event, expected to see the participation of 11 teams, will be held on February 14-26, 2022.
It is to help the squads better prepare for the 31st Southeast Asian Games (SEA Games 31) slated for May, 2022. The event has been postponed due to complicated developments of the COVID-19 pandemic. SEA Games 31 and the 11th ASEAN Para Games were originally scheduled to take place from November 21 to December 2 this year.
Vietnam are also to compete at the 2022 AFC U23 Asian Cup, which will be held in Uzbekistan in June./.  
Localities urged to strengthen control over COVID-19 and winter-spring communicable diseases
The Ministry of Health has urged localities to strengthen control over not just COVID-19, but also infectious diseases that occur during the winter, especially viral respiratory and gastrointestinal viruses. 
According to the ministry, the country will face a high risk of the outbreak of such diseases if preventive measures are not drastically implemented, especially as travel is resuming across the country.
Localities have been told to strictly implement the Government's Resolution 128/NQ-CP on "safely adapting, flexibly and effectively controlling the COVID-19 pandemic" and the Ministry's Decision No. 4800/QD-BYT dated October 12, 2021, on medical guidelines during the implementation of Resolution 128. 
The Health Ministry asked for more attention to be paid to disease prevention and control in remote areas or areas where people face difficulties accessing healthcare services, areas that reported disease outbreaks in the past or areas with low vaccination coverage.
Localities are also asked to continue key measures including close surveillance for early detection, rapid testing, timely isolation, and effective treatment.
The Ministry of Health requested that localities actively develop scenarios to respond to specific, detailed and feasible diseases' situations.
Localities must focus on speeding up vaccinations and improve the capacity of the health system, especially at grassroots levels.
Mobile medical stations needed to be available, especially in the COVID-19-hit areas, so that people can access medical services as soon as possible. 
They must also prepare sufficient medicine and medical equipment.
The resumption of production and business activities as well as the economic reopening must be done with a plan in mind, and in safe and qualified places.
Localities updated their reports on COVID-19 cases on the National COVID-19 Disease Code System at website https://macabenh.vncdc.gov with detailed information about the patients' vaccination status – receiving one dose, two doses or not vaccinated.
Regarding dengue fever disease, the Health Ministry asked localities to continue carrying out campaigns to kill mosquitoes and larvae in high-risk areas, especially at construction sites and rental housing areas.
Local authorities must closely monitor, quickly handle outbreaks in time and give emergency treatment to sick people following the ministry's guidelines.
For diseases like measles, rubella, and whooping cough,  localities have been urged to review their vaccination procedure and ensure vaccine coverage reaches at least 95 per cent in every commune/ward.
People's Committees of provinces and cities should direct the Department of Health to drastically implement disease control, strengthen surveillance activities, early detection, immediate response, thoroughly handle any outbreaks.
Local health departments must properly organise the patient classification, reception, emergency and treatment of patients, avoid cross-infection in medical examination and treatment establishments, minimise human mortality.
The department would have to promptly propose to the People's Committee of the provinces/cities to direct effective and flexible disease prevention and control measures, suitable to the epidemiological developments of each locality. 
Inspection teams must regularly monitor, evaluate and recommend localities and units to implement suitable disease prevention and control activities in specific areas.
According to the Ministry of Health's report, in the first ten months of 2021, the whole country recorded 53,489 cases of dengue fever, of which 20 people died. Compared to the same period in 2020, the number of dengue fever cases decreased but the number of deaths increased by seven.
The ministry also warned that now is the time dengue fever could strike with the weekly number of cases increasing. From September 19 to October 18, the whole country recorded 6,063 cases of dengue fever, including four deaths.
During the same period, the country recorded 37,915 cases of foot and mouth disease with 11 deaths,  471 cases of viral meningitis with seven deaths, 14 cases of meningococcal meningitis with two deaths and 418 cases of typhus suspected of measles, of which 39 were positive for measles.   
Third shot of Covid-19 vaccine for HCM City workers proposed
The HCM City Export Processing Zone and Industrial Park Business Association (HBA) has recommended a third shot of Covid-19 vaccine for around 320,000 workers.
According to HBA, they are workers from 1,500 factories at 18 local industrial parks and export processing zones. They are the city's key labour force which helped earn an average annual export value of USD27 billion. 
Since the city's Covid-19 outbreak, around 70,000 workers at 700 companies have had to stay at work.
The third jab of Covid-19 vaccine would help to ensure local industrial parks, export processing zones and high-tech parks could continue their operations.
To date, many companies, particularly foreign-invested firms in HCM City have established quarantine facilities.
Linh Trung 2 Export Processing Zone has built a 1,500-square metre quarantine site with 250 beds. The zone is facing the rise of Covid-19 cases every day although most of them have been fully vaccinated.
The association added that most companies at industrial parks and export processing zones are willing to establish quarantine sites. However, it is important that they need medical support from the city's Health Department.
HCM City is home to around 1.5 million workers who are working at 30 industrial parks and complexes and factories.
Currently, 2,800 workers who have tested positive for Covid-19 are being treated.
Citizens warned of fraudulent technological platforms
Many users of mobile devices in Vietnam lately have received fraud messages asking for their confidential information. Carelessly doing as instructed in these messages results in financial loss and information disclosure. State agencies, therefore, have warned that citizens be more careful when performing commercial activities or sharing sensitive information online.
According to Vice President of Bkav Ngo Tuan Anh, it is quite easy to establish a virtual call center using either a domestic or foreign number with a reasonable price. It is also simple and convenient to acquire a telecoms package via a Voice-over-Internet-Protocol service (VoIP) for scamming purposes, which is then hard for state officials to track criminal activities.
There are now two popular methods to scam people: using similar hotlines to those of famous companies and sending Brandname SMS. The former can easily trick careless users while the latter is more complicated to apply. Criminals have to use illegal hardware and software sold from other nations to simulate a base transceiver station in order to send fake messages to mobile phone users. They can also hire an SMS Fake Sender ID service for this task.
"In the Industry 4.0 era, criminals even exploit Blockchain technology for fraudulent Initial Coin Offering (ICO), which is originally used to attract capital from the cryptocurrency community to develop certain projects based on the Blockchain technology. In this kind of scam, a certain individual first introduces new cryptocurrency tokens and spreads the news of its strong growth in the future, suggesting that people should buy the tokens and sell them later for profit. This information is not true, and buyers lose a large amount of money", said CEO of Vbee Ho Minh Duc.
Another infamous type of fraudulence is to meddle with weak official mobile networks to collect OTP modes in bank-related services. Despite not being very common, it has appeared in Vietnam lately, used by skillful hackers without the awareness of both network service providers and banks themselves. Only when a customer contacts a bank to report problems does a bank discover this trick.
The Authority of Information Security under the Ministry of Information and Communications has continuously warned citizens of such cases and is cooperating with the police, functional agencies, telecoms businesses to adopt suitable solutions to handle these crimes.
The act of faking a website in Vietnam recently has become more popular when a criminal purposely uses a website address which is almost the same as an official one of a renowned company for fraudulent activities.
Since users do not learn by heart these addresses, they easily fall into the trap and unintentionally share their confidential information, including account name and passwords. These sensitive data are then used on formal bank websites to ask for an OTP code. When the users carelessly enter their code obtained from their mobile phone on these fake websites, their bank account will be swept out of money. 
When detecting a case of using, selling or buying IMSI Catchers / SMS Broadcasters illegally, citizens need to report it to the police or the Authority of Information Security (AIS) immediately via the hotline 0339035656.
In order to prevent online frauds and cooperate with functional agencies to stop them, citizens are asked by AIS to carefully verify the reliability of any website and app links that they receive via SMS, including brandname or short code ones.
It is advisable not to access any suspected links which have unclear origin or content.
When receiving an SMS with fraud content, people are recommended to report to the Vietnam Computer Emergency Response Team (VNCERT/CC) under AIS by sending an SMS to 5656 or leaving a message at the website address https://thongbaorac.ais.gov.vn/ so that AIS can timely work with related agencies to handle the issue.
Also, when discovering a case of using, selling or buying IMSI Catchers / SMS Broadcasters illegally, citizens need to report it to the police or the Authority of Information Security (AIS) immediately via AIS' hotline 0339035656.
Govt orders installment of nonstop ETC systems on expys in early 2022
The Government has assigned the Ministry of Transport to ask the Vietnam Expressway Corporation (VEC) to install nonstop electronic toll collection (ETC) systems at expressway projects managed by VEC in the first quarter of next year.
VEC is currently managing and operating five expressways. Only the nonstop ETC system on the Cau Gie-Ninh Binh Expressway has been put into operation, while the service on the Noi Bai-Lao Cai, Danang-Quang Ngai, Ben Luc-Long Thanh and HCMC-Long Thanh-Dau Giay has yet to be launched.
The Ministry of Transport and the relevant ministries and agencies must also address shortcomings in the operation of current nonstop toll collection systems.
In addition, the Ministry of Transport and localities were asked to direct investors of BOT projects and toll collection service providers to quickly install nonstop ETC systems and ensure that at each tollgate, there is a mixed lane for both ETC and manual toll collection.
Moreover, localities should propagandize and encourage owners of vehicles to use the ETC service.
Toll collection service providers must ceaselessly improve and diversify payment services for road users and ensure that at least 90% of vehicles subject to the toll payment use the nonstop ETC service by June next year.
The Ministry of Transport was also required to pick some more expressways to pilot the nonstop ETC service. The relevant agencies must propagandize the service on mass media at least three months prior to the application.
Ca Mau tightens regulations on use of geographical indication for black tiger shrimp
The southernmost province of Cà Mau has strengthened regulations on the use of Cà Mau geographical indication for its black tiger shrimp to protect the rights of shrimp breeders and consumers.
The province, the country's largest shrimp producer, was granted the Cà Mau geographical indication for black tiger shrimp in September by the National Office of Intellectual Property.
The province's Department of Science and Technology is in charge of managing the Cà Mau geographical indication for black tiger shrimp.
The department has issued regulations that define the responsibilities and rights of organisations and individuals in their activities to control geographical indication usage.
The regulations cover procedures and guidance for inspecting the use of geographical indications to ensure the origin, quality, and reputation of the province's black tiger shrimp.
It includes regulations on breeding and processing the shrimp, shrimp seed origin and geographical breeding areas, and the quality of end shrimp products bearing the Cà Mau geographical indication.
The Cửu Long (Mekong) Delta province has more than 300,000ha of aquaculture, including 280,000ha of shrimp, according to the province's Department of Agriculture and Rural Development.
The province's shrimp breeding area accounts for 45 per cent of the Mekong Delta's total shrimp breeding area and 40 per cent of the country's total shrimp breeding area.
Of the province's 280,000ha of shrimp, about 19,000 ha have been granted international standard certificates, including global good agricultural practices (GlobalGAP), Global Aquaculture Stewardship Council (ASC), Best Aquaculture Practices (BAP), and Vietnamese good agricultural practices (VietGAP).
Black tiger shrimp is one of the province's key seafood products and the province's many black tiger shrimp breeding areas have been granted international certificates.
The province plans to maintain its shrimp breeding area from now to 2030 but is enhancing output and quality by applying advanced farming techniques.
The province plans to develop five super-intensive shrimp breeding areas. Each area will breed shrimp under international quality standards.
Besides breeding shrimp under intensive farming methods, the province has advantages for developing extensive shrimp farming under shrimp – rice farming and shrimp – forest farming methods.
The province aims to have 40,000ha of shrimp–rice farming by 2025.
The province exports about US$1 billion of shrimp a year, accounting for about 30 per cent of the country's total shrimp export value. Its shrimp is exported to more than 90 countries and territories. 
HCMC ensures safe construction of Nguyen Hue Flower Street 2022
Saigontourist Group, which was assigned by the Ho Chi Minh City People's Committee to organize Nguyen Hue Flower Street 2022, informed that the flower street would be under construction for 16 days, starting from January 13 to January 29, 2022.
The flower street will be opened for a week from the evening of January 29 to February 4, 2022.
The construction unit will have to strictly comply with the city's Covid-19 pandemic prevention and control regulations as well as ensure progress and safety during the works process.
Over the past 18 years, the Nguyen Hue Flower Street has become a typical annual tourism attraction, cultural and entertainment event to celebrate the Lunar New Year in Ho Chi Minh City.
The flower street stretches on Nguyen Hue walking street, designed and decorated with radiant colorful flowers by engineers and experts.
Long An Province fully embraces new-style rural areas programme
The Mekong Delta province of Long An has been very successful in building national new-style rural areas, improving people's incomes in the countryside and the beautiful look of rural areas.
Situated where the delta meets the south-eastern region, Long An has had 106 of its 161 communes recognised as new-style rural areas and eight meeting advanced new-style rural areas under the national target programme on building new-style rural areas.
To be recognised as a new–style rural commune, a commune must meet 19 criteria related to infrastructure, irrigation, electricity, environment, income, education, healthcare, social security, and culture.
The looks of most communes have improved significantly, and infrastructure for transport and irrigation, healthcare centres, rural markets, and commune cultural houses meet the [programme] criteria, according to the province Coordination Office for New–style Rural Areas.
Nguyễn Văn Út, chairman of the province People's Committee, said building new-style rural areas would be successful only when the role of local people is promoted effectively.
For this, province authorities have propagandised the meaning and significance of the programme to make the public understand that the State only provides a part of the cost of building new-style rural areas and the rest is borne by local people.
For the programme, authorities have encouraged management, discussion and decision-making by locals.
The provincial authorities have let local people decide how their financial contributions will be used and monitor the use.
In 2010–20 the province mobilised more than VNĐ123 trillion (US$5.4 billion), 10.5 per cent from public funds and the rest from companies, local people, and loans.
Tân Tây Commune became Thạnh Hoá District's first commune to be recognised as a new – style rural commune and its residents played an important role in it.
Nguyễn Văn Hoàng, head of the management board of the yellow Ochna growing village in Tân Tây Commune, said: "When the commune began the programme, many things were new to the people, but they approved and actively participated in the programme after local authorities provided clear explanations."
Commune residents have contributed nearly VNĐ22 billion ($970,000) to build irrigation canals and rural roads so far, he said.
Locals earn an average of VNĐ56 million ($2,500) a year and the poverty rate is only 0.82 per cent, according to the commune People's Committee. 
Long An is focusing on improving farmers' incomes and restructuring agriculture by switching to advanced techniques.
Võ Kim Thuần, head of its Irrigation and Rural Development Sub-department, said the province has identified four farming areas for the use of advanced techniques.
They include a rice farming zone in the Đồng Tháp Mười (Plain of Reeds), a dragon fruit farming zone in Châu Thành District, a vegetable farming zone in the districts of Cần Đước, Cần Giuộc and Đức Hoà and Tân An City, and a cattle farming zone in the districts of Đức Hoà and Đức Huệ. 
Local authorities and relevant agencies have helped farmers improve yields and product value by using advanced farming techniques and boosting the promotion of their produce.
Other measures such as controlling the food safety production chains, creating favourable conditions for tracing origins, and improving quality have also been undertaken.
These have played an important role in increasing the rural per capita income from VNĐ15.6 million ($690) in 2010 to VNĐ60 million ($2,650) this year.
The province poverty rate has reduced from 2.21 per cent in 2019 to 1.16 per cent last year.
More and more communes have become prosperous through the new – style rural programme, according to local authorities.
For instance, Long Trì Commune in Châu Thành District has more than 2,160 households mostly living off dragon fruit and other crops and livestock. 
Under the programme, it has created concentrated dragon fruit farming areas where advanced techniques are used.
The fruit is grown on 690ha, with 400ha planted to Vietnamese good agricultural practices (VietGAP) standards.
Commune authorities have encouraged dragon fruit farmers to join co-operatives and co-operative groups to secure outlets and steady prices.
Trần Thị Kim Xuyến, chairwoman of the Long Trì Farmers Association, said locals earned an average of VNĐ65 million ($2,860) last year.
All commune–level roads in Long Trì are cemented and 3.5 – 6 metres wide, and all hamlet roads are also asphalted. Flowers are grown along roads.
Nguyễn Văn Vĩnh, who grows dragon fruit using advanced techniques in Long Trì, said: "The building of new-style rural areas makes villages more beautiful, people have better lives and the work of farming is less hard thanks to the application of advanced techniques."
With a smartphone and sensors for monitoring soil moisture and nutrition in his orchard, he can know what it needs and irrigate it remotely, he said.
Long An plans to develop more new-style rural areas and upgrade more existing ones into advanced new-style rural areas.
It expects to have an additional four each by year-end.
In 2021 – 25 it plans to have 10 districts, towns and cities, or two-thirds of all, becoming the former, and two districts becoming the latter.
Nguyễn Minh Lâm, deputy chairman of the People's Committee, said the province would boost advocacy and develop effective and creative models for the programme.
It would focus on building necessary infrastructure, he said.
It would prioritise the development of agriculture through value chains, especially safe and clean production, and boost the use of advanced techniques, he said.
It would protect the environment and build rural areas that are green, clean, beautiful, and modern while also preserving their traditions and culture, he added. 
Vietnam Museum of Ethnology opens Discovery Room for children
A new space for the public, especially children, to explore and learn about the culture of Vietnam and the world, has just been opened at the Vietnam Museum of Ethnology.
The new space aims to encourage the public to interact with artifacts through sensory experiences with the support of technology. 
Visitors not only admire and learn information about the artifacts, but also have the opportunity to directly feel, think and share about each artifact through multi-dimensional stories from artisans, museum staff or the visitors themselves. 
The Children's Discovery Room is a special gallery just for children, with an eye-catching design presented in the form of games, story exploration through each sub-theme, hands-on experiences, and a combination of using modern audio-visual aids. 
Activities are arranged in accordance with age and receptivity to stimulate curiosity and help children learn and have fun at the same time. 
The highlight of the Discovery Room is to encourage children to make the most of their senses, being able to hold, touch, smell, and hear in order to feel and discover artifacts of ethnic groups in Vietnam and around the world. 
The Discovery Room designs dynamic spaces to serve the diverse needs of the public: a permanent space for regular exploration programs; space for thematic activities; dedicated space for organising classes according to the school's theme. 
The Multimedia Room is considered as a data centre through sounds and images about Vietnamese culture and the world. The room has a variety of equipment to serve the needs of watching, listening, reading and singing for domestic and foreign tourists to actively explore.
Regarding the movie viewing activity, there are eight movie screens with their own headphones, the content features topics such as festivals, customs, crafts, folk music, performing artsand daily life of the ethnic groups in Vietnam. Visitors can listen and feel the sound through the headset system and learn about traditional instruments from four music discovery boxes; as well as sing folk songs and lullabies of ethnic groups in Vietnam.
Dr. Bui Ngoc Quang - Deputy Director of the Vietnam Museum of Ethnology shared: "We hope that young people not only have the opportunity to study at the museum but also come here with a love of cultural heritage. The museum is expected to become a destination to have fun and relax after a hard day of studying. The museum tries to create a variety of activities in the Discovery Room to connect with a wide range of the public, especially young people. The museum believes that the Discovery Room will become a bridge connecting the school with the museum to create many lively lessons with visual aids. At the same time, the room is expected to connect tourism makers with the museum to design many tours associated with cultural heritage experiences. Through practical activities of the parties, it will make an important contribution to the introduction and promotion of culture, raising understanding, respectful attitudes, and encouraging the sense of preserving cultural heritage of the young generation".
Source: VNA/VNS/VOV/VIR/SGT/SGGP/Nhan Dan

Domestic production of Covid-19 vaccine must be realized: PM