VIETNAM NEWS HEADLINES NOVEMBER 27
Domestic production of Covid-19 vaccine must be realized: PM
Prime Minister Pham Minh Chinh chaired a meeting on November 27 with relevant ministries and agencies, aimed to speed up the research and technology transfer of Covid-19 vaccine and drug production in Vietnam.
The government leader requested the ministries, agencies and concerned units to continue their close coordination, and at the same time, remove obstacles and difficulties to speed up the process.
According to the Ministry of Health, as of November 25, the country had administered about 116 million doses of the vaccine. Around 69 million people have received the first shot while over 47 million got the second one.
Vietnam is in the process of receiving vaccine technology transfer, researching and testing COVID-19 vaccines. Six factories in the country have registered to produce drugs to treat COVID-19./.
HCM City to provide Favipiravir to COVID-19 patients instead of Molnupiravir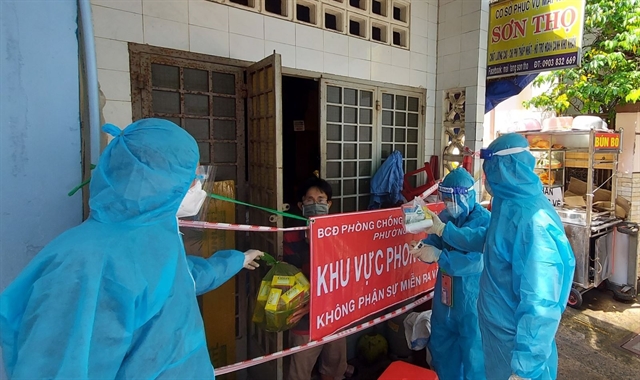 Tan Binh District officials in HCM City providedrugs and health supplements to a COVID-19 patientbeingtreatedat home in August. The city will provide the antiviral drug Favipiravir to COVID patients in place of the usual Molnupiravir because the city is running out of the latter. – Photo baotintuc.vn
HCM City's Department of Health is set to receive 120,000 pills of Favipiravir.
Nguyễn Thị Huỳnh Mai, chief of office at the department, said that medical stations currently providing Molnupiravir to patients can switch to Favipiravir.
The department is also working with the HCM City Oriental Traditional Medicine Association to provide functional foods to boost patients' health.
Molnupiravir is one of the drugs provided to some COVID-19 patients at home, but recently many patients have not been able to access the drug since many medical stations have run out of it.
The department has asked the Ministry of Health for more Molnupiravir.
HCM City continues to be Việt Nam's COVID epicentre at over 462,000 cases as of November 25.
While the average number of new cases during the first week of November was 926, the number rose to 1,378 from November 18 – 25.
HCM City reopened on October 1 after months of strict pandemic preventive measures, lifting many restrictions on travel and outdoor activities.
Around 88.8 per cent of people aged 18 and over in the city have been fully vaccinated. Over 238,000 children aged 12 – 17 have received their second shots.
President receives Honorary Consul of Vietnam in Turin, Italy
President Nguyen Xuan Phuc on November 27 hosted a reception in Bern, Switzerland for Sandra Scagliotti, Honorary Consul of Vietnam in Turin, Italy. 
Scagliotti and her husband, who is President of the Italy-Vietnam Chamber of Commerce, travelled a long distance from Italy to Switzerland to meet President Phuc.
The Vietnamese government leader highly valued positive contributions of the Honorary Consul and the Vietnamese Honorary Consular Office in Turin to Vietnam - Italy relations over the years, and praised Scagliotti for conducting research activities and publishing works on Vietnam.
The Vietnamese Honorary Consular Office and the Centre for Vietnamese Studies in Turin have become bridges for Italian and European readers and friends to understand more about traditional values, culture and history, and people of Vietnam, President Phuc said.
Scagliotti said she have loved Vietnam since she was a student. Scagliotti operated actively in the antiwar movement to oppose the US invasion of Vietnam in the early 1970s.
The Honorary Consul said she always considers President Ho Chi Minh as a shining example of patriotism, who represents the will and aspiration for national independence, freedom and peace. Scagliotti affirmed that she will do her best to contribute to Vietnam-Italy cooperative relations.
She took this occasion to present the book "Ho Chi Minh voi nhung buc thu mong muon hoa binh cho Viet Nam" (Ho Chi Minh with letters wishing for peace for Vietnam), which she translated from Vietnamese language into Italian, to the Vietnamese leader.
Published recently in Italy, the book collects letters sent by the Vietnamese revolutionary leader to the Presidents of France and the US as well as many politicians, soldiers, prisoners, immigrants, young people, and relatives of soldiers. In those letters, Ho Chi Minh expressed his wish for peace and happiness for all nations, laid bare and condemned war crimes caused by French colonialists and American imperialists, and called on people around the world to support the just struggle of the Vietnamese people./.
Wood weaving toolkit recognised as national treasure
The Department of Culture, Sports and Tourism of the southern province of Binh Duong has announced a decision recognising its Phu Chanh wood weaving toolkit as a national treasure.
The toolkit dated back to the end of the 3rd century BC - 1st century AD. It includes 23 items which were discovered in Phu Chanh commune of Tan Uyen district in 1998 and 2001.
Binh Duong also recognised Tan Khang – Ba Tra martial arts in Tan Uyen town and Binh Duong pottery craft as national intangible cultural heritage.
One this occasion, the province honoured organisations and individuals for contributions to preserving and promoting the Phu Chanh wood weaving toolkit, the martial arts and pottery crafts./.
Denmark assists Vietnam to improve quality of official statistics
Denmark will support Vietnam with 6.5 million DKK (about 1 million USD) to carry out a project on improving the quality of official statistics.
The General Statistics Office (GSO) of Vietnam and Statistics Denmark signed the project agreement via videoconference on November 26.
The 30-month project will focus on using administrative data for producing population, migration, and education statistics; and optimising chances for using big data to produce statistics and build the first economic - environmental accounting system for Vietnam.
GSO General Director Nguyen Thi Huong pledged close cooperation with Vietnamese ministries, sectors, and Statistics Denmark to carry out the project successfully.
Danish Ambassador to Vietnam Kim Højlund Christensen said Statistics Denmark will work closely with the GSO and relevant ministries and sectors in Vietnam to share knowledge and experience.
Meanwhile, Director General of Statistics Denmark Birgitte Anker expressed her hope for effective cooperation with the GSO, and that this partnership will provide more information about the Vietnamese society, serving as a basis for making evidence-based decisions and monitoring international agenda like the Sustainable Development Goals (SDGs).
Since 2015, the two countries have signed strategic sector cooperation programmes in the fields of health care, education, food safety, and recently statistics with a view to promoting sustainable and responsible growth, employment, and prosperity in Vietnam.
Under those programmes, governmental agencies of Denmark have set up partnerships with Vietnamese ministries and sectors to share knowledge and experience related to priority issues and matching demand in Vietnam./.
Undersea cable problems affect Vietnam's international internet connections
The Asia Pacific Gateway (APG) undersea cable, which connects eight countries and territories in the region, is facing problems with its S3 section, causing a loss of 250G of internet connection capacity from Vietnam to Japan and the US, an internet service provider has announced.
The repair of the APG is expected to be completed on November 29, restoring all internet traffic on the route.
Currently, there are two other undersea cables also having service interruptions or having not fully restored connection capacity due to previous problems, namely the Asia-America Gateway (AAG) and Asia Africa Europe 1 (AAE-1).
The AAG is expected to be fixed on December 15 and the AAE-1 on November 27./.
Bac Giang makes all possible efforts to boost PCI this year
Bac Giang has been making all possible efforts to improve its Provincial Competitiveness Index (PCI) this year, according to the northern province's People's Committee.
Bac Giang aims for 66.33 points in the 2021 PCI, 2.35 points higher than its score in the previous year's PCI, and for continuing to remain among the group of  "fairly good" performers in terms of economic management.
To this end, the province will work to raise the scores of sub-indices, with particular focus placed on improving five sub-indices declining last year, namely Transparency and Access to Information, Land Access and Security of Tenure, Proactivity of Provincial Leadership, Labor and Training, and Legal Institutions.
To raise the Transparency and Access to Information sub-index, Bac Giang plans to assign greater responsibility for disclosing information and responding to citizens and businesses' inquiries on officials. It will publicize 100 percent of tax-relating administrative procedures, fees, and documents on planning, legal affairs, provincial budget on its official portals.
In terms of Land Access and Security of Tenure, the province will review public administrative procedures on land to streamline the time and paperwork needed to handle them. It will also develop mechanisms for the establishment of State-managed land bank, particularly in planning industrial areas, and provide investors with easier access to land and facilitate them speeding up the progress of projects.
Regarding Proactivity of Provincial Leadership, Bac Giang will place higher responsibility on leaders of local departments, agencies and administrations in enhancing business environment and promote its reputation as a dynamic and friendly administration.
Additionally, the province will strengthen relations between local administration and businesses through conferences, workshops and meetings to help them remove difficulties. It intends to diversify its communication channels to receive feedback and recommendations from investors and enterprises and actively learn from experience and good practices of other localities who have performed excellently in PCI.
To raise the Labour and Training index, Bac Giang is developing a long-term plan to attract high-quality workforce to work in the province and enhance the effectiveness of job placement, vocational training and general education.
With respect to Legal Institutions, the province will adopt a favourable mechanism for enterprises to file petitions and complaints about corruption, power abuse and misconduct while improving the quality of judicial services, and maintaining local social order and security to protect enterprises' properties.
Bac Giang scored 63.98 points in PCI last year, 0.44 point higher than the country's average but down 0.49 point from 2019. Despite that, its ranking climbed 13 places from a year earlier to 27th out of 63 cities and provinces.
The PCI report has been published annually since 2005 by the VCCI and the US Agency for International Development (USAID) to assess the ease of doing business, economic governance and administrative reform efforts by provincial and city governments to promote the development of the private sector.
The overall PCI comprises ten sub-indices, reflecting economic governance areas that affect private sector development. A province that is considered to perform well on the PCI is the one that has: 1) low entry costs for business start-up; 2) easy access to land and security of business premises; 3) a transparent business environment and equitable business information; 4) minimal informal charges; 5) has limited time requirements for bureaucratic procedures and inspections; 6) limit crowding out of private activity from policy biases toward state, foreign, or connected firms; 7) proactive and creative provincial leadership in solving problems for enterprises; 8) developed and high-quality business support services; 9) sound labor training policies; and 10) fair and effective legal procedures for dispute resolution.
The PCI 2020 report was based on the response of nearly 12,300 enterprises, including more than 10,700 private enterprises operating across 63 provinces and cities, and nearly 1,600 foreign-direct-investment (FDI) firms in 22 localities. It has been viewed as 'the common voice' of the business community on the level of reform in various fields./.
President Ho Chi Minh commemorated in France's Marseille city
A plaque commemorating President Ho Chi Minh was unveiled in France's Marseille city on November 26, as part of the activities marking 110 years since the late President boarded ship Amiral Latouche Tréville to France, beginning his journey for national salvation.
The ceremony was co-organised by the Vietnamese Embassy in France, authorities of Marseille city, and representatives from the French Communist Party and La Marseillaise newspaper.
The granite plaque is mounted on a front wall of the French newspaper's headquarters in Marseille.
In his remarks, Vietnamese Ambassador to France Dinh Toan Thang thanked and highly appreciated the warm sentiments of leaders and people of Marseille, who consider the commemorative plaque as part of the city's cultural heritage.

Thang said the event contributes to keeping memories of President Ho Chi Minh, while demonstrating the special relations between Vietnam and Marseille.
Leaders of the French Communist Party and the newspaper expressed their respect for the beloved leader of the Vietnamese people.
Echoing Thang's views, they said the plaque showed the sentiments, friendship and solidarity of people in Marseille and France in general with the Vietnamese people./.
Photo contest calls for Koreans to share favourite pictures of Da Nang
The central city's tourism promotion centre, in cooperation with HanaTour company, has launched an Instagram photo contest, "Da Nang in My Heart", for Koreans living in Vietnam and abroad.
The contest which will run until December 20 is part of a post-COVID-19 tourism recovery plan to boost travel among Korean tourists.
The director of the centre, Nguyen Thi Hoai An, said the photo contest aims to highlight attractive images of Da Nang to Korean tourists through social media networks, luring them to the central city as COVID-19 restrictions are eased.
Koreans who have visited Da Nang in the past can post their favourite photos or clips to Instagram to take part in the contest. Koreans who have yet visited Da Nang can still enter by creating images of Da Nang and sharing how they feel about the city.
The best 26 entries will be selected as winners at the end of December.
The winner of the top prize – the Da Nang Fantastic Heart – will receive an award worth 300,000 won (254 USD) and a package tour for two to Da Nang City, offered by HanaTour.
The winners of the five 'Da Nang Heart' awards will be given 100,000 won (85 USD) each, while 20 'Thank You' coupons worth 20,000 won (17 USD) each will be presented to other winners in the top 26 list.
A one night stay for two at the five-star beach-front Furama Da Nang Resort will also be up for grabs.
Korean tourists account for 55.4 percent of international tourists in the central city.
In 2014, both Vietnamese and Korean budget airlines launched 12 direct and chartered flights between Korean cities and Da Nang, carrying around 1,500 passengers a week.
The Republic of Korea (RoK) inaugurated its Consulate General in Da Nang in 2020, boosting tourism and investment between the RoK and central Vietnam.
While the COVID-19 pandemic has temporarily stopped Korean tourists from coming to Da Nang, the coastal central city is still a favourite destination for Koreans. At least 1.8 million Korean tourists visited the city in 2019.
HanaTour Director Ryu Bong Ki said he is expecting a plan from the Vietnamese and Da Nang authorities to host foreign tourists in the post-COVID-19 era.
He said HanaTour will build detailed tour programmes to bring Korean tourists to Da Nang in the coming time.
Da Nang is a good, central connection to visit world heritage sites in Quang Nam, Quang Ngai and Thua Thien-Hue provinces from destinations such Jeju Island, Incheon, Seoul and other parts of the RoK.
The Shilla Hotels & Resorts – a Korean resort – has launched the five-star Shilla Monogram Da Nang to serve Korean tourists in Da Nang and Hoi An.
Art troupes from Vietnam and the RoK often host joint performances in Da Nang and Hoi An in annual culture exchange events.
Participants can find information at the contest's website: danangfantasticity.com/dananginmyheart./.
Dak Lak farmers enjoy bumper coffee crop
The central highlands Dak Lak province is considered Vietnam's "coffee capital" and local farmers are busy these days with the harvest.

Dak Lak is the country's largest coffee growing area, with 210,000 ha. This year's output is estimated at 500,000 tonnes of green coffee. Farmers are now entering the peak harvest season.
Dak Lak has asked organisations and individuals not to harvest unripe coffee beans, to ensure coffee quality. It has also suggested that farmers prepare dryers in case of prolonged rain./. 
CAAV proposes full resumption of domestic flights
The Civil Aviation Authority of Vietnam has proposed the resumption of normal operations on all domestic routes from the beginning of 2022.

According to the proposal submitted to the Ministry of Transport, the number of two-way flights on Hanoi – Ho Chi Minh City, Hanoi – Da Nang, and HCM City – Da Nang routes will be increased to 16 per day per route during December 1-14.
The number will be raised to 20 flights per day per route from December 15-31.
Meanwhile, the number of two-way flights on other routes will be no more than nine flight per day per route.
The current flight plan is only applicable until November 30, so airlines would have difficulty in planning their operations in the winter 2021/2022 flight schedule, especially during the Lunar New Year of 2022, the agency said.
At present, most domestic routes can only operate one flight per day./. 
Foreign tourists returning to UNESCO-recognised My Son Sanctuary
More than 40 international tourists visited My Son Sanctuary, a UNESCO-recognised world heritage site in central Quang Nam province on November 22, after a long period of closure due to the COVID-19 pandemic.

Apart from foreign tourists, domestic vacationers have also registered for tours to My Son.
My Son Sanctuary, around a one-hour drive from Hoi An ancient town, is a complex of abandoned and partially-ruined Hindu temples built between the 4th and 14th centuries by the Champa kingdom. Despite the ravages of war and time, My Son Sanctuary bore witness to the history of ancient Champa and is an important part of the world's cultural heritage.
The sanctuary was recognised as a world cultural heritage site by UNESCO in 1999./.
Vietnam plays active, proactive role in ASEM cooperation process: Deputy FM
As a founding member of the Asia-Europe Meeting (ASEM), Vietnam has played an active and proactive part in the ASEM process and proposed many measures and initiatives to strengthen cooperation within the ASEM in all spheres, Deputy Minister of Foreign Affairs Dang Hoang Giang has said.
The official made the affirmation in an interview granted to the press after Prime Minister Pham Minh Chinh attended the 13th ASEM Summit and relevant activities via videoconference from November 25-26 at the invitation of his Cambodian counterpart Samdech Techo Hun Sen.
According to Giang, PM Chinh put forward four proposals to enhance cooperation among Asian and European countries while addressing the 13th ASEM Summit on November 26.
The PM said the countries should stay united and join hands to boost global cooperation since no country can single-handed deal with global issues.
The government leader said they should cooperate to share and ensure equal access to COVID-19 vaccines and treatment drugs and developed nations should assist developing countries to improve the capacity of coping with global issues.
PM Chinh said it was necessary to step up digital transformation and human resource training for developing and poor countries, while enhancing public-private partnership to mobilise resources for development. To contribute to this process, Vietnam will organise an ASEM roundtable meeting on the digital economy in 2022.
Besides, the PM also shared Vietnam's efforts and experience in COVID-19 response and socio-economic recovery and development, especially the country's implementation of measures to safely and flexibly adapt to and effectively control the pandemic.
PM Chinh affirmed that through these measures, Vietnam stands ready to strengthen cooperative ties with ASEM nations for the target of peace, development and prosperity in both Asia and Europe./.
Vietnam, Switzerland look to beef up judicial cooperation
Vietnamese Deputy Minister of Justice Nguyen Khanh Ngoc had a working session with Niklaus Meier, Co-head of the Private International Law Unit at the Swiss Federal Office of Justice on November 26, within the framework of President Nguyen Xuan Phuc's official visit to Switzerland.
During the working session, Ngoc highly valued the signing of a Memorandum of Understanding (MoU) on legal and judicial cooperation (MOU) in 2018 between the Vietnamese Ministry of Justice and the Swiss Federal Department of Justice and Police (FDJP), and thanked the FDJP for its practical implementation of this MoU.
He said that apart from international justice, the two ministries should expand cooperation to other areas within their functions and tasks such as civil status, nationality, international adoption, especially Switzerland's acceptance of Vietnam's accession to the Hague Convention on Taking of Evidence.
Ngoc suggested the Swiss side continue to support Vietnam in studying the experience of joining and implementing the 1980 Hague Convention on the Civil Aspects of International Child Abduction; implementing the UN Convention on the Recognition and Enforcement of Foreign Arbitral Awards 1958, and experience in formulating and implementing international judicial laws, and in participating in the UN Commission on International Trade Law (UNCITRAL).
He called on Switzerland to coordinate with Vietnam in implementing judicial mandates via both service convention channel and diplomatic channels, and share its experience in legal and judicial reforms because Switzerland has a developed legal and judicial system that effectively serves socio-economic development.
Meier said Switzerland is always aware of the importance of international law, including international justice, saying that in the context of deep international integration, many legal issues with foreign elements are required to be addressed.
Countries have different regulations on rights, obligations and jurisdiction, so it is necessary to have an appropriate domestic law in case there is a conflict in law and jurisdiction, he added.
Regarding the proposal on accepting Vietnam's accession to the Hague Convention on Taking of Evidence, Meier promised to report to Switzerland's relevant authorities for early positive feedback.
For conventions under the HccH system, he stressed that Switzerland is willing to support Vietnam in its study of accession and implementation of the conventions, coordinate with the Vietnamese Ministry of Justice in handling civil status, nationality, and provide legal assistance in civil matters and share experience in participating in UNCITRAL. 
The FDJP pledges to mobilise the best experts in each field to support Vietnam in specific issues at the request of the Vietnamese ministry, Meier said, adding that it is willing to share information and experience with the Vietnamese side in legal and judicial reforms.
Regarding the MoU signed between the two sides in 2018, Meier said the FDJP has rarely signed a MoU with a ministry of justice of a foreign country, so Vietnam can be seen as special priority.
This MoU will expire in 2022, he said, adding that if the two sides fail to sign a new MoU due to the COVID-19 pandemic, the cooperation between the two ministries will continue without interruption, he said./.
Ambassador seeks to enhance economic, educational ties between Vietnamese, Italian localities
Vietnamese Ambassador to Italy Nguyen Thi Bich Hue has paid a working visit to the Veneto region to promote economic and trade cooperation between the two sides.
During her meeting with Roberto Marcato, councillor for economic development of Veneto, the two sides consented to actively implement the cooperation agreement reached by Vietnam's southern province of Ba Ria-Vung Tau and Veneto in 2018, especially in tourism, seaports, renewable energy and digital economy.
The two sides will join hands in preparing for the organisation of the meeting of the Vietnam-Italy joint committee for economic cooperation, and other socio-economic events to mark the 50th anniversary of diplomatic ties between the two countries, and the 10th anniversary of the strategic partnership, especially through the online form.
Hue also met with Tiziana Lippiello, Rector of Ca' Foscari University, and Albrecht Benno, Rector of Iuav University of Venice, during which they compared notes on collaboration in tertiary education and scientific research.
On this occasion, the ambassador attended a ceremony to introduce a book on Vietnam's and Cuba's experience in the COVID-19 combat, which was organised by the chapters of the Italy-Vietnam and Italy-Cuba friendship associations in Veneto.
She also handed over a certificate of merit of the Vietnamese Foreign Ministry's State Commission for Overseas Vietnamese Affairs to Pham Hung Vuong, former President of the Vietnamese Students' Association in Italy, for his contributions to connecting students of the two countries.
Nearly 100 Vietnamese students are studying in universities in the Italian region./.
Russia promotes cultural diplomacy with ASEAN
The ASEAN Centre at the Moscow State Institute of International Relations (MGIMO) of Russia on November 27 organised a cultural and music festival of ASEAN countries as part of activities to celebrate the 30th founding anniversary of relations between the two sides.
Addressing the event, Acting Director of the ASEAN Centre Ekaterina Koldunova emphasised that cultural diplomacy is one of the important tasks, in addition to political research, thereby further enhancing relations between Russia and ASEAN member countries.
Since its establishment, the ASEAN Centre has paid great attention to cultural relations and considered this an important education task, she noted.
According to Koldunova, all Southeast Asian countries have a particularly interesting culture that Russian people can only know through travel.
Events such as the festival will help the centre understand more about the countries, culture and people of ASEAN members through music, arts, and movies, she added
At the event, students from Russia and many countries performed musical repertoire imbuing the identity of the ASEAN countries such as Indonesia, Laos, and Vietnam.
Talking to the Vietnam News Agency's correspondent in Russia after performing the song "Hello Vietnam", Lisa, a student of MGIMO's Vietnamese language faculty, said she has actively participated in the institute's activities to popularise Vietnamese culture to Russian people.
ASEAN is one of the priorities of Russia's foreign policy in the East, in which cultural diplomacy is part of the country's strategic directions to promote substantive and effective relations with Southeast Asian countries./.
5G spectrum harmonisation important to ASEAN countries: workshop
The 5G spectrum harmonisation in ASEAN member countries was the main focus of a workshop held virtually by the Authority of Radio Frequency Management (ARFM) under the Ministry of Information and Communications on November 26.
5G services would speed up the development of digital infrastructure and meet requirements of digital transformation, said Nguyen Duc Trung, head of the ARFM, adding that Vietnam and other ASEAN member countries have piloted the services.
ASEAN countries are working to provide the spectrum for 5G services. However, the entire region is facing challenges to frequency planning for 5G.
Currently, Vietnam and a number of ASEAN countries have conducted trials on the sharing of the 3.5 GHz band for both satellite and mobile services, and prepared another band for 5G, according to the official.
The spectrum harmonisation for 5G and other services is an urgent task to minimise interference between countries and make the best use of the spectrum, he added.
Participating experts from ASEAN countries also informed results of the trials and future plans for 5G./.
Vietnam, Switzerland eye stronger science, innovation cooperation
Minister of Science and Technology Huynh Thanh Dat, who has been accompanying President Nguyen Xuan Phuc on his official visit to Switzerland, on November 26 had a working session with Martina Hirayama, Head of the State Secretariat for Education, Research and Innovation (SERI) at the Swiss Federal Department of Economic Affairs, Education and Research.
During their meeting, the two officials agreed that it is necessary to further strengthen cooperation in science, technology and innovation amongst science and technology communities and businesses of the two countries, saying that this will bring mutual benefits and promote sustainable development in both countries.
Dat said he was impressed at Switzerland's achievements in growth and prosperity, saying that Vietnam always considers science - technology and innovation as a main motivation to realise its goal of becoming a modern industrial country by 2030, and a developed nation with high income by 2045.
Vietnam has focused on strengthening the capacity of the national innovation system, developing innovative enterprises, encouraging large private corporations to invest in research and development, and attracting foreign enterprises to invest in technology transfer, he said.
The minister suggested Hirayama support the upgrade of the 2019 letter of intent on innovation, science and technology between the two countries to a cooperation agreement between the two governments in the field.
According to the minister, the two sides will co-organise a number of seminars on digital transformation, application of high technology in health, agriculture, climate change adaptation, and innovation management.
Activities to promote investment and cooperation between high-tech zones of the two countries will be strengthened, Dat said, adding that Vietnam encourages Swiss businesses to invest and set up research and development centres in the Southeast Asian nation.
Vietnam is willing to serve as a destination among nearly 20 places worldwide for Switzerland to set up its office of science and technology, the minister said.
The Vietnamese ministry will create the most favorable conditions to promote bilateral cooperation in science, technology and innovation in the time to come, he affirmed./.
MoLISA actively contributes to ensuring rights of Vietnamese guest workers
Deputy Minister of Labour, Invalids and Social Affairs Nguyen Van Thanh on November 26 had a meeting with heads of Vietnamese representative agencies abroad who have been appointed in 2021.
Addressing the event, Deputy Minister of Foreign Affairs Vu Quang Minh said that in addition to its activities to ensure social security issues, the Ministry of Labour, Invalids and Social Affairs (MoLISA) has also played a important role in negotiations on labour cooperation and settlement of problems related to gender equality.
MoLISA's support has greatly helped in mobilising funding from other countries for Vietnam, and importantly contributed to support heads of Vietnamese representative agencies abroad, he said.
Thanh affirmed that the Ministry of Foreign Affairs, especially heads of Vietnam's representative missions overseas, have helped MoLISA ensure sustainability of labour and employment markets, thus benefiting Vietnamese guest workers abroad.
He said that in recent years, Vietnamese labourers working abroad have been well trained and supported so they have met requirements in foreign markets.
The cooperation between the Ministry of Labour, Invalids and Social Affairs and the Ministry of Foreign Affairs has achieved many good results in recent years, especially in protecting rights of labourers working abroad through the support of embassies, he noted.
One of the goals in 202 is to continue improving the quality of human resources, creating drastic changes in the quantity, structure, quality and effectiveness of vocational education, especially high-quality training, he said.
MoLISA is cooperating with partners through nearly 200 agreements and Memorandum of Understanding (MoUs) signed between Vietnam and more than 40 countries and territories, nearly 20 international and regional organisations, and more than 40 foreign non-government organisations, he noted.
Thanh expressed his belief that specialised agencies of the two ministries as well as heads of Vietnamese representative missions abroad will do their best to complete their duties in the time to come.
For their part, heads of Vietnamese representative missions abroad said they hope that MoLISA and relevant agencies will continue popularise information about the labour markets to local workers./.
Vietnam records additional 13,063 COVID-19 cases
Vietnam logged 13,063 new COVID-19 cases, including 15 imported, in the past 24 hours to 4pm on November 27, the Ministry of Health (MoH) announced.
Ho Chi Minh City continued to record the highest number of infections with 1,773 cases. It was followed by Can Tho city (954), Binh Duong (716) and Ba Ria-Vung Tau (697).
The capital city of Hanoi reported 310 COVID-19 cases on the day.
The new infections brought the country's total caseload to 1,197,404.
The MoH said an additional 148 casualties were reported on November 27, lifting the death toll since the beginning of the pandemic to 24,692.
A further 1,668 patients were declared to be free from coronavirus, raising the total number of recoveries to 956,924.
By November 26, Vietnam had administered 117,691,092 vaccine doses. As many as 48,381,597 people have fully got two shots./.
Communications intensified to reduce use of plastic bags, single-use plastic products
The Institute of Strategy and Policy on Natural Resources and Environment (ISPONRE) under the Ministry of Natural Resources and Environment, in collaboration with the Hanoi Department of Industry and Trade and the Vietnam Business for Environment (VB4E) Alliance, held a consultation session with retailers on stepping up the implementation of a communication plan on reducing plastic bags. 
ISPONRE Deputy Director Nguyen Trung Thang said that with the aim of reducing the use of single-use plastic products at retailers, the institute and the Hanoi Department of Industry and Trade called for businesses to sign a commitment to join the alliance of retailers to reduce plastic bags and single-use plastic products.
As of July, 15 retailers had agreed to join this commitment. This is an activity within the framework of the "Rethinking Plastics - Circular Economy Solutions to Marine Litter" project funded by the European Union and the German Government. Expertise France is the organisation that will implement this project in Vietnam.
According to Thang, Vietnam uses about 104,000 single-use plastic bags per day, or 38 million plastic bags a year. Up to 46 out of 48 supermarkets are providing plastic bags free of charge, and each supermarket consumes about 1,454 plastic bags a day on average.
Vietnam aims to use 100 percent of environmentally-friendly plastic bags and packaging at shopping malls and supermarkets by 2025, according to a project on strengthening the management of plastic waste in Vietnam approved by Deputy Prime Minister Le Van Thanh on July 22.
Other goals include to collect, reuse, recycle and treat 85 percent of plastic waste; to halve the volume of plastic waste dumped to oceans; to have 100 percent of tourist complexes, hotels and other lodging facilities not use non-biodegradable plastic bags and single-use plastic products by 2025.
Additionally, the project will gradually cut the production and consumption of non-biodegradable plastic bags and single-use plastic products in daily life; while raising awareness among organisations, enterprises and the community about the harmful effects of single-use plastic items to the environment, ecosystem and human health, and encouraging consumers to shift away from single-use and non-biodegradable plastics to eco-friendly alternatives./.
Better environment protection in Ha Long Bay urged for sustainable tourism

Experts voiced concerns over human impacts on the environment in UNESCO-recognised World Natural Heritage Ha Long Bay in Quang Ninh during a conference held in the northern province on November 26.

Held by the Ha Long Bay management authority both virtually and in-person, the conference aimed to evaluate environment carrying capacity of Ha Long Bay as part of the efforts to promote the sustainable development of tourism in the area.
The event also provided policymakers an overview of the bay's current environmental status and thereby, put forward recommendations for the effective preservation and management of its heritage values and how to make tourism sustainable.
It gathered officials from local departments, agencies and administrations and experts from Vietnam National University (VNU)'s Central Institute for Natural Resources and Environmental Studies, National Economics University and UNESCO Office in Hanoi.
Human activities, such as industrial production, mining, agriculture, fishing and tourism, have been hampering efforts to protect Ha Long Bay, by disposing an increasing amount of solid waste and wastewater, putting enormous pressure on the bay's environment, landscapes and heritage values, said Pham Dinh Huynh, deputy director of the Ha Long Bay management authority.
Human activities are also putting its natural resources at risk of depletion, negatively affecting tourists' experience and satisfaction in the province, he added.
A representative from the Central Institute of Natural Resources and Environmental Studies urged Quang Ninh to complete its policies on protecting the bay's environment and build capacity for officials in charge of managing the bay, and to soon develop and implement a Ha Long Bay integrated management programme for the 2021 – 2030 period, with a vision towards 2045.
Meanwhile, the representative from the Quang Ninh Department of Tourism suggested the adoption of exclusive incentives to attract investment into developing new tourism products and infrastructure in the bay, probably under the Public-Private Partnership (PPP), as well as the development of eco-tours with active engagement of local communities.
Young intellectuals actively contribute ideas for national development

Young Vietnamese intellectuals from around the world enthusiastically contributed their ideas and shared expertise and knowledge on innovation with a view to helping promote the digital transformation process in their home land at a forum that closed on November 26.

Young Vietnamese intellectuals across the globe show their strong resolve to make a practical contribution to the homeland. 
The fourth forum of young Vietnamese intellectuals across the globe opened on November 25, attracting the participation of 177 representatives from Vietnam and 16 countries and territories. 
The two-day forum provided a chance for young Vietnamese intellectuals both at home and abroad to examine ways to contribute to the national digital transformation programme by 2025, with a vision for 2030.
At the event, participants registered two projects to implement the national programme. 
In his closing remarks, Secretary of the Central Committee of the Ho Chi Minh Communist Youth Union and President of the Vietnam Youth Union Nguyen Ngoc Luong said recommendations and suggestions of the youth delegates will be submitted to relevant agencies for consideration. 
The global forum of young Vietnamese intellectuals was first held in 2018. It aims to offers a venue for young intellectuals to propose mechanisms to foster talents in an effective and practical way, thus encouraging young intellectuals to proactively contribute to the national cause of reform and innovation.
It also allows the intellectuals to reveal their initiatives, solutions and recommendations to the Party and State towards the goal of sustainable national development.
The forum is also a channel for the Government and agencies to place orders for suggestions from the young intellectuals regarding national development.
Vice President chairs meeting of NFVC Sponsorship Council

Children must be placed at an important position during the process of developing human resources for national development, said Vice President Vo Thi Anh Xuan.

Xuan made the statement while chairing a meeting of the National Fund for Vietnamese Children (NFVC) Sponsorship Council in Hanoi on November 26 to review its 2021 performance and discuss activities for the 2022-2026 period.
As children are among those hard hit by the pandemic, Xuan, who is also Chairwoman of the council, suggested the NFVC set out urgent and immediate tasks to promptly adapt to the context. The council and the NFVC need to outline long-term tasks in accordance with the national human resources development strategy as well as deliver on international commitments regarding children's rights.
She proposed the NFVC further expand domestic and global resources to train young generations to meet development demand.
In her opinion, it is necessary to renew communication work regarding the effort because it is an effective way to disseminate the Party and State's guidelines on children-related issues, contributing to improving children's rights and human rights in the eyes of international friends.
The official expressed her wish that with dedication, brainpower and responsibility of the council and philanthropists, more effective and practical results in child care and protection would be achieved.
According to her, the NFVC is the only Vietnamese State fund established in 1992 in accordance with the 2016 Law on Children. Therefore, it is necessary to make clear the role, position, function and tasks of the council in the operation of the NFVC as well as funds at all levels to meet requirements in the near future.
At the event, Minister of Labour, Invalids and Social Affairs Dao Ngoc Dung said in the coming time, the council and the NFVC will celebrate the fund's 30th anniversary, prepare for the 15th edition of the "Mua Xuan cho em" (Spring for Children) next year, and hold a meeting with domestic philanthropists and international organisations.
He called for further attention to needy children living with cancer and kidney failure in Hanoi and Ho Chi Minh City, as well as considering expansion of the NFVC's operations to offer more suitable policy consultations.
During the 2016-2021 tenure, the NFVC raised nearly VND575 billion (US$25.36 million) and received the title of "Labour Hero" in the renovation period.
This year, it offered assistance to 113,870 children, or 103% of the yearly target, at a total cost of over VND72.2 billion (US$3.13 million).
Earlier, Deputy Minister of Labour, Invalids and Social Affairs Nguyen Thi Ha announced new Chairperson, Vice Chairpersons and 19 members of the council.
Vietnam contributes to nuclear technology research, application
A ceremony to receive financial contributions for the second phase of the International Atomic Energy Agency (IAEA)'s Renovation of the Nuclear Applications Laboratories (ReNuAL 2) was held in Seibersdorf, Austria on November 25.
Vietnamese Ambassador Nguyen Trung Kien underlined that Vietnam's contribution to the initiative demonstrates the country's responsibility in promoting nuclear technology development for peaceful purposes.
He underlined the significant role of the IAEA and its research centres in nuclear technology application serving sustainable development.
At the event, IAEA Deputy Director General Liu Hua welcomed Vietnam's contribution to the agency's technical cooperation programmes, thereby raising the country's position.
Vietnam was elected as a member of the Board of Governors of the IAEA (BoG IAEA), one of the two policy-making bodies of the agency.
At the regional level, Vietnam has actively engaged in the Regional Cooperative Agreement for Research, Development and Training Related to Nuclear Science and Technology for Asia and the Pacific (RCA).
ReNuAL 2 was unveiled in September last year with an aim to renovate and expand the Seibersdorf laboratories to better meet the need for nuclear technology application in resolving global issues.
Vietnam announced financial commitment to the initiative this September and did the same for the first phase in 2019./.
Landmarks lit in orange to support elimination of violence against women
Several famous buildings and landmarks in Vietnam on November 25 began to be lit up in orange, which represents a bright, non-violent future for women and girls, as part of an international campaign in response to the International Day for the Elimination of Violence against Women commemorated annually on the date.
The venues consists of the Green One UN House in Hanoi and four bridges in the central coastal city of Da Nang – the Rong, Han river, Tran Thi Ly, and Tinh Yeu bridges.
They will be in orange throughout 'The 16 Days of Activism against violence against women and girls' international campaign, which takes place annually from November 25 (International Day for the Elimination of Violence against Women) until 10 December 10 (Human Rights Day).
According to the UN Women, one in three women around the world has been a victim of violence by a husband or partner in their lifetime. This issue is becoming more urgent than ever as the COVID-19 pandemic has exacerbated domestic violence.
Also on November 25, more than 100 judges, prosecutors, investigators, lawyers, and gender equality activists from the People's Court, People's Procuracy, ministries and agencies under the Government, the Vietnam Bar Federation, and other social organisations participated in the "White Ribbon Breakfast" event.
With its theme highlighting gender sensitivity in the trial of cases of violence against women and girls amid COVID-19, the event was held at the Supreme People's Court, also in response to the 16-day international campaign./.
Goalkeeper concerns ahead of AFF Suzuki Cup 2020
For the first time, coach Park Hang-seo has called up five goalkeepers to the Vietnamese squad ahead of the AFF Suzuki Cup 2020.
They are Bùi Tấn Trường of Hà Nội FC, Nguyễn Văn Hoàng of Sông Lam Nghệ An, Trần Nguyên Mạnh of Viettel, Quan Văn Chuẩn of Phú Thọ, and Phạm Văn Cường of HCM City.
Such a decision to draft in many options between the posts, is a clear sign the South Korean coach is unsure about the number one position.
In the previous six World Cup qualifying matches, Park used three keepers, Nguyễn Văn Lâm, Bùi Tấn Trường and Nguyễn Văn Toản.
All leaked goals in the key games. 
In the match against Australia in which Việt Nam lost to Australia 0-1, goalie Lâm was scored 6.30 points by the statistics website sofascore.com.
Given the opportunity to play in the 1-3 loss to Oman, young goalkeeper Toản was awarded 6.00 points by Sofascore. While Trường played four matches and even though he conceded eight goals, he still received a high average score (6.85) compared to his two teammates.
Trường is still considered Park's first choice for the AFF Cup 2020.
Among the rest of the AFF Cup team's goalkeepers, despite having a lot of experience, Mạnh is considered by some to be too short (1.78m), Hoàng has little experience in the big games and, young goalkeeper Chuẩn is thought to be just a back-up.
Trường has also been accused of spending too much time updating his social media pages instead of focussing on preparing for the upcoming tournament.
Coach Park called Cường to the Vietnamese team for the first time in the match against Afghanistan in the third qualifying round of the Asian Cup 2019. He was then included in the Vietnamese team to prepare for the second qualifying round of the 2022 World Cup. At that time, Cường was the No 3 goalkeeper behind Lâm and Tuấn Mạnh. 
Some fear Cường may not be the solution, and might not be able to perform at the level expected by Park. 
Since joining HCM City in the 2020 football season, Cường hasn't been able to hold down a regular first team place. He played just twice this year, once against Nam Định which they lost at home by three goals to two.
So Park has many decisions to make ahead of the AFF Suzuki Cup, but one things for sure, it will be the goalkeeping position that's keeping him awake at night. Plenty to ponder for the South Korean.
Conference seeks to unleash potential of old photo archives at Vietnamese institute
The Institute of Social Sciences Information (ISSI) under the Vietnam Academy of Social Sciences (VASS) on November 25 held an international scientific conference to seek ways to unlock potential of the photo archives of the French School of the Far East (EFEO) at ISSI.
ISSI Deputy Director Assoc. Prof., Dr. Le Hai Dang said the big collection of EFEO photos archived at ISSI has become a valuable heritage for researchers in studying national culture and provided evidence for the restoration of cultural and historic relics damaged by wars or natural disasters.
The social science library operated by ISSI has been preserving a large number of original photos and documents handed over by the EFEO since 1957. They include a collection of 60,000 photographs, one of the rarest and most valuable photo archives in Orientalism in Southeast Asia. However, the archives have not been used to the fullest extent.
Speaking at the event, Isabelle Poujol from the EFEO in Paris shared how technology has been used to preserve and keep records of more than 200,000 old photographs stored for decades at the EFEO headquarters.
These photos are of great interest to the scientific community; in some cases, they are even the only historic evidence, she said. The EFEO in Paris has been digitalizing them in order to not only archive them better but also offer researchers easier access to such a big collection, according to Poujol.
Dr. Nguyen Huu Tam, a former staff from the VASS's Institute of History, said to protect and promote the values of the photo archives at ISSI , first and foremost, librarians must be provided with comprehensive knowledge on archiving photos and main content of the archived photos.
During the event, attendees discussed social science and humanities issues through the EFEO photo archives and how to preserve and make use of the photo collection.
The French School was established in Vietnam in 1900 in Sai Gon (Ho Chi Minh City today). It was closed in 1959 and re-opened in Hanoi in 1993. It mainly focuses on history, archaeology and philology, as well as the study of modern Asian societies.
HCMC accelerates building of urban government
In the context of the Covid-19 epidemic impact, Thu Duc City and districts in Ho Chi Minh City are still making efforts to build an urban government for the implementation of the 2021 themed The year of building urban government and improving the investment environment. Up to now, the construction of urban government has achieved remarkable initial results.
Ho Chi Minh City is the first centrally-run city in the country to implement an urban administrative model to bring into practice a 'city within a city' model -Thu Duc City for the implementation of urban government.
Chairman of Thu Duc City People's Committee Hoang Tung said that Thu Duc City's mission is to build an urban government, so since the early days of its establishment, all activities in Thu Duc City have all centered around this task. Currently, the apparatus of Thu Duc City is operating stably.
In particular, Thu Duc City is focusing on the proposal of appropriate mechanisms and policies for development to Ho Chi Minh City. Thu Duc City has just launched the IOC Smart Operation Center in Thu Duc City which has been collecting data.
According to Mr. Hoang Tung, when it was established, Thu Duc City had a fragmented data situation, lack of connection and unity. IOC Thu Duc City will address the expectation of building a unified data system, linked with industries to be able to analyze interdisciplinary in a multi-dimensional way. From there, it will help to increase the interaction between the government and the people, between the government and businesses; and prepare data to forecast future trends.
The most important task of Thu Duc City's IOC is to help administrative simplification reform with an orientation of provision of online public services to facilitate residents and businesses. From now until the end of the year, Thu Duc City will strive for 50 percent of public administrative procedures to be served online at level 4 and continue to accelerate this component, Mr. Hoang Tung emphasized.
Prior, District 7 had launched the Center for Operations and Control of the Covid-19 epidemic and urgently started to restore the local economy. The district focuses on building e-government, smart cities, developing digital economy, digital society, digital transformation in various fields. Currently, District 7 has provided level 4 online public services in more than 190 sectors.
Chairman of the People's Committee in Go Vap District Nguyen Tri Dung affirmed the implementation of the urban government model and increasing online public services will help facilitate dwellers.
To ensure transparency in all activities of people's committees in wards and districts, the city authorities decided to delete people's councils of districts and wards; the southern largest city had to arrange employees who used to work for people's councils of districts and wards to new positions.
Up to now, the arrangement of 266 positions including 18 vice chairmen of the district people's council, 29 deputy heads of the specialized committee of the district people's council, and 219 vice chairmen of the ward people's council seemed completed.
In particular, a dialogue between chairpersons of people's committees of districts and wards and residents must be held periodically where chairpersons will publicize all activities of the district and wards and issues related to dwellers.
However, Ho Chi Minh City was hit by the fourth wave of the Covid-19 pandemic; as a result, the city authorities had no choice but applied three-month social distancing to fight the epidemic; therefore, local administrations have not held dialogue sessions between chairpersons of people's committees and inhabitants yet.
It is scheduled that Go Vap District will hold a dialogue between district leaders and people in early December 2021 before the year-end meeting of the People's Council of Ho Chi Minh City takes place.
Chairman of the Go Vap District People's Committee Nguyen Tri Dung informed that the Fatherland Front will take residents' opinions through meetings and dialogues between the people and the government for monitoring.
Chairwoman of the Ho Chi Minh City People's Council Nguyen Thi Le said that she has developed a project to improve the quality of supervision activities of the municipal People's Council in the context of implementing urban government for the 2021-2026 term.
Along with that, the city will promote the supervisory role of the Fatherland Front Committee and political organizations at all levels. The project on enhancing the role of the Vietnam Fatherland Front and the people in supervising party organizations, party members and activities of governments at all levels in the city in the 2021-2030 period was also approved.
The southern metropolis is organizing a peak month to implement the 2021 themed The year of building urban government and improving the investment environment.
In the peak month, the city plans to organize meetings and dialogues between city leaders, heads of departments and agencies, and businesses to discuss businesses' difficulties and how city authorities will help them to remove their difficulties for improvement of production capacity.
Direct and online investment promotion will be organized in conjunction with international organizations to attract foreign direct investment. Additionally, the second Ho Chi Minh City Innovation Award ceremony in 2021 will be held.
In particular, there will be a special week to receive and administrative-related documents will be solved on the same day. No dossiers are solved late in the peak month. 
Vietnam's commitment at COP26 marks a turning point in climate change policy: expert
Vietnam's commitment at the 26th United Nations Climate Change Conference of the Parties (COP26) in Glasgow, the UK, is a historical turning point in its climate change policy, an expert has said.
Dr. Do Nam Thang, an expert in environment and climate change at the Australian National University, told the Vietnam News Agency (VNA)'s correspondent in Sydney that through the commitment made by Prime Minister Pham Minh Chinh at the conference, Vietnam has joined hands with about 140 other countries worldwide to achieve the target of net zero emissions by 2050.
Despite a range of challenges, Vietnam has opportunities to realise the commitment, he said, suggesting the country devise a specific, feasible plan to reach the target.
Thang cited a recent study by the Australian National University as showing that Vietnam has potential to produce 90 percent of its electricity from wind and solar power.
The country's initial successes in solar and wind power development, especially offshore wind energy, should be further promoted.
According to the World Bank, Vietnam's offshore wind power potential is estimated at about 475 GW in its territorial waters 200 km from the coastline, about eight times higher than the country's capacity in 2020.
By gradually replacing coal-fired electricity, this could help reduce over 200 million metric tonnes of CO2 emissions and add at least 50 billion USD to Vietnam's economy from a strong local supply chain, more jobs, and exports.
Therefore, Vietnam's Power Development Plan for the 2021 - 2030 period (PDP VIII) should increase the ratio of wind and solar power, the expert suggested.
Thang also highlighted the significance of international cooperation, which, he said, would help Vietnam utilise renewable energy development opportunities and shift towards the green economy./.  
Việt Nam participates in the 143rd IPU Assembly
A delegation of the Vietnamese National Assembly (NA) is taking part in the 143rd Inter-Parliamentary Union (IPU) Assembly in Spain.
The group was led by Vũ Hải Hà, chairman of the Vietnamese NA's Committee for External Affairs. The opening ceremony took place in Madrid on Friday (local time).
The assembly is hosted by the Spanish Parliament in Madrid during November 26-30.
In attendance were Spain's King Felipe VI, President of the Congress of Deputies Meritxell Batet, President of the Senate Ander Gil, and IPU President Duarte Pacheco.
Nearly 1,500 delegates from 123 member parliaments, eight associate members, and 20 observers were also at the ceremony.
Speaking at the event, King Felipe VI emphasised the importance of the parliament as the central institution of democracy, not only representing the people but also playing a decisive role in fostering political consensus.
The Spanish king also expressed his appreciation towards the IPU's capacity, openness, innovation, and priorities in accordance with the actual needs of the parliaments.
Batet, Gil and Pacheco acknowledged the key role of parliamentary solidarity in addressing global issues, especially climate change and COVID-19, while stressing the need to build trust in democracy and resolving differences through goodwill and dialogues.
Addressing the event via a pre-recorded video, the United Nations (UN) President of the General Assembly Abdulla Shahid and its Secretary-General António Guterres emphasised the importance of parliamentary diplomacy in realising UN agreements, affirming the organisation's commitment to strengthening the strategic relations between the UN and the IPU.
This year's IPU Assembly focuses on the "Contemporary challenges to democracy: Overcoming division and building community", which shows IPU's priority in enhancing parliamentary solidarity and collaboration, bringing forward solutions and strengthening the role of the parliament for a sustainable recovery after COVID-19.
On the same day, the Vietnamese delegation had a meeting with Việt Nam's Honorary Consul in Barcelona Guardans i Cambó.
The meeting centred on the cooperation between the two countries, especially in economic, culture, sports, tourism, and other areas of strength.
The delegation also visited the headquarters of Spain's HIPRA Group to discuss its collaboration projects and activities with Việt Nam, including the testing of a COVID-19 vaccine which is expected to be commercialised in the first quarter of 2022.
The Vietnamese officials will continue participating in other events of the IPU, which include the plenary sessions, the governing council, the standing committees on peace and international security, sustainable development, democracy and human rights, UN affairs, the Forum of Women Parliamentarians, the Association of Secretaries General of Parliaments (ASGP), and other bilateral meetings. 
Việt Nam determined to produce COVID-19 vaccines, treatment drugs at home
It is a must to produce COVID-19 vaccines and treatment drugs domestically, Prime Minister Phạm Minh Chính said at a meeting with representatives from ministries and agencies in Hà Nội on November 27.
He regarded the "5K principle", vaccines, treatment drugs, technologies, public awareness and other solutions as crucial factors to safely and flexibly adapt to and effectively control the pandemic.
The "5K principle" was issued by the Ministry of Health, covering khẩu trang (facemask), khử khuẩn (disinfection), khoảng cách (distance), không tụ tập (no gathering), and khai báo y tế (health declaration).
PM Chính applauded the Ministry of Health and relevant ministries and agencies, especially scientists, researchers and producers of COVID-19 vaccines and treatment drugs for their efforts over the past time.
He called for closer coordination to remove difficulties in research as well as administrative and legal procedures, striving to produce COVID-19 vaccines and treatment drugs at home.
The nation's interests, and the public's health and life must be the top priority, the PM emphasised.
PM Chinh assigned the Ministry of Health to coordinate with other relevant ministries and agencies to review institutions to facilitate the process.
As of November 26, Việt Nam had administered more than 117.6 million doses of vaccines. More than 48.3 million citizens are now fully inoculated.
The country has engaged in technology transfer, research and trial of such vaccines as Nano Covax, COVIVAC, ARCT-154, HIPRA, Sputnik V, Shionogi and some vaccines of Cuba and India. Six factories have registered for COVID-19 treatment drug production. 
12th Party Central Committee's Politburo, Secretariat members get retirement decisions
The Politburo and the Secretariat of the Party Central Committee on Saturday handed over retirement decisions to six Politburo and Secretariat members of the 12th Party Central Committee who have not run for seats in the 13th tenure.
The event was chaired by Party General Secretary Nguyễn Phú Trọng, and attended by Politburo member, Prime Minister Phạm Minh Chính; Politburo member, National Assembly Chairman Vương Đình Huệ; and Politburo member and permanent member of the Party Central Committee's Secretariat Võ Văn Thưởng.
Party General Secretary Nguyễn Phú Trọng handed over the decisions to Nguyễn Thị Kim Ngân, former Politburo member, former Secretary of the Party Delegation of the National Assembly and former NA Chairwoman; Tòng Thị Phóng, former Politburo member, former Deputy Secretary of the Party Delegation of the NA, and former NA Vice Chairman; Nguyễn Thiện Nhân, former Politburo member, former Secretary of the HCM City Party Committee and former head of HCM City's NA delegation; General Ngô Xuân Lịch, former Politburo member, former Deputy Secretary of the Central Military Commission and former Minister of National Defence; Hoàng Trung Hải, former Politburo member, former Secretary of the Hà Nội Party Committee, and former permanent deputy head of the unit in charge of documents for the 13th National Party Congress; and Nguyễn Văn Bình, former Politburo member, former Secretary of the Party Central Committee, and former Chairman of the Party Central Committee's Economic Commission.
Trọng said the former Politburo and Secretariat members outstandingly completed their tasks assigned by the Politburo, the Secretariat, the Party Central Committee and the people, and greatly contributed to the country's achievements in all fields.
The Party leader expressed his hope that they will continue to make contributions to the nation's development.
In her remarks, Ngân noted her belief that under the Party's leadership and with people's consensus, Việt Nam will develop strongly in the future. 
Việt Nam, Switzerland eye stronger educational cooperation
Vietnamese Minister of Education and Training Nguyễn Kim Sơn and Switzerland's State Secretary for Education, Research and Innovation (SERI) Martina Hirayama on November 26 discussed measures to improve the efficiency of educational cooperation between the two countries.
Their working session took place within the framework of President Nguyễn Xuân Phúc's official visit to Switzerland.
Sơn suggested strengthening collaboration between Vietnamese and Swiss universities, covering training programmes in such areas as tourism, insurance, banking and high-tech, along with innovation.
The two sides should step up the exchange of lecturers and students, and establish research groups that gather professors from Vietnamese and Swiss universities, he said.
The minister said during a meeting with President Nguyễn Xuân Phúc, Swiss President Guy Parmelin had suggested the five leading universities of Switzerland increase cooperation with Vietnamese universities.
Hirayama showed her support for the Vietnamese side's proposals, saying the two countries' state management agencies play a significant role in this regard.
On this occasion, Sơn expressed his hope that Switzerland will provide more scholarships for Vietnamese students, helping the Southeast Asian nation improve the quality of human resources.
Sơn invited the Swiss official to visit Việt Nam and work with the Vietnamese Ministry of Education and Training.
Hirayama accepted the invitation with pleasure, saying she hopes that the two sides will work together to promote the bilateral educational cooperation. 
Source: VNA/VNS/VOV/VIR/SGT/SGGP/Nhan Dan

Vietnam's return to UNESCO Executive Board welcomed