VIETNAM NEWS HEADLINES NOVEMBER 1
One more storm to appear in East Sea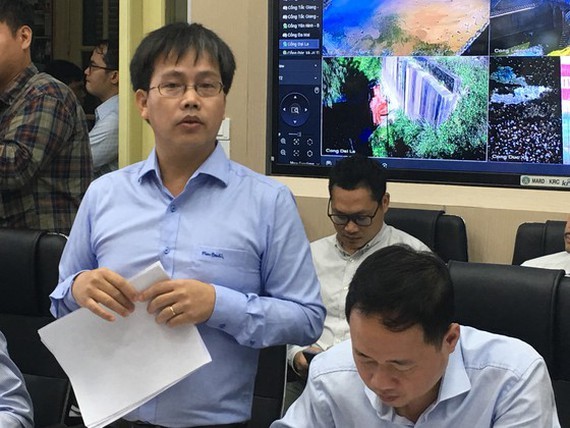 Director of the National Hydrology Meteorology Forecast Center Mai Van Khiem said that one more tropical storm following Matmo would tentatively appear in the East Sea from November 6-8
One more tropical storm following Matmo would tentatively appear in the East Sea from November 6-8, reported the National Hydrology Meteorology Forecast Center this morning.
As forecast, typhoon Matmo has respectively turned into a tropical depression and low- pressure zone today after it made landfall in the South- Central region last night.
According to Director of the National Hydrology Meteorology Forecast Center Mai Van Khiem, the circulation of the tropical depression will continue triggering excessive rainfall of 300- 500 mm, even up to over 500 mm in some places of the Central region.
Hanoi earns Creative City title from UNESCO
With the latest designation, UNESCO Creative Cities Network is currently comprising of 264 city members.
Hanoi of Vietnam is one of 66 cities in the world that have been recognized as "Creative City" by the United Nations Educational, Scientific and Cultural Organization (UNESCO) late October, on the occasion of World Cities' Day on October 31.

Hanoi has been granted the title in the field of Design on October 30 after submitting dossiers to join in the UNESCO Creative Cities Network four months ago.
Hanoi chose Design for the nomination because this field may give the city more opportunities when it comes to the progress of international integration. Design was also nominated by other 31 cities worldwide, of which 12 cities chose Design as a pillar field to develop into creative cities.
Earlier, Hanoi has consulted many international and domestic researchers and organizations to collect data and information to prepare dossiers to submit for UNESCO recognition as a creative city.
Besides, various seminars and workshops have been organized, aiming to consult information from scientists, managers, experts at home and abroad.
With the latest designation, UNESCO Creative Cities Network is currently comprising of 264 city members which have invested in culture and creativity in such fields as music, traditional handicraft, design, literature, digital art, and cuisine among others as an accelerator of sustainable development.
Besides Hanoi, other eleven Asian cities have joined the UNESCO list of creative cities which are Wonju and Jinju (Republic of Korea), Yangzhou and Nanjing (China), Ambon (Indonesia), Asahikawa (Japan), Bangkok and Shukhothai (Thailand), Cebu (the Philippines), Hyderabad and Mumbai (India).
Picture book educates children on dangers of sexual abuse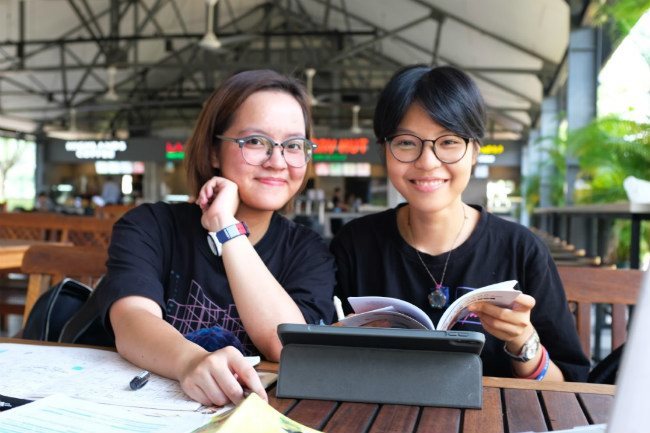 Nguyen Tu Anh (L) and Nguyen Thi Thuy Linh, authors of the "Around Us" picture book - PHOTO: COURTESY OF RMIT VIETNAM
Two students at RMIT University Vietnam have recently worked with Hope Unending organization to create a children's picture book that helps fight sexual abuse and social injustices.
The picture book, titled "Around Us", includes six pairs of situations that a child can encounter in a diverse range of settings, together with the tips on how to react, and an index for children and adults respectively. The book will be used in campaigns and workshops designed for vulnerable groups.
The project took Design Studies students Nguyen Tu Anh and Nguyen Thi Thuy Linh three months to complete. During this time, their research and involvement completely changed their own perspectives towards sexual abuse, a taboo topic with a strong stigma in Vietnam.
"The proposal to create a picture book of illustrated tips for spotting danger came from my initial research to teach children about good and bad secrets," Tu Anh said.
"It's more like a workbook. After each situation, readers will have an exercise to reflect on their own. We profiled diverse characters to demonstrate a range of genders, ages and environments. We always kept in mind the fact that children from any gender can be abused and abusers can be anyone, regardless of their gender, age, social path, family setting, level of education, and so on," she added.
Tu Anh considers herself to be the first reader influenced by the project.
"I am a changed girl now. I myself had a lot of stigma when talking about or discussing this topic, just like within our society, and I always looked out for any news related to child sexual abuse," Tu Anh said. She recalled her surprise with the fact Hope Unending provided to her that over 90% of abusers are people known to the child.
"We need to be informed and educated about sexual abuse, and cannot be ignorant and avoid the topic," she said.
Thuy Linh, whose innocent and lively illustrative style played a vital role in completing the book, said the project taught her "how to make an applicable creative work" and helped her "adopt a new way of looking at this type of art" that she found very useful for her future career.
To create an even wider impact, RMIT will fund the book's mass production to deliver on the university's campus, while Hope Unending will distribute the copies to broader communities.
"Around Us" will also be exhibited with other creative artworks by RMIT students in the Creative Experience Day on November 3, one of the events and activities of the Vietnam Festival of Design and Media: Hanoi 2019.
Hope Unending is a non-governmental organization that gives assistance and community reintegration support to victims of sexual abuse, sexual exploitation and social injustices through neighborhood awareness and education.
PM orders sanctions against violations in Hanoi's urban railway project
Prime Minister Nguyen Xuan Phuc has ordered the Ministry of Transport to impose strict sanctions on those responsible for irregularities found in the Cat Linh-Ha Dong urban rail project.
The prime minister's directive was cited by the Government Office in its recent announcement of his conclusions at a regular meeting on the execution of urgent traffic infrastructure projects, the local media reported.
PM Phuc also told the ministry to work with the relevant agencies to consider putting Hanoi City's first urban rail line into operation once the review of its safety is complete.
Also, the ministry was assigned to review ongoing urban railway projects in Hanoi City and HCMC and propose solutions to ensure good route connectivity, technology application and toll collection, easing the daily routines of commuters.
According to the Government's recent report to the National Assembly on the Hanoi railway project, the Ministry of Transport said that the main contractor, China Railway Sixth Group Co., Ltd, had proposed December 31 as the handover date for the Cat Linh-Ha Dong line.
However, due to bottlenecks that have not been resolved, it is difficult to fulfill this goal, the ministry reported.
The ministry pointed out that the construction of the 13.05-kilometer-long Cat Linh-Ha Dong line, which has 12 elevated stations, is basically complete. Thirteen trains with four carriages each have been purchased. More than 650 employees have been trained to operate the line.
Art exhibition on Vietnam's Wartime Artists opens in Singapore
An exhibition named 'Wartime Artists of Vietnam', showcasing works from the collection of Dato' N Parameswaran, former Malaysian Ambassador to Vietnam from 1990-1993, opened at the NUS Museum under the National University of Singapore on October 30.
The exhibition takes as its preamble a line from the poem A Soldier Speaks of His Generation (1973): "…our generation has never slept". Expressing the profundity of experiencing war and its enduring effects on the human psyche, the phrase is an entry point from which the presentation can be read and accessed.
The focus of the exhibition are the works of eight key artists who were assigned to the front as war artists by the government in Hanoi, including Huynh Phuong Dong, Pham Luc, Nguyen Thanh Chau, Huy Toan, Pham Thanh Tam, Huynh Van Thuan, Le Tri Dung and Van Da.
With 200 works including drawings, woodcuts, posters and paintings on display, along with excerpts of poems and memoirs, the exhibition showcases the activities reflected in the thoughts and views of wartime artists, which partly reflects the conflict between artistic activities and the ferocity of war.
Through the works on display, viewers can also feel the difficulties of a generation of wartime artists and the efforts to rise from the ruins of war.
This is the fourth exhibition of artworks taken from the collection of Dato' N Parameswaran, which includes 1,208 wartime artworks. Among of them, there are 858 drawings in various media, 143 hand-painted posters, 74 printed posters, 74 woodcuts, 46 photographs and 13 paintings.
The exhibition runs until June 1, 2020.
Previously, in 2015-2016, the NUS Museum also held an exhibition on Vietnamese history from 1954 to 1975.
South Korean-invested firm enforces illegal overtime working
Workers of S&K VINA. S&K Luxury Packaging Ltd. Co.
Workers at a South Korean-invested company in the southern province of Binh Phuoc have complained about their excessive overtime.
According to the workers at S&K Luxury Packaging Vina Co. Ltd. located in Chon Thanh District, they have been working from 7:30 am to 9:30 pm between every Monday and Saturday. Employees even have to work until 11 pm on Sunday.
According to the company's regulations, the working time is 7:30 am to 4:30 pm.
In July, the workers had to work for up to 95 hours in total per week. The figure increased to 96 hours in August and 103 hours in September.
Ironically, despite doing overtime, the workers were asked to sign in a paper on their voluntary extra working hour registration.
Early October, Lee Hyeong Hun, Director of the company, issued a document, pledging to apply the extra working time of just 20-30 minutes from Monday to Friday. No extra working hours are imposed on Saturday. Extra working hours are only applied on Sunday in very necessary cases only. However, the situation has remained the same.
Due to exhaustion, lots of workers left the workplace by themselves. But the firm security officers prevented from doing so and told that they would not have a chance to return to work.
Overtime has severely affected their family life.
After the case was published, the company held a meeting with the workers, explaining that the extra working time was aimed to meet increasing orders.
The firm promised to recruit more workers and improve technologies to reduce the pressure for the workers as well as cut the working time in line with laws as soon as possible.
Pham Thi Ngoc Bich, head of the company's Human Resources Board, said that from November, the workers will work for no more than 30 hours per week and overtime was voluntary.
Tran Huu Hien, a representative from Binh Phuoc's Economic Zone Management Board, if the company failed to carry out its commitments, punishments will be imposed.
Company fined for illegal sand mining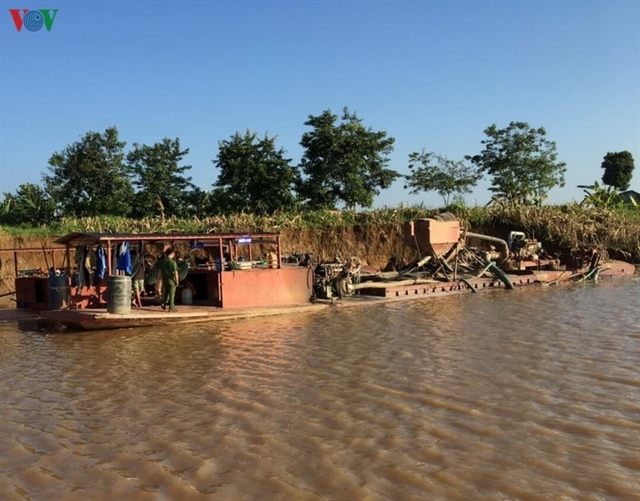 Early morning on September 25, the Đắk Nông Province's joint-sector inspection team captured four illegal sand mining boats in Krông Nô River. — Photo vov.vn
Central Highlands Đắk Nông Province's People's Committee has fined a company VNĐ130 million (US$5,600) for illegal sand mining, vov.vn online newspaper reported.
Inspections by concerned agencies said four boats with workers of the Tây Nguyên Construction Material Joint Stock Company were discovered when they were mining sand along a section of the Krông Nô River last September.
The illegal-sand mining area was at Cao Sơn Village, Buôn Choah Commune of Krông Nô District.
Apart from the fine, the company was responsible for levelling up a section and improving surrounding areas, the committee's punishment decision noted.
Early morning on September 25, the joint-sector inspection team of the provincial Police, Natural Resources and Environment Department and provincial People's Committee captured four illegal sand mining boats, with total seized sand of 120cu.m.
Illegal sand mining has caused landslides and damaged many rice fields in the province.
Vietnamese, Cambodian youths exchange to foster friendship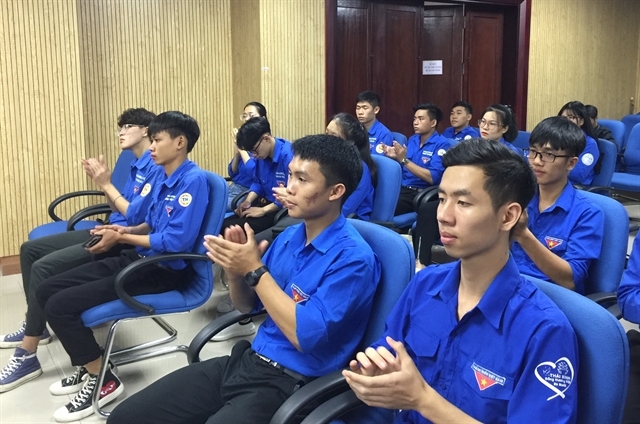 Young journalists and students take part in the youth exchange press briefing on Tuesday.
About 200 Vietnamese and Cambodian youths will take part in four-day exchange to bolster the two countries' friendship from November 5 to 8.
The event aims to commemorate 52 years of Việt Nam-Cambodia diplomatic relations and step up youth exchange in order to uphold the two countries' friendship which is described as "good neighbours, traditional friendship, and sustainable, long-term, comprehensive co-operation."
The young participants who are journalists and students from border localities between Việt Nam and Cambodia will attend a series of voluntary activities such as planting trees, building a Việt Nam-Cambodia friendship project, as well as visiting outstanding economic models in Tây Ninh Province and HCM City.
Young journalists and students will also discuss the role of media in building friendship between young people at workshops.
The exchange is co-organised by the Ministry of Information and Communications and Việt Nam Youth Federation.
At the press briefing ahead of the exchange, Deputy Minister of Information and Communications Hoàng Vĩnh Bảo said Tây Ninh Province has been chosen as one of the event's venues because it witnessed historic events of Vietnamese and Cambodian authorities and people.
"Young people, especially journalists, need to step up regular exchanges because they will send messages to the next generation.
"I hope that participating students and journalists will become a bridge to foster the Việt Nam-Cambodia friendship."
Nguyễn Ngọc Lương, Secretary of the Hồ Chí Minh Communist Youth Union, said ten localities which border Cambodia have signed agreements with Cambodian localities to deepen understanding and trust. The exchanges focus on environment, young entrepreneurs' start-ups, cultural preservation and young personnel training.
Việt Nam and Cambodia established diplomatic relations on June 24, 1967.
The Việt Nam-Cambodia border runs through nine Cambodian localities and ten Vietnamese provinces, namely Kon Tum, Gia Lai, Đắk Lắk, Đắc Nông, Bình Phước, Tây Ninh, Long An, Đồng Tháp, An Giang and Kiên Giang.
Vietnam's U19s lose out to DPRK at AFC Women's Championship
Vietnam's national under-19 women's football team suffered a defeat at the hands of the Democratic People's Republic of Korea (DPRK) in their second match at the Asian Football Confederation (AFC) U19 Women's Championships in Thailand on October 30.
The women's U19 team started the fixture in a 5-4-1 formation, and carefully followed the gameplay issued by head coach Ijiri Akira. As a result of these defensive tactics, both teams went in goalless at half time.
The breakthrough came early in the second half with Yun Ji-hwa of the DPRK opening the scoring in the 47th minute, followed by Kim Kyong-yong doubling the lead in the 62nd minute.
After falling two goals behind, the Vietnamese women's team were forced to chase the game, yet failed to make their pressure count. Ryu Sol-song of the DPRK concluded the scoring in the 70th minute, giving the DPRK a 3-0 win over Vietnam.
Due to their victory, the DPRK will now progress to the semi-finals of the AFC U19 Women's Championships.
Despite suffering defeat, the Vietnamese squad still have a chance of progressing to the semi-finals. Their final match against Australia will be crucial, with the team needing to earn at least a point to have any hope of advancing.
Cargo transport operators face delays after vessel sinks in Can Gio
The sinking of the container vessel Vietsun Integrity in the Long Tau River in HCMC's outlying district of Can Gio on October 19 has created delays for transport firms operating out of the Cai Mep-Thi Vai port complex in Ba Ria-Vung Tau Province to ship goods to Cat Lai Port in HCMC.
A representative of an HCMC-based logistics firm told the Saigon Times that even though ships had arrived at the Cai Mep-Thi Vai port complex on October 24, the goods have yet to be transported to Cat Lai Port due to the traffic restrictions near the site of the sunken ship in Can Gio District.
Since the incident, many cargo ships have not been able to approach Cat Lai Port, stated a representative of Saigon Newport Corporation. Meanwhile, the Soai Rap waterway, which has been used as a replacement, has failed to handle vessels with a full load due to its limited depth, the representative remarked.
As such, these cargo vessels have to dock at Cai Mep International Terminal in Vung Tau City, the representative noted, adding that the cargo has been transported to Cat Lai Port by barge, hampering the transport of cargo to HCMC.
A representative of the Vietnam Logistics Association (VLA) pointed out that VLA had told Saigon Newport Corporation and barge providers to participate in goods transport to ensure the process is smooth.
VLA advised shipping lines, transport firms and cargo owners in Ba Ria-Vung Tau and Dong Nai provinces to proactively limit the number of containers to transport them to the Cai Mep-Thi Vai port complex or transit them through a Dong Nai-based port.
In response to the difficulties facing transport firms, the Vietnam Maritime Administration on October 28 proposed seaport firms and sea transport service providers support the transport firms and lower service fees for large vessels affected by the sinking incident.
These firms should consider applying the minimum prices for container loading and unloading services and so on at ports while the incident is being addressed to safeguard the interests of firms and customers.
According to the administration, cargo ships have been asked to travel through the Soai Rap and Song Dua waterways since the sinking incident occurred.
As of October 27, according to the administration, the relevant agencies had collected from the sunken vessel 37 cubic meters of fuel oil, 70 cubic meters of diesel oil mixed with water and 251 cubic meters of fuel oil mixed with water, and had adopted many measures to prevent environmental pollution.
2019 Vietnamese Golden Ball Awards officially launched
Sai Gon Giai Phong (SGGP) Newspaper held a press conference to launch the 2019 Vietnamese Golden Ball Awards and announce the sponsors and companion units of the award this morning.
The award ceremony is scheduled to take place on February 13, 2020.
Thai Son Nam Trading Company is still the main sponsor of the Vietnamese Golden Ball Awards this year. Along with this familiar sponsor, there are companion units such as Vinawind, Viet Ha Beer, PVF Football Academy, Sun World Fansipan Legend, Hung Thinh Group, World STEEL, OPPO Vietnam, Suntory PepsiCo Vietnam Beverage, Vietnam Airlines, Viva Life, An Thanh Tram Huong, An Duong Construction, Sai Gon Footbal Club, Rex Hotel Saigon, Thu Duc House, Vietnam Football Federation, Vietnam Professional Football Joint Stock Company, etc.
After the press conference, the organizing board will collect the nominations of journalists and managers.
The votes and a short list of nominations will be sent to delegates on December 11, 2019, one day after the end of the 2019 SEA Games men's football finals.
On December 26, the organizers will summarize the votes and kick off the Gala to announce the winners. The awarding ceremony is scheduled to take place on February 13, 2020.
Vietnamese Golden Ball, which is an annual football award for the best performances of Vietnamese footballers over the previous year, has been organized annually by the Sai Gon Giai Phong Newspaper since 1995.
Common database in HCMC ready for public access
The Ho Chi Minh City (HCMC) Department of Information and Communications is going to submit the Integrated Regulations to Manage, Operate, and Exploit the Shared Database to the HCMC People's Committee next week.
This will become the foundation for state offices, businesses, and the general public to access the database, a part of the project 'Transforming HCMC into a Smart City'.
According to Deputy Director of the Department of Information and Communications, among the four basic pillars in the project 'Transforming HCMC into a Smart City', the one about developing a common database has finished the first stage after 2 years.
This database is now operating in Quang Trung Software City, resulting from the integration of several databases of different industries and state departments, including 1-stage electronic public service, complaint receipt, hotlines, business registration, foreign investment, tax payers, foreign laborers, land ownership.
"The HCMC People's Committee held a meeting last week to collect suggestions from consultation experts, representatives of different industries, and state representatives of districts about management, operation, and exploitation methods for this common database", said Ms. Vo Thi Trung Trinh, deputy director of the Department of Information and Communications.
Among the received recommendations are ideas about citizen information updating such as expanding data on household members (relationship to Head of Household), displaying more citizen-oriented data regarding construction and natural resources & environment. There are also voices about clear regulations on data restriction or exploitation level of each user in order to ensure necessary information confidentiality.
The Final Draft of the Integrated Regulations states that there will be four digital directories in this shared database, consisting of citizens (gender, ethnicity, blood type, marital status, address, ID number); businesses (business number, name, address, business type, capital, capital contributors, operation status, tax status); geographic location (street, ward and commune, district, province and city, nationality); management and administration procedures (list of administration procedures, state office names).
In October 2018, the HCMC People's Committee announced the architecture of the city's e-government. This is a comprehensive plan to direct the unified and synchronous implementation of IT in state offices to minimize repetition and financial waste, to satisfy the public's and businesses' practical demands, and to fulfill strategic goals when transforming HCMC into a smart one.
This architecture is developed in accordance with the architecture frame of the national e-government and strictly follows the project 'Transforming HCMC into a Smart City in the Period from 2017 – 2020, with a Vision to 2025'. It is an intelligent preparation for the followed-up digital government to manage this smart city.
The architecture is supposed to help improve public services when focusing more on citizens and businesses. The development of a common database, therefore, is to fulfill this aim.
It is clearly stated that in 2020, the document supervision system, the electronic management, the one-stage electronic public services, the shared database on citizens as well as businesses, and the digital map are going to be basically launched.
From 2020 – 2025, HCMC is going to construct its smart electronic government based on advanced technologies like big data, open database, artificial intelligence, cloud computing. It is also planning to make good use of social networks to deliver smart public services. After 2025 is the time of customized electronic government growth when public services are automatically carrying out thanks to interactions between computers.
Food safety inspectors check milk quality
Inspectors from HCMC Department of Health, Department of Justice and Food Safety Management Board yesterday paid a visit to Vietnamese largest dairy producer Vinamilk's plant to take milk sample for testing.
the mega plant located in My Phuoc 2 Industrial Park in the southern province of Binh Duong is chosen to make milk for schools in the country. It provides 800 million milk liters per year and will provide 1.2 billion milk liters per year in the next two years.
So far, Vinamilk has operated 13 production plants, 12 farms including two European-standard organic dairy farms. Regarding consumer market, the giant milk producer has sold its dairy and dairy products in 52 nations in the world earning US$200 billion yearly while it covers the local market even in remote areas.
Hanoi spends VND1,300 billion ( $ 56 million ) annually on the school milk program; HCMC is thought to exceed the capital city in expenditure on milk in school thanks to its large market.
The Property Auction Service Center under HCMC Justice Department selected Vinamilk to be supplier for the milk school program after one month bid evaluation. Vinamilk pledged to offer 20 percent discount for the program, helping to save VND24 billion for the city state budget.
From November 1, over 250,000 preschoolers and first graders in 10 districts will enjoy glass of milk everyday.
The school milk program was launched in 2016. It aims to provide all children in pre-schools and primary schools with milk everyday to reduce malnutrition, improve their health and physical strength and contribute to human resources in the future.
Two more craft villages in Phu Xuyen recognized as places of tourist interest
Several villages in Phu Xuyen district with a long tradition of practicing traditional crafts and talented craftsmen would be appealing to tourists.
Two more craft villages in Phu Xuyen have recently been recognized as places of tourist interest by the Hanoi government.
Accordingly, the village of Chuyen My, which is famous for its craft of shell inlaying, and the sewing village of Van Tu have formally become craft villages. Of the 1,300 villages specializing in some kinds of crafts in Hanoi, so far more than 300 have received the recognition as craft villages.
All the trades in Chuyen My village have to do with shell, including inlaying, lacquering and processing, among others, while the people in Van Tu village have been famous for making suits for almost a hundred years.
Several villages in Phu Xuyen district with a long tradition of practicing traditional crafts and talented craftsmen would be very attractive to tourists. However, this potential has been left untapped since these villages have not been recognized as craft villages and, therefore appear nowhere on the tourist map and guide book.
As a result, the recognition will help promote tourism potential and the handicraft products of the villages as well as Phu Xuyen district.
According to the city government, annual gross revenue earned from traditional craft and other trades of Hanoi rural villages has amounted to VND20 trillion (US$862 million).
Wastewater treatment technology needs to be suitable with Vietnam
Nano-bioreactor wastewater treatment technology has been used for wastewater environment pollution treatment at cleaning sections of the To Lich River and West Lake since May, 16, 2019
Minister of Natural Resources and Environment Tran Hong Ha yesterday inspected nano-bioreactor wastewater treatment technology of Japan at the pilot cleanup area of Ho Tay (West Lake) in the capital city of Hanoi.
In the inspection trip, the minister praised the Japanese nano-bioreactor technology that Japan-Vietnam Environmental Improvement Company and the Japanese experts used for cleaning sections of the To Lich River and West Lake to reduce water pollution.
However, he also suggested additional technologies and methods of wastewater environment pollution treatment to ensure efficiency because riverbanks and lakes in Vietnam have been polluted by domestic wastewater and production activities.
According to UN environmental expert and President of the Japan Environment and Trade Promotion Organization Tadashi Yamamura, water quality at a part of To Lich River and West Lake has gradually improved after five- month- pilot process of using the Japanese technology.
Vietnamese colleges striving to win 'high-quality' title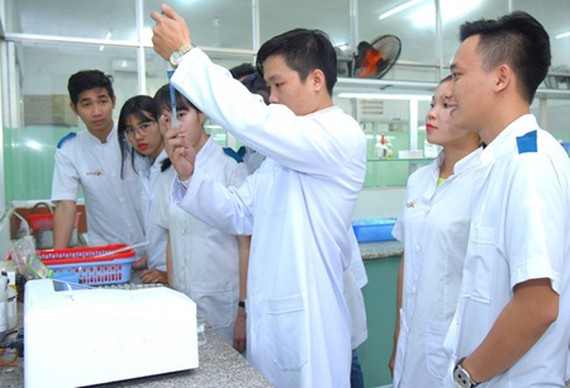 Students of Dai Viet Sai Gon College are attending a lab lesson
"Until 2025, Vietnam should have around 70 high-quality colleges to follow curriculums approved by developed countries in ASEAN and the world", declared the Prime Minister in his Decision No.1363 on 'Developing High-quality Colleges until 2025'.
One related decision also issued by the Prime Minister on May 23, 2014 was Decision No.761 on 'Developing High-quality Vocational Schools until 2020'. It clearly stated that from 2014-2016, 34 vocation curriculums imported from other nations would be piloted, followed by a higher goal in the last period of having students in those curriculums certified by prestigious educational organizations of ASEAN and the world. Another aim is to possess 40 high-quality colleges.
The amendment of the project under this Decision is until 2025, there will be 70 high-quality colleges, being able to train students certified by developed countries in ASEAN and the world in order to meet the market's demand in the globalization process and to positively contribute to the comprehensive vocational training renovation in Vietnam. There should be 3 colleges to keep up with the level of their counterparts in the G20 group, 40 to be equal to ASEAN-4 nations, which means an increase of 30 high-quality colleges in 5 years compared to that in the old Decision.
This amended project encourages both state and private colleges in that the government adopts an open policy with specific mechanisms and financial aid for these educational institutes to freely select their development direction to win the 'high-quality' title. Simultaneously, it promotes socialization in the field so that other colleges will also be able to obtain this title.
Particularly, high-quality colleges will be prioritized to carry out vocational training missions from the government using the state budget. In addition, this budget finances the 2016-2020 stage via the focused program 'Vocational Training and Work Safety Training' approved in Resolution No.73 issued on August 26, 2016 and Decision No.899 issued on June 20, 2017 by the Prime Minister.
However, the capital for the amended period from 2021-2025 will be delivered by the national budget within its annual balance in accordance with a goal-oriented mechanism from key programs and projects. Along with that is the mobilized money from both extra domestic and foreign projects approved by the state authorities, as well as local and international sponsor sources or other legal capital sources.
One troublesome issue is whether the criteria of the old title 'High-quality Vocational School' (established when these schools were still under the Ministry of Education and Training) are applied to the new title 'High-quality College' (including both vocational and professional colleges) or not. There might be difficulties in preparing absolutely new and suitable criteria as well.
Another worrying point is whether globally certified high-quality private colleges are selected to train human resources using the national budget or sponsoring finance from organizations.
According to a principal of a private college in Ho Chi Minh City, in the old project, the Ministry of Labor, War Invalids and Social Affairs listed 45 colleges which enjoyed investment priority in line with high-quality educational institute criteria. Yet there is no such list in the new project.
Dr. Hoang Ngoc Vinh from the Vietnam Association for Vocational Education – Training and Social Work Profession, many vocational schools in the old project encountered difficulties in student enrollment, students' foreign language ability. The inspection task for these colleges also meet obstacles since it is quite similar to the one for universities, which is not at all as effective as that specifically for job training. As a result, several colleges satisfy those strict standards thanks to facilities investment, but cannot earn sufficient trust from the public because they do have problems.
It is obvious that without transparent and detailed criteria for a high-quality college equivalent to those in the region or the world, winning such a title does not mean that an educational institute can operate effectively.
"Smarter Tourism" aims discuss solution for Vietnam's tourism issues
The Hanoitimes - The fourth international conference on tourism in Vietnam with the theme "Smarter Tourism" is held by the National Economics University in Hanoi on October 31.
A conference titled "Smarter Tourism" will provide a forum to discuss critical contemporary issues in tourism, thereby, promoting the sustainable growth of Vietnam's travel industry, To Quoc Newspaper reported.
The fourth international conference on tourism in Vietnam with the theme "Smarter Tourism", to be held by the National Economics University in Hanoi on October 31, will focus on ten topics namely tourism and economic development, heritage tourism, the application of technology in travel industry, tourism marketing, trends of consumers' behavior while traveling, destination management, tourism policy, smart consumption, responsible and sustainable tourism, and research methodology in this leisure industry.
In parallel with the academic session, a practical forum themed "A Vision for Smarter Tourism" will gather panelists from the academic, state management and business spheres to discuss contemporary tourism development.
Some Vietnamese tourism experts, policymakers, administrators and some foreign leading scholars in tourism research from Australia and France are expected to attend the event.
The development of tourism generates several opportunities as well as challenges of finding a more durable and sustainable development, a way of developing tourism in a "smarter" way. This is especially important in developing countries where the tourism in particular and the socio-economic aspects in general have witnessed profound changes, according to tourism researchers.