VIETNAM NEWS HEADLINES MAY 7
Local youths mark 67 years of Dien Bien Phu victory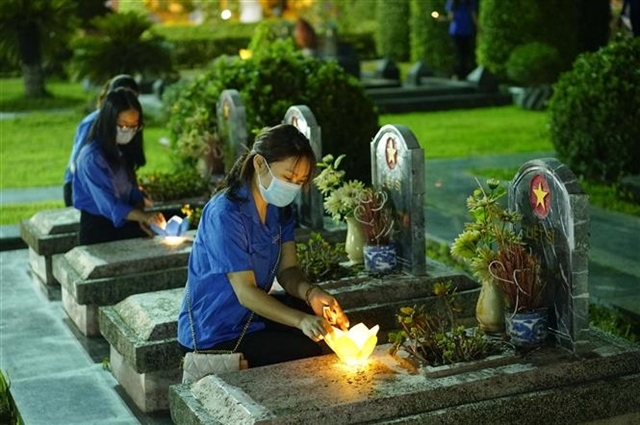 Youth Union members light candles to commemorate matyrs at the Cemetery A1 in Dien Bien Phu City on Thursday night on the 67th anniversary of the Dien Bien Phu Victory (7/5/1954 - 7/5/2021).
The Hồ Chí Minh Communist Youth Union Committee of the northwestern province of Điện Biên held a ceremony on May 6 to commemorate heroes and martyrs in celebration of the 67th anniversary of the victory of the Điện Biên Phủ Campaign.
The victory on May 7, 1954 was the decisive event ending the nine-year resistance war against French colonialists in Việt Nam, as well as France's colonial rule in Indochina. It was one of the brilliant milestones in the history of Việt Nam.
At the ceremony held at Martyrs' Cemetery A1 in Điện Biên Phủ City, more than 100 members representing over 160,000 young people in the province, along with provincial officials, laid wreaths at the monument, lit candles, and offered incense to the martyrs.
The activity was one among many held on the occasion expressing gratitude to the heroes, martyrs, and those who devoted their lives for the sake of national independence and freedom.
Martyrs' Cemetery A1, built in 1958, accommodates 645 graves of martyrs, but most of them remain unidentified.
Vinh Phuc's city begins social distancing today
Vinh Phuc Province's government has decided to begin social distancing in the entire Vinh Yen City for 15 days from today, May 7, to curb the spread of Covid-19 as the city has reported 11 Covid-19 patients and several suspected cases.
Under the social distancing order, people from households, villages, wards and districts should maintain a distance from each other, the local media reported.
During the social distancing period, residents are required to refrain from going out except to buy food, medicines and other necessities; avoid gatherings of more than two persons and keep a safe physical distance of at least two meters from each other.
Production factories, essential goods suppliers, banks, treasuries, transport service operators and import-export service providers can remain operational, but must strictly comply with Covid-19 safety measures.
The competent agencies in the city were told to allow their State employees to work from home and hold online meetings to discuss the fight against Covid-19.
In line with the order, the leaders of Vinh Yen City will have to assume responsibility before the provincial government if Covid-19 transmissions happen in quarantine centers and areas under lockdown.
The number of Covid-19 cases in Vinh Phuc Province stood at 25 on May 6, up 11 against the figure reported on May 5. Of the total, Vinh Yen City reported 11 Covid-19 patients.
Hanoi Mayor serves as Head of municipal Steering Committee for COVID-19
Chu Ngoc Anh, chairman of the Hanoi People's Committee, has been made head of the municipal Steering Committee for COVID-19 Prevention and Control.

This comes following the Hanoi People's Committee issuing Decision No. 2025 regarding strengthening pandemic prevention measures on May 6.
In line with the decision, Chu Xuan Dung, vice chairman of the Hanoi People's Committee, and Tran Thi Nhi Ha, director of the Hanoi Department of Health, hold positions as deputy heads of the Committee alongside 39 other members who are leaders of various municipal departments and agencies.
The Hanoi Steering Committee for COVID-19 Prevention and Control has therefore been assigned with the task of advising and assisting the municipal People's Committee to implement necessary COVID-19 response measures. This is in line with the policies set out by the Government, the Prime Minister, the National Steering Committee for COVID-19 Prevention and Control, the Ministry of Health, along with the municipal Party Committee.
The primary aim of the Hanoi steering committee is to devise plans for pandemic containment and direct departments, sectors, and district-level  people's committees according to their functions and tasks in the ongoing fight against COVID-19.
The committee is also responsible for making proposals to the municipal People's Committee to ensure funding, drugs, chemicals, materials, equipment, and facilities in an effort to boost pandemic prevention and control in Hanoi.
One more locally-infected Covid-19 case related to Chinese man confirmed
The Ministry of Health on Friday morning reported one more locally-transmitted Covid-19 infection case who had come into contact with a previously-confirmed Chinese patient.
Patient 3091 is a 42-year-old man in Thanh Hoa City. He came into close contact with the Chinese man who recently tested positive for Covid-19 in the northern province of Yen Bai.
The patient who tested positive for Covid-19 on May 6 is staying at the National Hospital for Tropical Diseases in Hanoi's Dong Anh District.
By this morning, Vietnam recorded a total 3,091 Covid 19 patients, including 1,691 locally-infected cases.
Since the latest wave of coronavirus outbreaks from April 27, the country has recorded 121 local infections in 15 localities, including Hanoi, Danang, and Ho Chi Minh cities, and the provinces of Ha Nam, Vinh Phuc, Hung Yen, Quang Nam, Dong Nai, Hai Duong, Yen Bai, Thai Binh, Bac Ninh, Lang Son, Quang Ngai, and Thanh Hoa.
The country has vaccinated more 747,820 people against Covid-19 in 48 localities, mostly frontline workers of the Covid-19 fight.
HCM City prioritises clean-fuel vehicle development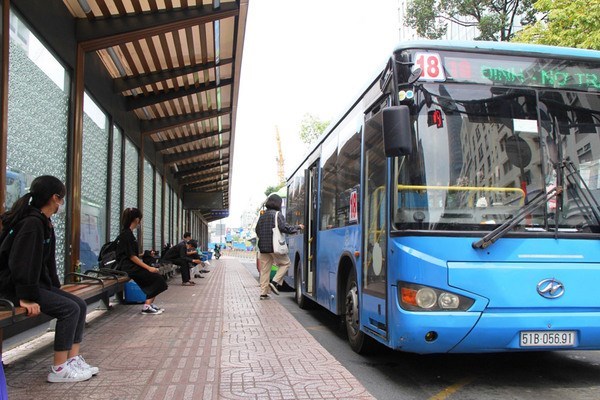 CNG buses in HCM City could lose fuel supply

Ho Chi Minh City has prioritised the development of vehicles with clean fuel, particularly buses running on compressed natural gas (CNG), in a project to bolster the use of public transport in tandem with restricting personal vehicles for 2021-30.
The development of public transport is also essential for curbing traffic congestion in the southern hub.
Statistics of the municipal Department of Transport showed that 2,043 buses are running on 127 routes in the city. Of them, 496 are CNG ones, which help reduce environmental pollution.
Deputy Director of the department Vo Khanh Hung said at present, PetroVietnam Gas (PVGas) South is the sole supplier which sets clean fuel prices. The prices often see upward trends, dealing a major blow to CNG bus investment.
In addition, there are only three CNG pump stations serving 180 vehicles per day.
To address the problem, the transport sector has rolled out various measures for clean-fuel vehicle development in the coming time.
The Transport Department is working with PVGas South and relevant agencies in simplifying administrative procedures for the building of new pump stations.
Local authorities have also mulled over electric bus development. Three routes have been piloted since 2017 and the city will test the vehicle for tourism purpose in Can Gio district.
Of note, the Government has allowed HCM City to pilot the use of large electric buses with a capacity of 60-70 passengers.
Meanwhile, the municipal People's Committee is advised to propose the Government promulgate policies and guide the locality to make planning on infrastructure system serving buses using clean fuel, along with incentives for investors./.
Agencies urged to complete report on vehicle emission control
The Ministry of Natural Resources and Environment (MoNRE) has urged relevant agencies to quickly complete the report on the implementation of the roadmap to apply emission standards to motor vehicles.
In the document sent to agencies, MoNRE asked the ministries of Transport, Industry and Trade, Science and Technology, Finance and Public Security to complete their report before May 31. 
The Ministry of Transport is responsible for evaluating the implementation of the roadmap for the application of emission standards for motor vehicles and difficulties in implementation.
The agency is also responsible for proposing the adjustment of the ongoing roadmap of emissions standards, tightening the emission standards, conversion and elimination of means of transport using fossil fuels, or vehicles causing environmental pollution and development of environmentally friendly vehicles.
It will assess the building and implementation of national technical standards on emissions, the capacity of registration establishments and quality assessment of exhaust gases from motorcycles under the pilot programme on motorbike emission control in Hà Nội and HCM City. 
The Ministry of Industry and Trade will evaluate the capacity of manufacturers, importers and suppliers of fuel used for motor vehicles in accordance with national technical regulations and the roadmap for application of emission standards; report fuel statistics data used for vehicles from 2008 to 2020 as well as difficulties in implementation.
The Ministry of Science and Technology will conduct an assessment on the application of technical standards on emissions and fuel for vehicles.
Meanwhile, the Ministry of Finance will report on the building and issuance of the emissions testing fee for vehicles; financial mechanism to support fuel production and trading enterprises; as well as statistics on the number of motor vehicles imported from 2008.
The Ministry of Public Security will compile the annual registration of vehicles from 2008; the number of recovered and removed vehicles due to expired registrations; proposals and recommendations on the management of motor vehicles; as well as revoke outdated vehicles. 
State President holds working session with Cu Chi, Hoc Mon districts in HCM City
State President Nguyen Xuan Phuc joined other candidates for the upcoming elections of deputies to the 15th National Assembly and People's Councils in Ho Chi Minh City at a conference reviewing the socio-economic-cultural situation and national defence-security in HCM City's outlying districts of Cu Chi and Hoc Mon on May 6.
The event was held three day before the first meeting between voters and the candidates in constituency No 10 in Cu Chi district, scheduled for May 9.
Phuc hailed the municipal Election Committee for holding the event to help the candidates grasp the local situation and devise action plans to meet public needs.
Expressing his honour at being a candidate of Cu Chi, he said Cu Chi and Hoc Mon have advantages in land and socio-economic infrastructure, which provide a launch pad for them to prosper in the future.
He suggested that authorities and people in Cu Chi and Hoc Mon districts study high-tech, digital, and organic agricultural models and make the best use of land potential by reviewing land use planning and allocating more land for trade, industry, services, and high-tech agriculture.
Further attention should also be paid to new-style rural development, the building of ecological urban areas and green belts, and making changes to the structure of the local workforce.
He asked that the two districts provide more care to the families of revolution contributors, and disadvantaged and vulnerable groups, while maintaining national defence-security and social safety and order and ensuring COVID-19 prevention and control.
Phuc hoped that the two districts would uphold their glorious revolutionary tradition and optimise their existing advantages for growth.
As scheduled, candidates for the upcoming elections of deputies to the NA and all-level People's Council will begin their election campaigns this weekend./.
Four reasons behind fresh wave of COVID-19 infections in Vietnam
Tran Van Son, Minister-Chairman of the Government Office, has revealed four key reasons why Vietnam could potentially face a fourth wave of novel coronavirus (COVID-19) infections.

The primary reason for the latest rise in cases is due to quarantine violations occurring among legal entrants.
Son said a number of foreign experts and repatriated Vietnamese citizens have violated their quarantine regulations, referring to two recently-detected Vietnamese and Chinese infections.
Both cases had completed the mandatory quarantine period, but instead of self-isolation at home for another 14-days according to COVID-19 rules, they had traveled to various localities and met a lot of people, transmitting the virus onto dozens of people nationwide.
Secondly, acts of illegal entry pose a potential threat of virus resurgence and spreading in Vietnam. The past weeks has seen Vietnamese and Chinese citizens illegally cross the border into Vietnam, and some of them have been diagnosed with the SARS-CoV-2 virus.
The negligence of quarantine facilities can also be considered a factor in the rise in COVID-19 cases. According to Son, when people complete their 14-day quarantine period, the facilities must then hand individuals over to local management agencies in order to continue monitoring their health status. However, the rule has not been strictly observed locally.
Last but not least, local people show complacent attitude to the recurrence of the virus following weeks without new COVID-19 cases detected in the community. People can be seen gathering in large crowds in public, often without masks, and dropping their guard in general.
During a meeting recently held in Hanoi, Son stressed the importance of tightening controls of immigration and quarantine. He proposed that five ministries of foreign affairs, national defense, public security, health, and transport, work closely together to control the entry of Vietnamese nationals and foreign nationals from overseas.
According to the official, the Government will consider the Ministry of Health's proposal regarding extending the quarantine time beyond the current mandatory 14-day period at quarantine facilities.
Da Nang deploys community-based anti-COVID-19 groups
With a number of cases of community transmission being reported, the central city of Da Nang has asked localities to reactivate their community-based anti-COVID-19 groups, which are tasked with monitoring the implementation of COVID-19 prevention measures.

Though small, Chieu Market in Son Tra district is packed with buyers and sellers, creating a huge risk of COVID-19 being quickly and widely transmitted. As soon as the latest wave of COVID-19 emerged in late April, Tho Quang ward in Son Tra district deployed checkpoints at all entry points of the market to remind people about measures to fight the spread of the disease.
The anti-COVID-19 group also cooperates with market management boards to pass on information regarding the pandemic and preventive measures to both buyers and sellers.
Given the complex development of the pandemic, Da Nang has activated over 1,600 community-based anti-COVID-19 groups in 56 communes and wards. In addition to monitoring markets, they also watch over beaches to stop people from gathering in large numbers. Those violating pandemic prevention orders are handled in line with legal regulations.
With the determination of local authorities and local people and a high level of vigilance from the community-based anti-COVID-19 groups, Da Nang expects to soon contain the pandemic./.
Schools in HCMC to finish second semester by May 15 due to Covid-19
 
Facing the newest outbreak of Covid-19 pandemic in Vietnam, the Ho Chi Minh City Department of Education and Training yesterday requested that all primary and secondary schools, vocational schools and continuing education centers citywide adjust their curriculum to complete the second semester examination of the 2020-2021 academic year before May 15, 2021.
Accordingly, all primary and secondary schools, vocational schools and continuing education centers in HCMC should let their students sit formal final tests for the second semester at school by May 9, 2021.
These educational institutes are allowed to apply Circular No.26/2020/TT-BGDDT to take into account other types of exam such as learning projects, practice lessons, presentations for the final result of the subjects.
This will reduce pressure on students when they have to complete the second semester of this academic year before May 15, 2021.
Schools are also asked to be ready for the online teaching and learning mode after May 9 to wrap up all lessons of this academic year if the situation becomes more serious.
This adjustment is wholeheartedly welcomed by parents seeing that the newest Covid-19 outbreak in Vietnam is still unpredictable.
Observing this instruction, many schools in HCMC is planning for students to take turn coming back to schools either in the morning or the afternoon to avoid being too crowded.
Education sector in HCMC identifies digital transformation as key task
The education sector in Ho Chi Minh City has identified digital transformation as one of the top key tasks to meet the requirements of high-quality human resources, contributing to enhancing the national competitiveness of the city.
The Department of Education and Training yesterday issued a plan to implement the sector's digital transformation for the period 2021-2025.
Specifically, the municipal Department of Education and Training has defined that digital transformation will help the city's education to change its management on a digital platform. In addition, the change also has a direct impact on the audience and services provided by the industry, from traditional education services to digital education services.
Learners will access various forms of learning and they can learn everywhere at any time with the orientation towards to ongoing, voluntary, and self-motivated pursuit of knowledge. To accomplish those goals, the city will deploy the city education management information system including a database to connect to the information system of all schools in the city simultaneously between 2021 and 2025 as well as use data analysis tools to manage educational activities.
Moreover, by 2025, most schools will apply information technology in managing and administering educational performance including the collection of tuition fees, timetable synchronously with the sector's data system.
Last but not least, most schools are connected to a broadband connection that is sufficient to effectively deploy online applications on the internet environment and all students have got access to the internet and online learning materials comprising textbooks, lectures, and the online teaching-learning system.
At the same time, the education sector continues to promote the application of digital technology and digital platforms to innovate content and teaching-learning approaches such as electronic lectures, multimedia digital learning, combined in-person classes and online classes, testing – evaluation with the focus on digital transformation in educational management, public service gateways and online administrative procedures for the orientation towards a smart administration.
As a result, the education sector's data includes a centralized education database system, a centralized user authentication system to serve residents and businesses, electronic payment connection; connecting postal services for delivery, integrate and interconnect information systems.
In addition, the sector will implement the digital signature system, electronic signature and develop mobile super-application platforms for educational services orienting towards the educational social network.
Furthermore, the sector will build a digital ecosystem, develop a smart education operations center as well as promote the implementation of the projects "Smart schools - Cashless schools", "Building modern library system and a digital platform to improve online teaching.
Winning works of Vietnam Children's Fine Arts Awards 2021 on display
The Department of Fine Arts, Photography and Exhibition has just announced the exhibition of the winning works of the Vietnam Children's Fine Arts Awards 2021.
The exhibition of the working works of the Vietnam Children's Fine Arts Awards 2021 is organized twice a year to encourage children to draw pictures and detect talents.

This year's display will show works with the theme of love for the country, daily activities, outside activities, children's love for Uncle Ho, grandparents, parents and natural environmental protection issues of children aged from five to 15. The competitors can use all kinds of materials for their entries.
The organizer will give 49 awards and select good ones for the exhibition. Entries can be sent to the Department of Fine Arts, Photography and Exhibition from May 25 to July 5.
Hanoi to upgrade natural disaster prevention infrastructure 
Hanoi will upgrade the system of natural disaster prevention infrastructure, focusing on technology application to handle the issues of dykes and dams, ensuring efficiency and sustainability.
Hanoi will pilot modern technology in upgrading infrastructure for natural disaster prevention, Vice Chairman of the Hanoi People's Committee Nguyen Manh Quyen said at a meeting on May 5.
Quyen said that Hanoi has sufficient resources as well as knowledge about technological models to respond to natural disasters.
In the next two months, Hanoi districts will inspect and assess the safety of dams and dykes in order to enhance the natural disaster preparedness, Quyen said.
The deputy mayor also suggested departments and localities should be strictly on call 24 hours a day, 7 days a week.
"If there is no strict direction and proactive response, the consequences caused by natural disasters will be very heavy," Quyen emphasized.
He said Hanoi will upgrade the system of natural disaster prevention infrastructure, focusing on technology application to handle the issues of dykes and dams, ensuring efficiency and sustainability.
For his part, Deputy Director of the Hanoi Department of Agriculture and Rural Development Nguyen Ngoc Son said that over the past years, the city has been directly affected by three storms which had caused heavy rains and damage to dykes and irrigation systems in the districts of Thanh Tri, Ba Vi, Dong Anh, My Duc and Son Tay town.
The capital city has also been affected by 27 cold spells and 11 heat waves, which greatly negatively impacted people's lives and production, Son said.
He stressed that natural disasters are becoming more and more extreme and erratic. Therefore, departments and localities need to make careful natural disaster prevention plans.
Thua Thien Hue lays 14 sets of martyrs' remains to rest
The Military High Command of the central province of Thua Thien-Hue held a ceremony at the Hue city Martyrs' Cemetery on May 5 to receive and rebury 14 sets of remains of Vietnamese volunteer soldiers and experts who died in Laos during wartime.
In the 2020-2021 dry season, despite impacts of COVID-19 pandemic, 30 soldiers and officers of Team 192 under the provincial Military High Command coordinated with the Lao side to search and repatriate 14 sets of remains from Laos.
Of the total, nine were found in Salavan province and five in Sekong province.
The search and repatriation of the remains of Vietnamese martyrs killed in Laos is an important policy of the Party and State, showing the gratitude and respect to those who fought and sacrificed their lives for national protection and international mission.
So far, Team 192 has sought and repatriated more than 800 sets of martyrs' remains./.
Gigantic painting reenacts historic Dien Bien Phu Victory
Part of the painting 
'Dien Bien Phu' – a massive painting of 132m wide and 9m high that took three years to be completed – was approved by an art council on May 4.
Placed at the Dien Bien Phu Victory Museum in the northern province of Dien Bien, the artwork, featuring 4,500 characters, is a panorama of the Dien Bien Phu battlefield at different times from late 1953 to May 7, 1954.
It depicts the entire army going to battle, the opening combat at Him Lam hill, the A1 hill battle, and the triumph.
The painting was done with about 30 painters drawing continuously and some occasionally. Most of the participating painters are young graduates from the Vietnam University of Fine Art.
Nguyen Van Mac, director of the cultural heritage preservation company and a manager of the art project, said it aims to convey an image of a people's war.
Luong Xuan Doan, Chairman of the Vietnam Fine Arts Association, said it is an epic by drawing, adding that the participation of young people makes the painting even more valuable.
The Dien Bien Phu Campaign lasted from March to May 1954 under the command of General Vo Nguyen Giap. Its victory on May 7, 1954 led to the signing of the 1954 Geneva Accords in which France agreed to withdraw its forces from its colonies in Indochina./. 
Bac Giang improves quality of human resources
The northern province of Bac Giang has set a goal of raising its rate of skilled workers to 80 percent and the rate of those with training certificates to 27 percent by 2025.
During the 2021-2025 period, vocational training establishments in the province will provide training to 147,500 workers. The rate of university graduates gaining employment after they complete their studies is to reach more than 90 percent.
To meet these goals, Bac Giang is focusing on planning vocational training establishments in an open and flexible manner, ensuring the scale and structure of professions being offered. The province will also continue to review and arrange public colleges and schools in a streamlined way, focusing on medicine, pharmaceuticals, and health care, while introducing several vocational training support policies.
It will also upgrade infrastructure and training equipment at vocational training establishments, so they are more appropriate for the fourth Industrial Revolution.
By 2020, the province was home to 44 vocational training establishments that offered training to nearly 36,000 people each year in a total of 109 professions.
During 2016-2020, local vocational training establishments provided training to more than 155,200 people in the priority fields of industry, construction, and services (totalling nearly 87 percent).
As part of a project on improving the quality of vocational training for rural workers under the National Target Programme on New Rural Development for the 2016-2020 period, Bac Giang allocated over 43.8 billion VND in support of training 15,386 rural workers.
As of last year, the rate of skilled workers in the province stood at 70 percent, an increase of 19.5 percent from 2015.
Local youths commemorate martyrs to mark 67 years of Dien Bien Phu victory
The Ho Chi Minh Communist Youth Union Committee of the northwestern province of Dien Bien held a ceremony on May 6 to commemorate heroes and martyrs in celebration of the 67th anniversary of the victory of the Dien Bien Phu Campaign.
The victory on May 7, 1954 made the decisive contribution to the end of the nine-year resistance war against French colonialists in Vietnam, as well as of France's colonial rule in Indochina. It was one of the brilliant milestones in the history of Vietnam.
At the ceremony held at Martyrs' Cemetery A1 in Dien Bien Phu city, more than 100 representatives of over 160,000 young people across Dien Bien, along with provincial officials, laid wreaths at the monument, lit candles, and offered incense to the martyrs.
The activity reflected the country's tradition of expressing gratitude to the heroes, martyrs, and those who devoted their lives for the sake of national independence and freedom.
Martyrs' Cemetery A1, built in 1958, accommodates 645 graves of martyrs, but most of them remain unidentified./.
Remains of martyrs repatriated from Laos, reburied in Ha Tinh, Quang Binh
The authorities of the central province of Ha Tinh held a ceremony at Nam national martyrs' cemetery in Huong Son district on May 6 to rebury remains of 11 Vietnamese volunteer soldiers and experts who laid down their lives in Laos.
The sets of remains were found in Vientiane capital city and Bolikhamsai province during a search campaign in the dry season in 2020-2021.
Speaking at the event, Vice Chairperson of the provincial People's Committee Le Ngoc Chau expressed profound gratitude for the sacrifice of the heroes and martyrs who devoted their lives for national liberation and international friendship and solidarity.
On the same day, a memorial service was also held at Ba Doc martyrs' cemetery in Bo Trach district of central Quang Binh province to rebury remains of 16 Vietnamese volunteer soldiers and experts who died during the war in Laos' Khammouane province.
The sets of remains were detected and collected in Lao localities during the 2020-2021 dry season.
The search and repatriation of remains of Vietnamese soldiers and experts who died in Laos during war time is a meaningful activity to pay tribute to those who sacrificed their lives for the independence and freedom of the nation, and to meet the aspirations of the people./.
Red-shanked douc released to the wild
An individual of red-shanked douc was released into Bach Ma National Park in Phu Loc district, the central province of Thua Thien – Hue on May 5.
The animal, weighing 6.3 kg, is the queen of primates, and has been listed as critically endangered in the 2007 Vietnam's Red Book. It was found near the Ta Trach reservoir by a local in Duong Hoa commune, Huong Thuy town, on April 28.
The Park's staff will keep a close watch on its moving, and ability to integrate into the red-shanked douc herds in the park.
Recent research shows that Bach Ma National Park is home to 15 herds of red-shanked doucs with more than 170 individuals. Since 2017, the park has received and released more than 200 endangered individuals, including Indochinese serows, red-shanked doucs, Indochinese box turtles, and pangolins, among others./.
Vietnamese in Luang Prabang join in local COVID-19 fight
The Consulate General of Vietnam in Luang Prabang on May 6 handed over 50 million LAK (5,300 USD) and medical equipment worth 10 million LAK to the Lao province to help local authorities contain the spread of COVID-19.
The aid was raised by staff of the Consulate General and Vietnamese people and businesses in the province. 
On the same day, the Consulate General delivered foodstuff including instant noodles and rice, face masks and hand sanitiser worth a total 3 million LAK to Vietnamese students in Luang Prabang, to help them cope with daily difficulties due to lockdown.
Over the past few days, Vietnamese associations across Lao localities have joined hands with Lao authorities and people to overcome the current COVID-19 outbreak by raising fund and donating cash, necessities and medical supplies to the host country./.
Automation competition for technology students launched
The 2021 Canon Student Chie-Tech, an automation competition for technology students, was launched during an online ceremony in Hanoi on May 6.
Permanent Vice Chairman of the Central Committee of the Vietnamese Students' Association Nguyen Minh Triet said the contest targets students in universities, colleges and academies across the north to improve their professional skills and promote the spirit of innovation via making automated products.
The competition will take place from May 7 to December 10 with four rounds. The final round will be held on December 10.
Further information could be found on the website vsds.vn, or www.facebook.com/trungtamVSDS and www.facebook.com/canonchietechcontest.
The organising board will assess products based on four criteria, including creativity, working speed, size and cost.
Candidates with good results will have chances to serve as an intern at or work for Canon Vietnam.
Launched for the first time in 2019, the event drew 67 teams from 15 universities, colleges and academies across the north during its two editions./.
Human resources decisive to national development: Prime Minister
Human resources bear decisive significance to the cause of national construction and development, and education plays a very important role in human resources development, Prime Minister Pham Minh Chinh said at a working session with the Ministry of Education and Training on May 6.
The PM acknowledged the substantial results that the education sector has made in implementing Resolution 29 of the Party Central Committee on comprehensive and essential reform of education and training, one of which was the improved quality of general and tertiary education as well as vocational training.
At the same time, PM Chinh highlighted the major problems of the sector, particularly the limitations in mechanisms and policies, negative phenomena within the sector and shortcomings in management decentralization.
He required the ministry to focus on key tasks of State management of education-training, which are to build strategies and plans, institutions and mechanisms, and standards and criteria. The ministry should also develop tools to mobilise resources from all sources for education development.
The Government leader also urged the sector to pay more attention to communication work to provide the public with better understanding of its problems and get the public involved in addressing them.
He reminded the sector to coordinate with relevant agencies to implement pandemic prevention measures to ensure health and safety for more than 1.2 million teachers and nearly 24 million students at all levels nationwide amidst the complicated developments of the COVID-19 pandemic.
Meanwhile, the sector should study and design measures to fulfill the tasks of the 2020-2021 academic year, including the national senior high school graduation exams.
Minister of Education and Training Nguyen Kim Son presented to the PM several proposals regarding the legal framework for education reform, financial investment for the sector, and the development of the contingent of teachers and educational managers. /.
Vietnam attends virtual 34th ASEAN-US Dialogue
Deputy Foreign Minister and head of Vietnam's ASEAN SOM Nguyen Quoc Dung attended the 34th ASEAN-US Dialogue held in the form of videoconference on May 6.
Speaking on behalf of ASEAN states, the Vietnamese official emphasised that amid increasing challenges brought by the COVID-19 pandemic, natural disasters, climate change, competition for natural resources and sovereignty claims, countries need to bolster cooperation and dialogue, build trust and the rule of law, as well as uphold the sense of responsibility, behave according to standards and respect each other to ensure an environment of peace and stability for development.
Highlighting efforts by ASEAN and the US in addressing challenges to regional stability and development, the Deputy Foreign Minister of Vietnam said ASEAN and the US should strengthen coordination to ensure peace, security and prosperous development in the region through ASEAN-led mechanisms, promote a rules-based regional order and adherence to international laws, and resolve disputes in a peaceful manner.
Dung also reiterated ASEAN's principled stance in the East Sea issue, and voiced a hope that the US will continue to play a constructive role and back ASEAN's efforts in building the East Sea into a sea of peace, friendship and cooperation, as well as the bloc's role in helping Myanmar.
For his part, US Principal Deputy Assistant Secretary of State for the Bureau of East Asian and Pacific Affairs Atul Keshap affirmed that US President Joe Biden's administration attaches importance to the strategic partnership with ASEAN, supports ASEAN's central role and ASEAN Outlook on the Indo-Pacific (AOIP), and wants to enhance cooperation with the organisation in settling current challenges.
ASEAN countries spoke highly of the US's contributions to cooperation, development, peace and stability in the region. They appreciated an aid worth 112 million USD from the US to help the organisation cope with COVID-19.
The two sides agreed to foster collaboration in trade-investment, human resources development, renewable energy, marine cooperation, response to natural disasters and climate change through the US's development cooperation programmes such as the Partnership for Regional Optimisation within the Political-Security and Socio-Cultural Communities (PROSPECT), the Inclusive Growth in ASEAN through Innovation, Trade and E-Commerce (IGNITE), and in development gap reduction via the Mekong-US Partnership.
ASEAN and the US affirmed to closely coordinate to contribute to maintaining peace, safety and stability in the region, including maritime security and safety in the East Sea, which is among major shipping routes of the world with potential risks and complicated developments.
The US underlined its support for ASEAN's principled stance on the East Sea issue; welcomed the bloc to perform its role in promoting cooperation, dialogues, and trust building; ensuring the full and effective implementation of the Declaration on the Conduct of Parties in the East Sea (DOC) and the building of an effective and efficient Code of Conduct in the East Sea (COC) in line with international law and the 1982 UNCLOS.
Regarding the Myanmar issue, the US welcomed outcomes of the ASEAN Leaders' Meeting held on April 24, expressing its support for ASEAN in fostering dialogues and reconciliation to help Myanmar stabilise the situation./.
NA leader checks election preparations in Tuyen Quang province
Chairman of the National Assembly (NA) and the National Election Council Vuong Dinh Hue inspected the preparation for the approaching elections in Tuyen Quang city, the northern mountainous province of Tuyen Quang, on May 6.
The elections of deputies to the 15th NA and all-level People's Councils for the 2021-2026 tenure are slated for May 23.
The top legislator said Tuyen Quang province has been making good preparations and conforming with relevant legal regulations, noting that it must ensure absolute safety amid current complex developments of COVID-19.
He requested local authorities to finish handling complaints and denunciations related to candidates by May 13 while promoting IT application during the elections.
As the province is home to a large number of ethnic minority groups, Hue suggested it consider translating the documents related to the elections to the minorities' languages.
At the working session with provincial leaders, the NA Chairman also recorded their proposals on public investment.
The same day, the leader, other members of the inspection delegation, and officials of Tuyen Quang province also presented gifts to 100 disadvantaged and low-income households in communes of Son Duong district./.
Vietnamese, Lao defence chiefs hold online talks
Defence Minister Sen. Lieut. Gen Phan Van Giang held a video call on May 6 with his Lao counterpart, General Chansamon Chanyalat, to discuss measures to boost defence cooperation suitable to the new circumstances.
The two ministers briefed each other on the socio-economic development and defence-security situation in their countries. 
They agreed that amid the substantial opportunities and challenges, the Parties, States, militaries, and people of both sides should continue to maintain and reinforce their traditional friendship and special solidarity, especially defence cooperation.
Despite the complex developments surrounding COVID-19, the defence partnership between the two countries has been thriving, focusing on areas such as border management, COVID-19 prevention and control, personnel training, and health care, they noted.
Chanyalat congratulated Giang on his appointment as Defence Minister and thanked the Vietnamese Defence Ministry for providing timely support for the Lao counterpart in COVID-19 prevention and control by sending experts and medical supplies to the country.
For his part, Giang expressed his sympathy towards the Lao people over the difficulties they are currently facing due to COVID-19, and lauded the efforts of the Lao army and people in assisting the Lao Government in overcoming these difficult times to quickly stabilise people's lives.
The Party, State, and military of Vietnam attach special importance to the great relationship, special solidarity, and comprehensive cooperation with Laos, with defence and military partnership being a top priority, he said.
The two ministers concurred that in the future, as COVID-19 is forecast to remain a complex issue that will affect the implementation of the signed cooperation plan for 2021, both sides should seek cooperation methods suitable to the circumstances, focusing on a number of areas, such as Party-political affairs, personnel training, border management, combating trans-national crime, smuggling and trade fraud, and preventing illegal exit and entry.
They will also support each other at multilateral forums both are engaged in, especially within the framework of ASEAN and ASEAN-led mechanisms./.
Deputy PM Pham Binh Minh meets voters in Ba Ria-Vung Tau
Deputy Prime Minister Pham Binh Minh and candidates vying for election as a deputy for the southern province of Ba Ria-Vung Tau at the 15th National Assembly met with voters in Vung Tau city on May 6.
Candidates briefed those in attendance on their action programmes, which they said they will strive to effectively implement if elected to the 15th NA.
Minh said he has worked for many years in foreign affairs and diplomacy, including on issues relating to territorial boundaries, the East Sea, and islands.
He highlighted the locality's strength in maritime economic development and its important role in the southern key economic region and the nation, saying that he hopes to represent voters and the locality in working to promote sea-based economic development.
Meanwhile, local voters said they expect elected deputies to whole-heartedly serve the Party, the State and the people, and pay more attention to the lives of local people./.
Lao newspaper highlights Vietnam's support in fighting COVID-19
Lao newspaper Vientiane Times recently highlighted Vietnam's assistance for the country in the fight against COVID-19.
The English language newspaper on May 6 reported that the Vietnamese Government has provided medical specialists and staff, funds and medical equipment worth billions of kip to help Laos contain the outbreak.
The latest shipment of aid from Vietnam arrived in Vientiane on May 4 as Laos was struggling to contain the ravaging pandemic, forcing Lao authorities to order a nationwide lockdown.
The shipment included 2 million face masks, 10 tonnes of disinfectant and other materials, as well as more than 4.7 billion LAK (500,000 USD) in cash.
"The Vietnamese medical team includes experts in fields such as infection prevention and control, intensive care, epidemiology, and lab tests," the newspaper added.
It reiterated that Vietnam has been an active provider of assistance to Laos to help the country's fight against COVID-19 and has already provided a number of aid packages.
On May 3, the People's Army of Vietnam sent four medical specialists and equipment to support Laos' response to the outbreak.
At the start of the pandemic, Vietnam provided similar assistance, delivering medical supplies worth more than 2 billion LAK (over 300,000 USD).
The shipment included 330,000 face masks, 1,000 sets of protective clothing and other essential equipment.
As the outbreak in Laos escalates, the total number of infections has exceeded 1,000, forcing authorities to set up makeshift hospitals to provide sufficient treatment facilities.
Vientiane Times quoted Lao officials as saying that Vietnam's assistance has significantly contributed to efforts to prevent and control the spread of the coronavirus in Laos./
Son La offers medical aid to armed forces of Lao province
The Border Guard High Command of the northern border province of Son La on May 6 presented medical equipment to the Military High Command and Police of Houaphanh province of Laos amid the complex developments of COVID-19.
The handover ceremony was held at Chieng Khuong border gate in Song Ma district of Son La.
The aid to each Lao unit comprises 1,000 cloth face masks, 1,000 medical masks, 50 bottles of disinfectant, and 200 sets of personnel protective clothing, among others.
Political Commissar of the Son La Border Guard High Command Col. Ca Van Lap said the assistance is hoped to contribute to the neighbouring country's anti-pandemic efforts.
At the ceremony, leaders of the Houaphanh Police and Military High Command expressed their gratitude to the Son La Border Guard High Command, hoping that the armed forces of the two provinces will regularly collaborate, exchange information and share experience, especially in COVID-19 prevention and control./.
Vietnam outperforms in people's satisfaction with gov't response to COVID-19
Vietnam has recorded the world's highest percentage of its people satisfied with the government's response to the COVID-19 pandemic, a recent survey shows.
The survey, conducted from February 24 to April 14 by the Latana research firm in collaboration with the Alliance of Democracies, covered more than 50,000 people from 53 countries and territories which make up over three-fourths of the global population.
It indicated that most of people around the world are becoming less satisfied with their governments' response to COVID-19. The global average satisfaction is 58 percent.
Vietnam tops the list with 96 percent, followed by China (93 percent).
The average satisfaction in Asia, 75 percent, is significantly higher than in Europe (45 percent) and Latin America (42 percent), according to the survey./.
Vietnamese, Canadian defence ministers hold phone talks
Minister of National Defence Sen. Lt. Gen. Phan Van Giang talked over phone with his Canadian Defence Minister Harjit Singh Sajjan on May 6.
Discussing the growth of the Vietnam – Canada diplomatic relations since it was established in 1973, they said the ties have thrived on par with the nations' comprehensive partnership across economy, trade, investment, and education. The bilateral defence cooperation, meanwhile, has grown toward effectiveness, with the sides implementing their memorandum of understanding (MoU) on the collaboration and achieving encouraging outcomes in training, peacekeeping and maritime security.
Sajjan congratulated Giang on his new post as defence minister of Vietnam, and lauded the country's role in ASEAN, as well as the bloc's role in leading and fostering the establishment of multilateral security cooperation mechanisms like the ASEAN Defence Ministers' Meeting Plus (ADMM Plus). The ADMM-Plus is a platform for the bloc and its eight dialogue partners – Australia, China, India, Japan, New Zealand, the Republic of Korea, Russia and the United States - to strengthen security and defence cooperation.
The Canadian official hoped the Vietnamese Ministry of National Defence to back Canada's efforts in joining the ADMM Plus.
He also took the occasion to commend efforts of the Vietnamese Government and army in implementing effective COVID-19 prevention and control measures.
For his part, Giang affirmed the new leaders of Vietnam continue consistently pressing ahead with the nation's foreign policy of independence, self-reliance, multilateralisation and diversification as well as defence policy of peace and self-defence, contributing to the regional and global peace.
Praising Canada's role in the region and the world, he said Vietnam wants to enhance relations with the country on the basis of equality and mutual benefits.
Both ministers agreed to further bilateral defence engagements in existing areas in line with the MoU with a focus on delegation exchange, dialogue, consultation, training, defence industry, peacekeeping, and marine security. They also mentioned joint research regarding possibilities for the sides to cooperate in military medicine against COVID-19.
They expressed their belief that the ties will be deepened toward practical outcomes and mutual benefits for peace and development regionally and globally./.
Vietnam Airlines allows free ticket change, refund amid COVID-19 resurgence
National flag carrier Vietnam Airlines allows free-of-charge ticket change and refund for travellers with confirmed seats and departure date due to the complexity of the latest COVID-19 outbreak.
Passengers can receive a full refund or change their travel time in case of long flight delays, cancellation or early departure. It is also applicable for those requested to undergo quarantine or affected by lockdowns or travel restriction rules imposed by the government or other causes of force majeure, according to the airline.
The policy only applies to flights within Vietnam.
For tickets issued in booking offices, travellers are advised to contact the office where their tickets are issued or as an alternative, they can fill in form for Refund, Rebook requests at https://www.vietnamairlines.com/vn/en/support/customer-care/email-us.
For tickets issued on Vietnam Airlines websites/app, travellers are advised to send requests to Vietnam Airlines customer service centre through onlinesupport@vietnamairlines.com or fill in Refund, Rebook requests at https://www.vietnamairlines.com/vn/en/support/customer-care/change-refund.
The carrier is strictly enforcing preventive rules against the COVID-19, including requiring flyers to fill out health declarations and undergo a temperature check prior to boarding and refusing to transport passengers with suspected symptoms./.
Fund-raising campaigns to support pandemic-affected people in Laos, India, Cambodia
The Vietnam-Laos and Vietnam-India Friendship Associations on May 6 sent dispatches to their chapters at the provincial and municipal level on raising money to support pandemic-affected people in the two countries.
The COVID-19 pandemic is developing so complicatedly in the two countries. In Laos, an average of 74 new cases has been reported each day over the past week. Meanwhile, the numbers of new infections and fatalities have surged at a dizzying speed in recent days in India.
The fund-raising campaigns will last until the afternoon of May 14.
Organisations and individuals can send cash to the two associations' headquarters or their bank accounts.
Earlier on April 28, the Vietnam-Cambodia Friendship Association launched a fund-raising campaign to support affected people in Cambodia.
The association still continues receiving aid until the afternoon of May 7./.
U22 players called up for training camp
Coach Park Hang-seo has selected 34 young players for a training camp to prepare for the Asian U23 Football Championship qualifiers and 31st Southeast Asian (SEA) Games later this year.
The four goalkeepers, eight defenders, 15 midfielders and seven strikers will train in Hà Nội from May 11 to June 6.
The South Korean coach chose outstanding athletes such as midfielder Nguyễn Hữu Thắng (Viettel), forwards Nguyễn Trần Việt Cường (Becamex Bình Dương), Mai Xuân Quyết (Nam Định) and Huỳnh Công Đến (Đà Nẵng). They all impressed coaches with their performances in two friendly matches with the senior team four months ago.
The team also sees the comeback of raising star Nguyễn Hai Long of Quảng Ninh. The 21-year-old has not played for his club this season because of a knee injury that forced him out of Park's last December camp. 
Talented goalie Y Eli Niê of V.League 2 side Đắk Lắk also returns after a long absence because of a leg injury and a ban from the Việt Nam Football Federation's Discipline Department for match-fixing.
The U22 players will have a friendly match with the national team who are also training in Hà Nội during this period. 
Boat race festival recognised as national intangible cultural heritage
The boat race festival in Quảng Ngãi Province's Lý Sơn Island, first held in 1826, has been designated a national intangible cultural heritage.
The Tứ Linh boat race is held to pay homage to the island's ancestral inhabitants and soldiers who fought for national sovereignty over the Hoàng Sa (Paracel) and Trường Sa (Spratly) archipelagos.
The event is also an opportunity for local fishermen to pray for prosperity, peace and a smooth voyage at sea.
Eight boats in the race are decorated with the images of four holy creatures, including dragon, unicorn, turtle and phoenix. Before the festival opens, teams typically worship their specific gods.
Lý Sơn islanders believe the winning team will enjoy the most peace and prosperity during the year.
Participants should be healthy, skilled men. In the past, the boats could carry only 14 people but in recent years, they have been designed to carry 24.
Exhibition showcases the development of National Assembly
Photos and documents that reflect the innovation and development of Việt Nam's National Assembly over the years are on display at an exhibition in HCM City.
The exhibition, entitled Việt Nam's National Assembly -- Paths of Innovation and Development, is part of activities in anticipation of the upcoming May 23 election of the 15th National Assembly and People's Councils for 2021-2026.
It is being held at the Military Zone 7 Museum located at 247 Hoàng Văn Thụ Street, Tân Bình District.
The more than 200 exhibits are divided into three themes -- 'President Hồ with the First General Election', 'Historic Paths of Việt Nam's National Assembly' and 'The Armed Forces of Military Zone 7 Live and Follow the Constitution and Laws'.
All the items are related to the establishment of the National Assembly, the first general election on January 6, 1946, and the 75th anniversary of the National Assembly's establishment this year as the highest Government organisation and the highest-level representative body of the people.
They also reflect the leadership of President Hồ Chí Minh in the establishment and development of the National Assembly.
The exhibition also introduces documents related to constitutional regulations, laws for the National Assembly, People's Councils and regulations on the election of National Assembly deputies and People's Councils representatives.
Another part of Việt Nam's National Assembly -- Paths of Innovation and Development is dedicated to the contribution of the armed forces of Military Zone 7 to the preparation and organisation of elections for National Assembly deputies and People's Councils representatives within the Military Zone.
Speaking at the opening ceremony, Colonel Thái Thành Đức, deputy chairman of the Political Department of Military Region 7, said the exhibition is a practical activity with profound political education significance.
"It is a campaign and a widespread democracy activity that enables generations of Vietnamese people, particularly the youth of the armed forces in Military Region 7, to understand and feel proud of the National Assembly in the journey of building and developing the country of the people, by the people and for the people," he added.
The exhibition will last until the end of this month. Entrance is free. 
Health sector launches a website on stroke prevention and control
The health ministry's Medical Services Administration (MSA) in collaboration with Bayer Vietnam, launched a website on stroke prevention and control on Thursday.
The website is an electronic information channel on stroke prevention and control for patients and the community under the framework of a cooperation programme on "Strengthening awareness of the community on stroke prevention and control for 2021 - 2023" between the MSA and Bayer Vietnam.
"Strokes or cerebral vascular accidents are the most common cause of death in Việt Nam. Each year Việt Nam has about 200,000 stroke cases, of which about 50 per cent are fatal. Although many people fortunately survived after a stroke, they still suffer severe sequelae, even inability to work, creating burdens on families and society. Therefore, it is very important to raise awareness for patients and the community so that everyone can actively participate in stroke prevention and treatment," said MSA director Lương Ngọc Khuê at the launching ceremony.  
The website is directly linked to the MSA's website, providing people with accurate and useful information and knowledge, especially the latest scientific information and the latest medical advances on stroke prevention and control.
It also provides important information from recognising the early signs and symptoms of a stroke, how to manage and prevent a stroke through building a healthy lifestyle and adhering to treatment or a forum to share experience on stroke prevention and control or a Q&A section to help patients get online consultation from professional experts.
In addition to the special website, MSA also launched a Facebook fan page and a YouTube channel to further disseminate useful information about stroke prevention and control to patients and the community. 
Over 1,800 samples from Military Hospital 105 test negative for COVID-19
Up to 1,800 medical workers, patients, and their relatives at Military Hospital 105 have tested negative for novel coronavirus (COVID-19).
Despite recording these negative tests, the hospital will continue not receiving any additional patients and will remain under lockdown until further notice.
Currently, all medical staff working at the hospital have been given their first shot of the AstraZeneca COVID-19 vaccine, whilst 30% of them have been vaccinated with a second shot.
Furthermore, 98 samples of patients and their relatives from Ha Nam province who had received treatment at the Central Hospital for Tropical Diseases, also came back negative for COVID-19.
As of May 7, the overall number of samples taken in Ha Nam currently stands at 12,978, with 11,432 samples being tested so far, including one positive result.
The same day  Nghe An provincial Steering Committee on COVID-19 Prevention and Control announced that 50 F1 cases linked to a case at the Central Hospital for Tropical Diseases have all tested negative for the virus.
Hanoi capital hits back at COVID-19 lockdown rumours
Hanoi Party Committee Secretary Dinh Tien Dung has refuted rumours swirling around social media networks that the capital city has imposed a lockdown order to slow the spread of the coronavirus.

This is incorrect information, Dung told local media outlets late on May 6.
Nguyen Thi Mai Huong deputy director of the Hanoi Department of Information and Communications, also confirmed that local authorities have had no intention of enforcing a blockade to combat the new coronavirus outbreak.
We are verifying information on unfounded rumors related to the blockade surfacing on social media networks, Huong told Tien Phong newspaper late on May 6.
According to the official, the municipal administration has recently introduced drastic measures to respond to the new outbreak. One of the measures is to encourage local people to stay indoors as much as they can unless they go out for food or medicine.
The city is controlling the outbreak well, and measures put in place are paying off, Huong said   
She also advised local people to strictly follow the Ministry of Health's COVID-19 rules, including donning face masks, not gathering in large crowds and keeping a safe distance in public places, in order to protect themselves and the community as well.
Hanoi has recorded 47 news cases, mostly related to the outbreak at the National Hospital for Tropical Diseases, since the virus recurred in Vietnam on April 28.
Quang Ninh, Haiphong close tourism sites due to Covid-19
Quang Ninh Province and Haiphong City in the northern region of Vietnam have decided to suspend all local tourism sites from Thursday amid the widespread Covid-19 pandemic.
Quang Ninh Province has shut down all tourist attractions and historical sites, including the UNESCO-recognised heritage site of Ha Long Bay, Bai Tu Long Bay and religious sites. Local authorities have also required people to strictly conform to social distancing measures and hygiene.
Meanwhile, Haiphong City will close tourist, historical and religious sites as well as amusement centres and street food stalls from Thursday midnight, including tourism services in Cat Ba Town in Cat Hai District.
People in Cat Hai District are asked to suspend wedding parties or simplify them.
Funerals also need to reduce the number of participants.
Local restaurants are requested to ensure safety distancing between people.
Source: VNA/VNS/VOV/VIR/SGT/Nhan Dan/Hanoitimes

COVID-19: 60 cases documented on May 6